-

10

mins read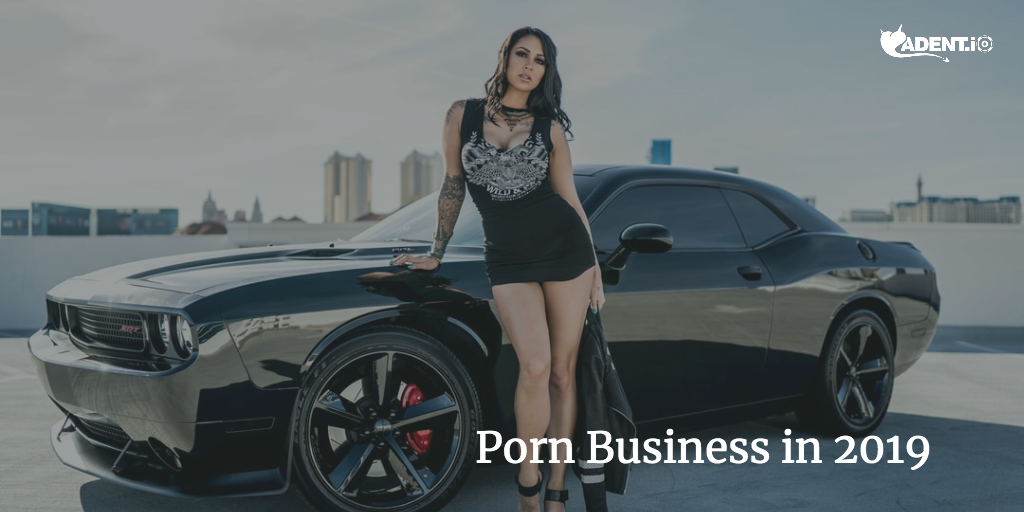 Something began in late 2014 and ended soon in 2015. It was Mia Khalifa's career in the porn industry. The most searched woman on the planet worked in the industry for 3 months, and yet remains popular on the search engines after 5 years of her retirement.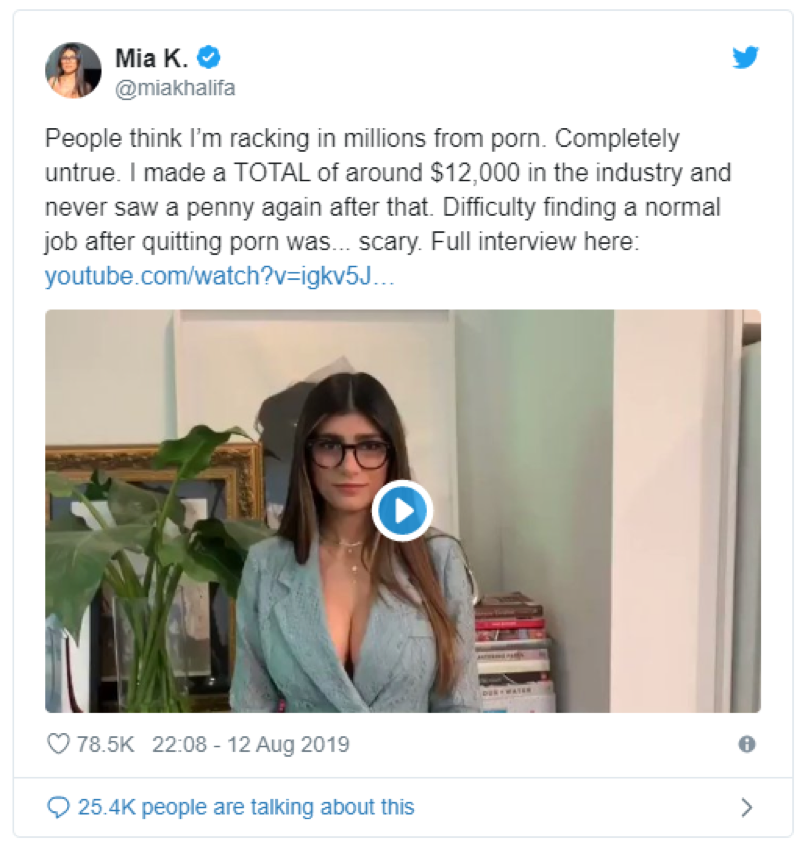 In a three months short career, she featured in about a dozen films, which paid her $12000 and a life full of difficulties; even to find a regular job.
Scary it is- She says.
She also clarified that she was never promised, nor she was expecting too much money. It's just the actual perception of the industry, she wanted to de-bunk.

Now, the big question-
While porn studio was making fortune out of her videos, all she got was $12000. If someone of this eminence made so less, how much do the industry pays-off to other performers?
Turns out, it's not very well.
The Big Irony –
Since most of the porn studios are privately owned, the market estimate for the porn industry (not the entire adult industry) has never been clear. Different researchers have found dissimilar values. Some say it's worth $6 billion, while many others agree on the figures such as $10 billion, $15 billion, or also $97 billion.
Whatever be the stats, it's clear that porn is worth billions, and the businesses involved in it are making wealth out of it. While the lowest estimate is not far behind the NBA, Hollywood, Netflix, Viacom, and NFL, the mid estimates surpass these names pretty swift.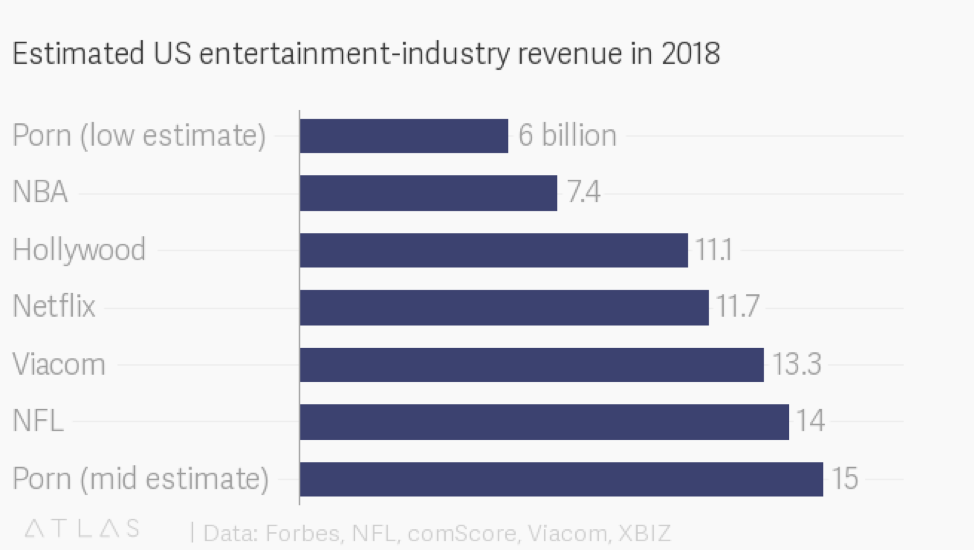 The big irony is that the porn industry keeps on making profits (in billions), but the actual performers hardly get any fair share; especially, the women. It's not just about the wages, but also the expensive life-style of porn stars.
Porn Star Tressa says -"Being a porn star was very expensive. Rent, nails, makeup, food, flights, and then 10 percent for Riley. I only made $25,000 in four months. And after I got out I had $2,000 in my bank account".
Recently, TheTalismanLives, an industry veteran posted a thread on Twitter. It talked about the MO of the porn industry in 2019. It inspired me to write this article-
Here is a screenshot of the tread. You can see the full thread on Twitter.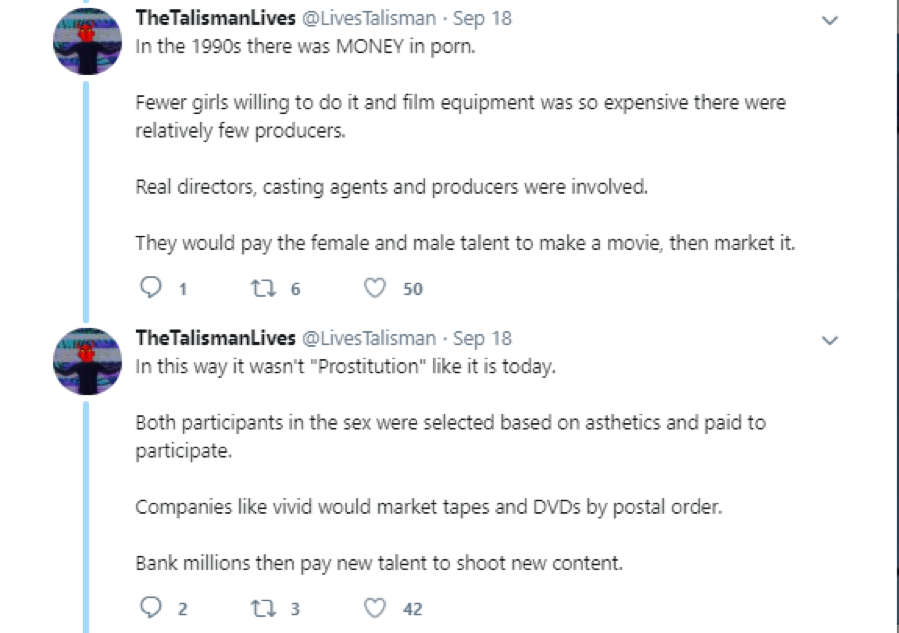 The Twitter handler is an industry veteran and claims to have had made some good money out of it. The personal views come out as an industry insider where he explains how the porn industry has changed a lot since the 90s.
Porn in the 90s was professional
It was entirely a different scenario in the 90s for the porn business. Not everyone was willing to do it and the technology was also pretty expensive. Only the real directors and professional studios could afford to make porn films. There was lesser competition and better money for everyone involved. There was a hiring process, professional production, marketing, and ethical wages.
Porn business in 2019 is not the same anymore
With no shortage of women willing to do it, the margin of profit has diminished. The equipment is affordable and anybody today can make films and portray as a porn studio.
However, in actual sense, the porn business in 2019 is nothing but another way of finding sex for rich people. Producers often shoot and star in their videos, and pay the actress her fee. More like paying a hooker; a sophisticated form of prostitution. Fake agents are hiring girls, and producer-cum-actors don't care about anything but sex. It doesn't matter if the movies do not make any money, they get sex and pay for it.
The market still holds many reliable names like Brazzers and RealityKings. However, girls often go through a series of exploitation before they can make it to the labels. They see these shell studios as a way to make it to the actual porn industry career. However, all they get is imposters with camcorders and a poor website to sell the videos. Or worst – a PornHub, xVideos, or ManyVids account.
The underneath story is far scarier. The women who do not end-up with reliable labels face sexual abuses and exploitation. The petty labels often violet contracts. They promise one thing in the agreement and do other things once the camera is turned on.
You do not need to trust me. You can read the statements from various veterans. There is a compilation of statements made by several porn industry veterans on a site named "collectiveshout.org". You can visit their site to read more in detail. Below is one such statement (re-phrased) made by a veteran named Corina Taylor-
"The script was about doing a vaginal scene. However, when the actual scene started, the male actor forcibly got into my anus and would not stop. I cried and told him to stop but he would not stop. It was painful. I was into shock and my body went limp"
The videos production costs have gone so down that porn today have become nothing but a glamorous style of hooking. You can't even expect everyone to abide by health and safety measures. One of the insiders says that many producers don't care if the performers' STD reports have expired. Even co-performers will be like – Come on! "You know me; I am good for it". Often time, studios never even hire a performer again if he/she refuses to work with actors without STD test.
In a self-regulated world of the porn business, it's no surprise to find several misconducts, exploitations, and abuse. It's not easy for a woman to find an ideal job in the field. Except for a few reputed labels, the porn business in 2019 is not the same as it used to be.
Porn does not mean the entire adult entrainment industry
There are plentiful dreadful explanations by the veterans on the internet. It doesn't matter what made them join – poor judgment, greed, easy money, or poverty, but no one can justify the suffering and exploitation they face. In fact, many of such women are often in desperate circumstances and become an easy target for fake agents, shell studios, and sexual predators.
You can't blame the entire adult entertainment industry though. The reputed labels still make ethical porn and they are one the best payers as well. However, it's not easy to get picked by them. Probably, this is the reason why many women just fall prey to shell studios. Working for them seems like a chance to get noticed and picked up by the actual porn producers.
Pick up the webcam industry
I think the webcam industry is a more accurate and easy alternative to working for the low-end producers. Currently, it's not as big as porn, but a $1 billion market is not bad. In fact, trends predict that webcam modeling industry will acquire at least a $10 billion market by 2020.
Webcam sites are different from porn websites. They do not only accommodate a different type of adult content but also an entirely advanced business model. The performers are their bosses and they can control their on-camera activities. They need not any label or studio to perform on live webcams.
In fact, everything depends on the performers and their own will. They just need to pay a small cut from their revenue to perform on a good webcam site. For example, LiveJasmin, a popular webcam site gives away 30-60% of its revenue to the models.
It's easy to get into the webcam industry and easier to get out of it. There is a better sense of security from exploitation, and a lot of ways to make money. Simple setup and you can start modeling right from the comfort of your bedroom. Your content reaches directly to the consumers without any label or middlemen. In this model, the perform gets to keep a greater share of the revenue.
Over to you
Yes, the adult entertainment industry is vast and it's not defined by the porn websites alone. There are webcam businesses that are far more profitable than porn business. This industry is stealing the charm and is already a better source of erotic content for the audience. It wouldn't be a surprise if major porn studios start their webcam modeling platforms soon. It would be at least better than what's going on in the porn business.