-

8

mins read
The time has come for your adult business to advertise on porn sites. With more than 5.81 billion visits to the top 3 porn sites monthly on average, porn sites are an excellent place to advertise anything related to porn and sex. 
Many porn businesses, sexual wellness brands, and adult dating sites have leveraged porn sites effectively to pitch their product or service to their target audience. It has been done through hard links, affiliate programs, channels, and of course, advertising. 
Creating an advertising campaign on porn sites can be challenging, even for those of us with some experience. There are apparently endless options for sources, ad creatives, ad placements, and more. But when done right, the payoff of porn site advertisements can be monumental– advertisers can boost traffic, increase sales, and reach business goals. 
Learning how to advertise on porn sites can be time-consuming, especially for people who are in the process of starting a porn site. That's why we've taken the time to create this article. In it, we'll walk you through the types of ad formats porn sites offer and how you can utilize them. 
With that said, let's get started. 
Why Advertise on Porn Sites? 
Porn sites are a gold mine for advertising adult brands, whether they sell sex toys, libido supplements, or adult content.  The first reason you should advertise on porn sites is that they offer unique target audiences that cannot be found on other advertising channels. 
Every advertising platform collects a different set of data. For example, Instagram has information that Pornhub doesn't have, and vice versa. In other words, the user data collected by these platforms will then be used by advertisers to reach their ideal target audiences. 
So as an advertiser, if your target audiences are people who are looking to spend hours watching porno flicks, then shouldn't porn sites be your relevant place to promote your website? So we guess you get the point. 
The second reason is increasing your website's traffic. You'll be provided with several options by the porn sites to redirect your relevant visitors to your website. For example, let's consider you're running a tube site. We both know it's quite a hassle to increase your tube site traffic, so the easiest and most direct way to drive traffic is through advertising on porn sites. 
The third and final reason is to generate loyal and high-quality leads. Porn sites are flooded with big spenders looking for bewitching porn and alluring cam girls to spend thousands of dollars on. So it's a no-brainer if you don't advertise your adult business on porn sites. So even if you can attract dozens of these big spenders, you can make more money than you imagine.
Who Can Advertise on Porn Sites? 
Now before we get into the in-and-outs of how to advertise on porn sites and how much it costs, let's talk about who can actually advertise on porn sites:
Membership Sites: 
Two years after Pornhub premium launched in 2015, it attracted over 1 million users to sign up. So you can expect Pornhub alone to have tens of millions of users who love to pay and watch exclusive adult content. So as an adult membership site, your best possible destinations for advertising are porn sites– to increase traffic and to make money by selling subscription content or premium content.  
Content Marketplace Sites: 
The success of OnlyFans has inspired many entrepreneurs to start their own adult content marketplace. These adult marketplaces not only sell nudes and sex tapes, but they also offer a variety of services like sexting, private 1-on-1 shows, dirty audio notes, dick ratings, and many more from the models.  And people who can buy these contents and services are abundant on porn sites. So if you can run a titillating ad creative on porn sites, you can easily pull them to your sites. 
Cam Sites: 
Starting a webcam business is a not-so-difficult task. But to promote the platform to its target audience is quite challenging. You (a cam site owner) should consider advertising on a porn site. Porn viewers often get bored and want to watch something real that is not staged. By pitching your cam site there, you can effortlessly make them your loyal users.
Sexual Wellness Sites: 
What's the reason most people watch porn? Although you may say that it's for fun, it's out of frustration for many of them. One group of people was frustrated by their partner's bad performance in bed, and the other group was frustrated by their lack of a partner. You're a sexual wellness website, so aren't both of them your target audience? Then why hesitate? Promote your product on porn sites immediately, increase your traffic, and start making money. 
Escort Sites
Porn sites are also known as adult entertainment sites. People not only want to entertain themselves virtually, but sometimes they crave to be physically entertained as well. This is where you should play your part smartly. By advertising your escort sites on specific porn sites where people are desperately searching for some steamy entertainment, you can drive your traffic and sales simultaneously. 
Adult Dating Sites:
As we discussed on sexual wellness sites, sexually frustrated people are in millions on porn sites. These people (only singles!) are your target audience. Although they seek out partners, most only look for casual hookups. So decide your marketing budget and start promoting on porn sites. You won't regret it. 
As of now, you would have a clear picture of the fundamentals of porn site advertisements. So it's time to examine what type of advertisements porn sites can provide. 
Types of Ads Available on Porn Sites 
There are three types of ads that you can run on porn sites which can all be incorporated into porn sites' web pages and feeds. So let's take a look:
1. Ad Formats
The first on the list is ad formats. These guys are everywhere on porn sites, and if you're new to the adult business, then we suggest you go for ad formats. There are three types of ad formats, they are:
Pop-up Ads: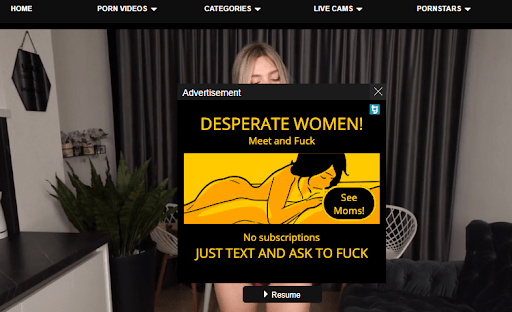 Pop-ups are the annoying bunch who doesn't leave a user, no matter what. It appears in its own window when the user opens or closes a porn site. Although it might irritate the users, pop-ups are the best to grab the user's attention in a short time. Your website name will get etched on their brain when they try to find the small 'x' mark. 
Video Ads: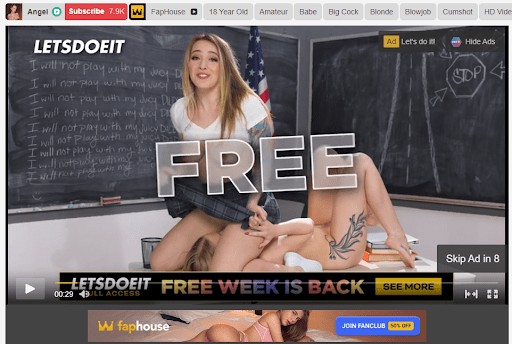 One of the most commonly used video ads in porn tube sites is in-stream video ads. These are skippable ads that play before the playback video starts. Another type of video ad is the unskippable ad, where users have to watch the whole ad. Video ads are very cost-effective because you'll get brand exposure even if it is skipped. But to increase traffic and create leads for your adult site or porn site, you have to be very creative. 
Banner Ads: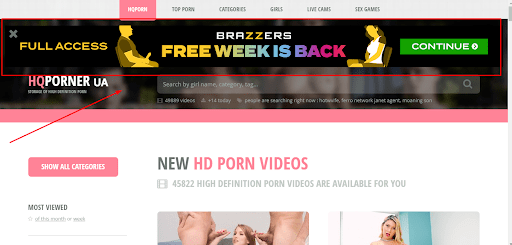 Porn sites have used banner ads or display ads for years as part of their marketing strategies. You can purchase a specific ad zone allocated by the porn site for a contracted time and run your ads. Banner ads are an ideal marketing solution if your adult site wants to attract new users. It also helps with the retargeting marketing campaign to effectively pull your already-visited users and make them purchase your content.
2. Hard links
Buying hard links is one of the best ways to increase traffic quickly and efficiently. The result would be better if you could buy it for a long time. You can attract incoming users from the get-go by obtaining a prominent link at the top of the page. As they are placed on the navigator bar, they can be displayed on all the pages of the porn site. In addition, hard links placed on the footer of the porn site are also one of the best ways to promote your website. It also gives more visibility to the users. 
3. Using Channels
Porn sites are your best source for increasing your customer base and brand awareness among users. To promote their work and pull visitors to their own porn sites, porn artists, cam models, and porn production companies have started their own channels on popular porn sites like Pornhub, Redtube, XVideos, and more. 
The sheer number of people coming to these porn sites makes the promotion of your adult business possible and successful by simply giving out a glimpse of what you can offer.
How to Advertise on Porn sites?
Before you begin, make sure you have an adult website. In case you don't, you can learn how to start an adult website using our guide. Advertising on porn sites is as easy as can be if everything is done right. There are three ways to run ads on porn sites successfully. They are: 
1. Using Adult Ad Networks
As a porn advertiser, you must get familiar with adult ad networks. Because the ads of the most famous adult sites like Pornhub, Brazzers, Reality Kings, etc., are managed by these guys. You should also opt for the best adult ad networks to increase your traffic and make more money effortlessly. 
The first step to advertising your adult site using adult ad networks is to define your campaign. Prepare a marketing plan that clearly describes your target audience, what devices you must focus on, and your daily budget. You can leverage their keyword selection feature to determine targeting time and frequency capping to make the most of your money. 
The second step is to upload your ad creatives. Whether it's a banner ad or an in-stream ad, promote in an eye-catching manner that makes users understand your adult business. 
The third step is to select a porn site and a placement for your ad. As many high-trafficked porn sites are available on adult ad networks, choose one that is within your budget. Placements are ad zones allocated to advertisers like you by porn sites. Zones with more visibility cost more to advertise on. If you want to boost your adult site's traffic, choose zones with more visibility. 
The final and essential step is to track and follow up on your ROI. These adult ad networks facilitate you with analytical tools to monitor the clicks, leads, and sales that come to your adult site. Analyze the stats and enhance them to get the best results.
2. Promoting through Affiliate Program
By utilizing the best adult affiliate programs, you can get easy access to promote your adult business on many porn sites with substantial traffic. Porn sites join affiliate networks like CrakRevenue, JuicyAds, ADXXX, and many more to monetize their adult content and traffic, and these affiliate networks act as middlemen between porn advertisers and porn sites.
When you sign up for any of these adult affiliate networks, they'll connect you with porn sites. In order to advertise, you only have to specify your requirements, for instance, what's the minimum traffic you want from a porn site, what's the engagement rate, etc. 
Most adult affiliate networks serve ads in multiple formats, including popunders, display banners, and native ads. The common affiliate marketing strategy these guys use is CPA– cost per action. 
Some of these adult affiliate networks offer many niche porn sites you can choose from. It is likely that your pornography advertising campaign will be able to reach a large audience since these networks often require high traffic requirements to join them.
3. Reach Out to Porn Sites
If you're limited in your marketing budget, you can directly reach out to small porn sites to advertise. There are many porn niche-relevant small adult sites out there with unique visitors. By doing little research on the internet based on keywords, you can find hundreds of small porn sites that have a good ranking in Google. 
You can contact them directly by mailing your request in detail. Also, there are lots of small porn pics sites that you can leverage. For example, if your business is related to selling adult content or sexual wellness products, they are one of the significant players who can help you boost your traffic and make more money. 
How Much Does It Cost to Advertise on Porn sites? 
The cost of porn advertisements mostly depends on the traffic of the porn site you are intended to advertise on. Simply put, you must spend more money on advertising on popular porn sites. 
First, let's discuss how much it costs you to run advertisements on porn sites via adult ad networks. TrafficJunky is a popular adult ad network that runs ads on Pornhub, YouPorn, Redtube, and several top adult sites. They use CPM– cost per mile or cost per thousand, as the advertisement option. According to CPM, as a porn advertiser, you have to pay for every 1000 ad impressions or 1000 times your ad runs on the porn site. 
At TrafficJunky, CPM targeting starts at $0.01/CPM. So you have to pay $0.01 for every 1000 ad impressions.  In the case of the Adultforce ad network, which manages Brazzers, Reality Kings, MOFOS.com, etc., charges you between $0.01-$0.25 per CPM. 
For adult affiliate networks, let's take CrakRevenue as an example. They also follow the same CPM advertising option as ad networks. The standard cost for an adult site to advertise on a porn site via CrakRevenue is $0.12/CPM.  So if your target is to reach 1 Million ad impressions or one million users to view your ad, then you have to pay $120. 
In a Nutshell 
If you've reached this far, then it's sure you are running a porn site or planning to build one. If it's the latter, then we recommend you create your own porn site using xStreamer by Adent.io. 
xStreamer is a ready-made tube script that lets you create a porn site like PornHub and XVideos in a couple of days.
Using xStreamer, you'll be able to leverage several impressive features, such as multiple revenue streams, state-of-the-art streaming technology, SEO-optimized web pages, and many more. Try a quick demo; you'll love our product. 
Thanks for reading our article on how to advertise on porn sites. If you have any questions regarding advertisements on porn sites, share them in the comments below.