-

6

mins read
Ever considered hiring models for your porn shoot? Now might be the time to do so. 
Although porn sites seem filled with models, hiring one of them is quite a challenge. This is especially true for people who are about to start a porn business. The cost of hiring porn models for a porn shoot can be much less than you think if you know other ways to hire than through adult agencies.
Suppose you're working with amateur models instead of professionals. In that case, it might reduce your cost significantly while still creating sensual porn flicks that boost your adult site traffic and sales for your business. 
You're in the right place if you're just learning how to find models for porn shoots. In this guide, we'll discuss all the tried and true ways to hire a suitable model for your next porn shoot.
With that said, let's get started. 
10 Ways to Find & Hire Models for Your Pornography Shoots
In this list, we've rounded up 10 easy and efficient ways to hire porn models. From professional adult models to amateur models, as well as those seeking quick money and those seeking a competitive advantage, each method focuses on different models. So let's take a look. 
1. Adult Talent Agency
If you're not interested in working with anything less than top adult model talent and have enough budget, an adult talent agency is a solid route for you. These adult agencies represent hundreds of professional and experienced porn models, all of which can be found on their websites. Here are a few popular adult talent agencies for your reference:
You can find out the best adult talent agencies in your city with a simple google search of " adult talent agencies _____(your city)" you'll find a bunch of great options.
Also, keep in mind that this will be the most expensive route, as many of these adult models are professional pornstars or adult creators. You can expect to spend anywhere from $800 to $1000 for a man and women scene and slightly less for a girl-on-girl scene. You may also have to pay the traveling expenses and agency booking fees. 
2. Local Amateur Models 
It is easy to find a local amateur adult model who fits within your budget, as they are just getting started and may not be experienced yet. 
You can find it through a quick google search or ask around at your nearby bars, nightclubs, or strip clubs. In addition, you can also enquire about amateur models from other local porn businesses who just entered the adult industry not long ago. 
In this case, adult models are less expensive since they tend to be still building their careers, or non-professionals who do porn because they just enjoy sex. So when you get hold of amateur models, ask them for referrals. They might take the pressure off you on hiring models.
Also, remember that the local amateur models you hire must know the basics of porn acting. This means being able to express their emotion and acting without much help from the director. They should also be comfortable with different types of sex scenes, as this can make a massive difference in the sales of your porn films. 
3. Adult Job Boards
There are plenty of job boards that are dedicated to adult industry-related jobs. If you're not okay with spending time searching for amateur models in local nightclubs on your own, you can simply use adult job boards, like SexyJobs, Porn Career, and many more, to hire porn actresses for your porn film.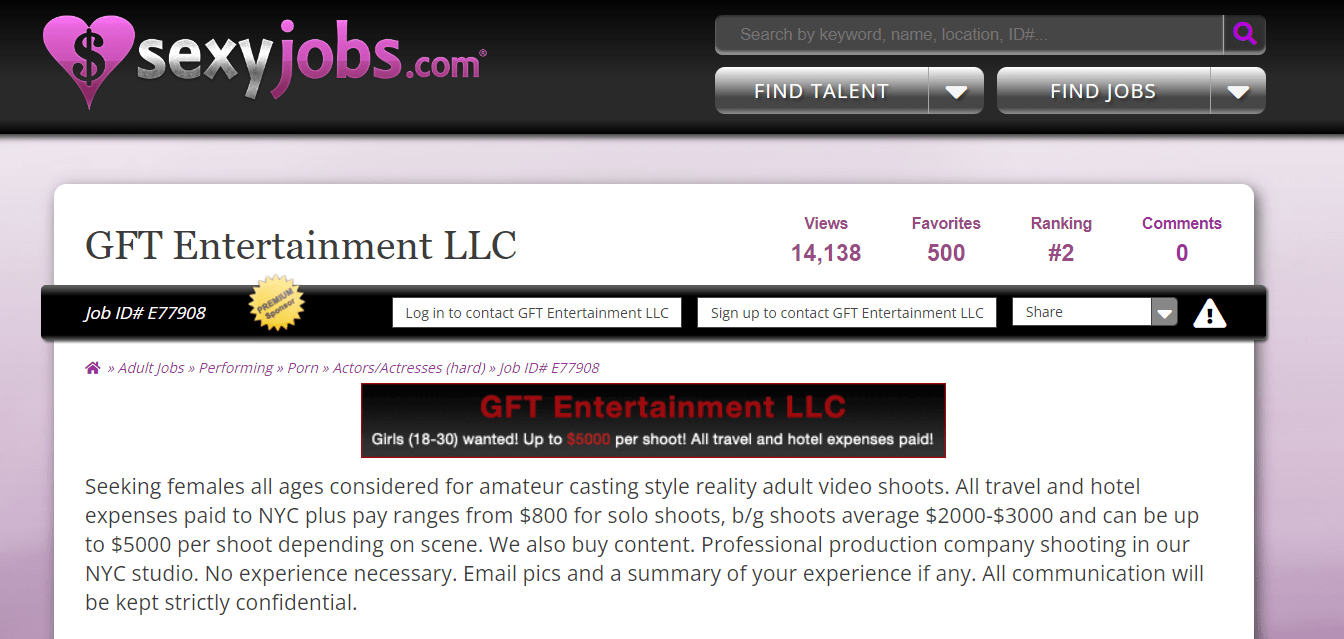 Be clear about what you expect from the model to avoid unnecessary mishaps during the shooting. You should also mention the model's age, location, and revenue model (hourly wage/ daily wage/ fixed wage for a scene). If you are hiring models for a single porn film, mention the job's starting and ending date. 
You can also point out what you can offer, such as travel expenses, hotel expenses, and referral bonuses. Models who may be taking drugs may apply, so clearly mention that you would like them to be drug-free.
4. Adult Industry Events
If you're looking for a way to hire models without spending days and weeks searching online, then we suggest you go to adult industry events. From Latinas and Redheads to Ladyboys and hot MILFS, you can find every categorical pornstar and adult model in those porn conventions.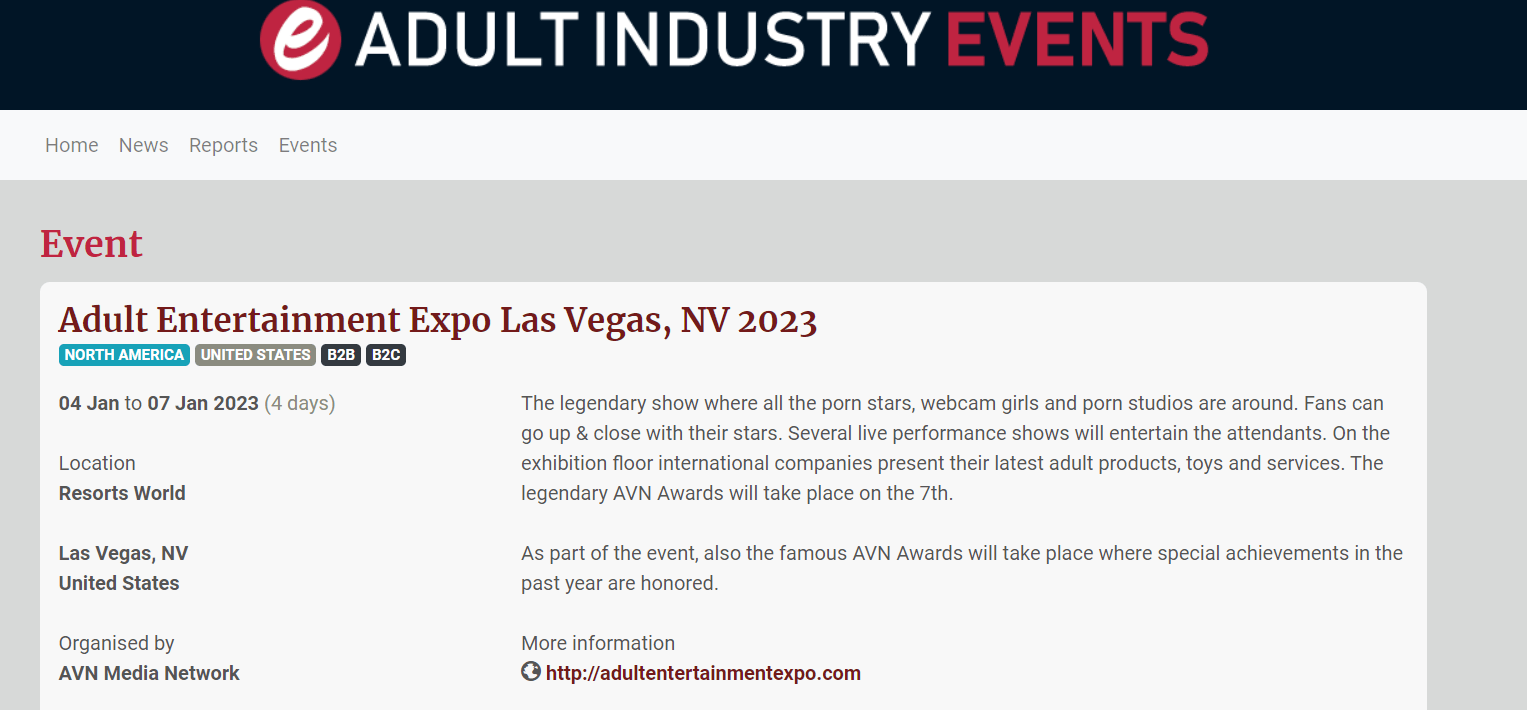 Some of the famous adult industry events are held by XBIZ and AVN regularly. As a large number of newbie adult models attend these events to find an opportunity, you can directly connect with them and talk about the job openings. It's also the best place to find experienced adult models if you plan to collaborate. 
Not only that, you can find adult models from different countries. So make sure you book the tickets in advance and get to the spot as early as possible. Probably, there you can find hundreds of porn business owners like you trying to hire porn actresses. You should therefore be sincere in both your payments and benefits to models.
5. Social Media
One of the most efficient ways to find adult models is to check out social media! And Twitter is an excellent option for this. We assure you that there are lots of porn creators in your area shooting with models, so get on Twitter and search for #Onlyfansgirls, #lingeriemodel, or #Spicycreator, and you'll start to see who's around. 
Click on the model's profile and see what they look like. If you find them the perfect fit for your porn film, send them a DM and ask them if they are interested. When you send your DMs, always be polite and make sure to share your porn site address so that they can see your work. Also, explain what kind of porn you'd like to shoot. Don't just stop with a couple of DMs; reach out to models as much as you can. They may reply, or they may not. But it wouldn't hurt to try, right? 
6. Adult Forums
Once you are done with social media, it's time to search for models in adult forums. Adult forums have been a valid platform for both models and porn creators to connect and collaborate for many years. Go to adult forums such as ViperGirls or KittyKats, and look for a community that is relevant to the theme of your porn film. 
Every community thread has tons of images of the model. So take your time to go through them one by one to find the right one. Once you find them, then search for the website address or email of the studio that did the photoshoot. Most of the time, you can find them at the top or bottom of the thread. Then, send out an email describing your intention to hire the model. If the models are under an agency, you might want to spend more, but if they're not, you can win them over cost-effectively. 
7. Fan Sites
With the presence of adult fan sites, you're in for luck in finding a model without much hassle. Fansites like OnlyFans have already become the adult creator's LinkedIn. You can find models of all genders, ethnicities, body types, niches, and languages here. In their profiles, these models mention what services they will provide to porn creators like you. 
If you find a suitable model, subscribe to their content and look into their work. By subscribing to their posts, you're able to DM them. Express your intention politely and ask if they're interested. If they're willing, then you got a deal. If they already have much work on their hands, ask for their mail address and say you'll contact them in the future. Don't forget to show your work. Doing so will prove to them that you're running a legitimate pornography business. 
8. Adult Performer Directories
If you are wondering how to hire a pornstar without going to an agency, then adult performer directories are the place where you should go. They provide information on the models, including their ethnicity and body measurements, as well as the porn movies they have appeared in, and the distributors of their films. 
Here are some popular adult performer directories for your consideration: 
These sites are free to use and provide you with all the necessary information about porn models. These directories have records of porn performers from as early as the 1960s, which is one of their most significant advantages. So if you're looking for a model who is in their 50s, 60, or even 70s, they have the necessary information for you. In addition, you can find the awards these porn actresses won during their careers. As model profiles come with their current social handles, you can directly contact them on the spot. 
9. Hiring Someone You Know 
You can easily hire models by asking someone you know. For example, if you have a friend who is passionate about acting in porn and fits the look for your porn film, see if they'd be willing to work with you for a day or two. Or, ask them if they know any models who actively work as an adult creator. 
If you want to ask your friend or an acquaintance to do porn, make sure they are interested in making it. You can pay them at a rate that the two of you agree upon or photos and videos to include in their porn channels and portfolio. Hiring someone you know is also beneficial because you feel comfortable around them–both in front and behind the camera. We suggest you consider doing this if your budget is minimal. 
10. Adent.io Model Database
Instead of spending hours searching models either online or in person, you can simply purchase Adent.io's model database. The model database has been crafted in detail to cater to adult business owners like you and has all the necessary information to start recruiting the models. 
We provide information on more than 300+ models, which includes the model's name, email address, country, and current social handles. It's one of the cost-effective ways to recruit models, as you can purchase the whole model database for just $79.  
Conclusion
In addition to choosing professional models for your porn shoots, the success of your porn content also depends on the platform you give users to access your content. If your porn membership site delivers an exceptional user experience, you can rocket your sales effortlessly! 
Are you wondering how to build such a porn paysite? Then, consider buying the readymade porn membership script–xMember by Adent.io.  xMember is your one-stop solution for building your adult membership website. With a high-quality backend and a well-designed frontend, it makes your adult site bankable, just like BangBros and SpicyVids. 
From integrated e-commerce and reliable adult payment processors like CCbill to advanced streaming technology and multiple video formats like AVI FLV, DIVX, etc., xMember is versatile from end to end. So check it out! 
We hope this article is helpful and gets you going with finding models for your porn shoot. Do you know of any other ways to hire porn models? Let us know in the comment section!