-

6

mins read
Chaturbate is a well-known cam site that has a large and diverse selection of models available at any given time. There are over 3,000 models of varying genders, body types, and ethnicities, and during peak hours, this number can exceed 6,000.
You might be wondering why you should join a cam site with so many performers. The reason is straightforward – along with many models, there are also many users who want to chat with them. In the United States alone, Chaturbate has over a million visitors every month, which indicates its earning potential.
Additionally, Chaturbate offers several chat modes, multiple monetizations and impressive features that can assist you in earning more money from your shows. In this post, we will disclose how much money can you make on Chaturbate, how the platform pays you, and provide some tips for earning extra cash.
That said, let's get started.
What is Chaturbate and How Does It Work?
Chaturbate is a renowned cam site and is considered one of the largest and most widely used porn sites globally. According to Similarweb, a website traffic calculator, Chaturbate ranks as the 5th most popular cam site with more than 468 million monthly visitors. Clearly, Chaturbate has amassed a significant following.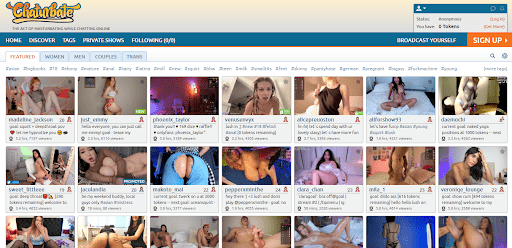 As the name implies, Chaturbate is all about models jerking off while users watch and chat with them. Chaturbate offers an interactive experience that has contributed to its widespread success. People enjoy communicating directly with amateur models, tipping them to access desired content, and even tipping them to control their sex toys.
Also, a user can also access private shows with the models and join their fanclub to get exclusive access to their adult content. 
Is Becoming a Chaturbate Cam Model Really Worth It?
The decision to become a cam model in Chaturbate is a personal one and depends on your level of dedication, motivation, and desire to perform. It's important to understand that success as a cam model requires more than just getting off in front of the camera. Cam Models are entertainers, and achieving success in this field takes a lot of hard work.
To achieve genuine success on Chaturbate, it's essential to have a deep passion for webcam modeling that transcends the monetary rewards. You must also be committed to constantly improving yourself. 
Prominent streamers such as Caylin, Siswet19, Dawn Willow, and Molly Brooke didn't attain success overnight. They invested a great deal of time and effort into both their live-streaming content and promoting themselves offline. 
In fact, they often did more of the promotion. Becoming a cam model in Chaturbate can be immensely rewarding and worth it, but only if you're willing to put in the necessary work for the right reasons.
To know more about the platform, read our extensive review on Chaturbate. 
How Do Chaturbate Models Make Money?
Before we answer your question, 'How much money can I make on Chaturbate?' Let's look into the monetizations available on the platform.
During the process of creating your model account, you'll be prompted to establish prices for your live Chaturbate shows. These prices can be adjusted later to accommodate any changes in your circumstances. 
The site provides a range of minimum, maximum, and average rates in tokens per minute charged by models. It's important to remember that each token costs approximately $0.10 for users.
Tipping: A tip menu is a list of personalized activities that you can offer during your live shows for a certain number of tokens per activity. Chaturbate tip menus are interactive, allowing users to select and pay for a specific activity at the same time.
Goal Tips: Users who cross a tip threshold become Kings in your room (their username is listed on the page), and if you meet a collective tip goal, you must perform a specific act for every user watching you.
Offline Tips: When users appreciate your exceptional service, they may show their gratitude by tipping you even when you are offline.
Private Shows: A private show is usually charged by the minute, or a user can pay you some tokens so they can watch your show without any interference from other users.
Live Show Recordings: Approximately half of the site's members allow extra fees for recording their public shows. Additionally, they can record their private shows and make them available as paid videos.
Fan Club: As a cam model with a substantial following, you have the option to create a Fan Club with varying levels of membership fees. This presents an excellent opportunity for your fans to demonstrate their admiration for you. You can choose the monthly fee for your Fan Club, ranging from 50 to 2500 tokens.
Selling Content: Apart from live show recording, you can also earn money by selling homemade porn, and nudes, on your profile by exchanging tokens with your users. 
Daily Contests: Every hour, the Chaturbate will award a prize of $10 to the top performer and $5 to the second-place performer, and so on, in the "Win $11,000+" contest. Unlike Chaturbate's alternatives, this platform awards cash prizes to hundreds of winners every month. 
Referral Program:  By joining the Chaturbate affiliate program, you can introduce new models or users to Chaturbate. By doing so, you can earn $50 for each cam model who earns $25 or more and $1.00 for every new free user signup.
How Much Does Chaturbate Pay?
As a cam model, how much do you make on Chaturbate depends on how much does the cam site pays you. 
It's worth noting that the worth of Chaturbate tokens differs based on whether you're a broadcaster or a viewer. For viewers, the cost ranges from $10.99 to $7.99 per 100 tokens, depending on the amount purchased.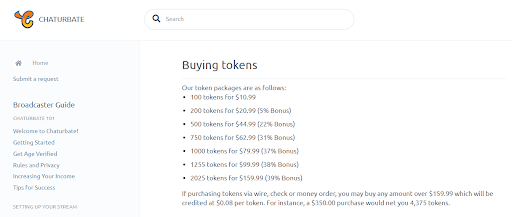 Meanwhile, Chaturbate takes a cut of 40% to 50% from the viewers' payments and lets you keep 60% – 50% as a broadcaster.  This is how Chaturbate pays its broadcasters. So, to put it simply, broadcasters earn $10 for every 200 tokens received.
How Does Chaturbate Pay?
Chaturbate offers a range of safe, secure and convenient payment options; they are:
Paxum

ePayService

Skrill

Bitcoin

CosmoPayment
If online methods don't suit you, we also offer payments through wire transfer or check by mail. Additionally, residents of the United States can receive payments via Direct Deposit.
When using Chaturbate, there are two payment cycles to keep in mind. The first cycle runs from the 1st to the 15th of each month, while the second cycle runs from the 16th to the 31st. After each cycle ends, Chaturbate will send you your payments within 7 days.
How Much Does an Average Model Make on Chaturbate?
Based on an estimated hourly rate of $70 for top performers, working for 3-4 hours can earn them $280 per day. Over the course of a month, the cam model's earnings can amount to $8,400, and over a year, it can add up to $100,800.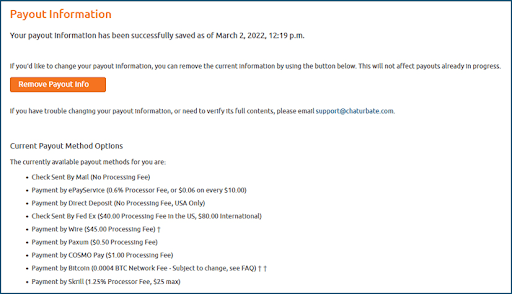 In addition, Chaturbate offers cam models various opportunities to boost their income. It's not uncommon for cam models to earn between $12,000 and $15,000 per month with less effort than a traditional job. However, it's important to note that the workload may be lower than any of your traditional lines of work. But of course, you need to put your 100% if you want to make that much money. 
It's worth noting that certain webcam models on this platform have managed to turn their private shows into million-dollar business ventures. This indicates that by becoming a cam girl on Chaturbate, they can earn substantial amounts of money, with many using their earnings to purchase new cars or houses.
Is It Necessary To Pay Taxes on Chaturbate?
Yes, taxes must be paid on your earnings from Chaturbate. If you reside in the United States, any income exceeding $400 must be reported. 
As a broadcaster for a cam site, you are considered an independent contractor, and the government will provide you with a 1099-MISC form outlining your taxable income. If you are not a citizen of the United States, you will still need to report your earnings, albeit without using the form.
Tips To Make More Money on Chaturbate
During the first two weeks after signing up, the Chaturbate will promote you. It is crucial that you work diligently during this time to establish a solid reputation.

For the best viewing experience, make sure to

use high-quality equipment

like an HD webcam, a fast internet connection, and appropriate lighting.

To ensure that your users know when to contact you online, it is helpful to establish a

consistent broadcasting schedule.

You can further assist them by clearly outlining your work hours on your profile page.

To optimize your earnings, it's recommended that each shift lasts

5-7 hours

to ensure sufficient broadcasting time. Keep in mind that your revenue per hour plays a significant role in determining your overall earnings.

Keep regulars, casuals, and other members of the audience entertained by being visually stimulating. Also,

keep yourself busy on live cam

by moving around, dancing erotically, and having fun with all sorts of devices, from vibrators to dildos.

It's important to be attentive to users in your public chat rooms, even though it can be challenging to give everyone equal attention. Responding to their requests and needs is crucial for maintaining their interest in your show.

It's important to get to

know your customers

by remembering their names and personal details if they've shared them. You can take notes to help you remember, and it's also helpful to communicate with them using a language they can relate to.
Conclusion
If you're interested in pursuing a career as a webcam model, Chaturbate offers everything you need to achieve success. The site boasts a large user base of raunchy individuals seeking high-quality adult content, along with numerous features to encourage viewers to spend money on your content. 
Additionally, as a full-fledged model, you'll enjoy a high payout percentage, making your broadcasting activities on the site highly profitable. But if you want to have full control over your earning without paying a dime as a commission, we suggest you create your own fan site. 
How? Using a white-label solution like xModel by Adent.io. Unlike building the website from scratch, which costs you tens of thousands of dollars, using xModel, you can build your fan membership site with all futuristic features at an affordable price. As a cam model, you can live-stream, sell adult content, sell physical products, do affiliate marketing and more with the help of xModel.
Everything can be done within a few days in the comfort of your home – So check it out!
Also, we hope this article answers how much money can you make on Chaturbate in detail. So if you're considering a career in cam modeling, Chaturbate is an excellent place to start. Have any questions? Comment below!