-

7

mins read
If you're here to know about Chaturbate reviews, then you've come to the right place. Chaturbate is, without a doubt, the biggest adult live cam platform that hosts thousands of models from around the world. According to Similarweb rankings, Chaturbate is the 8th most popular adult website in the world and 49th in the ranking of most popular websites in the world.
Chaturbate was launched in 2011, and since then has been a popular cam site for many horny viewers from around the world. With over 350,000+ registered models on its platform, users can find more than 500 models online performing live at any given time. So what is Chaturbate, and what makes it so popular among the people? In this article, we will dig deep into Chaturbate reviews and answer questions like, is Chaturbate safe to use?
Is Chaturbate safe & legit site?
Adult websites carry a risk factor with them which makes people question the legitimacy of sites like Chaturbate. This is due to the fact that there are many scam porn websites that charge users' money in return for nothing but fake links. Such incidents generally dent the image of all adult platforms, making people skeptical about using one.
Chaturbate, on the other hand, is very much a legit and safe platform. Over a period of time, it has built its reputation as the most popular adult webcam site in the world. Chaturbate boasts around 500 million traffic every month from around the world, which easily tells you that Chaturbate is a safe and legit site, as you can see in the image below.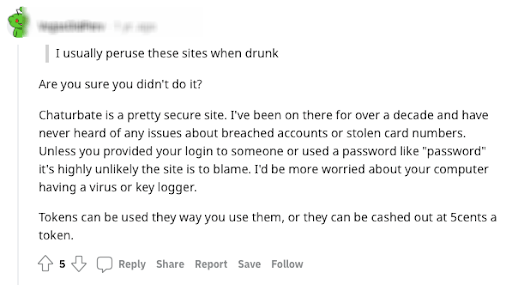 Chaturbate makes sure that the SEO on its platform is solid and robust, which helps in pulling the major traffic to the platform. 95% of the content on Chaturbate is free, and users can watch without even needing to register on the platform. The owners of Chaturbate make sure that the privacy and safety of performers and users on their platform are intact, and they take strong actions if anyone is found scamming, be it a model or a user. If you can take care of basic things like not revealing your personal information to anyone on the platform, then you can definitely consider Chaturbate as one of the safest sites to perform.
How does Chaturbate work?
The business model of Chaturbate revolves around tipping. There are 2 types of live shows on Chaturbate, public shows and private shows.
As we told earlier, most of the content on Chaturbate is free to watch, and that falls under the public show category. Here models can just talk with fans, tease them a bit, and show how much they want to show. Users on public shows can tip models to convince them to show more and more. Models set tip goals for different sexual activities. Once a tip goal is reached, the model performs the promised act on live cam for the users to increase their cam girl salary.
Private shows, on the other hand, are where the models make good money. Users can ask models to come for private shows that are charged on a per-minute basis. Models can charge any rate between $2.20 to $4.30 per minute for their private shows. From all the earnings made by models on Chaturbate through shows and tips, the platform takes a cut of 40-50% from them as a convenience fee.
Other than the shows, models on Chaturbate can also sell nudes and porn videos to users to make money as a cam girl through the platform. Chaturbate even allows the sale of physical products like sell sex toys, sell used panties, etc., which helps models in earning more money as cam girls.
Pros of Chaturbate review
Let's take a look at a few pros of Chaturbate reviews that make it a popular option for both models as well as users.
Tipping
Chaturbate was the site that brought audience tipping based live cam shows to the front. This helped models earn good money while broadcasting to thousands of users at the same time, thus increasing their chances of earning more.
Color coding
Chaturbate tags users on its platform with different color codes depending on their token balance and the frequency of their spending. This helps models to know who are the big players in their show and differentiate them from the freeloaders in their room.
Free content
Most of the content on Chaturbate can be watched for free, which helps the platform to build a strong fan base. Although users need to pay for models to get dirtier, free content still is a huge crowd puller for Chaturbate.
Variety
Whatever niche the user wants, Chaturbate has it. Be it lesbian, couple, gay, solo, threesome, or any type of performance, you can find it on Chaturbate. With a model base that is varied and hosts all model types based on nationality, ethnicity, and sexual orientation, Chaturbate has something to offer everyone. Check the below image where a Chaturbate model speaks of the platform.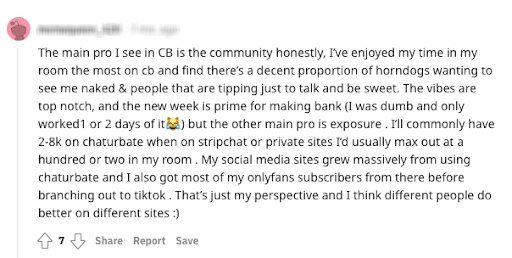 Cons of Chaturbate review
Outdated interface
Chaturbate is one of the oldest cam sites, which makes the interface feel outdated. The connection gets choppy sometimes, which can be due to the overload on its old tech.
High commission charges
The platform takes a 40-50% commission from the earnings of the models on its platform. Although models do stand a good chance of earning well on Chaturbate due to its huge audience base, the commission is a bit high compared to other top webcam sites.
Less professional steaming
As Chaturbate offers free streaming and has a lot of amateurs doing live shows on its platform, the streaming quality is less professional compared to other cam sites which host professional cam girls.
Poor search option
Chaturbate provides a search option that is based on various filters and tags that help users to narrow down their search for their preferred cam model. But it is difficult to find the exact model that you're looking for using the search function.
How is Chaturbate for cam models? – Chaturbate model reviews
Cam models are in for a treat on Chaturbate. The platform enables cam models to increase their earnings through various methods. The basic earning method on Chaturbate is tipping. Cam models can perform public and private shows and make good money through tip goals. 
Models can set their tip menu and pin it on their show for users to see. Depending on the tip received, models keep performing the promised act according to their tip menu. Tip goals are a fun and interactive way for models to earn money on public shows.
Private shows are another money-minting method for cam models on Chaturbate. Models can set the per-minute rate for private shows and earn money for as long as the private show lasts. Private chats are one-on-one with a user where models perform sexual acts as mentioned on their profile for the private user.
Cam models on Chaturbate can also earn money by selling physical goods like selling used panties, sex toys, etc., and can also sell their nude pictures to interested users. All the services provided by models can be clearly mentioned on their profiles so that users can contact them for their needs. Chaturbate also pays models a referral bonus for every referral they make to its platform giving it high Chaturbate model reviews.
How is Chaturbate for users? – Chaturbate user reviews
Chaturbate user reviews say that it is very easy to set up and use for any user from anywhere in the world. The simple yet detailed interface guides users in the step-by-step process of registering on the platform. The best part is that users can browse almost all of the content for free without even having to register on Chaturbate. Once a user is convinced that Chaturbate is safe and a legit cam site, then they can register themselves to get access to more exclusive cam shows.
Users can find a lot of variety on Chaturbate depending on the body type, nationality, sexual orientation, etc., of the cam models. They can browse thousands of live streams for free, but if they want an intimate experience and want the cam models to perform specific acts for them, then they need to pay for it. Users can buy token packages available on Chaturbate that can be used to watch private shows and tip cam models on their shows.
What definitely helps Chaturbate user reviews is the fact that the platform promotes homemade amateur cam shows. While you can find professional cam shows done by pornstars and models on many cam sites, Chaturbate offers an array of homemade cam shows done by amateurs, which adds to the intimate factor for users.
How is Chaturbate for affiliates? – Chaturbate affiliate reviews
The Chaturbate affiliate program is one of the best because of the huge traffic the platform receives. It provides affiliates with multiple ways to earn money as well as various promo tools to promote their program. The best part about the Chaturbate affiliate program is that one link works for everything, and affiliates don't need separate links for different types of traffic.
Affiliates can choose between the revshare model or the PPL(pay-per-lead) model, depending on their convenience. Revshare can be profitable in the long run, but many cam affiliates choose PPL which is also very profitable. Chaturbate affiliate reviews are highly spoken of due to the variety of money making opportunities for affiliates on the platform.
Affiliates can earn $50 for referring a broadcaster to Chaturbate while they also get a referral commission for referring webmasters to Chaturbate's affiliate program. Having one link for all types of affiliate marketing makes Chaturbate one of the best adult webcam affiliate programs. Check out this Chaturbate affiliate review from one of the affiliates.
Chaturbate tokens and payments
Token charges for users
As mentioned earlier, transactions are done via tokens on Chaturbate, which helps maintain clarity in transactions for both users as well as models. Users can buy token packages on Chaturbate, which can be used to tip models and buy their time for private shows. The bigger the token package a user buys, more is the bonus tokens received, as shown in the image below.
There are many payment options available for users to buy token packages on Chaturbate. Users can buy packages through:
Credit / Debit card

Paypal

Paysafecard

Wire Transfer

Sofort

Epoch

Cryptocurrencies
Token value for models
Models on Chaturbate can convert the tokens earned by them into money and claim for payout. The conversion rate for model earnings on Chaturbate is 5 cents for 1 token earned. So if a model earns 100 tokens, it means they have earned $5. Here's a chart to give an idea of the token conversion rate for broadcasters.
20 tokens: $1

100 tokens: $5

500 tokens: $25

1000 tokens: $50

10000 tokens: $500
The minimum payout amount for models is $50 on Chaturbate. Models can claim for payout twice a month through various payment options. There is a daily payout option available, too, but it comes with a $3.95 fee. Models can claim payouts through:
Paxum

CosmoPayment

ePayService

Skrill

Bitcoin

Check by mail

Wire Transfer

Direct Deposit (USA only).
Customer support on Chaturbate
Chaturbate has one of the most elaborate FAQ sections that more or less answers every question a user or model has regarding the platform. For more queries, you can write to customer support using the "submit a request" tab, and the responsive customer support of Chaturbate usually reverts back within an hour or before.
Unique features of Chaturbate
Spy cam
Users can use the spy cam function and spy on private shows of models. The spy cam costs less than the private shows and offers an opportunity for users to get a sneak peek of private shows. Remember that users cannot interact with the model on spy shows.
Multiple language support
Chaturbate is available in multiple languages other than English like French, German, Russian, Japanese, Greek, Arabic, Hindi, and many other languages. This is really helpful and convenient for users across the world.
Interactive sex toys
Models can integrate teledildonics into their live shows for a more interactive experience for the users. These sex toys vibrate when any user tips the models, thus increasing interaction and fun among users.
Apps & bots
Chaturbate offers an array of apps and bots for the models to make it easier for them to manage their live shows. These apps help models manage their chat rooms, send out regular messages, silence spammers, induce interactive games, and more.
Final verdict
Starting a webcam business is no joke, but Chaturbate has proven why it is the numero uno when it comes to adult webcam shows. Chaturbate offers a plethora of opportunities for amateur models to broadcast to a huge audience and make good money from it. Most of the Chaturbate reviews from users, as well as models, are good and promising, which makes it easier to choose Chaturbate for your adult live webcam needs.
If you're someone who wants to start an adult webcam business like Chaturbate, then look no further than xCams. xCams provides you with everything you need to run a successful adult live webcam business and offers multiple monetization methods so that you can make good money from your adult cam platform. Check out xCams today and see for yourself.