-

9

mins read
Since the Internet-connected cameras were invented, live sex shows have become a new face of the porn industry. It has become a lucrative profession. Online porn had already suffered in the past few years due to many porn sites offering erotic movies for free. But thanks to new technologies and high-speed internet, cam girls have become a new profession, where the adult performers can earn a good amount of money from their own room.
One of the popular live webcam show sites gets visited by nearly 28 million visitors in a month. With a web traffic like this, a cam girl can easily make a large amount money with few shows every day.
Cam girls can easily earn more money through this way, without having to work in regular porn movies, where the earning has become deliberately less. One of the reasons why cam girls have become so popular is "live interaction", which is not possible in porn movies. Watching and interacting on a live show with a porn star is like sitting with an artist. Also, the cammers get to work from their independent and safe place.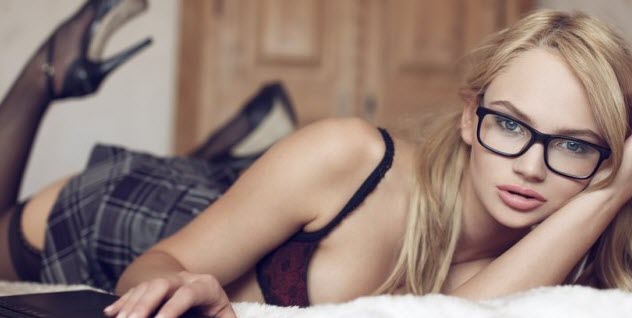 A large network of porn websites is dedicated towards live sex cam shows. They allow amateur porn actors to perform live shows on their site for chatroom audience. The people pay using virtual tokens, which are converted into dollars by the website. Then the website owner's distribute the money to the actor, after taking a cut for themselves. This method of paying applies a soft pressure on everyone to keep spending, which they do. On an average, a cam girl can easily make $500 in a day to $500 in a single show. Many models earn $500 to $1000 in a single day. While not every model makes that much money, an exceptional cam girl can earn $50,000 to $60,000 in a month, quite easily.
But a cam girl doesn't always have to work for a website.  Cam girls can create their own site and earn more money. This way through your own site, you will earn more revenue, along with better interaction with your fans. And better fan interaction will bring in more new clients. Also, the money which goes towards the owner will then come towards you.
Before delving into the details, I would like to explain the nuances of the term 'Cam site owner'. Cam site owner is a business administrator who owns a webcam site such as chaturbate, bongocams etc. More often than not, web cam girls and adult pornographic models can sign-up, register themselves on mutually agreed terms and subsequently stream their respective cam shows. If a model becomes popular, she can start her own website and integrate a live webcam system to her website. This is where Adent's xCams comes into picture. Adent's xCams product can be customizable to suit individual models who wanted to have their own Live WebCam site by providing their service and making more money.
Adult pornographic actresses enjoy the added advantage of selling their lingerie, panties and other erotic accessories to their regular customers.   
There are many live cams script software available on the internet, which can be used to create and manage your own adult cam show site. One such software available on the internet is xCams from Adent, which is very useful for adult performers, who wants to have their own live cam website.
xCams from Adent
The xCams software from Adent is a Live Cams Script software, which helps in creating your very own live adult cams site. With this software, you can easily create and maintain your custom porn cam site. The streaming technologies used in this software enables you to create your own video chat portals along with pay per view cam system.
Features of Adent's xCams
There are many adult porn webcam performers who want to earn more money, and Adent's xCams is one way to create your own website and start earning with ease. You can not only start your own website but also you can hire more performers for your site.
As the owner of the website: As the owner of the website, you can easily manage the number of user signups, the time spent on each model, the total amount of money spent by each user and much more with this software.
You can always keep an eye on all the chatrooms. Get real time analytics and list of people watching any cam show at a time.

If anyone's abusing or not behaving properly, you can ban or remove that person from your website. You can ban their IP, city or country, which just a few clicks.

Cam models management: Add new models to your site, edit their info or delete them. You can manage their bio page having their images and videos on your website.

Setup different pricing for per minute for every model. You can also set different pricing for a model according to the time of shows.

Private paid sessions will always be requested by users and you can keep track of them with logs of all the chats.

Model revenue management: The amount of money each model earned in a day, the total amount earned by all the models, the number of shows performed by every model, the amount of commission you earned and the amount which has to be paid to each model, this can be easily managed with xCams.

Different payment gateways, so that every user can pay and watch easily.
With this software, models and clients can have a direct conversation, along with the live show. Models can create and manage chatroom, or can go for a private show. Creating and managing your very own adult porn cam site is very easy with xCams.
There are many other options as well, through which you can start camming without paying anything. You can start from your home via Skype cam shows. You will have to advertise and find customers, but this way you can learn and start getting in this business.
But why stop at just cam shows?
You can also earn more money by selling personalized products to clients. The products can be anything from sex toys, attractive outfits/lingerie, porn videos, porn magazines or simply any product. Advertise these products using your cam models, and their fans will become attracted towards the products. There are many cam sites, which sell different kinds of products on their website. This way, you can earn some extra money on the side.
After starting your own adult cam show site, it is not a must that you should only focus on that. You can work for other similar sites as well. This way, you will always be updated with their trends and you can later apply the same on your website. Also, not to forget, you will keep earning along with it too. Give few hours of your day to other websites, and you can even advertise about your own website on your private and group shows.
Working for any adult cam show site is one thing, and starting your own site, is quite different. Your own website will increase your earning. And it is not so much difficult to start your own adult porn cam site. Start with yourself first, and soon many models will come to work for you. Use xCams from Adent, and managing your cam site will become much easier.