-

14

mins read
Not so long ago, Flash was the only video solution to play videos on the web. Today, the choices are many and adult webmasters are often in a dilemma when it comes to choosing the best video player for their respective adult tube sites. While every video player company is doing its best to embellish its own image, we have converged a few success parameters to define and help you decide the best video player for your adult tube sites. Without any further ado, let's take a look at the success factors: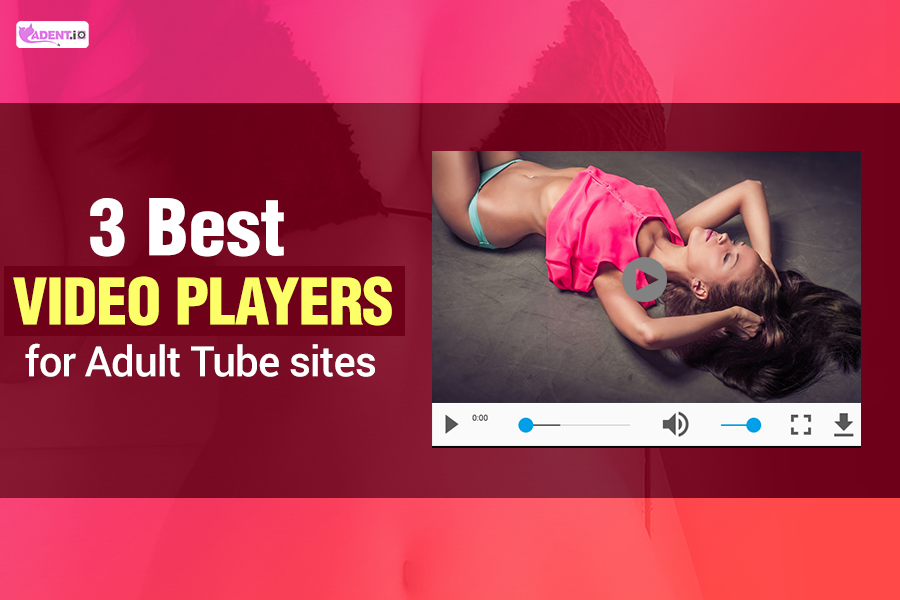 Universal Browser and OS Support
Video players should run on every possible browser and operating system. Video players should integrate themselves with as many available formats as possible.
Video players should not be proprietary property. Open source video players are always desirable. Just in case a bug or a defect crawls into the player, third party web developers can create dedicated libraries to address the fallacies.
Flash player is good. However, it is far from great. New generation video players should differentiate themselves from the age-old flash player. Extensive support to customization is required.
The list of features to look for in a video player for your adult tube sites is endlessly large. However, we have created a curated list and here is the same:
Video Formats and Media Types
It is important to be able to play every possible type of video format. To start with, video players for adult tube sites should support video file formats such as MPEG-1, MPEG-2, MPEG-4, WMV, Flash, and AVI. Such video formats are a genuine mixture of old and new standards.
Video and Audio Quality Management
This essentially hinges on subjective opinions of adult webmasters. Some may be okay with 720p while some other webmasters may not settle with anything other than 1080p. Another important aspect to be factored in is undoubtedly the support of player acceleration by the Graphics Processing Unit (GPU). Speed of the processor is yet another factor which cannot be discounted. Other important factors determining the video and audio quality are the type of display, the type of content being displayed and streamed, etc.
Video Conversion Capabilities
Not many video players have this feature. I advise adult webmasters to opt for that adult video player which has this feature. Converting normal porn videos to MP3 videos is important. Without conversion of videos into MP3 format, uploading the digital adult content to adult tube sites is impossible.
Video Player Settings and Preferences
This has always been the bone of contention and confusion. Video players have evolved over a period of time and settings are extensively diverse. Absence of a standard template as far as video player settings are concerned raises a pertinent question: Does the video player have provisions to enable automatic window sizing, activation and positioning of subtitles, proper contrast and saturation adjustments, cache sizes, ability to modify the controller settings etc. Are there any de-facto standards to infuse sanity in the chaotic ecosystem of video players? Well, there aren't any easy answers.
Add-ons / Plug-ins: Extendibility
It is highly likely that a particular video player maybe perceived as the blue-eyed choice for adult tube sites. More often than not, adult webmasters require certain codecs and plug-ins. Not every codec available in the market is compatible with the video players. It is important to check for compatibility of video players with various codecs and plug-ins.
For all intents and purposes, the user interface should look professional. That said, it shouldn't be sophisticated. It just doesn't augur well for audiences if the user interface is complex and not user friendly. Ease of use factor is again left to the discretion of the adult webmasters. It also hinges on the perception of the users. For instance, adult webmasters may like separate windows scattered all across a normal sized screen. Contrary to this, audiences may like different functions neatly arranged in a condensed and unified interface.
Developers who have a yen for installing good APIs shouldn't get disappointed. It is in this spirit, video players for adult tube sites should be friendly to the community of developers.
Suggested Read: 5 Easy Steps to Start an Adult Tube Site (Newbie Guide)
Let us now take a look at the 3 best video players for adult tube sites.
Video JS
Video JS is a very good video player for adult tube sites. It has got untold rich community support. Keyboard controls and playlists are absent. However, it is easy to use and customization is also in the offing. When it comes to playing videos uploaded on your adult tube sites, it does its job fine. Here is a very brief list on its amazing features:
All the HTML 5 videos can be played and embedded. Of course, the videos should be made compatible with all the browsers.

There is also a provision to embed videos with poster images.

Adult webmasters can do away with the typical hassles involved in set-up

This video player is absolutely clean and perfectly sleek. There aren't any watermarks involved.

If you want your videos to look pixel perfect and responsive on mobile devices for rendering better user experiences, Video JS player will assist you in your endeavors.

WordPress sites aren't adult friendly. However, you can start your own adult WordPress site with a lot of restrictions. In such a scenario, Video JS will come handy while embedding MP4 video files into a post or a page.

WordPress porn sites have a huge media library. To embed videos, you can use direct links in the short code.

Subtitle support is worth mentioning.

This media player is lightweight and perfectly compatible with the latest version of WordPress. Hence, it should be a smooth experience for adult webmasters operating adult WordPress sites.
Here is a table conveying the most relevant information:
| | |
| --- | --- |
| Parameter | Yes / No |
| GPL v3 License | Yes |
| JavaScript Library | Yes (Standalone) |
| Flash Fallback | Yes |
| IOS | Yes |
| Full Screen | Yes |
| Keyboard Interface | No |
| Subtitle Report | Yes |
JW Player
JW Player for adult tube sites is a great choice. However, the distributed version is much famous than the free version. To use the free version, adult webmasters are obliged to compile the same. Webmasters looking for simple video players may not find it conducive enough for adult tube sites due to the hassles involved in compilation process. This player has some really cool features such as HLS and playlists. It has enough features to let you manage, publish, design and monetize your porn content. You can leverage its built-in content strategy workflows.
By using its Dashboard, you may:
Not only upload video content but also manage the same

Not only create but also customize the video player

Not only publish but also embed the content on your adult tube sites

Video recommendations will be auto-generated through intelligent algorithms. Video engagement can thus be improved. This is achieved through powerful playlist tools which enable adult webmasters create curated playlists for their audiences. The Real Time recommendation engine which taken global trends, past trends and emerging trends along with behavioral pattern of audiences will automatically help serve the right customers with the right content at the right time.

Growth hacking features help you bring multiple ad providers. You may manage various monetization strategies. Advertising capabilities are absolutely flexible. While many ad networks are supported, discretion of the webmaster is required as the digital content is pertinent to adult tube sites. Be informed that diverse ad types such as VPAID, VAST, VMAP, Google IMA and Freewheel are also supported.

Analytics tools can be used and insights on content performance can be obtained.

No second thoughts, the Dashboard is user intuitive and friendly.

Presence of capabilities to track the performance of video content strategy is yet another plus point. In other words, customers can easily find out which videos are in the good books of audiences and which videos aren't.
This JW Player has got its own set of mobile SDKs (Software Development Kits) as well. For your information, mobile SDKs enable publishers to integrate the video player directly into their native mobile apps. Integration on various platforms such as iOS, android, web and OTT devices is thus made possible.
Here is a table conveying the most relevant information:
| | |
| --- | --- |
| Parameter | Yes / No |
| License | Yes (Custom) |
| JavaScript Library | Not Known |
| Flash Fallback | Yes |
| IOS | Yes |
| Full Screen | Yes |
| Keyboard Interface | No |
| Subtitle Report | Yes |
Ken Player
Ken player is yet another high-performance cross-platform HTML 5 video player known for its super fine quality adaptive bitrate. Not only does this video player support content designed for adult tube sites but also quickly loads and delivers content across desktop and mobile platforms. And of course, it integrates perfectly with various analytics and advertising systems.
Let us now take a look at the various advertising and analytics systems:
HTML 5 First: The old version of Ken Player runs on Flash. This is to support all earlier versions of browsers. The latest version of Ken player is a marked departure from the earlier ones. As a matter of fact, the UI of the latest version is written in HTML 5. This ensures consistent look and behavior across various platforms – ranging from mobiles and desktops.
Quick Loading: Bitrate is amazingly fast and highly adaptive. Users get engaged almost immediately with your adult content. Certain platforms do not have native HLS capabilities. Ken player adapts to all such platforms and ensures best possible quality delivery.
Ad and Analytics Integration: This video player for adult tube sites integrates with many codecs and plug-ins. It gels well with popular ad and analytics integration. Webmasters who host non-adult content usually collaborate this platform with Google Doubleclick, Freewheel and others.
Suggested Read: Top 10 Adult Ad Networks to Make Money with Adult Tube Sites
Responsive: Video aspect ratio in most of the video players is grossly ignored. This isn't the case with Ken player. For all intents and purposes, the default player skin is responsive. As a consequence, the video player will automatically resize to fit according to varying web layouts.
Easy Customization: Effortless and easy customization is always in the cards because Ken player uses JavaScript and CSS (Cascading Style Sheets) web technologies.
Player Management: Player Management API is within the reach of adult webmasters. They can make changes to the style and keep an eye on player configuration. Changes can be made through Video Cloud as well. There is no need of making changes for each and every page. Updating the players across an array of adult tube sites is achieved almost instantly.
Here is a table conveying the most relevant information:
| | |
| --- | --- |
| Parameter | Yes / No |
| GPL v3 License | Not known |
| JavaScript Library | Yes |
| Flash Fallback | Yes |
| IOS | Yes |
| Full Screen | Yes |
| Keyboard Interface | No |
| Subtitle Report | Yes |
Suggested Read: Do Cam Girls Make Money? Check this Ultimate Twitter Guide
If you have any doubts and concerns, drop a line or two in the comments section. I shall reply in a day or two. Keep watching this space to learn more about best video players for adult tube sites. To get amazing stuff delivered directly into your inbox, subscribe to our newsletter. My best wishes are with you and your adult tube sites.  We shall keep updating this blog with genuine content. Cheers!