-

7

mins read
Romania is known to the world for its heaviest building – the Palace of Parliament in Bucharest. However, what's little known is that Romania is also the cam girl capital of the world.

According to many experts, live camming in Romania is rumored to be a colossal $500 million USD business. Based on my interaction with many industry insiders, it's estimated that there are at-least 5000 sex camming studios working with 150,000 models.  No wonder, the search volume for keywords such as webcam Romania, Romania live camming, etc., is huge.
Without question, live camming industry is one of the most dominating industries in Romania. A vast majority of the internet traffic from North America and Western Europe is enticed to the snazzy, lively, glamorous and remarkable Romanian cam girls. The world's webcam capital houses an extensive array of virtual relationships and professional cybersex.
Is it illegal to run a sexcam company in Romania? No! It's an unregulated industry. It's not criminalized.
It's not illegal. However, the government is yet to give unique business codes to live camming studios. For your information, unique business codes are used for tax and benefits purposes. This brings me to the next question – how do the 5000 sex camming studios function?
A vast majority of sex camming studios pretend to be model management agencies. Quite a few of them pretend to be telecommunication providers. In other words, the sex camming studios use fake company codes to avoid trouble. Besides, careers of models, photographers, staff and other stakeholders are at stake.
And yes, the government of the cam girl capital of the world considers companies with codes as appropriate and eligible for benefits.
Truth be told, Romania is still deemed a conservative country. However, unlike in the conservative Middle East, the careers of webcam Romanian girls are not hemmed by pointless rules, meritless stigmas and baseless taboos. They are at liberty to use not only their brains but also their tits.
Of course, cultural discrimination still exists but when it comes to employment, the cam girls can have complete control of their own lives, live camming standards and business hours.
Certain factors motivate women to choose this career option.
Undoubtedly, the biggest motivation is money. Also, there's a lot of un-employment. An estimated 15% of young women are unemployed. High speed internet is a very big facilitator. And yes, Romanian women can converse in English. If they aren't familiar with the nuances of the language, studios provide training. Webcam Romanian girls have excellent marketing and communication skills.
On a related note, live camming is gaining immense traction in countries such as Ukraine, Russia, Colombia and Czech Republic. This can be attributed to three factors:
Lack of income

Lack of employment opportunities

Abundance / Endless supply of beautiful women
Allow me to now answer another frequently asked question – why do clients seek the virtual company of Romanian cam girls?
There are a variety of reasons. A few of them want to fulfill their sexual desires. A few of them are lonely and hence, seek companionship. A few of them are desperate.
Others are disappointed, dejected and need a shoulder to cry on. A few of them have weird fantasies which cannot be accessed in real life. Ultimately, it's all boils down to rapport, fantasies, nudity and relationships.
For all intents and purposes, webcam Romanian girls understand their client requirements, alleviate the suffering and bring positive vibes. They are open-minded and smart.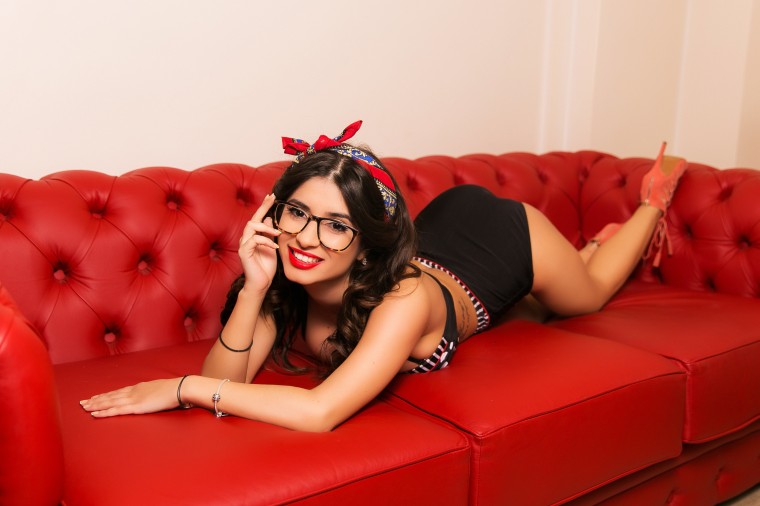 Many people are simply clueless about the functioning of webcam studios in Romania. Let me explain.
More often than not, models usually work 6 days a week. They work in 3 shifts. This is to ensure that there's always someone online round-the-clock (24 / 7).
 A vast majority of studios provide good quality training and technology. They are equipped with high resolution cameras, themed, spacious and comfortable rooms, great lights and decent computers. Quite a few studios provide sex toys, sexy outfits, lingerie, vibrators, heels, necklaces and other props. Studios also collaborate with hair dressers, make-up artists, and beauty influencers. A few big studios have fitness gyms and dedicated beauty salons.
Studios do their best to make sure that their models looks elegant, gorgeous and charming.
Models usually sign lucrative contracts with studios. Contracts are renewed annually. Models share a certain percentage of their earnings with studio. This percentage is usually anywhere between 30% and 70%.  
Let's do some simple math.
Average number of models per studio: 50

Payout commission (industry standards): 40%

Average monthly earnings of models: $7000

Average monthly earnings of the studio: 50× 40% × 7000 = $140,000

Annual earnings = $140,000 × 12 = $1682000 USD

It's evident that studios with 50 models make more than $1650000 USD annually.
Best Studios is one of the biggest sex camming studios in Romania. Based on my interaction with Maria, COO of Best Studios, many of their top models are active on Live Jasmin. Each of the top models earns more than $50000 USD per month. Other models make at-least $8000 per month. In Maria's words, "We make more than $20 million USD per year"
If you also want to start a webcam business anywhere in world, you can try xCams.
There are many challenges and perils. As this industry is completely unregulated, many new sex camming studios open. They exploit vulnerable women. They sign lucrative contracts with cam models. Make BIG money, shut down, re-open with different names in different locations, rebrand themselves as genuine and legitimate studios and repeat the fraud. This continues.
Let me conclude this article with a useful tip: Webcam Romanian girls should learn at-least one foreign language. They should be able to genuinely appreciate the culture of foreign countries. They should do their best to make their clients warm, relaxed and comfortable.