-

7

mins read
Are you interested in breaking into the webcam modeling industry but feeling a little lost on where to begin? Don't worry, you're not alone! 
With so many different avenues to pursue, it can be overwhelming to navigate the ins and outs of the industry. Fortunately, there are some amazing webcam modeling studios and agencies out there that can help make the process a whole lot easier. 
These companies work with aspiring webcam models or cam girls to help them develop their skills, provide valuable resources for creating top-notch content, assist with promotional efforts, and even secure brand partnerships. 
If you're looking to take your webcam modeling career to the next level, consider reaching out to one of these top 10 modeling agencies and studios from around the world. Let's dive in and see what they have to offer!
The 10 Best Webcam Model Agencies and Studios
1. Sundance Models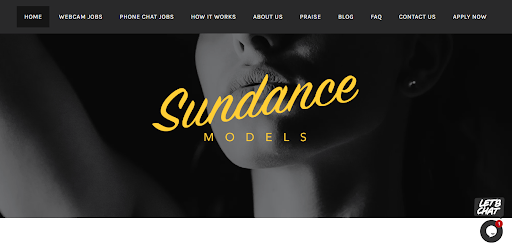 With over 10 years of experience working with both male and female models, as well as couples and friends who may want to capitalize on a joint performance, Sundance Models is the fastest-growing and most respected modeling agency around.
Their goal is to maximize your earnings by not charging you any hidden costs, commissions, or fees. Instead, they charge your clients directly by configuring your rates to include their fees. As a result, you keep 100% of what you set out to make for yourself without any agency commissions. 
The models of this agency can earn anything between £100 – £2500+ a week. They are one of the highest-paying webcam agencies, paying up to 30% more than their competitors.
You will be paid per minute here, and you will be paid every Wednesday by 10 pm automatically. If you wish to request payment on request, they do also offer "Daily Pay," allowing you to be paid when you wish.
2. White Agency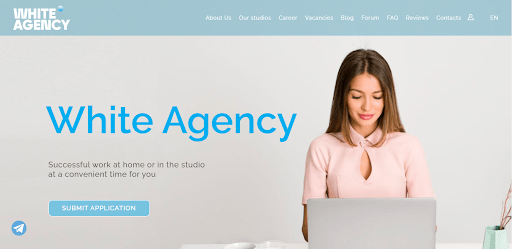 The White-Agency studio, located in Kyiv, Ukraine, offers comprehensive support and training for creative cam models. They provide direct guidance and instruction on proper conduct during broadcasts, as well as comfortable and technologically-equipped rooms. 
You will work alongside other models to develop your skills in posing for photos and videos, finding good angles for various body types, and using cam modeling equipment like cameras, lighting, and professional streaming programs. 
The agency will also teach you the basics of communication psychology, including English language skills, and provide behavior scripts for interacting with visitors in both free and paid chat.
Professional webcam models at their studio earn up to $3,000 a month, and top-quality models even more. Models working four shifts a week in the White Agency studio earn up to $1,500 a month. 
With an average upload of 35 hours per week, successful models make over $4000 per month. This is one of the most reliable modeling agencies for non-English speaking cam girls.
3. Strictly Models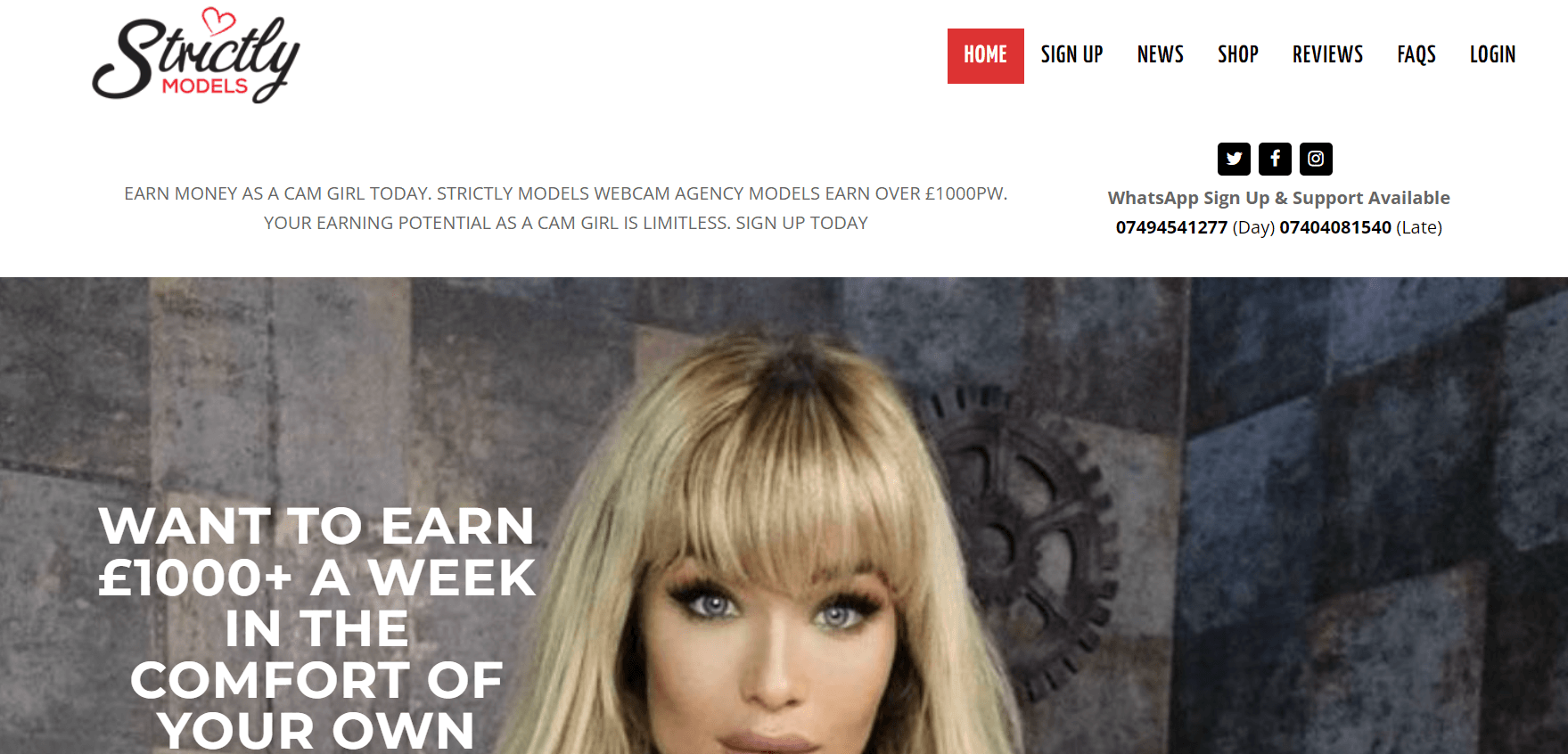 At Strictly Models, they offer one of the highest commission rates of any UK webcam modeling agency, paying out 10% more than the competition. They take care of setting up your profile and can even promote you on their social platforms upon request. 
As a cam model working with them, you'll enjoy flexible working hours, 24/7 online support, free training, and daily payouts. To register with their agency, you must be over 18 years old and have a government-issued photo ID. 
StrictlyModel's payment process is quick – models receive their earnings within 24 hours of submitting a payment request. There's no maximum payout limit, but models must earn at least 50 credits (£25) to receive payment.
Keep in mind, StrictlyModels payouts are only sent in Pound Sterling (£) or Euros (€). With this agency, a full-time webcam model's earnings can reach up to £4000 per month, and part-time models make around £2000. Some of the agency's top models make over £10,000 a month.
4. Sapphire Models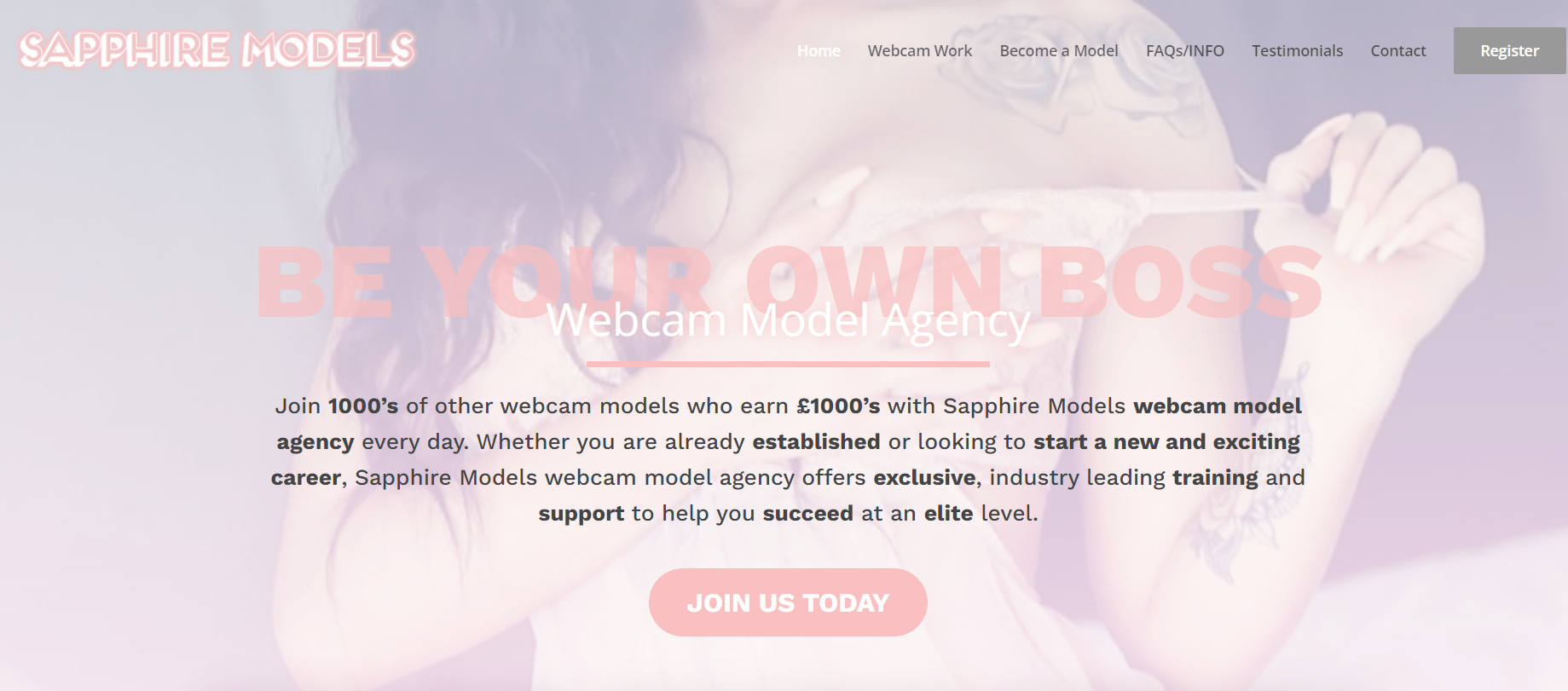 Sapphire Models is an established and reputable webcam model agency that offers comprehensive and exclusive training and support to individuals seeking to establish a career in the webcam modeling industry. 
There is no upfront cost to join, and all training and support provided are offered free of charge. Upon completion of the registration process, a personal profile is created for each individual, which is then placed under their complete control. 
The agency then provides access to a range of training resources, including videos and documents, as well as access to a highly active and informative cam model group chat. 
Most models complete training and become involved in the community within a week, with access to the system being granted within a few hours for those who wish to start immediately. 
Models of this agency are paid every Tuesday directly into their bank accounts, with some of the agency's top models earning over £1,000 per week.
5. BMS Models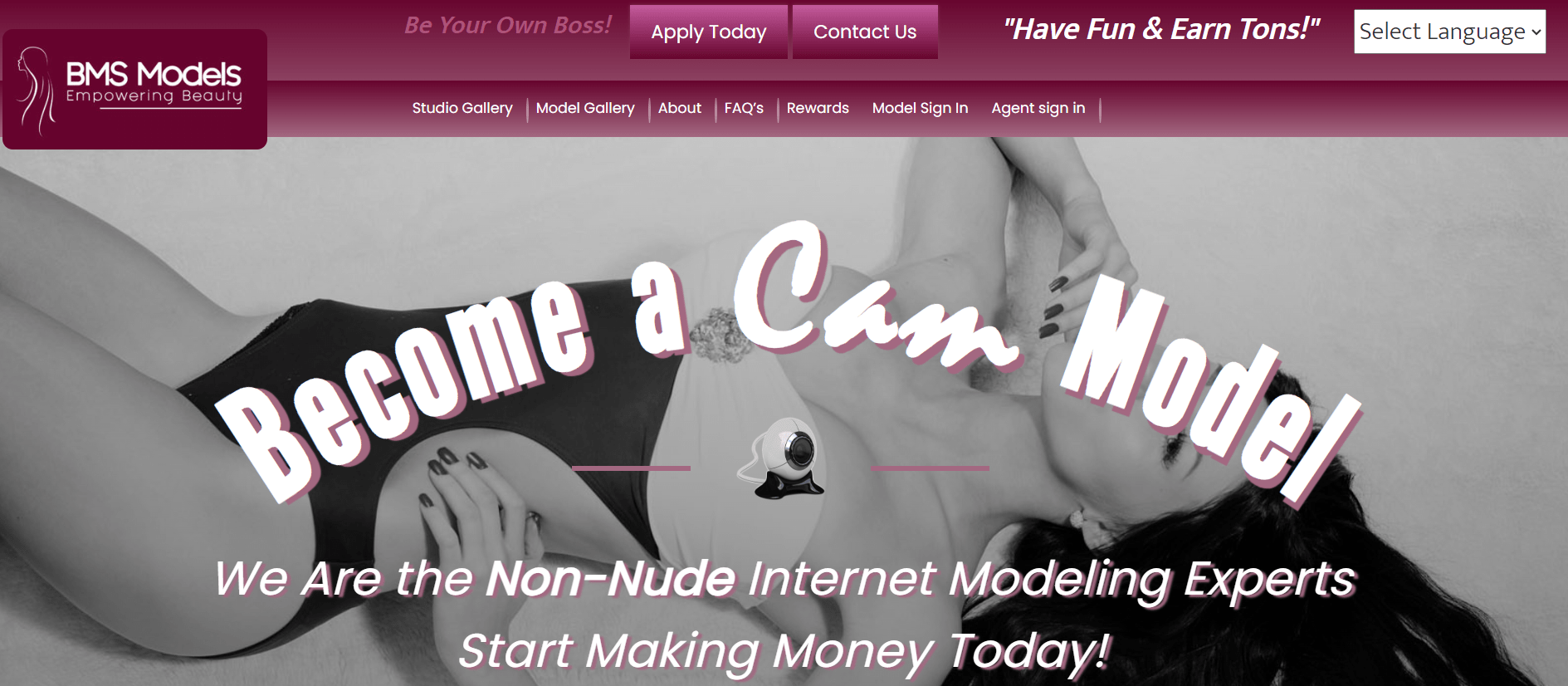 Want to become popular in the webcam business as a non-nude model? Then this agency is the right place for you!
BMS Models is a highly reputable and proficient webcam modeling agency that has been providing exceptional modeling services since 2011. Specializing in niches such as Anime Cosplay, Fitness, Online Gaming, and more, BMS Models has become a leader in the industry by offering innovative solutions to the challenges faced by cam models in the modern world.
BMS Models' internet models are among the highest earners in the industry, with income ranging from $200-$10,000 per week, thanks to the agency's unique relationships with primary and affiliate sites. 
In addition, the Cam AcademyTv support program is a first-of-its-kind resource that models have access to immediately upon registering, which further enhances their chances of success.
The Residual-to-Retirement program is another way in which BMS Models supports its models. This program allows webcam models to earn 5% every month off of all modeling earnings from every model they refer to, which means the possibilities for earning are endless.
6. Internet Modeling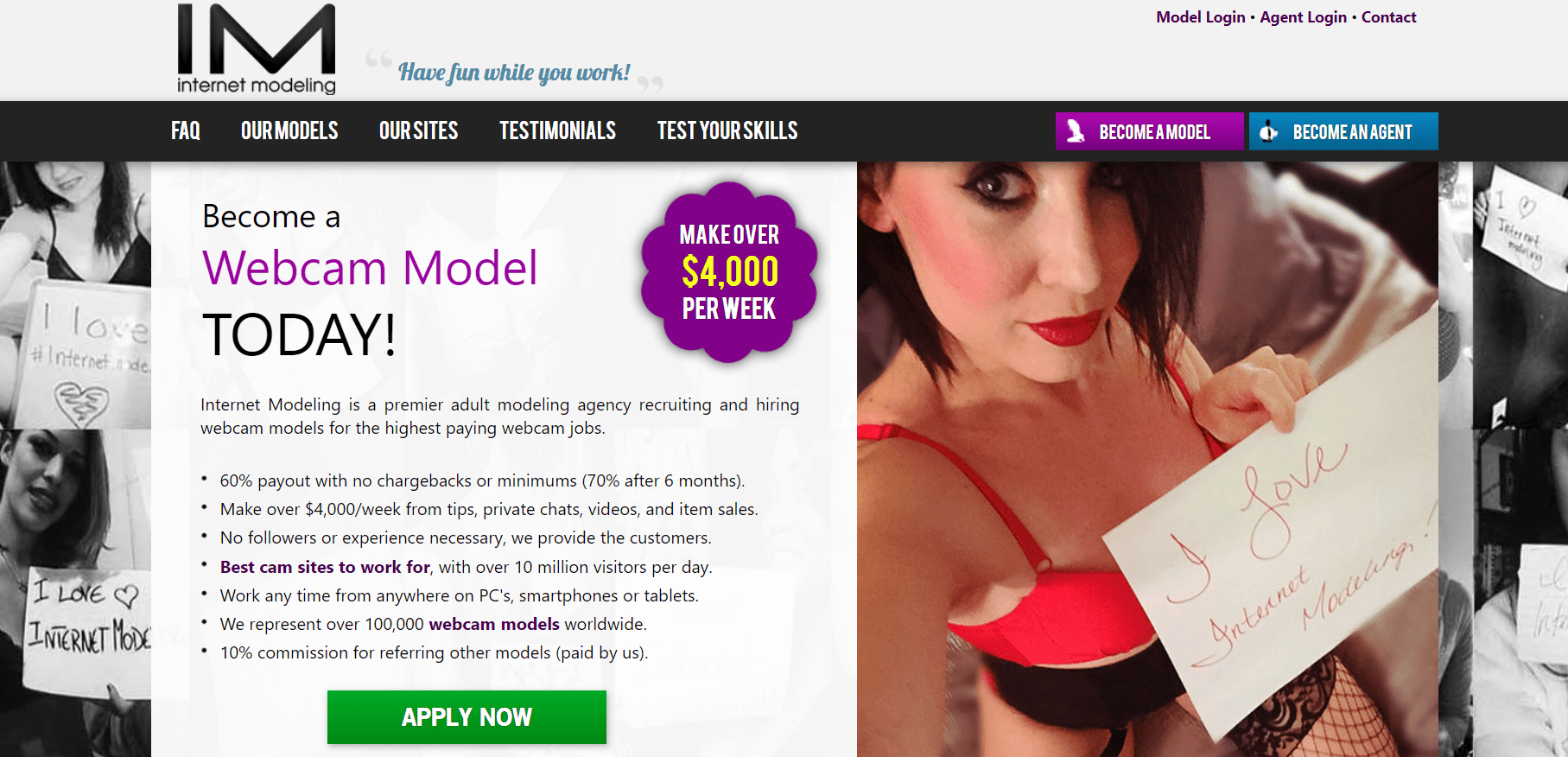 A premier adult modeling agency, Internet Modeling Agency has been recruiting and hiring cam models for the highest-paying jobs since 1998 and represents over 100,000 models from all over the world. 
Recruiters at their agency hire cam girls for the largest network of high-traffic sites with combined visitors of over 10,000,000 each day, and their webcam models earn the most money because they have one of the highest-paying jobs and offer the highest payouts for models.
In this agency, you can apply to work as a model if you are an attractive female or male 18 years of age or older and you have a computer, webcam, and Internet connection. They boast the highest traffic network and pay up to 70% for live shows. 
You can expect to earn over $4,000/week from tips, private chats, videos, selling nudes, and other adult stuff. They provide a 60% payout with no chargebacks or minimums (70% after 6 months). They also pay a 10% commission for referring to other models. 
7. High Society Models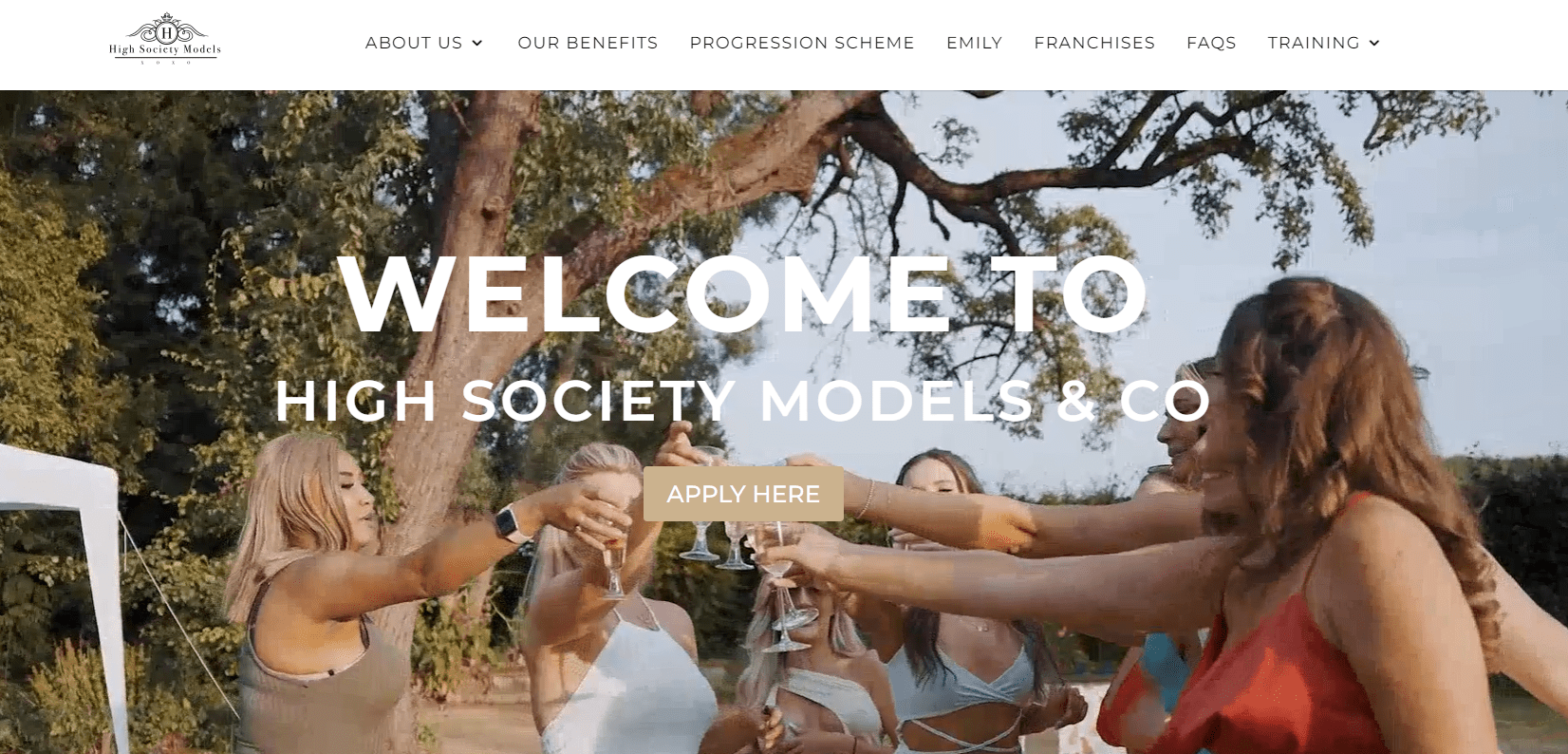 High Society Models is a prestigious webcam modeling agency of global renown with headquarters in the United Kingdom. 
Their team, predominantly composed of women, is dedicated to providing exceptional support to their models, offering round-the-clock assistance and free registration. 
As your agents, their role extends beyond training and coaching, as they aim to empower you, boost your self-esteem, and help you achieve financial independence. 
Currently, the agency represents over 1800 cam models, with a team of almost 60 professionals dedicated to supporting and training them. Compensation for models is determined by a per-minute rate, which can be adjusted at your discretion as you gain experience in online modeling. 
High Society Models provides a starting rate of £1.19 per minute in group mode and £1.49 per minute in private mode. 
The streaming platform utilized by the agency operates on a credit-based system, with 1 credit equaling 55p. For instance, if you earn 100 credits, you will receive £55. Similarly, 1000 credits equate to £550, and so on. 
Payment is made via bank transfer or PayPal, with disbursements taking place every Tuesday before noon. The workweek runs from Monday to Monday, with payments issued the following Tuesday for all earnings accrued during the previous week.
8. Studio20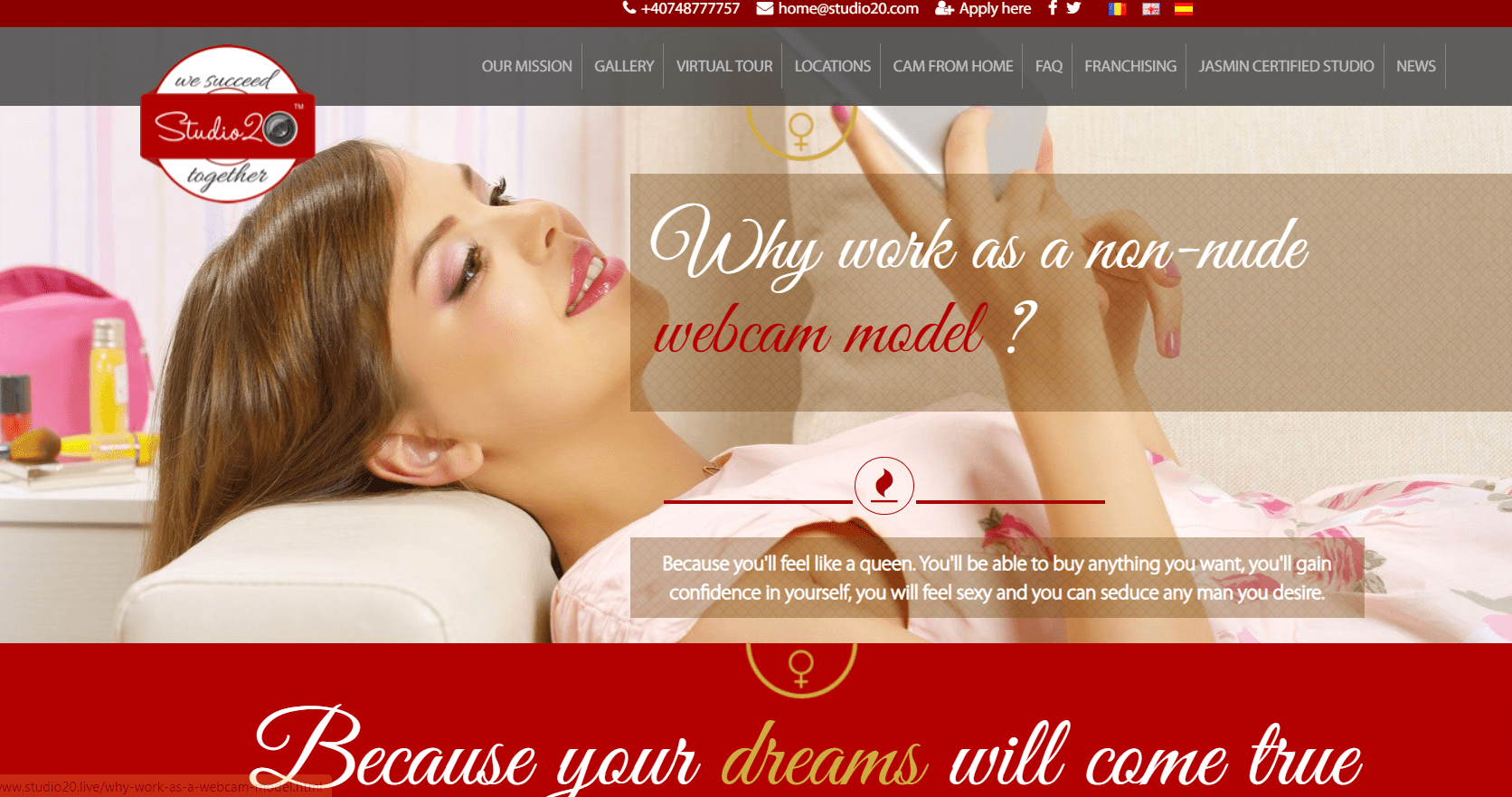 Studio 20 is an award-winning live cam studio company that boasts almost two decades of experience in the industry and has locations across Europe, North America, and South America. 
As a Studio 20 model, you will have the opportunity to work in one of their ten live studios situated in cities such as Los Angeles, Bogota, and Arad. At Studio 20, they provide a well-trained administrative team with over 15 years of experience in the live webcam industry, state-of-the-art equipment, and a luxurious workspace. 
Their models also enjoy flexible working hours and a fun and friendly working environment where they can thrive. Additionally, they offer a starting commission of 50% to their models, and they do not withhold any taxes or fees. 
Furthermore, they have a cumulative bonus program that rewards all Studio 20 live cam studios models with 2% if they are online for more than 90 hours during a given period and 5% if they are online for more than 100 hours during that period. 
9. OTR Models
OTR Models is yet another webcam modeling agency based in the UK. They provide their models with complete profile setup, verification, management and maintenance. 
Depending on the amount of time you spend, you can earn between £100 – £2500+ a week as a webcam model of this agency. They are also one of the highest-paying modeling agencies, paying up to 15% higher than other agencies.
Because of their extensive experience, they provide you with all the necessary guides, tips, and tricks to increase your earnings, so there is no limit to how much money you can make per minute. 
They guide you in choosing the most affordable group and private chat rates, and everything is recorded and paid automatically. The agency pays their models every Tuesday by 6 pm, by online bank transfer, directly to their bank accounts. What's more, they also recruit trans-cam models too!
10. Lush Models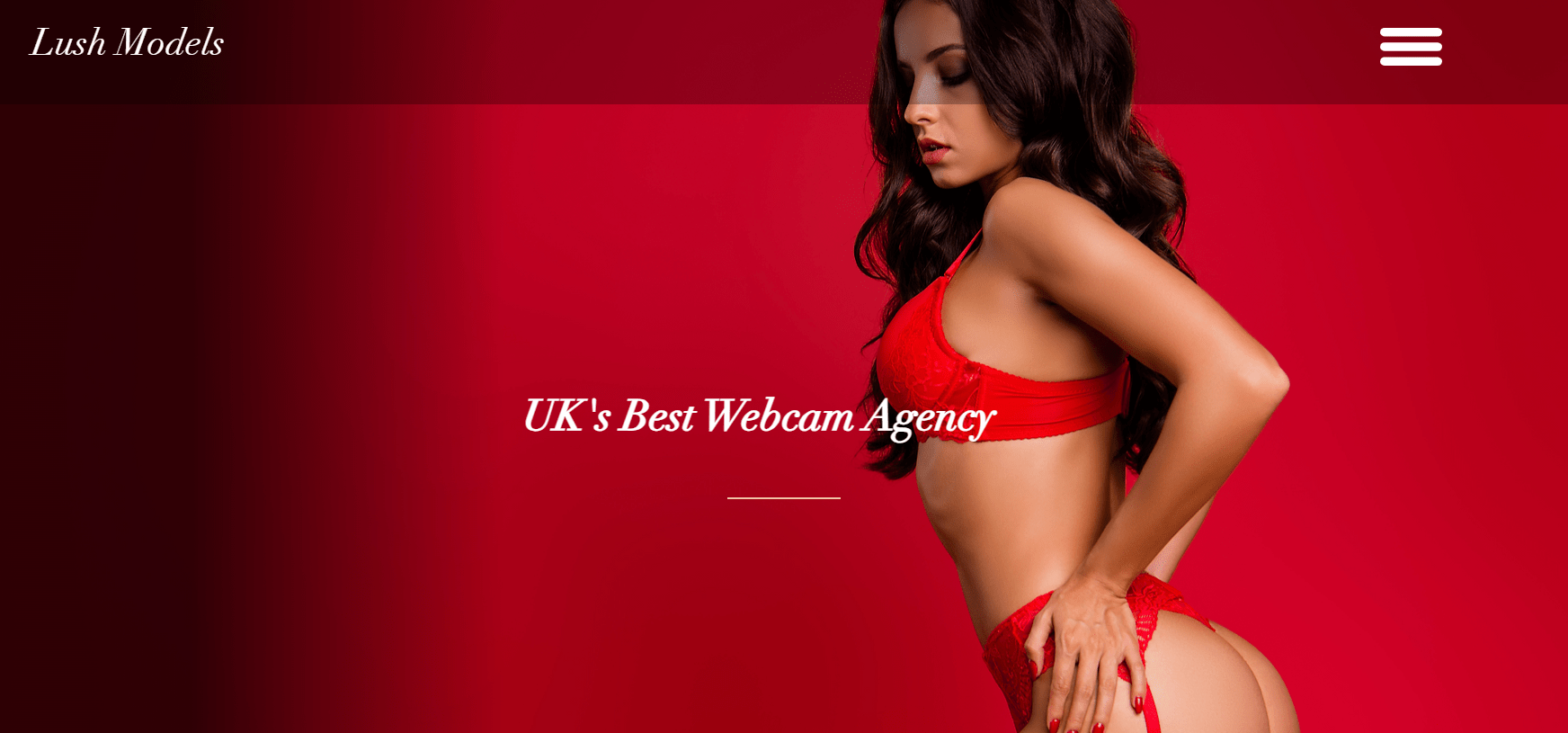 The last on our list is Lush Models, a webcam modeling and recruitment agency with more than 5 years of experience in the webcam industry. 
At Lush Models, they provide comprehensive training and private, confidential support from experienced models to help webcam models achieve financial independence. 
Their flexible approach allows you to work from the comfort of your own home and set your own schedule. Whether you're a student, employed full or part-time, or a stay-at-home parent, they have a diverse range of models that you can emulate and earn a substantial income. 
With their high payout rates, you have the potential to earn over £1000 per week, and they also offer monthly raffles where you can win a variety of prizes, including beauty products, vouchers, spa days, and even a holiday. 
You will get paid on a weekly basis, but Lush Models also have a daily payout option as well. 
The Takeaway 
These best webcam modeling agencies make it easy for cam girls (like you) to get into the webcam industry and start making money from your live streams.
But wait, let me ask you a question.
Do you have friends who enjoy live streaming like you? If so, we recommend starting your own webcam business. This way, you'll keep all the profits without having to pay commissions to anyone else. How?
This is where adult webcam site scripts like xCams by Adent.io come into play. xCams is a readymade webcam script that helps you build a robust and seamless webcam site in a matter of days.
Using xCams, you will get advanced live-streaming technology, HD-streaming, CMS, e-commerce, adult payment gateway, multiple revenue streams and more. 
So don't wait and get your own webcam business started today and earn money!