-

8

mins read
Starting a webcam business doesn't need a complicated setup. While the technology involved can seem complex, success largely depends on how you market your webcam business.
According to Market Research Future, the global webcam market of 2022 was valued at USD 8.565 Billion and is expected to rise to USD 29.696 Billion by 2030. In the wake of covid, the webcam business has flourished, and the market is predicted to grow by 7.3% per year globally from 2022 to 2030. 
In short, the webcam business is simply a cash cow. But it's unrealistic to expect you'll get thousands of visitors from just starting a webcam business. The key to generating more traffic is developing and executing a marketing strategy well. 
So what can you do? In this article, apart from the basic marketing strategy like paid ads and SEO for webcam sites, we'll look at how to market your webcam business in 12 proven ways that you can implement on the get-go. 
With that said, let's begin.
1. Send a Press Release to Adult Media
Brand PR
You can quickly gain influence and recognition when considered an adult webcam business expert. To get started, sort out media that cover adult industry news like XBIZ, Adult Industry Events, and AVN. 
Before approaching adult media outlets, try to understand what they care about because it helps build a good relationship. 
After deciding whom to approach, write an insightful article that interests viewers and is relevant to your webcam business. This will gain attention from adult models and webcam users alike. 
Ensure you highlight your team as an expert in the webcam business in your PR. It will add value and boost brand mentions.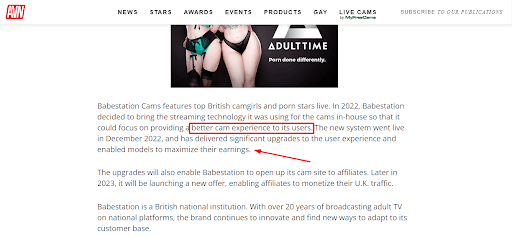 The above picture showed Babestation Cams's PR when they relaunched their website in AVN. Here are the things they've highlighted:
The PR talks about the features available for users after the website upgrade. 

New benefits for cam models

Offers for affiliates

Brand Reputation
By listing all the facts and features of the platform, Babestation cams convey to the viewers that they are the best in the webcam business with excellent user experience and give maximum profit for the models. 
Model PR
Apart from using PR for your brand, you can also market your webcam business through regular press releases of your cam models. Sometimes you have to think like your audience. 
More than the features you provide on your webcam site, they want to know more about your models. And if you give them the details with a strong backstory and publish them in authentic adult media, it will spark interest and make them visit your site.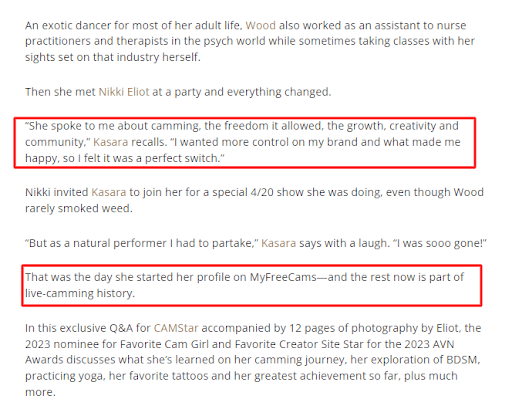 The above example is taken from AVN. The article briefs about a cam model, Kasara Wood, of CAMStar. She's a budding cam model in the webcam business and only has around 25k followers on Twitter. 
But if you read the article, it artistically discloses the 'real her' behind the camera, like her personality, ambition, and the results she produced through hard work. By doing PR for your models, who are not well known, you can increase your webcam business's impact on viewers.
2. Brand Ambassador Program
To market your webcam business, you need a brand ambassador who can skillfully create and unify the relationship with your customers. 
Particularly for the adult industry, which deals with lots of shady stuff, building customer trust sometimes becomes an uphill battle. That's where your brand ambassador comes to play; they utilize their channels, like Twitter, Instagram, Tiktok, personal blogs, podcasts, and more, to promote your webcam business in a positive light.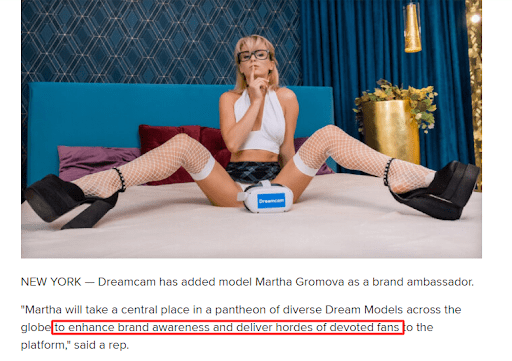 Dreamcam made Martha her brand ambassador in November 2022 and greeted more than 110,000 viewers to their webcam site in November and December. This is one of the many benefits you get if you market webcam business by your brand ambassador. 
3. Brand Merchandise
One of the effective steps to marketing a webcam business is to introduce your own line of brand merchandise. If you create more chances for customers to mention your brand, you will gain more exposure.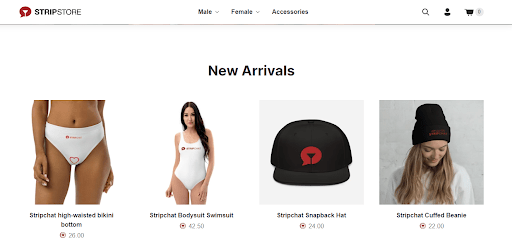 At present, merchandising is all about design and marketing. You can create your own merch if your webcam business consistently generates significant traffic with designs relevant to your niche.
With merchandising, you can market webcam business and retain your customers. 
4. Special Shows with Top Stars
If you are already in the industry and are still looking for the answer on how to market webcam business, you might want to consider doing special shows with top porn stars and cam models.
Brandi Love, one of the famous porn stars in the adult industry, is collaborating with CamSoda to do special live shows on their website. Brandi Love has more than 460 million views on her Pornhub films alone and is considered the super MILF of the adult industry. 

In addition to generating massive traffic, private ticket sales will plummet, regardless of price. For Brandi Love's golden live show, CamSoda charges 200 tokens per ticket, which is $20.99. 
So doing special shows with top pornstars creates massive brand awareness for your webcam business, elevates your reputation among the audience, and gets validation from the industry. 
5. Referral Programs
Referral marketing is one of the least expensive ways to market webcam businesses. In addition, it expands your niche-relevant customer base and strengthens your brand loyalty.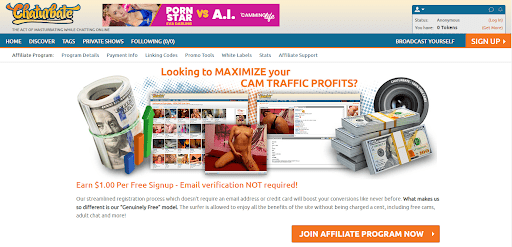 Let's take the Chaturbate affiliate program, for example. Its customer trust referrals are among the best and are used by many users. They offer $1.00 for every sign-up under your promo code; no email verification is required. 
They've been marketing their webcam business for over a decade with the same referral model. So opting for a referral program for your webcam business gets much more ROI than any form of promotion.
If your referral program succeeds, you can begin a loyalty reward program that combines your referral program with more discounts.
6. Leverage Adult TikTok Sites
More than 15 TikTok porn sites are designed specifically for adult short videos. Promoting adult content on such platforms has become a common practice. So if you're looking for a place to market a webcam platform, then TikTok porn sites are your go-to guy.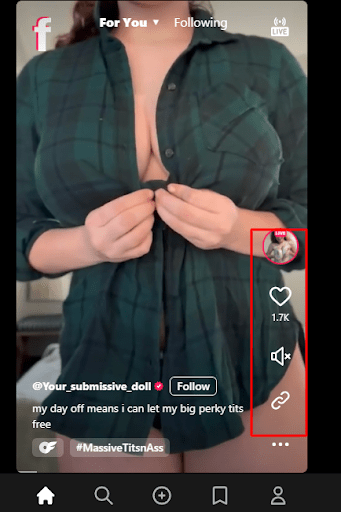 One of the TikTok porn sites is FikFap. It gets an average website visit of 15 million per month, and users spend at least more than 5 minutes browsing porn. The video interface has a 'link option' on the right, where you can easily redirect the viewers to your webcam site. 
As it's an adult site, there's no need to worry about getting suspended. So consider uploading short clips that attract users on these TikTok sites, and expand your webcam business.
7. Promote on Adult Tube Sites
The first solution that comes to mind when you think about how to market webcam businesses is, promoting them on adult tube sites like Pornhub, Youporn, and XVideos. 
With various advertising models such as pop-up ads, In-Video ads, banners, hard links, and more, porn tube sites have become one of the mainstream traffic generators of cam sites. 

To promote on porn tube sites, you can contact the best adult ad networks, such as Traffic Junky and JuicyAds. Marketing your webcam business on porn sites helps you reach your target audience extensively, not limited to specific regions or countries. 
Marketing on porn tube sites also helps your webcam site reach the right customers; you only have to pay for the impressions you need. 
8. Reward Your Viewers 
Discounts, freebies, rewards, and offers; these words always attract people, regardless of context. Consider doing contests with eye-catching rewards to encourage your users and market your webcam business.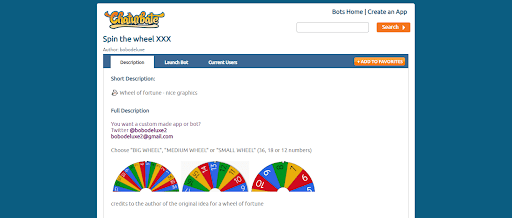 Chaturbate has a popular reward contest called 'Wheel of Fortune,' where users can spin a wheel for a certain amount of tokens and get random rewards. The broadcaster can set the number of tokens per spin and the rewards. 
This reward system will excite the users and even attract a random passer-by to join for fun. Also, consider rewarding a customer who tipped more tokens to a model in a single time. 
The rewards can be a free private chat or a custom nude pic of a model. By offering these privileges, you are increasing customer engagement and competitiveness among fans of a model, as well as marketing your webcam business and increasing sales.
9. Promote on Adult Webcam Review Sites
For customers to make the right choice, adult webcam review sites are devoted to publishing thoroughly researched reviews regardless- of how flashy and expensive the webcam site may be.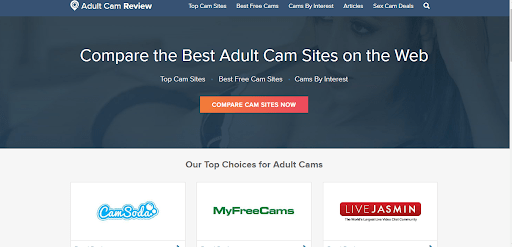 Here are some webcam review sites for your reference: Best Adult Camsite, Best Webcam Site, Adult Webcam Reviews, and Adult Reviews.
Before investing in a webcam site, people want to know the best out there and what they can offer. As these webcam review sites come with a comparing option, it's easy for users to choose the best. 
So consider promoting on adult cam review sites. Show the audience your unique selling points and how you differ. To market the webcam business, they use an affiliate marketing model where the review site gets a commission if a user clicks the affiliate link and makes a purchase from your webcam site. 
10. Email Marketing
If your webcam business wants to create a strong relationship with customers, then email marketing is the best possible option. The ROI of email marketing is by far the largest compared to other forms of marketing. So you get $36 in return for every $1 you spend.
Email marketing helps your webcam business to build trust with the help of information content. It keeps your customers engaged and informed about the day-to-day activities of your webcam site.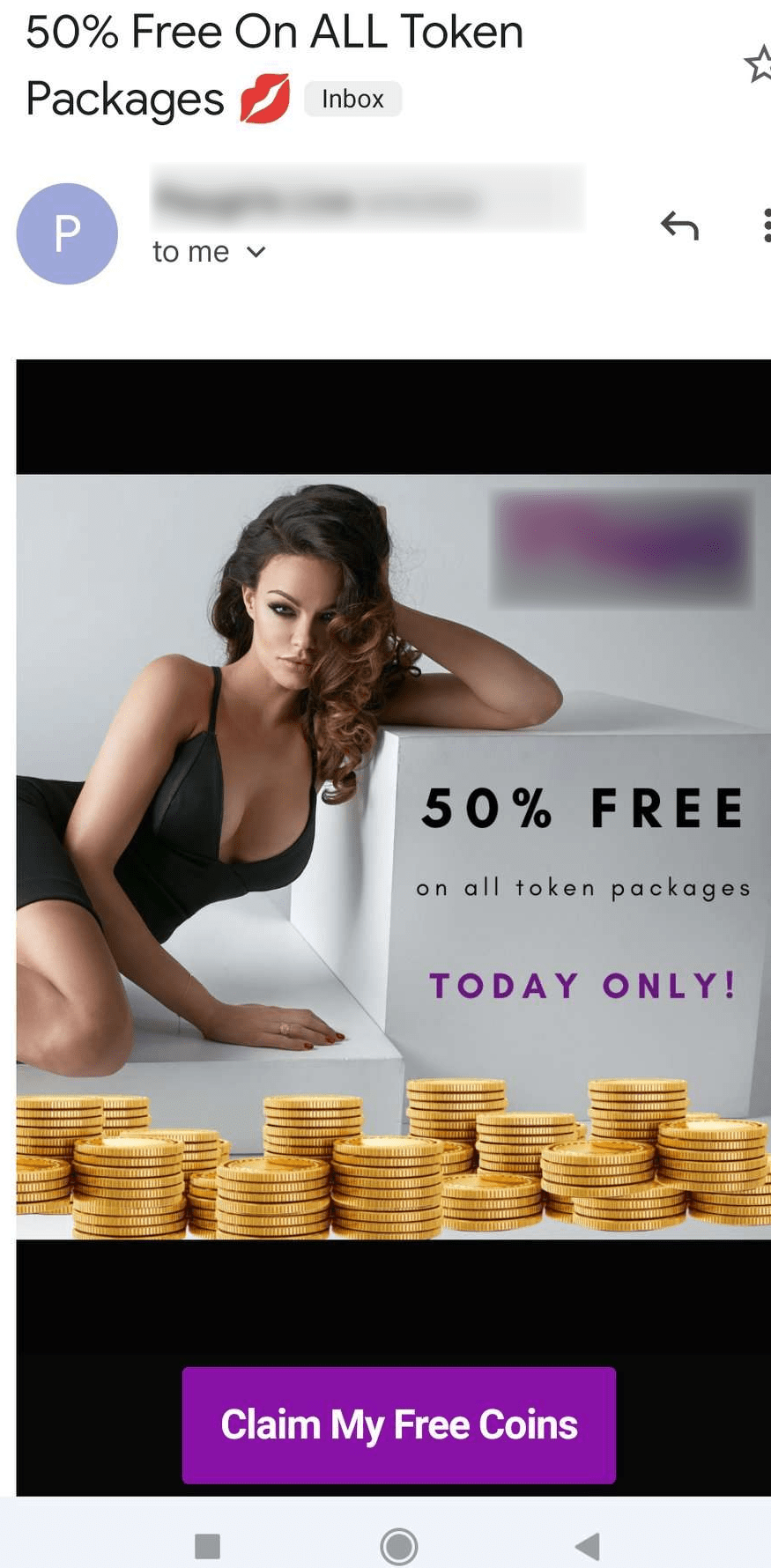 You can use email marketing to take advantage of the growing popularity of mobile technology, as 60% of all emails are opened on a mobile device.
There are many ways to market webcam business through email marketing; here are a few.
Welcoming emails:

The first email your users get after successfully signing in to your webcam site. It has an average of

50% opening rate,

so using this email campaign template, you can introduce the features of your webcam business and what they can do next.

Seasonal Marketing Campaigns:

For every gender, there are specific seasons that you can utilize to do email marketing campaigns. For example, LGBTQ pride is celebrated throughout June, and using this season; you can promote your cam models to users who are related to this community.

Social Media Connect:

Emails let your audience connect with you through social platforms. You can create an email campaign that rewards people who join your social media network with free credits or tokens. 
Ensure your emails follow email regulations such as the CAN-SPAM act of the U.S. and the GDPR of the EU.  Because, as an adult webcam site, there's a high chance your emails get straight to spam if you don't follow the regulations. 
Make sure to track the performance of your every email campaign and improvise it regularly. 
11. Sponsored Events
The most successful way to market webcam business is to become an official sponsor for adult events, conferences, and award shows. 
But becoming a sponsor is not a walk in the park. First, you must know what events suit your webcam business. Sites like Adult Industry Events and XBIZ provide you with information about events and conferences of the whole year so that you can plan months ahead and earn a sponsorship slot.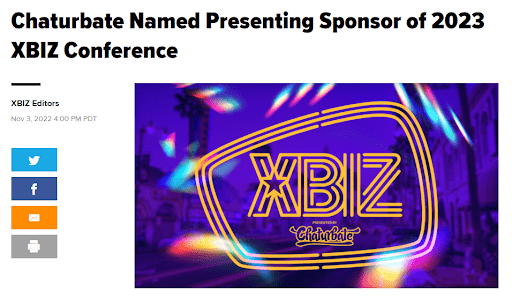 This year's (2023) XBIZ conference is sponsored by Chaturbate, one of the two biggest webcam platforms. XBIZ is the leading adult industry publisher and hosts the world's largest webcamming conference annually in Miami, U.S., in May. 
With industry experts from more than 15 first-world countries coming under one roof, your webcam business will get sky-high exposure. As the adult community comes together, you'll get more chances to collaborate successfully with branded webcam platforms and cam models with massive fan bases.
12. Participate in Forum
The final marketing strategy is participating in forums to create positive brand engagement with your target audience. It can be done in two ways.
Reddit 
The adult-related subreddits are frequented by millions of users who are getting information about porn, adult creators, and cam models.  Try to market your webcam business by creating an engaging post with quality information about your cam site in relevant subreddits.
Cam Girl Problems is a suitable subreddit where you can interact with cam models and users simultaneously. Most of the time, cam models vent about their usage issues on specific platforms, and you can use this to get their attention and the viewers by pitching how your platform tackles the said issue. 
Cam Girl Forums
If you want to market your webcam business to cam models, promote your brand as much as possible in camgirl forums. Forums like Amber Cutie and We Cam Girls host tens of thousands of cam models with topics related to camming and cam platforms. 
This picture above is a top chat room in AmberCutie created by a cam site called Splitcam, and it talks about the platform features that a model and users can get. These forums directly help webcam businesses reach the right audience and let you interact with them 24/7.
Takeaways
In addition, you may also use other channels and strategies for supporting your entire marketing campaigns, including model affiliate programs, search engine optimization, Twitter marketing, influencer marketing, etc.
With such market growth, you may consider entering the webcam industry. Then we suggest you do. The sooner, the better.
How? Choose readymade software like xCams by Adent.io to start your webcam site in just a few days.  It's affordable, efficient, mobile ready, and has dedicated dashboards for admin, models, and users. 
A seamless readymade script like xCams provides a great platform for your webcam site, and if you are clever with your marketing strategies, you can become the next György Gattyán or Daron Lundeen.