-

7

mins read
Are you dreaming of creating a porn site like Pornhub, xHamster or XVideos? It may seem like a daunting task but don't worry, you're not alone! 
Some people may be wondering why anyone would want to build a porn website when we already have these giants (like Pornhub), but the truth is that there's always room for more innovation, creativity and an opportunity to make a ton of money.
Apparently, according to Bedbible, the global pornography industry was worth a whopping $100 billion in 2022. And get this – the US porn industry alone brought in $13 billion in revenue, while the NBA made $10 billion and Major League Baseball made $9.56 billion in 2021. Crazy right?
So if you're thinking of how to start a porn site with the help of a Pornhub, xHamster or XVideos clone script, we've got a guide for you. Stick to the end of the article to know how you can make your own adult video streaming site at the most affordable price possible.
Business Models of PornHub, xHamster, XVideos
1. Customer segments
Pornhub, xHamster and XVideos are platforms that cater to three main customer segments: viewers, content creators, and advertisers. 
Viewers are individuals who watch porn videos without uploading any content of their own. 

Content creators are people who use the platform to showcase their talents and creativity by

uploading porn videos

. 

Advertisers are businesses or individuals who place ads on porn tube sites to connect with a relevant audience through video content that they are already engaged with.
2. Unique Selling Point
Pornhub, xHamster, and XVideos' unique selling points are different for each customer segment. 
For viewers, porn sites offer access to a vast range of adult videos on any porn niche for free. 

Adult content creators can use these platforms to build an audience, get a fan following, and

make money from selling adult content

and advertising. 

Advertisers or big porn production studios like Brazzers can connect with a relevant audience through porn video content that they are already engaged with.
3. Customer Relationship
Pornhub, xHamster and XVideos foster customer relationships by providing user dashboards, social sharing functions, and quick & comprehensive analytical data.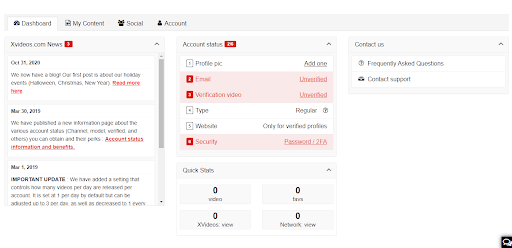 Adult content creators can also have resources to monetize their content with modeling programs (for example, the Pornhub Modeling Program) and make a living off of porn. 
4. Revenue Stream
Pornhub, xHamster and XVideos' main source of revenue streams include advertising, hard links, merch, and paid memberships.
Apart from these, these porn sites make money through brand promotion for popular porn studios that have channels on their platforms. 
5. Key Resources
Pornhub, xHamster, and XVideos' key activities include content reviews, website maintenance, partnerships with other porn sites and studios, server space to store videos, advertising, and adult community management. The platform's key resources are its platform, content, traffic, and algorithm.
6. Cost Structure
Pornhub, xHamster, and XVideos' cost structure include adult content creator payments, salaries, IT operations, website maintenance, marketing, and property rights. 
Overall, Pornhub, xHamster, and XVideos' are valuable platforms for porn viewers, content creators, and adult advertisers alike, offering a range of resources and revenue streams to benefit each customer segment.
So now that we understand how the business model of these popular porn sites works, let's get into the nitty-gritty of making a profitable porn site using a Pornhub, xHamster, & XVideos clone script.
Features of Pornhub, xHamster & XVideos Clone Script
If you want to make a Pornhub, xHamster or XVideos clone site, you need to know what features you must incorporate for both the users and the site admin. 
Features of User
1. Create & Manage Channels
Pornhub, xHamster, or XVideos clone script should offer a plethora of channel customization options for its users. By adding a profile picture, banner image, and about us page, users can give their channels a unique look and feel. 
Additionally, users can organize their porn videos into playlists and create custom thumbnails for their videos, making it easier for viewers to find and engage with their content.
2. Unlimited Video Upload
One of the biggest advantages of using popular porn tube sites is the ability to upload unlimited porn videos using Normal uploads. This allows users to share as much content as they want without worrying about limits or restrictions. So as an XVideos or Pornhub clone site, you should have this feature in your list. 
3. Multi-language Module
Pornhub, xHamster or XVideos' availability in multiple languages is another crucial feature that helps the platform reach a global audience. Users can watch and engage with adult content in their preferred language, which enhances their viewing experience and makes the platform more accessible to a wider audience.
4. Availability of High-quality Video 
High-end video quality is yet another feature that porn sites like Pornhub offer. Users can view videos in HD quality, up to 4k resolution, making for an immersive and enjoyable viewing experience. The video quality is synchronized with the user's bandwidth and internet connection, ensuring that they get the best possible viewing experience.
5. Social Community 
Pornhub, xHamster or XVideos' also offer a range of community features that allow users to interact with other users. From leaving comments, opening a conversation and likes to subscribing to their favorite porn star or porn studio channels and joining communities, users can connect with others who share similar interests.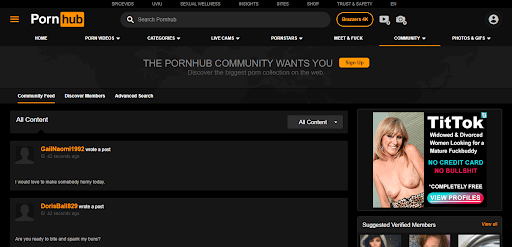 6. Favorite List
As a Pornhub, xHamster or XVideos clone website, you must include a favorite list feature, which allows users to save videos they wish to watch later on. This feature is especially useful for users who want to keep track of the porn videos they're interested in but don't have time to watch right away.
These are the key features that your clone script should have in order to increase your user experience to the same level as Pornhub, xHamster and XVideos. Now let's move on to key features of site admin. 
Features for Admin
1. User Management
The admin panel is a crucial tool for porn site webmasters as it allows them to manage the users of the website effectively. This encompasses tasks such as approving or rejecting new users, managing user profiles, and assigning user roles.
2. Website Analytics
Admin panels must come equipped with powerful analytics tools that provide valuable insight into how many users have registered on the porn site, their email addresses, advertisement statistics, message and members statistics and so on. These metrics can be used to optimize the porn site and improve its performance.
3. Content Management: 
Monitoring the content of a website like Pornhub is a must. So it is imperative that site admins have complete control over the content of the porn site. This includes the ability to add, edit, and delete pages, posts, products, and other types of content.
4. Video Grabbers
To ensure that the porn site has a rich collection of multimedia content, the site admin must be able to source and embed videos from several adult affiliates in a matter of minutes. This must be able to be done by registering and partnering with multiple porn sites.
5. Bulk Uploads
Porn sites like XVideos have tens of thousands of videos, so in order to compete with them, it is inevitable to have a bulk upload option in your clone script. With bulk uploads, the site admins can quickly add multiple videos to the website, freeing up their time to focus on more important tasks.
6. Managing Ads
As a Pornhub, xHamster or XVideos clone site, your primary source of income is via ads. So the site admin must be able to manage the full range of ways to run ads – in the footer, in-between thumbnails, pre and post-rolls, and video pause pop ups – while still being non-intrusive to user experience. Additionally, they can set ad management settings to defaults or customize them to their specific needs.
Now that we have covered the key admin features that a Pornhub, XHamster, or XVideos clone script should have, let's see how these clone websites monetize.
Monetization Methods of PornHub, xHamster, XVideos 
Pornhub, xHamster and XVideos operate as an ad-supported platform, similar to YouTube, with the majority of its revenue generated through advertisements. 
However, these porn site's monetization methods extend beyond what may initially meet the eye. Below, we outline the various ways in which XVideos, xHamster and Pornhub make money.
1. Advertisement
Advertising is a lucrative revenue stream, and it is commonplace across various platforms, regardless of their niche. Popular porn sites such as Pornhub, XVideos, and xHamster all display ads to their users. 
These porn sites employ various ad formats to engage their users, including banner ads, pre-roll ads, and pop-under ads. 
Banner ads are strategically placed at multiple locations, such as below the video and on the sides of the screen. 

Pre-roll ads play before a user begins to watch a video. 

Finally, pop-under ads are designed to capture the user's attention by appearing in the middle of their activity, making it difficult to ignore. 
These ad formats are thoughtfully presented to ensure optimal user experience while maintaining revenue objectives.
2. PPV for premium HD videos
PPV allows viewers to access exclusive or premium content by paying a fee for each view. This type of adult content is typically of higher quality, such as AK HD videos, and may include porn movies, behind-the-scenes videos, or other special porn star collaboration videos.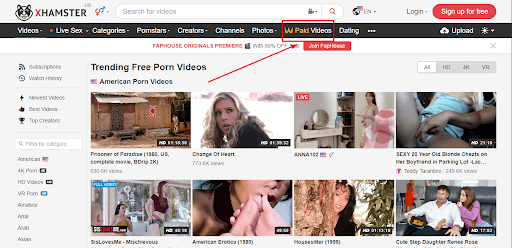 PPV provides a monetization opportunity for the porn sites. They can charge viewers a fee to access their premium HD videos, allowing them to generate revenue from their content. 
3. Adult Affiliate Marketing 
One of the established methods of generating revenue for popular porn sites is through adult affiliate marketing. Sites such as Pornhub and xHamster have massive traffic, making it possible to promote adult pay sites, cam sites, dating sites, and other adult websites as an affiliate.
Every subscription or purchase that is made through their website results in a commission being earned by the porn site. This serves as a reliable source of income for them and helps to ensure the continued provision of high-quality video content. 
4. E-commerce
Last but certainly not least, with their huge traffic (more than 2 billion visitors per month), it comes as no surprise that Pornhub, XHamster, and XVideos sell their own products.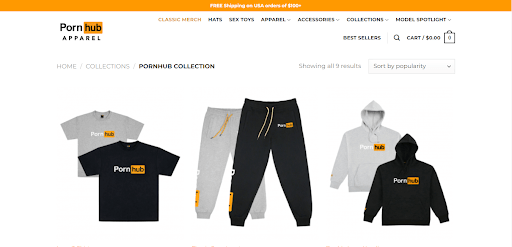 They typically sell hoodies, sweatshirts, sportswear, and accessories like caps, hats, backpacks, bags, mugs, drinkware, and flip-flops and even sell sex toys, lingerie and sexual wellness products. 
That's all there is to it when it comes to monetizing your Pornhub, xHamster or XVideos using a clone script. Next, let's get down to the business of building a porn site that incorporates Pornhub, xHamster, and XVideos' features and monetization methods.
xStreamer: All-In-One Tube Site Clone Script 
What is the best way to clone Pornhub, xHamster and XVideos?
Is it building the website from scratch? Hell No! – Why?
Because building a site like Pornhub or XVideos from scratch using a professional developer team can cost you at least $50,000 and several months of time. Mind you, the cost may go six figures depending on your location. 
So what's the best possible and cost-effective solution? 
It is none other than using ready-made adult tube script like xStreamer, an innovative Pornhub, xHamster, and XVideos clone script. 
xStreamer is a comprehensive solution for launching a porn site, encompassing a range of essential features such as HD video streaming capabilities, payment gateway integration, and strategic ad placement. 
By utilizing this script, the process of creating a porn site like Pornhub or XVideos is made significantly more streamlined and cost-effective, saving both time and effort in the implementation phase.
Furthermore, you will get 100% source of the script, meaning you'll be your own boss of your porn site and able to keep every dollar you make. So if you wish to make $100,000 a year by creating a Pornhub, xHamster or XVideos clone site, xStreamer is your right tool. 
Conclusion
If you're thinking about starting a porn tube website, you know that providing a seamless user experience, easy navigation, and an extended content library is key. But it's not always easy. 
That's where xStreamer comes in – this adult tube script has got a solution that can handle all the traffic and video streaming on any device and help you make some serious money. 
We hope this article helps you in finding the right Pornhub, xHamster, and XVideos clone script to make your dream porn site. 
Cheers!