-

9

mins read
Do you know you can make tons of cash by selling feet pics on OnlyFans? Whether you have a professional camera or a smartphone, you can turn your feet pics into a source of income by selling them on OnlyFans without breaking a sweat! 
As one of the most popular platforms for content subscription, OnlyFans attracts millions of visitors and registered customers every month, providing you with a vast audience to sell your feet pics.
Whether you're just starting out or a professional in this niche, OnlyFans offers a great opportunity to make money by selling feet pics to interested customers or fans. 
With our comprehensive beginner's guide, you can easily navigate the process of how to sell feet pics on OnlyFans, from uploading your photos to making your very first sale.
What Is OnlyFans?
OnlyFans is an online fanclub marketplace where content creators can sell their content to their fans.  It was launched in 2016 and has since gained popularity, primarily among adult creators but also among other content creators, such as fitness experts and musicians.
Initially, the platform was used by a small number of content creators, but it gained mainstream attention during the COVID-19 lockdowns in 2020 when many adult content creators turned to the site as a new source of income.
According to Business Insider, OnlyFans boasts an impressive user base of over 238.2 million active users and more than 3.2 million creators. In 2022, the platform generated a massive revenue of $1.09 billion, a testament to its growing popularity and profitability in the content subscription industry.
Why Sell Feet Pics on OnlyFans?
Before we dive into how to sell feet pics on OnlyFans, let's discuss why you should consider selling your feet pics on this platform.
1. It's growing fast
With more than 300 million monthly visitors, OnlyFans is now growing like crazy! This kind of success is making more and more content creators who want to sell feet pics want to get in on the action. 
As per Statista, in July 2023, OnlyFans had around 35 million pieces of content posted on its platform. This is a noticeable increase from the previous month, when the platform recorded 31 million user-generated content. 
The numbers indicate the significant growth of creators and users on the platform.
2. High earnings potential
Another key reason for selling feet pics on OnlyFans is due to the high earning potential of the platform. 
OnlyFans has been a lucrative platform for creators, with payouts amounting to more than $5 billion since its launch. The top earners on the platform have reported earning a staggering $200,000 or more per month, although there are likely many others who are earning even more. 
These statistics have shown that OnlyFans has become a significant source of income for many creators, with its high earning potential and flexible subscription model making it an attractive option for those looking to sell feet pics.
3. Direct fan connections
OnlyFans enables a direct line of communication with creators' most dedicated fans, fostering a sense of exclusivity, loyalty, and intimacy. 
Creators can share exclusive content, communicate directly with their subscribers, and even offer personalized experiences like custom videos or phone calls.
4. Creative freedom
OnlyFans allows creators to have more control over their content and earnings, which can be empowering for creators, particularly those who may have felt marginalized or underrepresented on traditional platforms. This personalized approach has made more creators sell feet pics on OnlyFans.
Let's get into the details of selling feet pics on OnlyFans now that you know why it's a great choice to choose OnlyFans.
How to Sell Feet Pics on OnlyFans?
Anyone who can take amazing feet pics, whether with a camera or a smartphone, can start an OnlyFans, become a content creator and sell their pictures.
Signing up on OnlyFans is easy and free. To begin selling feet pics on OnlyFans, simply follow the steps below.
1. Create an account as an OnlyFans Creator
To create an OnlyFans creator account and start selling your feet photos on OnlyFans, go to the OnlyFans creator website by clicking on this link: start.onlyfans.com. Click on "Sign up" to begin:
Begin by filling in your name in the designated field. If you prefer your full name to be visible on your account, simply enter it into the appropriate fields. Otherwise, feel free to select an alternative name.
Next, provide your email address and create a strong password that you'll be able to remember. After reading and accepting the site's terms and conditions, click the "Sign Up" button.
Alternatively, you can also create your OnlyFans account through your Twitter, Google or Microsoft account.
Once you've completed the sign-up process, check your email for a message from OnlyFans. Open the email and follow the instructions to verify your account by clicking on the activation link. 
This will confirm your identity and give you full access to the site's features, as demonstrated in the below image.

After verifying your email address, you'll be redirected to your OnlyFans profile. There, you can start uploading and selling feet pics on OnlyFans. 
However, before you begin, we suggest that you click on "Become a Creator" and complete your account setup to ensure a smooth and seamless experience when you sell feet pics on OnlyFans.
2. Set up your profile
After creating your account, you'll need to set up your profile. Pay special attention to your username, display name, profile and banner image, and bio. Make sure your social media profiles are consistent and easily identifiable.
Image Source: OnlyFans
To start earning money on OnlyFans, you'll need to set up your financial information. This includes providing your banking details for payments. 
OnlyFans requires creators to verify their identity by uploading a valid government-issued ID. This process can take up to 48 hours.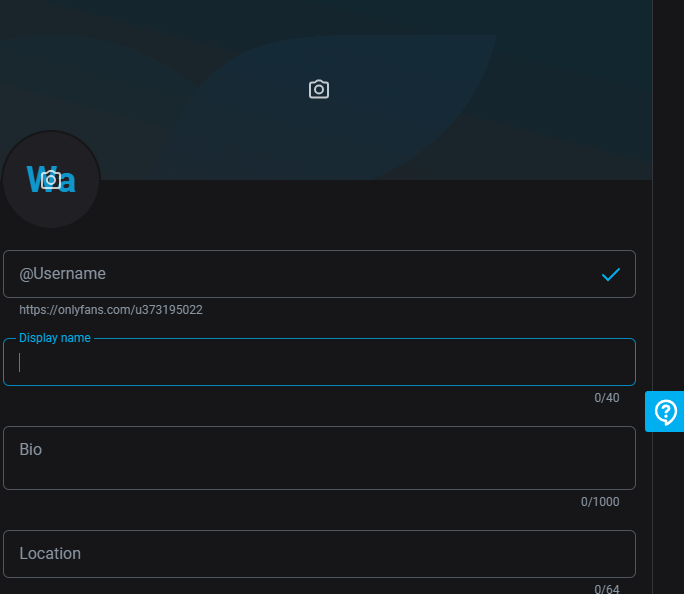 Once you've completed all the necessary steps, submit your profile for verification. OnlyFans will review your information and notify you when your account is approved.
3. Shoot high-quality feet pics
Once you become a verified OnlyFans creator, you can start capturing some high-quality feet pics to upload and sell. Here are some tips to shoot the best feet pics for OnlyFans:
Start with what you have: Instead of choosing the best cameras for OnlyFans, you can begin with just a smartphone or a digital camera. While better equipment can improve the quality of your foot pics, it's not necessary when you're starting out.
Plan full photoshoots: Instead of taking a few-foot pictures, plan out full photoshoots in advance. This way, you can take hundreds of feet pics in one sitting and schedule them for release over time.
Consider your backdrop: Pay attention to the place where you're shooting. A good backdrop can enhance the overall quality of your images.
Use good lighting: Shoot in a well-lit room with exposure to plenty of natural light during the day. You can also invest in a ring light to improve the lighting in your set.
Take multiple images: Don't settle for just one shot. Take multiple images of your feet from different angles and poses to have a variety of content to choose from.
Edit your images: Use editing apps to enhance the quality of your images. Learn the effects, filters, and presets of your editing app to make your feet pics stand out.
Schedule your content: Instead of releasing all your images at once, schedule them to be published over the next few weeks. This way, you can save time and not have to think about every step in the future.
By following these tips, you can create high-quality and engaging foot pics for your OnlyFans page, attracting more subscribers and increasing your earnings.
4. Upload and sell your feet pics
You can easily upload and sell feet pics on OnlyFans, as it's a straightforward process. Here's how you should do it: 
Firstly, log into your OnlyFans account and navigate to your timeline or home page. Once there, locate the "New Post" section and click on the plus sign button to create a new post.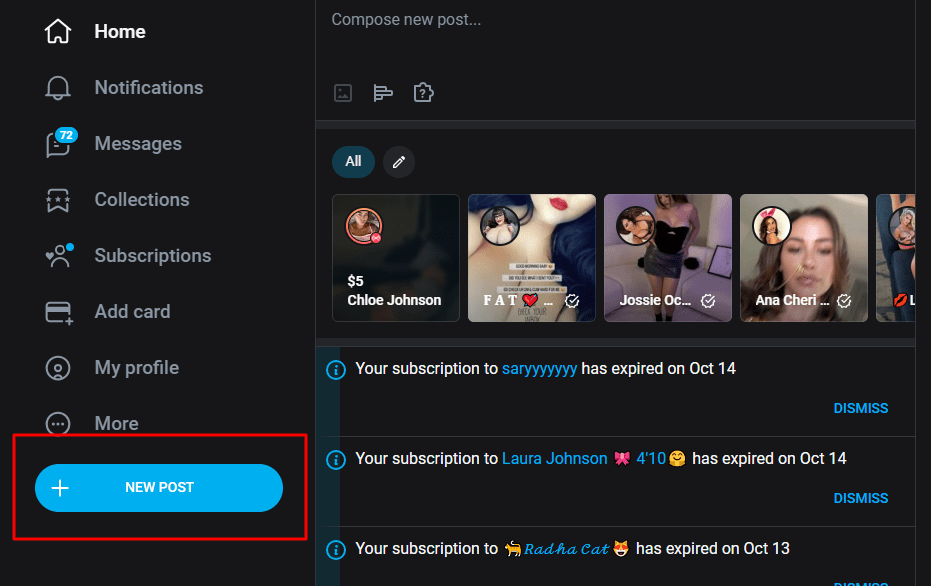 A new tab will appear where you can select the type of media you want to upload, whether it's a single photo or a set of photos. Before uploading any media, ensure that you've selected the correct file. 
If you're uploading multiple media within a single post, it's important to choose the right screenshot for the preview, as it can catch the attention of potential buyers. 
After selecting the media, you can set the desired price and charger for your feet pics. Then, add a caption or description to your post. Once you've ticked all the boxes, click on the "Post" button, and your foot pics will be published.
5. Add keywords to your posts
Adding keywords to your OnlyFans posts is important because it can increase the discoverability of the content and help the target audience find it in search results.
OnlyFans algorithm takes into account various factors to determine the ranking of a keyword search result on the "Search page". The most important factors are the username, profile name, bio, banner and captions. 
If you look at the image provided above, it becomes apparent that OnlyFans displays a list of creators who have utilized the keyword "feet" in their profile. 
The first creator has included the keyword in their banner, whereas the second creator has incorporated it in their username and profile name.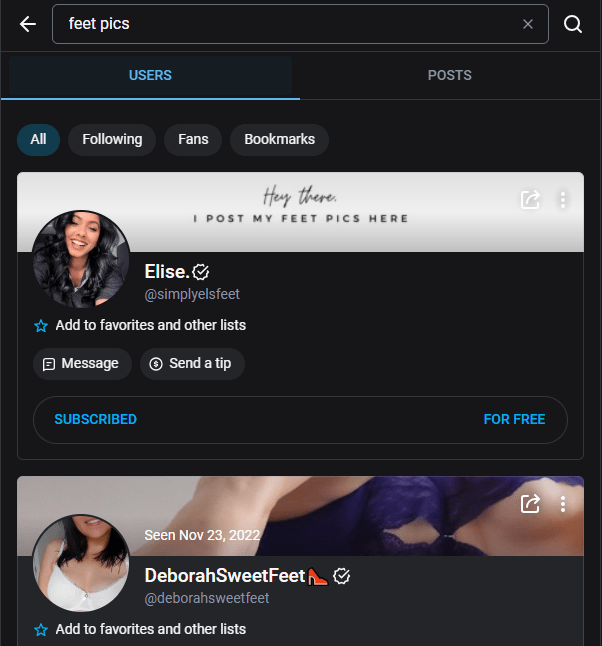 On the other hand, if you wish to be listed on the Search page under "Posts", it is recommended that you add keywords such as "feet pics" or "my feet" in your posts, as shown in the image above.
By doing so, you can increase the likelihood of appearing in relevant searches and being noticed by your target audience more quickly. So, it is essential to include appropriate keywords in these areas to enhance your visibility and reach.
6. Promote your OnlyFans account
If you want to sell feet pics on OnlyFans successfully, you need to promote your content across the internet. Here are some ways you can promote your OnlyFans' feet content:
Social media marketing
Social media is one of the most impactful tools to promote your OnlyFans secretly. Platforms like Instagram, Twitter, TikTok, and Facebook are great places to connect with a large audience and build a following.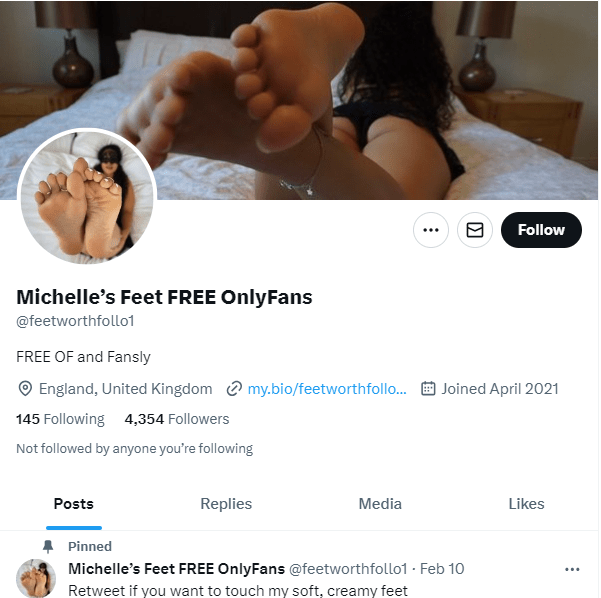 Creating engaging content and interacting with your followers can attract new subscribers to your OnlyFans account. You can use your profile description and pinned tweet to provide a link to your OnlyFans account. 
Using hashtags such as #OnlyFans #OnlyFansPromo #Feetpicsforsales #Feetcontent can get more visibility on the social media platform.
Joining online communities
You can join social media communities on Reddit to promote and get more subscribers. There are numerous groups and communities on Reddit, such as r/OnlyFansPromotions, r/OnlyFans101 and r/Feet, where you can secretly promote your OnlyFans account.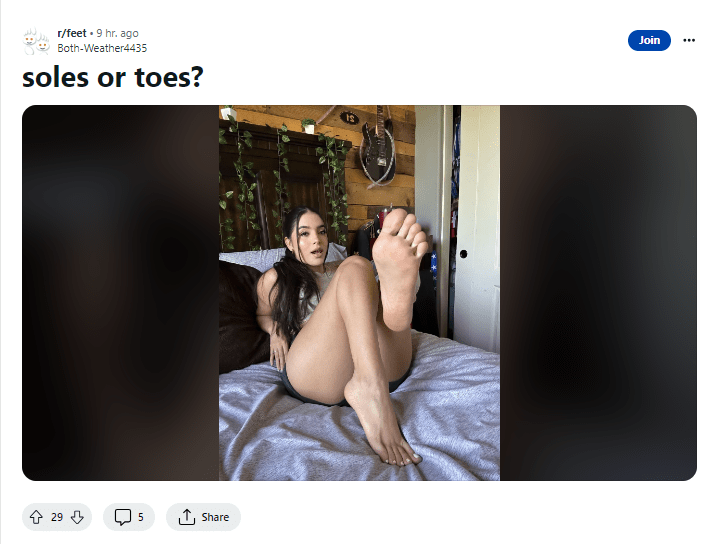 They are aimed at helping anonymous creators and providing them with the opportunity to promote their content while maintaining their secrecy.
Paid collaboration 
If you are looking to promote your feet pics, paid collaborations can be a highly effective strategy. Major social media platforms like Instagram, Twitter, and Facebook are home to several OnlyFans shootout pages.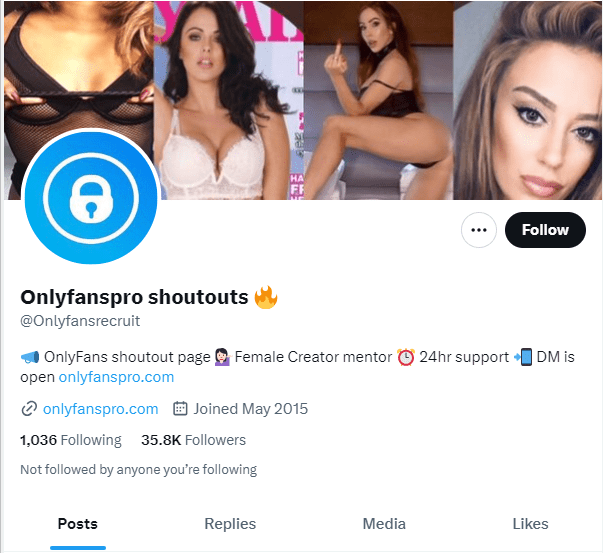 You can easily reach out to the page admin and promote your content with a link to their audience. This option not only enables you to target your ads to specific audiences but also gives you the opportunity to connect with potential customers who may be interested in your content.
That's all about how to sell feet pics on OnlyFans. Now, let's get to know how much you can make on OnlyFans by selling feet pics.
How Much Can You Make on OnlyFans for Feet Pics?
You won't make any money just by having your feet pictures uploaded on OnlyFans, but you will make money when your photos are sold. 
As an OnlyFans creator, you will receive 80% of your earnings while the platform takes 20%.
As an OnlyFans creator, you will receive 80% of your earnings while the platform takes 20%.
And how much you earn depends on the number of subscribers you get and the number of PPV content you sell.
According to a survey conducted by Useignhouse on a few OnlyFans creators, the average monthly earnings for a creator is approximately $180. 
But if your feet pics sell crazily on OnlyFans and you become a top creator, you can easily make more than $1500 – $3000 a month.
In case you've become the top 1% or top 10% on OnlyFans, your annual earnings can range from $120,000 to $5 million.
Tips to Maximize Your Revenue from Selling Feet Pics on OnlyFans
Competition among the creators who sell feet pics on OnlyFans is tough, so if you want to make more money, you need to stand out. Here are some tips that help you increase your earnings from selling feet pics on OnlyFans.
1. Build a large collection of feet pics
It's super important to have a large collection of feet pics in your OnlyFans account. Not only does it help you earn more, but it also gets more foot-fetish lovers interested in your content and boosts your sales. 
2. Edit and enhance your feet pics
You can make your feet pics look beautiful with tools like Adobe Lightroom or Luminar Neo. If you can learn how to edit your photos like a pro, people will love your feet photos more. 
But if you find it difficult to edit your feet pics, then solely focus on beautifying your feet, costumes and backdrops to attract your customers. Only when you provide new and fresh content on OnlyFans, you can stand out. 
3. Set competitive prices
When starting, it's recommended to price your feet pics at the lower end of the market range to remain competitive. For example, feet pictures can sell for anywhere between $3 to $15 per picture.
4. Explore other platforms
There are a lot of OnlyFans alternatives out there where you can expand your reach. You don't have to create new content, just use the same feet pics you already uploaded on OnlyFans. 
That way, you can save time and avoid the hassle of capturing and editing new photos. Some of the best OnlyFans alternatives are Fansly, Fanvue and FanCentro.
5. Engage with your audience
Interact with your subscribers by responding to their messages and comments. This can not only help build a loyal fan base but also create opportunities for getting custom content requests from your fans and increase your income.
6. Be patient
It's not easy to sell your first feet pic on OnlyFans as there's a lot of competition out there. You need to be patient and upload 15-20 photos every month to keep your account fresh with new content.
Final Words
By now, you've probably understood how to sell feet pics on OnlyFans from in and out. With millions of users online every day, you can compete with other OF creators, showcase your beautiful feet pics and create your own loyal customers.
But if you feel that the competition in OnlyFans is high or you need to keep every dollar you make from selling your feet pics, then we suggest you create your own fan site.
If you think it's going to be expensive, then you're wrong. Using ready-made software like xModel by Adent.io to create your own fan site can be extremely affordable and effective.
With xModel, you can easily sell your feet pics and videos to your fans. The platform offers a built-in token system, media management tools, revenue reports, personalized domain names, and more to make your fan site more professional and user-friendly. 
FAQ on How to Sell Feet Pics on OnlyFans
1. Can you sell feet pics on OnlyFans?
Yes, you can sell feet pics on OnlyFans. While OnlyFans is not specifically designed for selling foot pictures, there is a significant market for this type of content on the platform. To start selling feet pics on OnlyFans, you will need to create an account, get verified as a creator, set your prices, and upload your content.
2. How much do OnlyFans foot models make?
The average content creator who sells feet pics on OnlyFans makes only $150 to $200 per month. But you can become a top creator on the platform, and you can easily make six figures a year.
3. Is selling foot pics on OnlyFans profitable?
Even though you can make lots of money on OnlyFans from selling feet pics, we suggest you sell them on your own fan site. By doing so, not only will you increase your earnings, but you will also make yourself a brand with a loyal fan base.