-

8

mins read
Amateur webcam girls often ask me this question- Which among Facebook, Twitter, Instagram, and Tumblr is the most adult-friendly social media platform? I wholeheartedly quip "Twitter is the best and most adult-friendly social media platform so far". My answer could come as a surprise for the advocates of Tumblr and Facebook. At the very outset, I would like to display the much necessary spine and spunk in asserting that Facebook and Instagram hate the term 'adult' and detest 'adult entertainment content'. Tumblr is reportedly renowned for featuring and advocating adult content. However, Tumblr has been aggressively flagging the profiles of cam girls and the worst part is that it has been deleting all the 'porn' tags.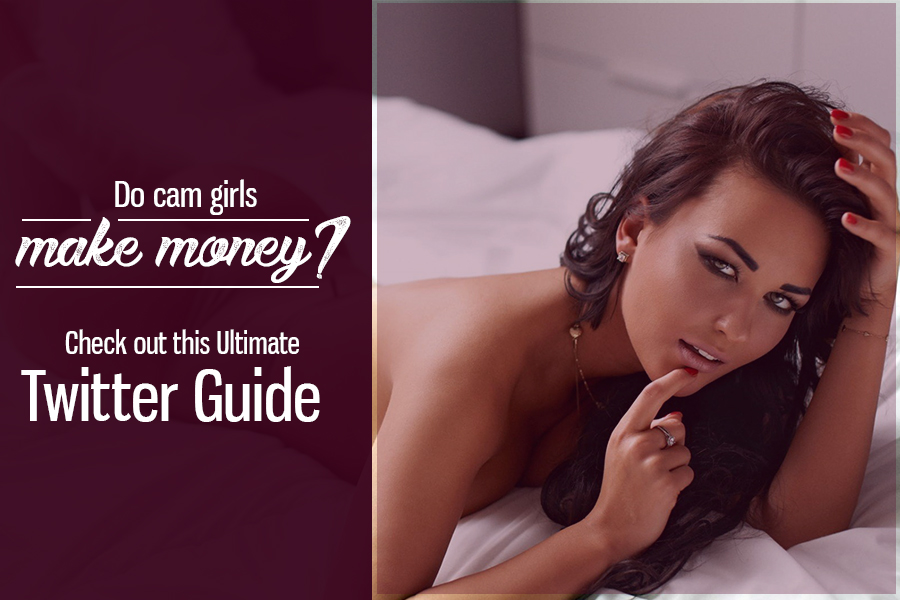 Do Cam Girls Make Money By Using Twitter?
For all intents and purposes, adult entertainment industry is too big an industry to fail. And yes, cam girls make money by using Twitter. That being said, amateur cam girls are too inexperienced to leverage Twitter to its full potential.  It is in this spirit, I would like to provide some tips for effective Twitter usage:
Tip #1: Simplicity Anchors Engagement
Short and simple tweets always anchor engagement. According to Twitter's own data, tweets whose length of characters is anywhere between 71 and 100 are likely to generate more overall engagement. This comes with a caveat. In their pursuit to keep tweets short and simple, many webcam girls often fail spectacularly to convey their message. Effective communication through short and simple tweets will muster the attention of audiences.
Twitter is incomplete without hashtags. Hashtags are nothing but structured tools which help audiences find tweets pertinent to their choice. In the ecosystem of adult entertainment, hashtags pertinent to various fetishes are #shavedpussy, #bigass, #fingering, #bigboobs etc. More often than not, webcam girls tend to use multiple hashtags in a single tweet. Beyond any shadow of doubt, tweets with a hashtag double the user engagement. However, more than 2 hashtags within a single tweet cause a drop in user engagement. The key takeaway is: Do not fall prey to indulgences of using multiple hashtags within a single tweet.
Tip #3: Tell Your Audiences
The best thing about Twitter is that it is known for prowess of simple actions such as Like, Tweet, Re-Tweet, Vote on Polls and Click on Links. Such actions require not more than a click and hence, they are the least strenuous actions. Without any second thoughts, reach out to your existing audiences and followers to retweet and like your tweets. This increases the user engagement by multiple folds. Conduct Twitter polls to know if your patrons want you to see in a bikini or a lingerie. Convince them to vote.
Tip #4: Incorporate Pictures & Videos in the Tweets
Audiences are entitled with the anxiety of keeping themselves acquainted with the likes and interests of their favorite webcam models. Therefore, it is important for webcam models to use multimedia tweets and subtly introduce links to model pages, websites and purchase clips. This will help models attract new followers and regularly paying customers. And yes, do not forget to watermark the videos and images. After all, they are your precious tangible and re-usable assets.
Tip #5: Tweet Frequently at the Right Times
Not being active on Twitter can result in the downfall of the reputation of webcam models. It is important to stay active on Twitter. To keep audiences posted about your active schedule, tweet at-least 4-5 tweets per day. It is perfectly okay to experiment with Twitter – To begin with, you can start tweeting at 8 AM, then at 12 noon, 4 PM, 7 PM and late night. More often than not, the sexual emotions of audiences get stirred after 7 PM as they return from their busy schedule and look for something soothing and pleasantly erotic.
Add Website/Referral Link
Cam girls just like their audiences live on the internet. Websites are the addresses of cam girls. Twitter allows its users to incorporate a website or an affiliate link during profile creation. This will help webcam models make money during offline hours as well.
Promote Skype and Video Shows
Another best thing about Twitter is that it assists webcam models – both amateur and professional promote their respective Skype and Video shows. They often do so by pinning a tweet which directs audiences to Skype and video shows. It is also possible to create a customized header which contains information about videos and social media profiles along with webcam sites.
Twitter for Networking
It always makes sense to check out what other cam girls are doing. Form a community of cam girls and keep communicating the latest tips and tricks. Cam girls can also exchange and divert traffic. This is a win-win situation as audiences get to know about new cam girls and cam girls acquire new clients. However, this strategy may actually lead to cannibalization as the atmosphere in the camming industry is highly competitive, possessive and obsessive.
Twitter and its Stringent Stand on Non-consensual Nudity
To all our beloved readers who are unfamiliar with non-consensual nudity, here are a few lines explaining the essence of it. Non-consensual nudity is a fetish in which the persons involved in sex / sexual activity are unaware of the fact that they are being filmed. Be informed that even promotional content resembling or simulating non-consensual nudity is prohibited. Whether Twitter will soften its stand on non-consensual nudity or not is just a matter of time.
BDSM: An Object of Contention?
BDSM fetish seems to be an object of contention. While it may come under the radar of 'consensual' sex, it is again a 'simulation act'. This may violate the new terms and conditions laid down by Twitter. This is a grey area where proper insights aren't available. Twitter can use the new terms and conditions to block the profiles of webcam girls.
Way Forward
In all likelihood, social media platforms may get less and less adult friendly in the days to come. Snapchat seems to be an exception though. Its collaboration with Square Cash to facilitate instant payments is a testimony to the fact that Snapchat is the most sought after adult friendly social media platform.
If you have any doubts or concerns, feel free to drop a line or two in the comments section. We shall reply in a day or two. Keep watching this space for further insights on how to make money as a cam girl. Subscribe to our newsletter to get updates on how to make money as a cam girl. We hope we have provided satisfactory answers to the question – 'How to Make Money as a Cam Girl'? Our best wishes are with you and your adult venture. Cheers!