-

6

mins read
Looking for a way to market your adult webcam site? In this case, Twitter is the best option for promoting your site and interacting with your target market. Twitter is totally adult-friendly, unlike Facebook, Instagram, Youtube, and TikTok.
Almost every pornstar and adult content creator has a Twitter account and actively engages with their fans and followers. So to market your webcam business, you cannot find any better platform than Twitter. 
In this article, we'll highlight some reliable Twitter marketing tips that can help you promote your adult webcam site on the platform. 
How does Twitter Work for Adult Cam Sites?
Before you start your marketing campaign on Twitter, understand the platform and learn how it works for adult cam sites. Because to formulate a marketing method that's compatible with your niche, you need in-depth knowledge about the platform and its users. 
The following guide will help you start your webcam business with step-by-step instructions if you still need to start.
Terms of Service and Community Guidelines
In 2021, one of the mainstream magazines, Paper, announced that we were living in a Twitter Porn Golden Age and described the subculture that deals with porn as 'Porn Twitter.' The rise in NSFW content on Twitter has become an all-time high in recent years after the platform loosens its restrictions on adult content.
Still, it doesn't mean there is no restriction on tweeting and sharing adult content on the platform. According to Twitter, you cannot post or share sensitive media such as excessively gory, violent, or adult content within the live video or in profile or header images. Also, it is not permitted to post pictures or videos depicting sexual violence and assault. 
As an adult cam site whose content revolves around porn, make sure to mark your media as sensitive while sharing short clips or images that depict adult nudity and sexual behavior. 
You should also take note of Twitter's non-consensual nudity policy. Here are the factors that Twitter considers a violation of this policy if the content is taken or shared without the consent of the people involved. 
Hidden camera content with partial or full nudity

Upskirt shoes or creep shorts

Video or image with an intimate setting
So whatever you post on your official cam site Twitter account, be sure that the involved party consented to share and distribute their nudes. 
The Demographics 
Unlike other social platforms, Twitter has a subculture for everything. According to this Nypost, Twitter has estimated that adult content in its platform constitutes 13%. The number of users engaging with adult content on Twitter is massive, and it will likely grow. 
The millennials are the largest age group of people who use Twitter (31.29%), followed by gen-z (26.85%). With so much porn on Twitter, it is no surprise that the platform was dominated by men (66.32%), and the remaining 33.68% are women. 
Still, Twitter is the ideal platform to promote your adult cam site because you can find people from all gender spectrums, such as transgender, lesbians, gays, bisexuals, asexuals, pansexuals, and many more. Regarding the top user-interested categories on Twitter, adult content ranked #2 after video game consoles and accessories. 
Remember, don't use automated bots to gain followers or spam inboxes. Ensure that all your cam site models' Twitter accounts are verified to provide authenticity to the users. 
On Twitter, more than 99% of marketing campaigns were organic, with engaging original content, unlike Facebook, Instagram, and Youtube.
The reason? You can easily attract the target audience if you're creative and humorous within the 280 characters. So make sure you do the same. Market your adult cam site with a mix of quality cum steamy content, and make it as direct as possible. 
How to Make the Best Twitter Marketing Strategy for Adult Cam Sites?
Now you have a clear picture of how Twitter's policies work for adult cam sites and the demographics of adult content lovers. But before we go any further, let's take a moment to discuss the factors your adult cam site needs to consider before you launch your Twitter marketing campaign.
#1 Identify the Target Audience
Since Twitter is a social network that favors adult content, now you know what kind of audience it attracts. But you need to pinpoint the right audience to create a successful marketing campaign for your adult webcam site on Twitter. 
To identify your target audience on Twitter, you have to do the following:
Gather customer data: To understand adult webcam sites' customer base, you need substantial data. Collect the data yourself instead of opting for third-party data because only you know your potential customer. 
Check your competitors:  As a start-up cam site, you're in for a big challenge with players like Chaturbate and Stripchat. Go to their Twitter account and study their audience. 
Take surveys: With Twitter, you don't have to beat around the bush. You can conduct a poll and do a quick survey to determine your site's target audience. If you want to attract more Twitter users, you can offer small incentives for your surveys.
#2 Set Goals and Objectives
Setting up goals is important because it clarifies what you're trying to accomplish in marketing your cam site on Twitter. And objectives help you measure and specify the progress of your marketing campaign.
Let's consider you have a short-term goal and expect a good result in the next quarter. Your goal and objectives help you define and identify the areas where you need to focus in broader statements. Here are a few examples. 
Determine the number of customers you must create for your webcam site within the next quarter.

Decide your revenue goals

Outline the cam site traffic that needs to be generated

Have a goal for the growth of followers in the next 4 four months on your Twitter account.
#3 Create a Content Plan
To market your webcam site on Twitter, you need to formulate a content plan and stick with it. Here's how to do it.
Create a content strategy. Outline how many tweets you're going to post weekly.

Make your own branded template. 

Be sure to select a topic appropriate for your audience and avoid overburdening them with adult themes.  

Schedule your tweets

Measure the result. 
Creating a workable content plan for your adult cam site requires scalable goals and a better understanding of your target audience. To make an effective Twitter marketing strategy go through the process mentioned above in order. 
Effective Twitter Marketing Methods for Adult Cam Sites 
If you look into the success of high-paying webcam sites like LiveJasmin, MyFreeCams, and Chaturbate, they've done impeccable marketing on social platforms, particularly Twitter. 
So if you follow the same steps with your own creativity and hard work, you can become the next big webcam site.
Create a Striking Profile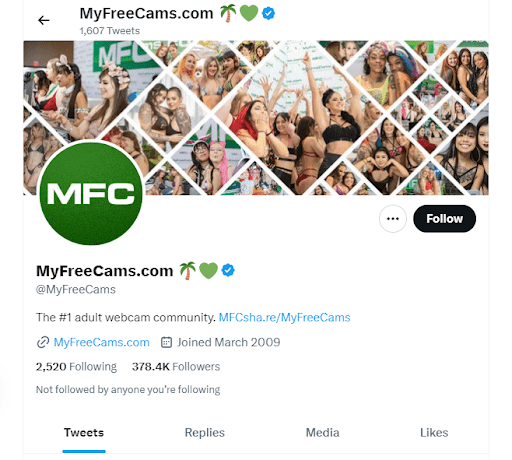 The first on the list is creating an attractive profile, attractive in a sense, simple, and on-point with images that reflect your brand.
For example, let's take the MyFreeCams Twitter account. In the bio, they expressed their standing in the webcam industry in 5 words. They kept it simple and didn't showboat.  
Their official link is also accompanied by the brand page link of their website, so users can browse through playlists and learn more about their cam site. Also, they used their domain as a profile name because it helps users to know their domain extension and lets them identify their official cam site when they browse. 
Profile pic carries the logo, and the header image with models reflects the brand's value. So make your Twitter profile look professional and indicate your cam site's theme. 
Note: Keep your Twitter profile public so that non-followers can view it. 
Use Hashtags Effectively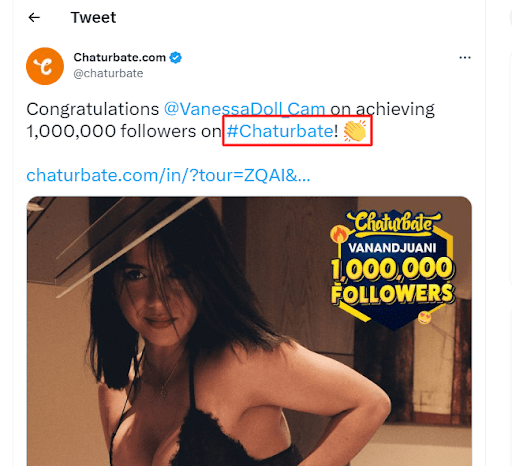 To earn fame on Twitter, you need to work on your hashtags. If you look into Chaturbate's Twitter account, they utilize #chaturbate once for every 4-5 tweets. In this case, if you plan on posting 5-8 tweets per day, you'd automatically be using hashtags every day.
If your webcam site also has e-commerce, we recommend using a particular hashtag. While using adult hashtags, make sure it is relevant to your niche. Use emojis with hashtags if necessary; otherwise, make it simple. 
Build Your Community 
To build a community for your webcam site on Twitter, you have to tweet constantly. So don't fail to tweet. As Twitter is filled with fake cam model profiles, ensure the authenticity of the person you follow because people on Twitter are always curious about your followings.
To build your community on Twitter, follow the proceedings:
Avoid adding people to groups

Use simple English

Don't use personal views

Express your respect to the community 

Don't send auto DM

Share your webcam site link constantly
Follow Conversations and Engage Actively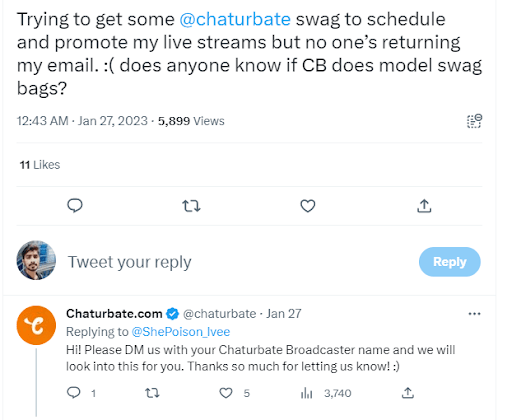 Following up on conversations when you're mentioned and engaging with your target audience effectively on Twitter are the best marketing strategies for your webcam site on Twitter. 
Nowadays, people use Twitter to raise issues when they face a problem on a platform. So when your customer tagged you with an issue, immediately follow up with the tweet. Chaturbate has followed this method for many years; whenever problems are raised, they reply within a few hours. 
As a start-up adult webcam site, you can market yourself by joining Twitter space, where conversations revolve around cam models and adult content. While engaging in a chat, post a tweet and make your followers involved. 
This allows your users to know about your webcam site on a personal level. 
Measure Progress, Reflect, and Start Again
It is also necessary to optimize marketing methods occasionally, just like you do SEO for your cam site.
Before you scale your growth, determine the Key Performance Indicator (KPI) you intend to track for your adult cam site. Then figure out how often you want to measure your progress (weekly, monthly, quarterly) with the reports given by Twitter Analytics. 
Choose a KPI that drives traffic to adult cam sites, like link clicks and engagements, and work on them. As a cam site, your final goal on Twitter marketing is to direct the viewers to your website; in order to achieve that, don't focus on every indicator.
Finally 
As you set Twitter marketing goals for your adult cam site, you'll find there's room for further improvement. You can't perfect your marketing strategies on the first attempt, so you should track record your growth and tweak now and then with workable solutions. 
For those of you who haven't started yet on your cam site and are still looking for an affordable solution, consider xCams by Adent.io. xCams is an adult webcam script that lets you create cam sites like LiveJasmine and Chaturbate. It's fast and secure, and you can get online in a few days. 
Cheers!