-

7

mins read
Selling used panties online is becoming the most profitable money-making business for many side hustlers. There are some cases like Rebekka Blue, who became a millionaire at the age of 28 by selling her used underwear online.
But successful sellers like Rebecca have mastered the logistics of how to ship used panties. They understand how factors such as box size, product weight, speed, and distance of travel can affect shipping costs.
When selling used panties in a crowded market with many competitors, it's important to ship efficiently and keep costs low. This article provides useful information on the most cost-effective shipping methods for sending items to customers. 
You'll learn about the various shipping options available, as well as the ins and outs of international shipping to help ensure a successful sale of your used panties.
Factors to Consider When Shipping Used Panties
Before discussing how to ship used panties, it is important to understand some crucial factors that must be mastered to ensure seamless delivery to customers.
Shipping Companies
If you're engaged in selling used panties, you're probably familiar with the leading shipping companies, such as USPS, UPS, and FedEx. However, each carrier has its own shipping options and pricing policies, so it's essential to choose the right one for your needs. 
Here are some key factors to consider when selecting a carrier:
Destination address: Do you ship your panties domestically, internationally, or both? This is important because different carriers may have varying coverage and pricing for different regions.
Package weight: It's essential to know your most common package weight, as well as your minimum and maximum package weights, to determine which carrier offers the most cost-effective shipping solutions.
Delivery speed: What's your preferred speed of delivery? Do your customers require weekend delivery or same-day delivery? Different carriers offer different delivery options, so it's important to choose one that meets your customers' needs.
Service options: Do your customers require package tracking and delivery confirmation? Does the shipping company provide free supplies like cardboard boxes, envelopes, and shipping labels? These are important service options to consider, as they can impact your customers' satisfaction and your overall shipping costs.
By evaluating each carrier based on these factors, you can make an informed decision and select the best mailing service to ship used panties.
Shipping Price
Your shipping price is the fee you charge to customers for shipping their orders. It is an important aspect of your used panty-selling business as it can influence your pricing strategy. 
To make things easier for you, there are three options you can choose from when determining your shipping rates.
First, there is the real-time carrier rate option, where you can allow your customers to choose and pay for the exact shipping option they want. This can be done by setting up real-time carrier rates so that they can see the various options available to them and choose the one that best suits their needs.
Second, there is the flat rate option which is a popular choice for many used panty sellers. This option involves charging a fixed fee for all shipments, regardless of the destination or size of the order. 
Finally, there is the free shipping option which is always a hit with customers. However, it is important to note that someone needs to pay for it. You can either increase your product prices to cover the cost of shipping or pay the full price from your margins. 
To offset these costs, you can limit free shipping to orders that meet a certain amount. This will encourage customers to spend more and reduce the impact of shipping costs on your business.
Packaging and Promoting
The role of packaging in the protection and promotion of products is crucial. It is the first thing that customers see when they receive their order, and it can make a lasting impression on them. 
Proper packaging not only safeguards the product but also helps build your own brand. Moreover, effective packaging can save costs and improve the unboxing experience for customers.
Packaging and marketing are intrinsically connected, with the customer's unboxing experience having a significant impact on your brand's reputation. When it comes to used panties, folding them neatly before placing them in mailers is essential. 
Additionally, using attractive packaging inserts and presenting the product in an eye-catching manner can help differentiate your brand and create a pleasant experience for customers.
How to Package Used Panties for Shipping
If you're about to sell used men's underwear or a high-cut G-string thong, it's important to package it carefully according to the customer's specifications to avoid any potential loss. 
When it comes to shipping worn panties, there are a few things to keep in mind to ensure they arrive at their destination in perfect condition. Fortunately, these items are not fragile, so breakage during transit is not a concern. 
For single, small-piece undies and thongs, standard mailers will suffice, while padded mailers are the best option for thongs with trinkets attached. To keep the product fresh or wet, vacuum seal storage bags are essential regarding how to ship used panties.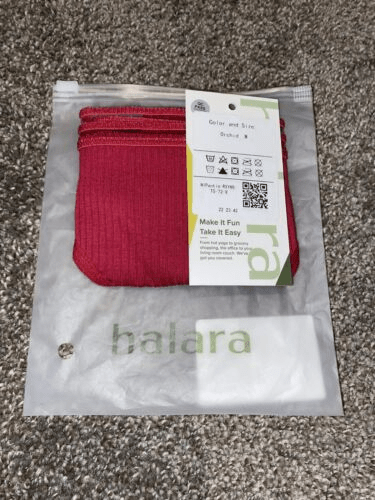 The vacuum sealer plays a crucial role in maintaining the quality of the product, ensuring that it feels as though it came directly from your body. This keeps the smell intact until the customer opens the package.
A final wrapping of tissue paper is also recommended to provide added protection.
For bulk orders of dirty panties, cardboard or corrugated boxes are necessary to ensure they arrive safely and securely. However, if you prefer to use your own branded packaging bags or if your carrier offers free packaging, this is also an option. 
In today's eco-conscious world, it's always a good idea to use recycled mailers and label your packaging accordingly. By keeping these tips in mind, you can be confident that your worn panties will arrive at their destination in perfect condition.
Packing Used Panties:
Firstly, choose a vacuum sealer bag that is slightly larger than the volume of the panty to contain it without squishing. This will help to preserve the shape and smell of the panty. 

Next, place the item inside the box and wrap it with tissue paper to prevent any possible damage during transit. 

Add cushioning material to protect the delicate details of the fabric further and add the shipping label. 

Finally, you can add a personal touch to your customer service by including a handwritten "thank you" note with a personalized message. This gesture can help create a positive impression and potentially turn them into repeat customers.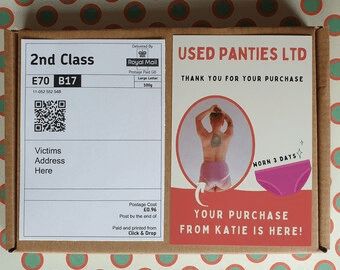 By following these steps, you can ensure that your package arrives safely and discreetly without any damage or tampering.
Save Money With Your Packaging
When shipping used undies, it's important to keep shipping costs in mind. Here are some helpful tips to help you save money:
Make sure to fold each piece of underwear with care before placing it in the packaging.

Always try to use the smallest package possible to avoid extra shipping fees.

Weigh your packages as you pack to ensure accuracy and avoid overpaying for shipping.

Use cushioning only when necessary, such as when shipping delicate fabrics.

Opt for inexpensive poly mailers to keep costs low.

Try to ship items together to save on shipping costs.

Look for volume discounts when shipping larger quantities of items.
Determining Shipment Weight 
When it comes to shipping used panties, there are various factors that determine the pricing, and one of the most crucial ones is the weight of the package. 
To ensure that you're not overpaying and keeping your costs low, it's imperative to get the package weight right every time. Luckily, there are two simple ways you can determine the weight of your package:
For smaller items, such as single-worn underwear, you can use a cooking scale

For larger items like women's plus-size panties, you can use a bathroom scale. 
By accurately measuring your package weight, you can save yourself considerable amounts of money and streamline your shipping process.
How to Ship Used Panties to Customers?
To identify the best way to ship worn panties, it's important to carefully consider your options and determine the best method based on your specific needs. 
Factors such as the number of items being shipped, the distance they need to travel, and the speed of delivery all play a role in making this decision.
There are various shipping carriers available, but two of the most popular options are FedEx and USPS. Both carriers offer multiple shipping options, but the most relevant for this type of shipment are First Class Mail and Priority Mail.
First Class Mail to Ship Used Panties 
First Class Mail is the most affordable option, particularly for light packages weighing 13 ounces or less. Your used panties orders fall within this weight range, and it's highly cost-effective to use First Class mail for most shipments. 
The cost of this option is determined based on the distance the package needs to travel, which can be calculated using the USPS Domestic Zone Chart and your zip code.
Priority Mail to Ship Used Panties 
Alternatively, Priority Mail is a flat rate shipping option for packages over 13 ounces, offering delivery within 1-3 business days. For instance, if you're shipping bulk orders, this mailing service is the ideal choice.
There is a maximum package limit of 70 lbs for this option. The cost of this option is determined by package dimensions and weight, as well as the distance the package needs to travel. 
USPS also offers variable pricing for time-sensitive shipments, so be sure to use the rate calculator provided to determine your shipping costs accurately.
Now that you know how to ship used panties domestically, let's get into the process of shipping used panties to international customers.
Shipping Used Panties Internationally
In order to expand your business by shipping used panties overseas, having a comprehensive strategy is crucial. Let's take a look at some of the key factors you need to consider when shipping internationally.
The Country of Your Shipment
First and foremost, it's important to note that you can only ship to North American countries like Canada and Mexico that have free trade agreements (FTA) with the U.S., as it makes the shipping process much easier. 
If you're planning to ship to countries without an FTA, you must learn about the regulations and duty rates of those countries.
Rules & Regulations of the Region
It's also essential to familiarize yourself with the rules and regulations of the destination country to determine if your product is eligible for import. 
For instance, some sellers may sell nudes along with worn underwear to their customers, so it's crucial to know about the regulations and rules of the country where your customers reside.
Custom Paperwork
Next, you need to complete the customs paperwork. This process can be easily done with the help of the FedEx International Shipping Assistant Tool, which assists in compiling the correct documentation for clearing customs. 
You can upload and submit the necessary paperwork electronically on the platform of all the major carriers.
International Shipping Label to Ship Used Panties
Lastly, you need to create an international shipping label. When uploading other custom paperwork on your carrier's platform, complete the international shipping label as well. 
Ensure that your description of the type, quantity, and value of the used panties you are shipping is accurate to ensure easy custom clearance.
The Takeaway
As a seller, figuring out how to ship used panties can be a difficult task. This article provides helpful information to guide you in determining the most effective shipping strategy for your used panty-selling business.
Before we end, I wanted to ask if you've ever felt like the platform takes a considerable cut from your profits. If so, we recommend selling used panties on your own website for your fans. 
While creating your own website may seem time-consuming and costly, there is a better solution – using adult fan membership site scripts such as xModel by Adent.io.
With xModel, you can effortlessly build your own fan membership website. As the owner of the site, you will have complete control over it and will earn 100% of the profits.
For an affordable price, you will have access to a variety of features, including built-in e-commerce, multiple ways to monetize your site, an adult payment processor, SEO-optimized pages, and much more.
Book a demo to see how xModel can help you sell used panties online and make money.