-

7

mins read
You can start a webcam business without much hassle, but when it comes to finding cam girls for your platform, both online and offline headhunting might be challenging. As several options are available, it is easy to get lost in the crowd and recruit cam girls who don't sound relevant to your webcam business or models who don't add value to your brand. 
Conveniently, several methods exist to find the best cam girls for your webcam business without any mishap. This article discusses how you can find suitable cam girls for your adult webcam site, as well as how you can pouch them and keep them on your platform. 
1. Use Your Competitor's Platforms to Find Webcam Models
The best free resource for finding models for your webcam site is to check out your competitors' webcam sites like Chaturbate, Stripchat, or LiveJasmine. However, you should not hold anything back while 'stealing' cam models from your competitor's platform because you have to go all out to build your dream cam site. Besides, don't limit your focus by only targeting cam models with larger fanbases. Hire more newbie cam models as well. 
To recruit the models who are already working on your competitor's cam site, start promoting your webcam business by outlining your work culture. Talk about how your platform values webcam models better than other platforms. If they are still not convinced, then reveal the payout percentage. 
Are there any people who are moved by money? If you offer a better payout percentage with some benefits, you can be sure they'd consider changing the platform. 
Additionally, cam girls prefer a platform that secures their private information and provides a sex-positive environment. You should therefore make sure to describe all of the features and benefits that will be provided to the models on your cam site.
Furthermore, make your presentation as professional as possible. It gives additional validation and makes cam models trust your new webcam business. 
2. Utilize Adult Modeling Directories 
The Adult Model Directory is an online database of information about adult models. They work like telephone directories but with more details. The information includes country, phone number, skype, age, gender, sexual orientation, body proportions, interested-kinks, discord, stream, Twitter, hardware in possession, internet speed, and language.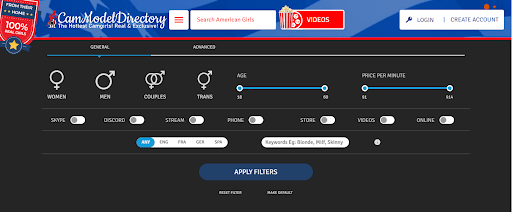 It's fascinating to notice how many free resources the internet can provide. Here is the list of popular adult modeling directories.
You can sort out the cam girls you're looking for using adult modeling directories. For example, let's take CamModelDirectory. You can book a skype or phone call for 1-14 minutes and will be charged per minute. Using this method, you can directly contact the model without any middlemen and promote your new webcam business. 
Also, opting for Discord is another best option. If the cam girls consented, you could form a chat room with them and talk more about your cam site.
3. Work with Cam Modeling Agencies
Hiring models with the help of cam modeling agencies is a textbook poaching method. They do all the work, and you can just focus on building your cam site. So here's the question: under what criteria do you consider? Also, you need cam models who are relevant to your business. And it is important that you can communicate effectively with the agency to achieve this goal. So how to do it? Let's find out. 
How to Find & Evaluate Reputable Cam Model Agencies
As there are hundreds of cam model agencies, it's really hard to find the right cam models for your new webcam business. For starters, you can look for cam model agencies in your local market. Whether you're in Los Vegas or Charlotte, every cam modeling agency has different types of talents under its belt. 
You can visit any cam model agency website and find the best agency within your budget. Here are some agencies for your consideration.
Apart from searching on Google, you can also find cam modeling agencies through adult shows & events. 
Several webcam model agencies are in the bucket, but you need to choose a reputable agency that works with your business with total commitment and adds value to your brand. 
So how to find who's the best? How to evaluate them? We've pulled a list of essential requirements that a webcam model agency should have, and you can use these while selecting an agency for your cam site.
Webcam model agencies must ensure the safety and security of their models.

The agency should provide social media marketing training to the models.

The top models of the agency should have access to attend adult events, award shows, galas, and expos.

Able to provide a sex-positive work environment where everyone, regardless of race and gender, is treated equally. 

The cam model agency should have done a thorough background verification of its models. 

From attitude to clothing style, the agency must've taught its models how to fine-tune them to adapt to the environment. 
When the cam modeling agency meets all the basic requirements mentioned above, you can move forward to negotiate regarding the commission percentage.
Tips for Communicating Your Requirements to the Agency
During the talk between you and the cam modeling agency, ask them questions about the model, the handover process, and pricing. Also, make sure to bring all the crucial information about your webcam business so you can easily explain what you're going to provide in your cam site and how the models of the agency fit into your overall business strategy.
Advantages of Working with Cam Modeling Agencies
You'd get tens of thousands of model referrals. 

The agency will provide accurate information about the cam girls. 

You'll be able to hire webcam models from different countries, races/colors, and ethnicity.

Models of cam modeling agencies are well-trained to increase your earnings

You also do not need to worry about equipment for camming as the modeling agency takes care of it.  
Under the guidance of adult industry experts, the agency teaches its models everything from secret strategies to creative strategies that boost traffic and increase customer base.
4. Post Job Listings on Job Boards

Although you can't hire cam girls through standard job board channels like LinkedIn and Indeed, several other platforms are dedicated to the adult industry. Here are a few examples that you can go through:
When you post your requirements on these adult hiring platforms, make sure to mention your email. Direct registration links won't work because, in the beginning, cam girls want to know more about your new webcam business to decide. It will look a bit forceful and repelling to cam models if you only post your website link. 
While writing the job description, clarify all of your requirements in detail. For example, if you're trying to hire cam girls to do live camming, mention that. If you want your cam girls to sell their nudes and sex tapes, and live streaming, mention that. By briefing all of your requirements, you'd get much less follow-up. 
If you're not a physical studio but a webcam platform, start your headhunting in different locations. Make all your posts as professional as possible and avoid unnecessary spelling and grammar mistakes.
5. Attend Adult Industry Events
The best way to get massive exposure and hire many cam girls for your cam site is to participate in adult industry events.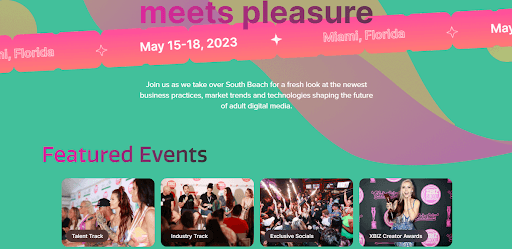 Let's take the XBIZ Miami event as an example. As the leading adult industry media, XBIZ is always at the forefront of conducting large adult community events that comprise adult industry experts and adult workers all around the world. 
By attending adult industry events like this, you get the chance to interact with cam girls who work for top brands and also individual broadcasters who are looking for a stable platform to settle. You can utilize this opportunity to market your webcam business and recruit more cam girls under one roof. 
How to Retain Your Webcam Girls? 
An employer's worst nightmare is seeing cam girls leave their platform. You want to hire the best cam models, and after getting them on board, you want to keep them for at least a few years, especially models whose performance raised your cam site traffic and earning. 
What can you do? We suggest the following tips that can increase employee relationships. 
1. Be Clear About Your Expectations
Most of the arguments between cam models and their employers happen because of employers who didn't clearly state their expectations during the hiring process. Avoid this altogether, and explain in detail your expectations of everything. So, for example, if you want the model to increase the traffic by 100 every month, specify that. 
Also, as an employer, keep all your expectations attainable for the cam models and realistic. 
2. Look for Consistency
Consistency is an excellent characteristic of building a relationship with your cam site models. Make sure you collaborate with your models often and stay consistent by setting and achieving small specific goals, such as sales growth in selling nudes or doubling the live audience viewership.
If they succeed in their short-term goals, reward them. It will encourage your cam models to work harder to achieve your long-term goals. Whatever method you use, always be consistent, track your progress, and reflect on it. 
3. Don't Overlook Newcomers
Regardless of how vigorously you promote your new webcam site, you'll always be welcomed by newbie cam models rather than the top ones. Hire and nurture them as they approach you with their dreams and ambitions. 
In addition, remember that the industry's top cam models were also once newbies. Getting your new models to train properly will give them a chance to become famous cam stars and take your platform to an entirely new level. 
4. Offer Training and Support
A cam girl's earnings depend on her performance and the resources she receives. Regarding training your cam girls, first, make an introductory course that details the working process of the webcam industry. Then, hire an industry expert or a veteran adult model to teach and train your cam models. 
When a cam model gets more traffic, support her with all your resources without any delay. At the same time, if someone is struggling with a single-digit viewer, don't ignore them. Instead, try to understand their problem and offer a solution if it's solvable. 
5. Build a Positive Work Culture
As a business that revolves around porn, unless you offer a safe and sex-positive work culture to your cam girls, you can't retain them. Here are some tips for creating a positive work culture in your webcam company:
Be transparent. Whether it's success or challenges, share with your cam models. 

If a cam girl adds more value and contribution to your cam site, reward her appropriately.

Encourage a positive co-working relationship between your models

Embrace flexible working hours.

Communicate with your models often.

Give honest feedback based on the performance.
6. Respect Boundaries
The adult entertainment industry has lots of gray places. If your model wants to quit your platform or apply for leave for a valid reason, you must respect their decisions. 
Don't cross the personal boundaries of the models. Her working in the webcam industry does not give you or anyone else the right to force her to do things she does not want to do. Unless you respect your cam models' privacy, it's inevitable that they'll leave your site.
7. Offer Incentives
If you look into the best-paying webcam sites, they offer constant incentives to their models. It boosts the morale and competitive spirit of your models. Also, don't delay your rewards; offer the money within a short period of time. 
Offering incentives can also be based on fun events.  Your cam models can tell you what incentive programs they like. Take a small survey and pick one they love.  Make the event monthly and offer quality rewards. These small incentive programs encourage your webcam models to work hard, so consider implementing them in your cam site. 
Conclusion 
As we have reached the end, we'd like to ask you one thing: have you started your webcam platform? If the answer is no, then consider using xCams by Adent.io. xCams is a ready-made software that lets you create a adult webcam site like Chaturbate and Stripchat. 
You'd get incredible features like geo-blocking, mobile-ready design, premium content page, token system, pricing control, HD streaming, etc. What's more, it comes at a price of  $699! So take your best bet.
We also hope this article will help you find cam girls for your webcam business. So put your best foot forward and be patient, as results can be slow initially.