-

14

mins read
Of late, the world seems to patronizing cryptocurrencies. It began in 2008 when Satoshi Nakamoto published an informative paper titled Bitcoin: A Peer-to-Peer Electronic Cash System. Right from online gambling to logistics, almost every business is a champion and beneficiary of Bitcoin and its underlying technology called Blockchain. Adult industry is no exception. The fact that adult payment gateway on blockchain are being powered by blockchain speaks volumes about the significance of bitcoin. If your understanding of bitcoin and blockchain is hazy, worry no more.  Bitcoin is a decentralized currency. In other words, there is no consortium or an individual entitled to exercise complete control over the currency.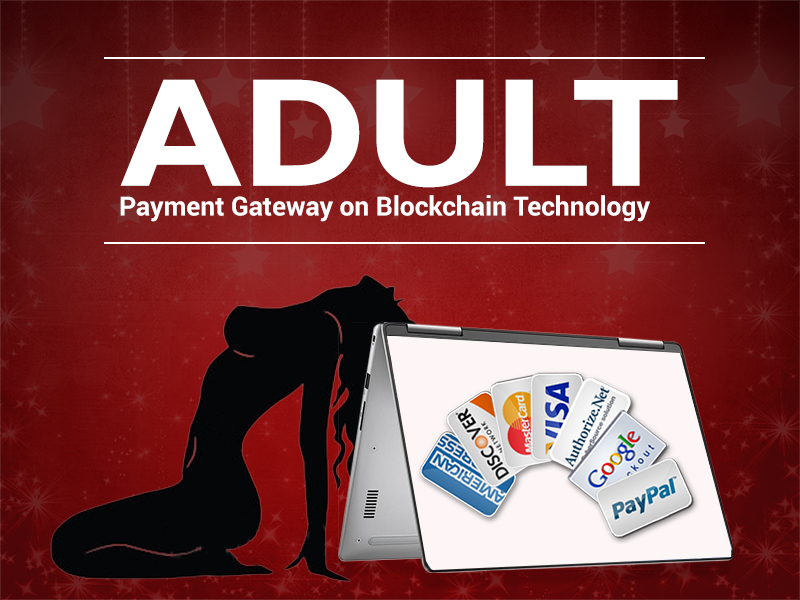 Let me explain how blockchain works with an example. Let us say, you and I bet $100 on Manchester United vs Chelsea. I bet Manchester United would win while you vouch for Chelsea. So, we have got three possible scenarios:
Scenario #1:
We are friends and hence, we trust each other. If you win, I pay you $100. If I win, you pay me $100. In other words, we are banking on trust
Scenario #2:
We can actually get ourselves a contract. A contract is legally binding. There is a lot of compulsion and each one of us is under duress to respect the provisions of the contract.  Moreover, the verdict may take some significant time. And one should not forget that a contract involves legal expenses and may cost us more than $100.
Scenario #3:
We can involve a third party and we expect him to be unbiased. So what do we do? Each one of us gives $100 to him and he gives the winner $200. So, the winner takes it all. But hey, the third party may embezzle $200 in our bet. There is a lot of uncertainty. Beyond any doubt, scenarios 1 and 2 are favorable than the scenario 3.
But hey, do you think trust and contract are the only optimal solutions available? Of course, you can trust your friend with a $100 note. But can you trust him with your $100,000? No! Coming to contract, it requires a lot of time and money. The intricacies involved in preparing a contract are too many. This is where blockchain technology comes into picture. We can write a few blocks of code and a program which runs on blockchain technology.  Depending on the outcome of the match, the program credits $100 into the winner's account. Blockchain technology is too robust to be tampered with. If anything, superlative computing power is required to corrupt blockchain technology. And did you observe that third parties and regulators are eliminated?
Bitcoin is an amazing application of blockchain technology. It is like a digital property. Nobody can ever challenge the legitimacy of bitcoin transactions. Blockchain uses a digital file called ledger to keep track of all transactions.
Let me explain how it works with an example. Here is a simple ledger:
| | |
| --- | --- |
| Account Owner | Bitcoin Value |
| Sam | 200 |
| Walden | 300 |
| Alan | 100 |
| Charlie | 400 |
Let's say Alan owes 10 BTC (Bitcoin) to Charlie. Now, Alan initiates the transaction and pays Charlie 10BTC. So, Alan's Bitcoin value goes down by 10 and that of Charlie's goes up by 10. Simple and easy, right?
So, here is the updated ledger:
| | |
| --- | --- |
| Account Owner | Bitcoin Value |
| Sam | 200 |
| Walden | 300 |
| Alan | 90 |
| Charlie | 410 |
Be informed that the digital ledger is not stored in any single data server or a bank. It is distributed across a series of network nodes. More often than not, nodes are computers. Each of the computers has a copy of the digital ledger.
So, when Alan is done with the transaction, each of the nodes updates its own copy of digital ledger and passes on the message to its neighboring nodes. This has some amazing implications some of which are stated below:
Bitcoin is distributed. It is highly unlikely that all the nodes get corrupted at the same time

Everything is programmed. Third party and intermediaries are no longer the key stakeholders

Wallets are your programs. In other words, your bitcoins are stored in wallets. Each and every wallet is protected by a pair of keys – a public key and a private key. The keys are different yet interconnected
Here is another super simplified example of how blockchain works. Let's say T is the teacher. A, B, C, D and E are her students.
Let me breakdown the conversations into various scenarios.
Scenario #1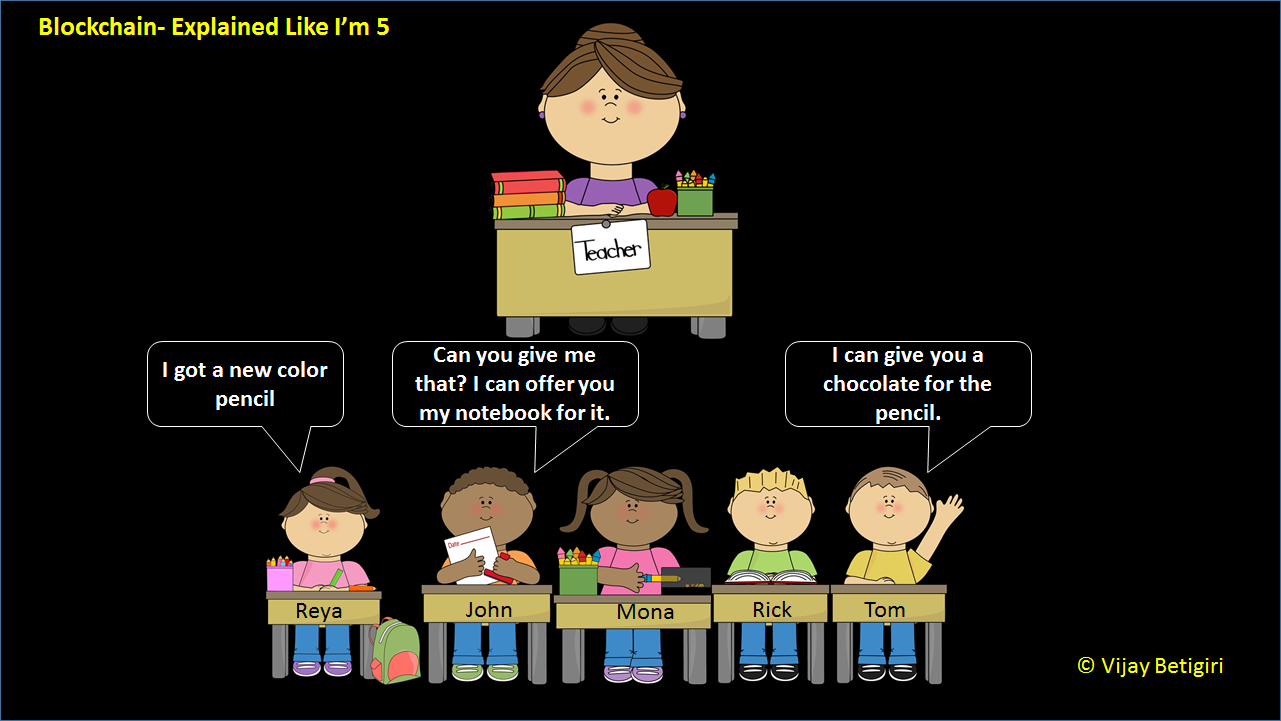 | | |
| --- | --- |
| Student | Item |
| A | Color Pencil |
| B | Notebook |
| E | Chocolate |
A: I have a color pencil
On hearing A, here is what B and E say:
B: Can you give me your color pencil? In return, I shall give you my notebook
E: I will give you a chocolate for the pencil
Scenario #2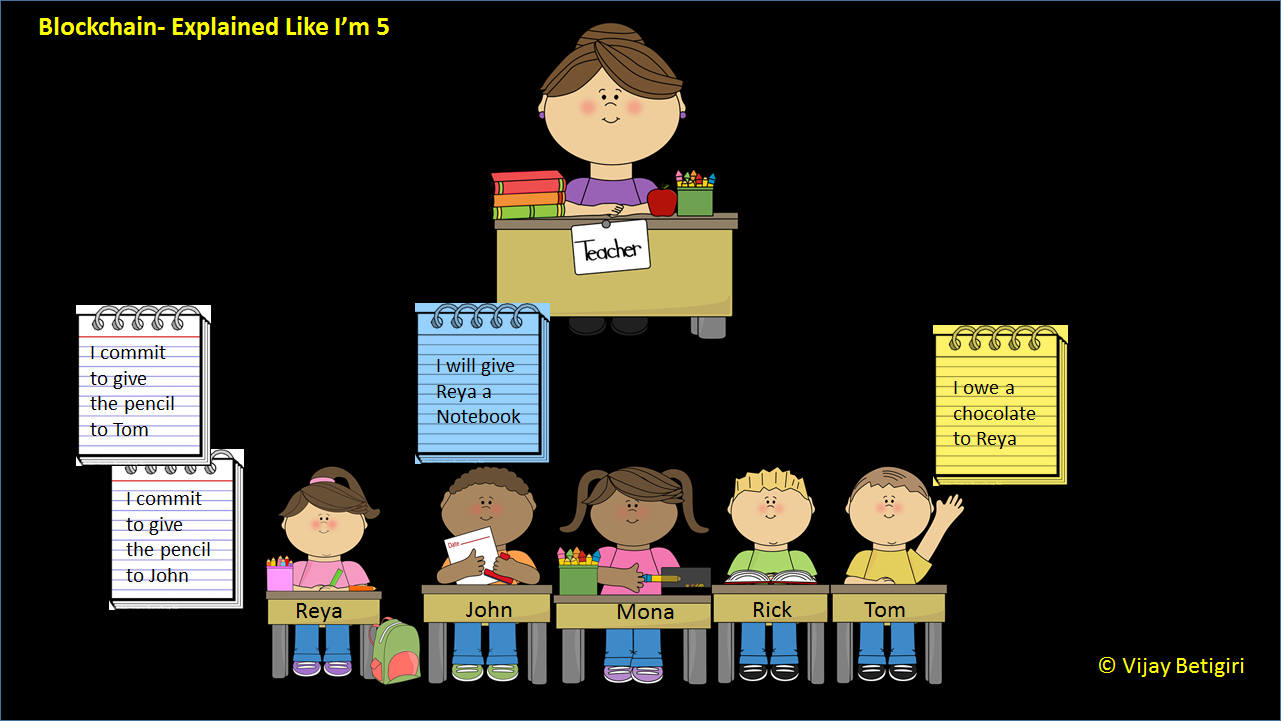 The teacher T instructs all the students to make a note of their trade. Here is what the students have written:
A: I commit to give my color pencil to B.  I commit to give my color pencil to E
B: I commit to give my notebook to A.
E: I commit to give my chocolate to A
Scenario #3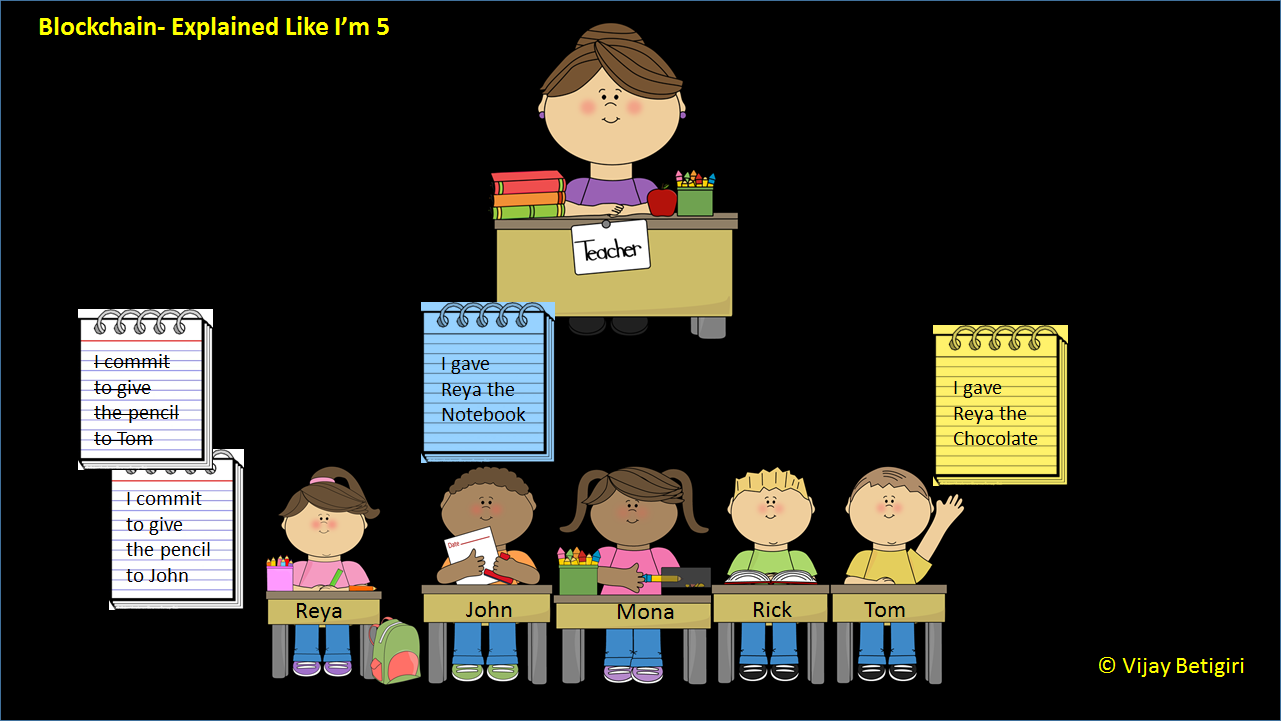 Trade transactions are completed. A gives his color pencil to B but not to E. However, A accepts color chocolate from E and notebook from B. So, A strikes down the note – I commit to give my color pencil to E
Here are the updated notes:
A:  I commit to give my color pencil to B. I commit to give my color pencil to E
B: I gave my notebook to A
E: I gave my chocolate to A
Scenario #4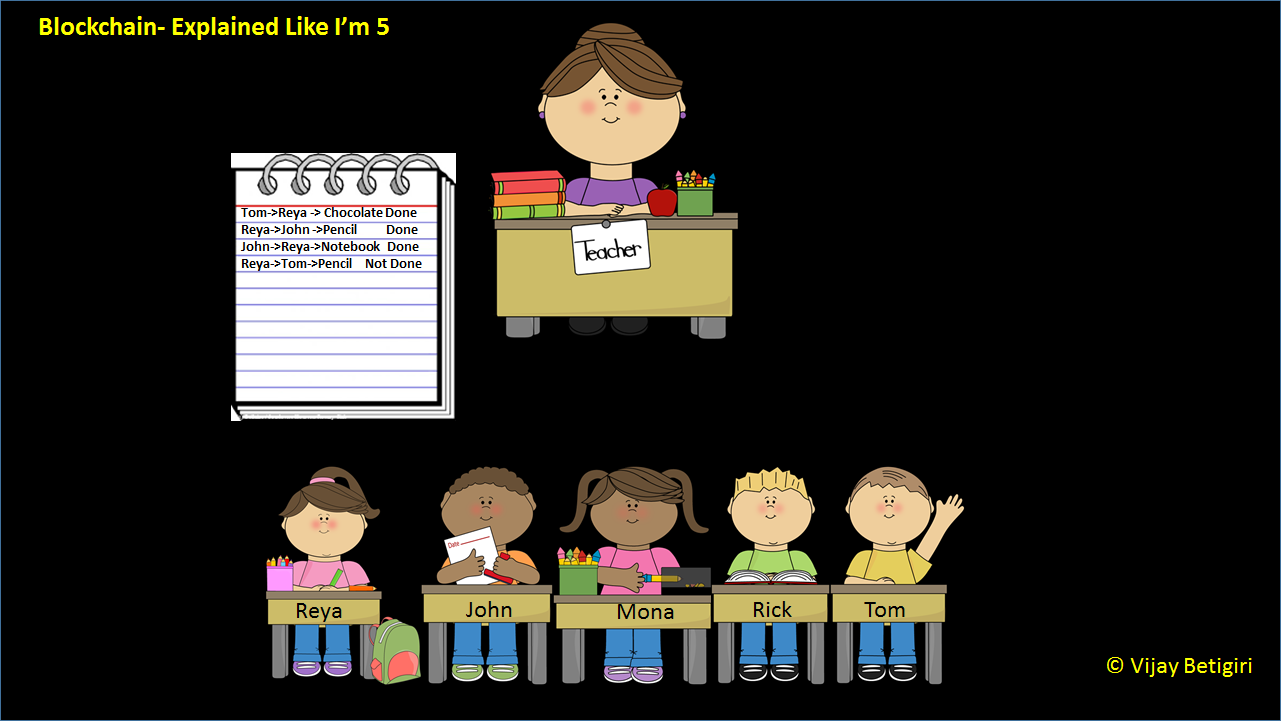 As E doesn't get any color pencil from A, he approaches the teacher 'T' and complains, "A hasn't fulfilled his commitment. Moreover, A erased the note." T plays the role of an administrator and records all the transactions in her ledger.
Here is what her ledger looks like:
| | |
| --- | --- |
| Transaction | Status |
| E -> A (Chocolate) | Done |
| A -> B (Color Pencil) | Done |
| B -> A (Notebook) | Done |
| A -> E (Color Pencil) | Not Done |
T insists on adding a signature for each and every record of the transaction.
T becomes suspicious of A and begins to think if A is trading more than what he possesses. Here is the table of items:
| | |
| --- | --- |
| Student | Item |
| A | Chocolate, Notebook |
| B | Color Pencil |
| E | — |
To avoid discrepancies, T comes up with an interesting solution:
Each one of the students is given T's updated ledger copy.  Whenever a transaction is made, the student shouts out so that others can also update in their respective ledgers. This prevents discrepancies in entry and tallying of records.
Easy enough, right? This is an adaptation of an example provided in this link. The author has subtly introduced hash functions and magical number. Do visit this link as well for another interesting example.
The great news about blockchain technology is that anonymity is ensured. For all intents and purposes, anonymity is one of the most prized possessions in porn industry. Transactions in traditional currencies are expensive. But here is the good news- transactions in cryptocurrencies are absolutely affordable. More often than not, transactions in fiat currencies entail third party management services. Thanks to blockchain technology, intermediaries are removed.
Bitcoin is absolutely secure. In 2011, the then popular cryptocurrencies Bitomat and Mybitcoin suffered cyber attacks/thefts / scams. Investor confidence eroded and businesses guttered. However, bitcoin became the most sought-after cryptocurrency due to its resilience and robustness. To cut long story short, bitcoin is here to stay.
Now that you are well aware of bitcoin and blockchain, I will now engage you with an interesting and delightful episode. When I visited New York to deliver a lecture on emerging trends in adult entertainment industry, I had the good fortune of meeting Leah Callon-Butler. She happens to be the co-founder of intimate.io. Intimate.io is a cryptocurrency company which champions aspects such as safety, security etc., in transactions permeating across adult and sex tech industries.
Callon-Butler is a knowledgeable Australian. She talked extensively on existing biases. For instance, porn industry is widely considered to be dirty, sleazy and nasty. Many people are addicted to porn and without any pangs of guilt, people make done-to-death comments such as this – Porn industry is exploiting women. Such statements have little merit. If people cared enough about women, they would respect their career choices. Unfortunately, this isn't the case. Porn star August Ames was accused of homophobia. She was bullied by her followers. She was bombarded with abusive tweets. Lamentably, she is suspected to have committed suicide. There are many unreported incidents. Women in this industry work hard and play by the rules of the game
Adult webmasters suffer a lot. PayPal and Stripe do not support with adult merchants. Startups and websites that are into adult niche cannot advertise on Facebook. Twitter and Tumblr are good, but they are becoming less adult friendly. Japanese love hotels cannot advertise on websites such as Bookings.com.
Hosting providers are mindful of nudity. Internet providers and email marketers distance themselves from sexual sophistication. When it comes to investments in adult ventures, venture capitalists and angel investors are fraught with crude emotions. Banks decide almost everything and more often than not, they do not extend loans to entrepreneurs who cater to sex tech industry. Innovation in adult industry is possible but empowerment is absent. There is a lot of stigma and social exclusion is prevalent.
Intimate.io is an attempt at eliminating the stigma and effectively addressing the taboos. It empowers adult webmasters in many ways. First up, banks and payment gateways cannot dictate terms. A lot of profit potential is leaking out because of financial discrimination. Intimate.io reduces the barriers to entry. Porn audiences do not like to make credit card transactions to purchase adult sex toys. Initimate.io serves as a potential source of trust as people can transact privately or pseudonymously.
Adult entertainment industry doesn't have any incentives for people to be good actors. For all intents and purposes, reputation should be valued. Every transaction is associated with a reputation rating. This is the foundational tenet of Intimate.io. Initimate.io is all about developing an ecosystem wherein good actors are cultivated through technology. The ecosystem values privacy and transparency.
Intimate.io is on an ambitious mission to prove that adult webmasters and audiences can transact in decentralized peer to peer marketplaces without fearing trust and data breach.  Till date, Intimate.io has raised $5.1 million. Alphabit, a billion-dollar digital currency fund has invested $1.1 million in Intimate's ongoing cryptocurrency token pre-sale. We require many more ventures like Intimate.
Before drawing the curtains close, let me bring to your notice that big names in porn industry such as Xhamster, Porn.com, Naughty America, etc. are accepting payments in cryptocurrencies. As a matter of fact, Xhamster adopted cryptocurrency in 2014. There are quite a few 'Bitcoin only' adult sites such as Girls Gone Bitcoin, Strip 4 Bit etc. Playboy Plus, the website known for its adult and erotic magazines, accepts payments in Bitcoin.
Cryptocurrencies offer a truckload of benefits. Adult payment gateway on blockchain technology form an exciting pair. Jump on the wagon today and get yourself a high risk merchant approved today. If you have any doubts or concerns, feel free to drop a line or two in the comments section. I shall reply in a day or two. Keep watching this space for more interesting information on adult payment gateways. Our best wishes are with you and your adult venture.  Cheers!