-

8

mins read
If you're planning to sell adult products online, it's a pretty significant undertaking. It's understandable that you want to find the best adult ecommerce solution to make your business successful. 
Perhaps you've heard about the impressive success stories of xMarketplace sex toy store owners, but you're not sure if it's the right fit for you. Or maybe you plan to sell your adult toys using various channels, but you're unsure if Shopify is going to be enough. 
If this sounds familiar, don't worry – we're here to help. Our comprehensive xMarketplace vs Shopify comparison will give you all the information you need to make an informed decision to sell sex toys online successfully. 
You'll find a detailed feature comparison between the two software, key differences in an easy-to-read table, and an informal winner in each category.
xMarketplace to Shopify— How do they compare?
If you're looking to sell sex toys online, xMarketplace and Shopify are two well-known adult ecommerce solutions that you may want to consider. While they both serve the same purpose, there's a core difference between them that may influence your decision.
xMarketplace by Adent.io is a readymade adult ecommerce website script that helps you to build an innovative and highly profitable online adult ecommerce store. This means that if you already have a domain and hosting, xMarketplace could be a better choice for you – to make your business go live within a matter of days. 
With the xMarketplace website, you can seamlessly integrate many popular international dropshipping APIs into your website. Furthermore, xMarketplace comes with SEO-optimized product pages and mobile design. This makes it easy for you to launch up your adult online store without having to worry about further development.
On the other hand, Shopify is a website builder that allows you to create a fully hosted adult ecommerce site from scratch. This means if you desire to build an online store from ground zero and personalize every aspect to resemble those of professional sites by spending hundreds of hours, then Shopify is the ideal choice.
With Shopify, you get access to tons of professional-looking templates to work on and even access to HTML and CSS. In addition, it has a massive app market that lets you extend your store's functionality.
However, before making a decision, it's important to explore the differences between xMarketplace and Shopify in greater detail. To help you with this, you can refer to the comparison table below.
xMarketplace vs Shopify: Feature Comparison Table
Features 

xMarketplace 

Shopify

Free plans

❌

✅

Discounts

✅ (Flat 25% off for customers who pay via crypto coins)

❌

Price

xMarketplace ($199)

xMarketplace + Coaching Program ($299)

One-time fee with no hidden cost

Basic Shopify ($29/mo)

Advanced Shopify ($299/mo)

Shopify Plus ($2,000+/mo)

Shopify Lite ($9/mo)

Lifetime license 

✅

❌

Domain 

1 year free domain 

❌

Web hosting 

✅ (50% off on first-month hosting)

✅

Transaction fees

❌

If you're not using Shopify's payment gateway, you'll be charged 0.5%-2% of your monthly sales value.

Ecommerce features

Suitable for adult ecommerce and marketplaces 

The platform will only support growth over time.

SSL compliance 

✅

✅

Automatically calculated shipping rates

❌

❌

Number of products

Unlimited (depends on the server)

Unlimited

Digital products upload size

Unlimited

5 GB

Inventory tracking

✅ (available as an add-on)

✅

Sell on marketplaces

✅ (available as an add-on)

✅

Sell on social media

✅

✅

Payment methods

Verotel, Apple Pay & Google Pay, and COD

Shopify Payment, Apple Pay & Google Pay.

Dropshipping

✅

✅

Ad Banners

✅

Though banner ads are available, they may reduce user experience

Design

Tailor-made with innovative and aesthetically pleasing design

70+ Themes

Customer support

6 months of free support + dedicated manager

Streamlined customer support

Product upgrade

6 months of free product upgrades and custom follow-up

Manual product upgrade

Ease of use

✅

✅
Tip: When examining the customer reviews on Trustpilot, a business reviewing website, one can observe that Adent.io, the xMarketplace software developer, has received a higher rating than Shopify. Specifically, Adent.io has earned a score of 4.7 out of 5, while Shopify has only received a rating of 1.7 out of 5. This stark contrast in ratings underscores the importance of customer satisfaction for both of these adult e-commerce solutions.
Pricing: xMarketplace vs Shopify 
The winner is xMarketplace

, for offering a one-time fee to launch the sex toy website with a built-in payment gateway.
Shopify is based on a subscription model, but xMarketplace offers 100% source code with lifetime access to the website. Let's start with xMarketplace pricing.
xMarketplace pricing 
xMarketplace has two pricing plans available, both of which don't cover the cost of hosting or domain. The turnkey solution offers a one-time fee, which means you won't have to pay anything else aside from the cost of the adult e-commerce website script. 
This unique feature sets xMarketplace apart and make your sex toy business worth it. The software comes with several valuable features, including Real-time, on-site notifications, multiple revenue streams, and more.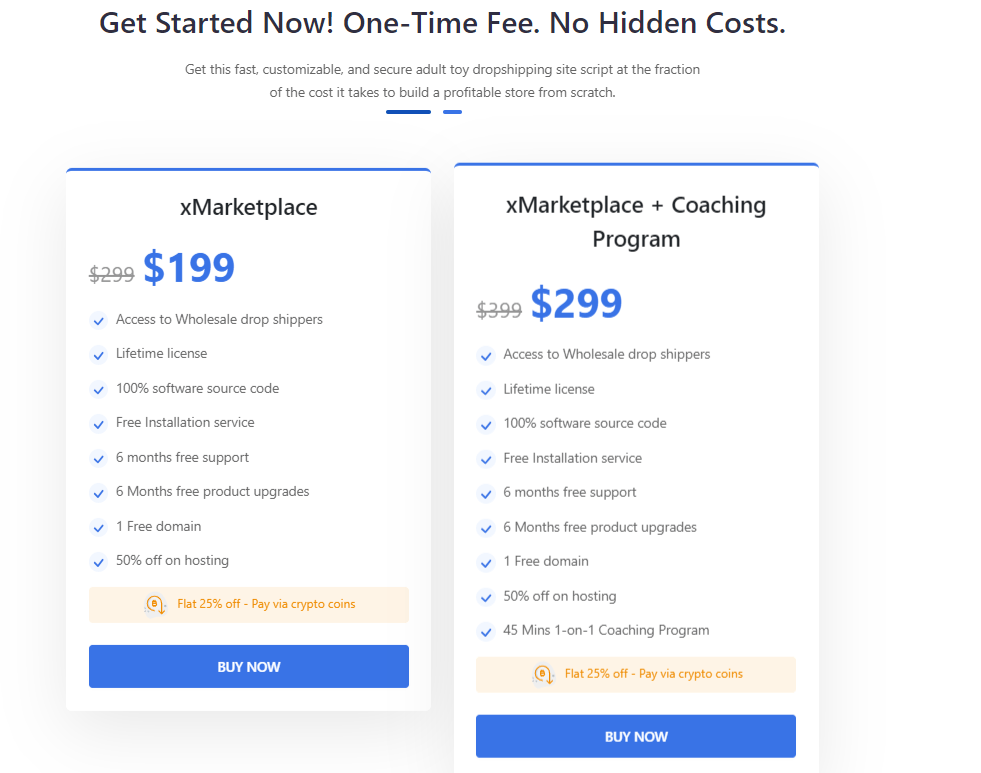 xMarketplace pricing includes wholesale dropshipping API and marketing features, with two options available:
xMarketplace ($199)

xMarketplace + Coaching Program ($299)
If you choose to use M3Server, Adent's official hosting partner for your domain and web hosting, you'll get a 50% discount on your first month of hosting, one year of free domain registration, free server setup, and a robust control panel.
Shopify pricing
Shopify provides a range of five plans that are designed to cater to your sex toy business needs. The three main plans offer templates to create your adult online store, secure hosting, and a free domain. 
These plans include Basic Shopify ($29/month) and Advanced Shopify ($299/month).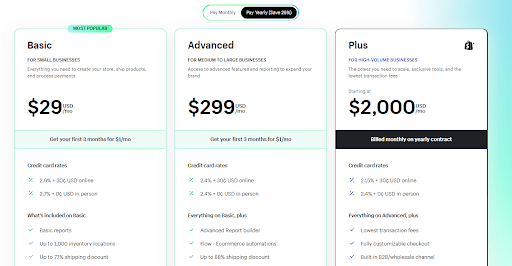 For larger adult toy businesses, Shopify Plus is an ideal plan with features that are tailored to their needs. The pricing for this plan is available upon request and starts at around $2,000/month. 
Shopify also offers a plan for small-time sex toy sellers that allows them to integrate a simple buy button on a WordPress page effortlessly. This plan is called Shopify Lite and costs $5/month. 
While xMarketplace offers one-time fee pricing, Shopify only offers subscription plans. However, you can take advantage of the 14-day free trial to evaluate the service before making a decision.
Transaction fees
When contemplating using Shopify or xMarketplace for your online adult toy store to sell hot-selling sex toys, it's important to consider the transaction fees. Shopify charges a percentage (ranging from 0.5% to 2%, depending on the plan) of your monthly sales value if you opt not to use its payment gateway. 
This transaction fee can add up quickly. On the other hand, xMarketplace does not impose transaction fees whatsoever. This means that no matter how much you earn from your online sex toy store, you'll be able to keep it all. It's a crucial factor in the cost of starting a sex toy business. 
Adult Ecommerce Features: xMarketplace vs Shopify
xMarketplace emerges as the clear winner

, owing to its exceptional tools that foster the long-term growth of the adult ecommerce business. 
With xMarketplace, you have access to everything you need to scale your enterprise from a side hustle to a full-blown corporation, all within the confines of their turnkey script. This makes xMarketplace the most comprehensive and flexible solution for adult e-commerce businesses, surpassing even the capabilities of Shopify.
Let's dive into xMarketplace vs Shopify ecommerce tools.
Payment gateways
Shopify is a popular platform that offers a range of payment gateways, including its own integrated processor, known as Shopify Payments. However, xMarketplace provides even more payment options, catering to both adult and non-adult industries. 
In particular, xMarketplace offers integration with the best adult payment processors, such as Verotel, as well as mainstream services like Apple Pay and Google Pay.
Moreover, xMarketplace has a dedicated adult payment gateway, ensuring seamless and hassle-free transactions for adult businesses. With xMarketplace, you can enjoy a wider selection of payment options and greater flexibility for your business needs.
TIP: You will still be responsible for credit card processing fees, no matter which payment processor you choose.
Security 
You can rest assured both xMarketplace and Shopify take the security of your online sex toy store and payment system seriously. They meet the highest international standard for secure data exchanges – the Payment Card Industry Data Security Standard (PCI DSS). Additionally, both solutions safeguard your customer data with an SSL certificate and HTTPS protocol.
Number of products
With Shopify's Basic plan, you have the ability to host an unlimited number of products on your sex toy website, making it a great option for those who have a large inventory. On the other hand, with xMarketplace, depending on the hosting plan you choose, you can host an unlimited number of products on your website. 
So, if you're looking for an adult ecommerce solution that can handle a large product catalog, both Shopify and xMarketplace offer great options to consider.
Product details
It is crucial to pay attention to the product details you set up in the backend, as they can greatly impact how your products are presented to potential customers. Shopify provides a basic setup for product customization options and their variations. However, if you opt for xMarketplace, you will have access to a wide range of advanced options for your adult toy store.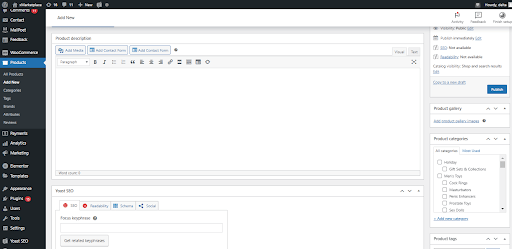 For instance, you can add custom fields to your product pages, allowing you to showcase specialized information or files such as product tax status and min/maximum quantities for orders. This level of customization can help to enhance the overall presentation of your products and improve your customers' shopping experience.
Product categories
Categorizing your products on Shopify and xMarketplace adult e-commerce solutions is a hassle-free process. You have the option to manually assign products to their respective categories by searching for their SKUs or names.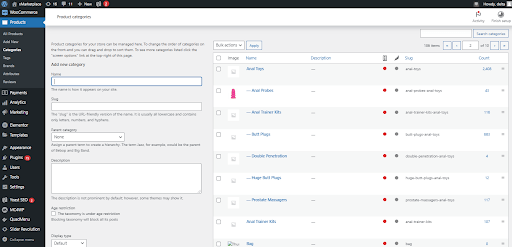 Alternatively, xMarketplace offers you an easier way to manage multiple products at once. With over 50 pre-set categories to choose from, all you have to do is select the category and assign your products to it effortlessly.
Digital products
If you're looking for an adult ecommerce script to sell digital products for your adult toys store, like e-books, photos, or video tutorials, xMarketplace is an excellent choice. With xMarketplace, you can upload your digital products with ease and deliver them to customers via unique links. 
You can add as many files as you need to each product, and the file size will depend on the hosting plan you choose. What's more, xMarketplace outperforms Shopify in this area. While Shopify only allows you to upload files up to 5 GB in size, xMarketplace lets you upload larger files without needing any additional apps.
Analytics and reporting
Both xMarketplace and Shopify offer valuable tools for tracking your store's sales and customer data. With xMarketplace's adult ecommerce script, you can access essential product metrics, revenue metrics, and other important data points to help you make informed decisions.
Meanwhile, Shopify allows you to extend your analytics capabilities even further by adding apps or customizing reports via API, giving you even more control over your store's performance. 
Dropshipping: xMarketplace vs Shopify
The winner is xMarketplace

for seamless integration with international dropshipping APIs that provide a huge product selection (20k+) with discreet shipping.
One such sex toy business model that has gained popularity in recent years is dropshipping, a method of selling adult toys without having to stock or handle them. To achieve this, you can integrate your adult online store with third-party suppliers who will fulfill your orders.
Dropshipping is an attractive business model for those on a budget or who want to focus on optimizing their adult ecommerce website. Whether you want to start a lingerie line or want to focus on BDSM toys in dropshipping, both the software offer the necessary tools to access it.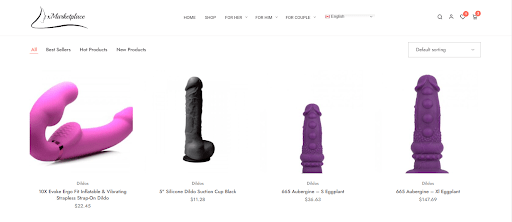 However, xMarketplace takes it one step further by providing an integrated dropshipper API, which includes Inventory Source and Sex Toy Club, right in their marketplace. This means that you can connect with 20,000+ products immediately. 
On the other hand, setting up a dropshipping business on Shopify requires slight manual work. You can still connect your sex toy website to suppliers, such as Aliexpress, and migrate products through third-party extensions. 
Shipping: xMarketplace vs Shopify
Shopify Shipping offers the ability to integrate your Shopify account with Shopify's shipping carrier accounts. This feature enables sex toy merchants to display calculated shipping rates, rather than flat rates, during checkout, as well as receive discounts on shipping labels. 
It is important to note that Shopify Shipping is only available for orders shipped from the United States, Canada, and Australia but is accessible on all plans. 
In contrast, xMarketplace does not provide automatic calculation of shipping costs. However, sex toy business owners using xMarketplace can establish various shipping options, including live rates, flat fees, and free shipping, based on subtotals or weights.
xMarketplace vs Shopify: What Is The Better Choice?
When it comes to choosing the right adult ecommerce software for your online adult toy store, it can be a tough decision. Both xMarketplace and Shopify offer unique experiences for your sex toy businesses, but which one is right for you?
For adult ecommerce businesses who are looking for a

low-maintenance and cost-effective option, the

xMarketplace

might be the way to go.

Despite its limited options in some areas, it can actually work in your favor. 

On the other hand, if you're someone who wants to invest time into customizing and improving your online sex toy business, Shopify might be the better choice. 
With its multiple features and various apps, the possibilities are endless. However, keep in mind that Shopify does come with a higher price tag in the long run.
Ultimately, your decision between xMarketplace vs Shopify should be based on your sex toy business priorities. Consider factors like the size of your business, your product niche and range, your budget, and the amount of time you want to invest in growing your online adult toy store. With careful consideration, you'll be able to find the perfect fit for your business needs.
FAQs Related to xMarketplace vs Shopify
1. Can you sell adult items on Shopify?
Yes, you can sell adult items on Shopify. The platform enables you to sell a plethora of adult items, including adult toys, lingerie and even erotic swimwear. 
2. Is a sex niche store a good idea for dropshipping on Shopify?
Yes, it's a great idea to venture into sex toy dropshipping on Shopify. The market potential for this niche is massive, especially considering that people generally prefer to buy such products discreetly online.
3. xMarketplace vs Shopify: Which is profitable?
While both are the best options to create an online adult toy store, it's important to consider the potential profits involved. Shopify takes a percentage cut from your sales, in addition to charging high payment transaction fees if you choose to use their in-house payment gateway. But xMarketplace lets you keep all your profits to yourself. So xMarketplace is more profitable than Shopify.