-

6

mins read
Are you wondering about the life of a pornstar and how much do pornstars make a year? It's easy to imagine a glamorous life, wearing designer clothes and having millions of followers on social media. 
But, let's be real, it's not all sunshine and rainbows. There's a wide range of work in the adult entertainment industry, from those pornstars making millions to those barely scraping by.
Even though there are lots of entrepreneurs who start a porn business every year and hire pornstars to act in their adult films, not all of them can get a paycheck that exceeds a thousand dollars. 
In this article, we will provide you answers on how much do porn stars make per shoot, the average salary for porn stars and the factors affecting pornstars' income. 
How Do Pornstars Get a Job?
Before we get into the nitty-gritty of how much do pornstars make per shoot, let's understand a bit about how they actually get a job inside the industry.
So, what exactly does a pornstar do? Well, it's not as straightforward as you might think. A pornstar's job is to act in porn films and photoshoots by looking as pleasing as possible. But, there are a lot of complex aspects to the job that go beyond just looking hot and pretty.
To even start talking about pornstar salaries, we need to understand the two main ways people get work in the industry. The first is through an adult talent agency, which you've probably heard of before. 
Basically, you have an agent who finds work for you. They have a roster of pornstars with different looks, and when a client or a porn production studio requests a certain type, your agent will offer you up if they think you fit the bill. If the client/studio likes you and you're available, you get the job. But you do have to pay some of your fees to your agent.
The other way to get work is to be a freelance pornstar. This means you're in charge of finding your own work, which can be tough. You'll have to attend lots of auditions and castings, and you might not get chosen for anything. But, if you do get work, you'll get to keep the full fee.
It's hard to say whether you'll earn more as a freelancer or with an agency. It really depends on your personal preference and whether you can even get signed with an agency. Competition is fierce, and if you don't perform well, you might get dropped.
Generally, the highest-paid pornstars are signed with agencies. Once you reach a certain level, you might be working so much that you don't have time to find your own work. That's when it's useful to have an agent doing it for you.
Factors Affecting Pornstar Salaries
There are several factors that can directly create an impact on how much do pornstars make for their work. 
Gender – 

Unfortunately,

male pornstars

tend to earn less than their female counterparts. It's not fair, but it's the reality of the porn industry.

Time spent working –

Another thing to consider is how much time you're spending on the work. Depending on how good you or your agent is at getting bookings, you could be working anywhere from one to seven days a week.

Studio level –

The level of the porn production studio you're working in also makes a big difference. Smaller studios and new porn companies are going to pay less than the big names with bigger budgets, like

Reality Kings and Brazzers

.

Location –

Regarding how much a pornstar makes a year, the location of the studio plays a vital part. If you're working in one of the major porn capitals like

Miami, Los Angeles, Tokyo, or Bangkok,

you'll likely make more than if you're working somewhere where adult entertainment isn't as popular.

Your Looks –

Your appearance is also going to affect your salary. Unfortunately, if you don't fit the required look and size, you might not make as much money.

Negotiation –

One thing you can control is your negotiation ability. If you're good at negotiating your contracts, you'll have a better chance of earning more money as a pornstar.

Adult Talent Agency –

Your agency is also going to be a factor. If you're a freelancer or if your agent takes a high cut, you might not make as much money as someone with a different setup.

Cost of work –

Keep in mind that new and amateur pornstars often have expenses taken out of their salaries, like flights, taxis, food, and accommodation. If you have to travel to another city for work, those costs can add up quickly.
Now that's all about the factors that affect how much do pornstars get paid. Let's move on to the next section, how much does the average pornstar make?  
How Much Do Pornstars Make a Year?
The average yearly income for a male and female pornstar is around

$50,000. 

For those just starting out in the porn industry with

less than a year of experience

, the average total compensation, which includes tips, bonuses, and overtime pay, is

$35,000 – $40,000.

 As they gain more experience, an early career porn movie actor or actress with

1-4 years of experience

earns an average total compensation of

$45,000. 

A mid-career pornstar with

5-9 years of experience

earns an average total compensation of

$60,000.

 

For those with

10-19 years of experience

, an experienced Adult Film Actor or Actress can expect an average total compensation of

$90,000. 

Late-career pornstars with

20 years or more experience

earn an average total compensation of

$100,000. 
Overall, salaries in the adult entertainment industry can vary greatly based on experience and career stage. The more you are armed with experience and network within the industry, the more you can make.
Now that we understand how much does the average pornstar make, let's get to know how much do porn stars make per shoot.
How Much Do Pornstars Make For One Video?
Do you know how in the porn industry, some pornstars who aren't super famous or well-connected only get hired for one movie at a time? 
You heard it right. In the adult industry, this is the reality for most of the time for amateur pornstars. 
They don't have long-term contracts as the big stars do, like Kendra Lust and Johnny Sins. That means they get paid per video, which usually isn't as much as they could make if they had a contract. 
According to The Independent, the founder of LA Direct Models, Derek Hay, said that female models could expect to make $1000 for a scene with a man and $700 for a scene with a woman. But this income could be lower, as much as $350, if a studio hires a newer female model for a video.
On the other hand, taking a look at the male pornstars, we can say they are in a pretty dry situation.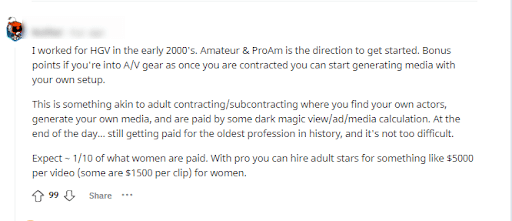 Apparently, this Reddit user who worked as a male adult star in a porn movie explained that newbie male pornstars make 1/10 of what women make. For instance, if a female pornstar gets paid $1000 for a scene with a man, the man will only get paid $100.
How Much Do Pornstars Get Paid?
There are a variety of ways in which pornstars are paid. The most common method is a per-shoot fee, which ranges from $200 to $2,000, with an average fee of $700. Some top stars may not receive a per-shoot fee and instead receive a revenue share from the production studio.
Approximately 250 female pornstars work regularly, shooting between 100 and 150 scenes per year, according to Dan Miller, executive managing editor of industry trade magazine XBIZ.
XBIZ's Miller estimates that about 70 to 80 percent of a porn actress' income comes from porn movies, with the remaining 20 to 30 percent coming from live-streaming erotic dances, sales of sex toys & sexual wellness products, and her own paid membership websites.
That's all about how much do pornstars get paid in the industry. Now let's get to know how much does porn actress make who are at the helm of the porn industry and also how much difference is there between porn actors and actresses.
How Much Do Top Pornstars Make a Year?
It's time to ask the big question: how much money does a top pornstar make in a year? 
As a matter of fact, if you ask anyone in the porn industry how much does porn actress make, you will get to know that female pornstars make 10x times more than male pornstars. Therefore, it doesn't come as a surprise to find out most of the top-earning pornstars are female.
According to The Sun, top-rated pornstars could be expected to make $300,000 – $400,000 a year – which is a huge sum for many of us. Though it is a fact that not many adult stars make more than half a million dollars a year, there are a few exceptions.
Here's a list of the richest pornstars within the adult industry.
Sunny Leone – Net worth $14 Million

Mia Khalifa – Net worth $8 Million

Johnny Sins – Net worth $6 Million

Julia Ann – Net worth $4 Million

Kendra Lust – Net worth $3 Million
It is not just porn movies that make these rich pornstars rich; they also do brand collaborations, fan meet-ups and participate in porn conventions as well as other commercial activities throughout their careers.
Final Words
It is highly possible to make money as a pornstar – what's more, you can make a ton of money, even becoming a millionaire within a year or two. 
Of course, not every pornstar is going to hit it big, but if you're willing to work hard, stay in shape and healthy, and really go for it!
Just remember, though, that pornstars have an expiration date for most people. Once you get too old, your salary will start to drop or could disappear entirely. So it's always a good idea to have a backup plan, such as creating your own fansite with xModel, in case things don't work out as planned.
Hopefully, this article gives you an idea about how much do pornstars make and also the salary for porn stars. If you have any questions, please let us know in the comments!