-

6

mins read
OnlyFans is the most popular content subscription service available on the internet right now. The platform allows you to upload & sell pictures, videos, and live-stream to your subscribers or fans.
But most people who know OnlyFans always ask, "Why doesn't OnlyFans have an app?" With the fast-growing global mobile app market, it's expected that successful social media platforms like OnlyFans have an app. But the reality is that it doesn't. 
If you have the same question on your mind, then you are at the right place. This article will discuss why OnlyFans doesn't have an app in detail with real examples. Also, want to learn how to get OnlyFans on your phone? Keep reading till the end.
P.S. If you're interested in creating an OnlyFans clone, check out our article! Here, you will learn how to create your own OnlyFans clone quickly and cost-effectively and how much it will cost to create. So read on!
What is the OnlyFans App?
In 2016, Timothy Stokely, a retired Ex-Barclays investment banker, founded an internet site called OnlyFans. OnlyFans gives creators or models access to market their content on the platform and sell them to users.
The revenue model of OnlyFans is simple to understand. It earns from a commission-based model, taking a 20% cut of whatever the creator earns on the platform and giving them the remaining 80%. With a global gross revenue of USD 4.8 Billion in 2021, it is the #1 most popular content subscription platform.
The OnlyFans platform is free to use. However, you need to pay a subscription to access the creator's content. The price range of subscriptions in OnlyFans varies between $4.99 to $49.99. 
You'll also need to pay a separate fee to access a model's pay-per-view content. Also, you can support your favorite creator on OnlyFans by tipping them on the site.
So far, we have learned about OnlyFans as a website rather than an app. "So, does OnlyFans have an app?" we hear you ask. Worry not; we have uncovered the mystery for you in the following sections. 
Is There an OnlyFans App Available on Play Store or App Store?
In short: No, the OnlyFans app is not available either on Play Store or an App Store. 
In long: For the most obvious reason the OnlyFans app is not available on your iPhone or Android smartphone as an app is because of the strict regulations of the operating software, such as Apple's iOS and Google's Android. 
For instance, let's take a look at Google Play Store's regulations for sexual content. According to Google Play Console, any apps that allow or promote sexual content or profanity will not be permitted. This includes pornography or any services and content that are intended to be sexually gratifying. 
On the other hand, Apple App Store review guidelines state: apps that allow explicit descriptions or displays of sexual organs or activities that are intended to stimulate erotic feelings will not be allowed on the App Store. 
Due to these reasons, OnlyFans can't enter the app market and remains as a website. 
Why Doesn't OnlyFans Have an App?
Unless you've been living in a cave for the past couple of years, it's hard to miss the magic created by OnlyFans. It has become one of the fastest-growing social platforms in the world, with more than 350 million users visiting the website every month. 
With all these achievements in the pocket, OnlyFans can only be accessed as a website, not an app. Since 56% of internet users are from mobile devices, and every business is keen on developing their own application, it makes us wonder – Why doesn't OnlyFans have an app?
The strict regulations of operating systems are one of the factors that restrict OnlyFans from developing an application. So what are the others?
For instance, say that someone wants to watch porn. So what is the first thing they do? Do they download a porn app like XVideos or Pornhub (via an apk file) or watch it on their respective websites?
The answer is simple, right? The majority of people who watch erotic content want to do so anonymously. And downloading an app to watch porn is too much of a hassle. So making an app for a platform that promotes, sells, or allows sexual content isn't a good idea.
This is another reason why OnlyFans doesn't have an app. 
How to Get OnlyFans App On My Phone?
It is true that OnlyFans doesn't have an app, but it is possible to make the OnlyFans website an app on your iPhone or Android smartphone. Here's how you do it:
Open your browser -> Chrome or Safari -> on your phone.

Search for 'OnlyFans' and get to its website homepage. If you want to add OnlyFans as an app, make sure you are on the right page you want to open via a shortcut.

If you're on Chrome, tap the

three dots icon

on the top right corner. If you're using Safari, click on the

share icon

at the bottom of the page.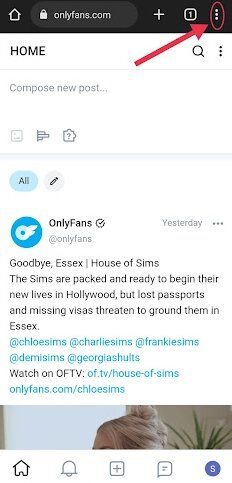 Once it's done, a list of options opens up. Click on

"Add to Home screen"

(Safari) or

"Install app"

(Chrome) at the bottom of the list.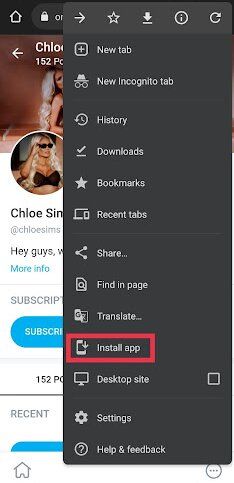 Next, you'll see a prompt with a

'Install'

link – if it's Chrome. If you're using Safari, you'll be taken to a new screen where you have to click

'Add'

to install the OnlyFans app.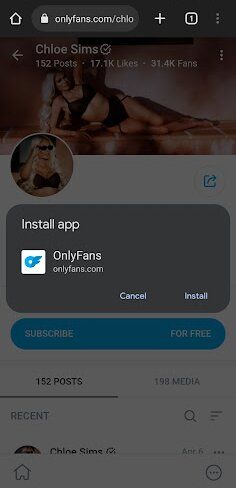 When you're done, the OnlyFans app will be installed on your phone's home screen. Tap on the app's icon, and you'll be directed to the OnlyFans website right away!
In the event that you decide to remove or uninstall the OnlyFans app, you can do so just as you would any other application on your phone.
What is OFTV, and Are OnlyFans and OFTV The Same?
In 2021, after receiving humongous success, OnlyFans successfully launched an app to everyone's surprise. But when people tuned in for the app, they were totally disappointed. 
The OFTV, or OnlyFans TV, is a video streaming app that broadcasts videos from OnlyFans creators and OnlyFans' reality television shows. OFTV's videos are all "Safe For Work," which means there is no erotica for OG OnlyFans users.
Still, OFTV received a better response from its audience, and currently, it has more than 1 million downloads from Google Play alone.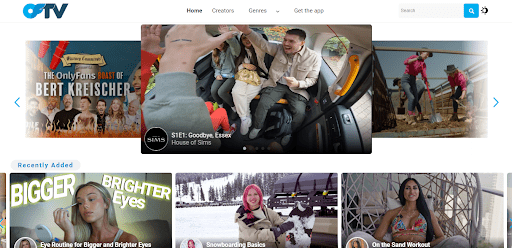 Nevertheless, if you ask if OnlyFans and OFTV are the same, we say they're NOT. In the first place, OFTV is only a streaming service platform, and no content creators are selling their work on it. Comparatively, OFTV has a minimal number of creators who upload videos compared to OnlyFans, which has millions.
At last, OFTV doesn't have any sexually explicit content. Therefore, if you're a fan of OnlyFans and very curious to know about OFTV, we caution you because everything on OFTV is reality TV and SFW vlogs of OF influencers.
Is OnlyFans Ever Going to Make an App?
There is no OnlyFans app available at the moment. But what about the future? Will OnlyFans ever create an app?
Let's go back a few years to know the answer.
In March 2014, Google launched a fierce attack on Play Store apps that display sexually explicit content. Moreover, Google went a step further and said that if an app promotes an inappropriate ad – regardless of whether it is the app's fault or the ad network's – it will be blocked from the Google Play store.
Prior to Google Play, Apple started to ban apps with "overtly sexual content" from the App Store in 2010 after receiving numerous complaints from their customers. 
These incidents clearly outline where Google and Apple stand when it comes to allowing apps with sexual content in their stores. Therefore, OnlyFans will never release an official app until these entities revoke explicit content restrictions. 
What we learned till now basically confirmed one thing. The only way to recreate the success of OnlyFans is by building your own subscription platform as a website, not an app. How to do it? Let's look at it in the next section.
How to Create a Website Like OnlyFans?
If you're a money-making business in a highly profitable market that has the potential to grow in the future, then building your own OnlyFans will be the best choice at the moment. 
But creating a subscription platform like OnlyFans from scratch will cost you at least $25,000 – $30,000. And the price may skyrocket if you hire a development team from a tier-1 city like London or New York. 
That's why you should opt for a ready-made OnlyFans clone script. It is cost-effective, requires zero knowledge about coding, and lets you create a website like OnlyFans in a couple of days. xFans by Adent.io is one of the best OnlyFans clone scripts that are both technically strong and have every advanced feature an OnlyFans clone needs. 
With xFans, you can build a website like OnlyFans in 5 simple steps:
Step 1: Get xFans. Go to the product page of xFans and purchase the white-label script. By purchasing xFans, you get the following:
100% source code

6 months of free support & product upgrade

Free installation service

API Documentation
Step 2: Choose a domain name. You should choose a domain name that's relevant to your niche and that no one else uses. For example, if you're targeting the lesbian niche for your OnlyFans clone, you can use 'LesFans', 'LezFans', or 'GirlyFans' as your domain name.
Step 3: Get a hosting provider. Remember, the hosting provider you choose should be adult-friendly. But when you purchase xFans, you'll also get a hosting provider, M3Server, that provides you with 1 free domain and 50% off on your first-month hosting.
Step 4: Make your website interface user-friendly. You know your audience the best. So once you're done with hosting, you can customize your website with Adent.io with key features, easy-to-use navigation tabs, beautiful graphics and images and more at an additional cost. 
Step 5: Set up your payment gateway. xFans comes with in-built adult payment gateways, CCbill and Verotel. Create a merchant account on these platforms and add the details on the admin panel. 
When you're finished setting your OnlyFans clone, start your marketing campaign. Spread the word and create a buzz among the target audience. After you feel you've done enough, launch your OnlyFans clone site and start making money!
Conclusion
OnlyFans have revolutionized the way content subscription platforms work. But it is unable to enter the app market due to heavy restrictions (on sexual content) on both Google Play Store and Apple App Store. 
If you're looking for how to download the OnlyFans app on your phone, all we have to say is don't try it because there isn't one. Also, be careful if you ever see an ad or prompt that tells you to "download OnlyFans app" because it's likely a virus or malware. 
We hope you got the answers you're looking for in our article. If you have any questions about OnlyFans or building an OnlyFans clone using xFans by Adent.io, please feel free to mention them in the comments.