-

9

mins read
With the help of the internet, selling sex toys has become hassle-free, and the industry is thriving like never before. From tens of thousands of dollars worth of luxury vibrators to $12 beginner's butt plugs, they have everything you need to maximize your sexual experience.
The global market value of sex toy businesses was $85.3 billion in 2021 and is expected to surpass $100 billion in 2028 at an annual growth of 6.3%. 
Since the late 1970s, the adult toy market has seen numerous changes, especially in indulging innovative technologies into the state of play. So if you're considering starting a sex toy business in your city, this list of frontrunners in the adult toy industry can help you learn more.
Factors contributing to success in the sex toy industry
1. Product Development:
The 21st-century sex toys can do more than just vibrate. With the help of state-of-the-art technology and sophisticated design, sex toy businesses have made their products safe, comfortable, and inclusive.
Sex toy makers have created inventive devices made up of body-safe materials such as silicon, programmable motions, and travel flexibility that can enhance any intimate moment.
2. Product Promotions:
Sex toys were considered taboo in the past, so businesses could only opt for discreet advertisements. But today, with the help of social media like Instagram, Tiktok, and Twitter, they can quickly get access to engage with their target market. 
Affiliate programs are one of the core marketing strategies of sex toy stores. As you know, porn sites are consistently among the most visited websites globally. As a result, it becomes cheaper and far better to do affiliate campaigns with porn sites than reaching out to TV and other traditional ads. 
3. Business Acquisitions:
Due to the multimillion-dollar nature of the sex toy industry, larger companies are starting to acquire smaller players to scale their business and enhance their market share.
For example, Lovehoney, one of the biggest sex toy retailers, and WOW Tech group, a German-based adult toy manufacturing company, combined in 2021 to expand their distribution channels across Asia-Pacific, Europe, and North America. It was a EUR 1 billion merger to create the Lovehoney group. 
Since sex toys have already become mainstream, these acquisitions and mergers will accelerate their growth globally.
15 Best-selling sex toy brands
1. Adam & Eve
Founded in 1971 by Phil Harvey in North Carolina, Adam & Eve was the first mail-order contraceptive business in the continental USA.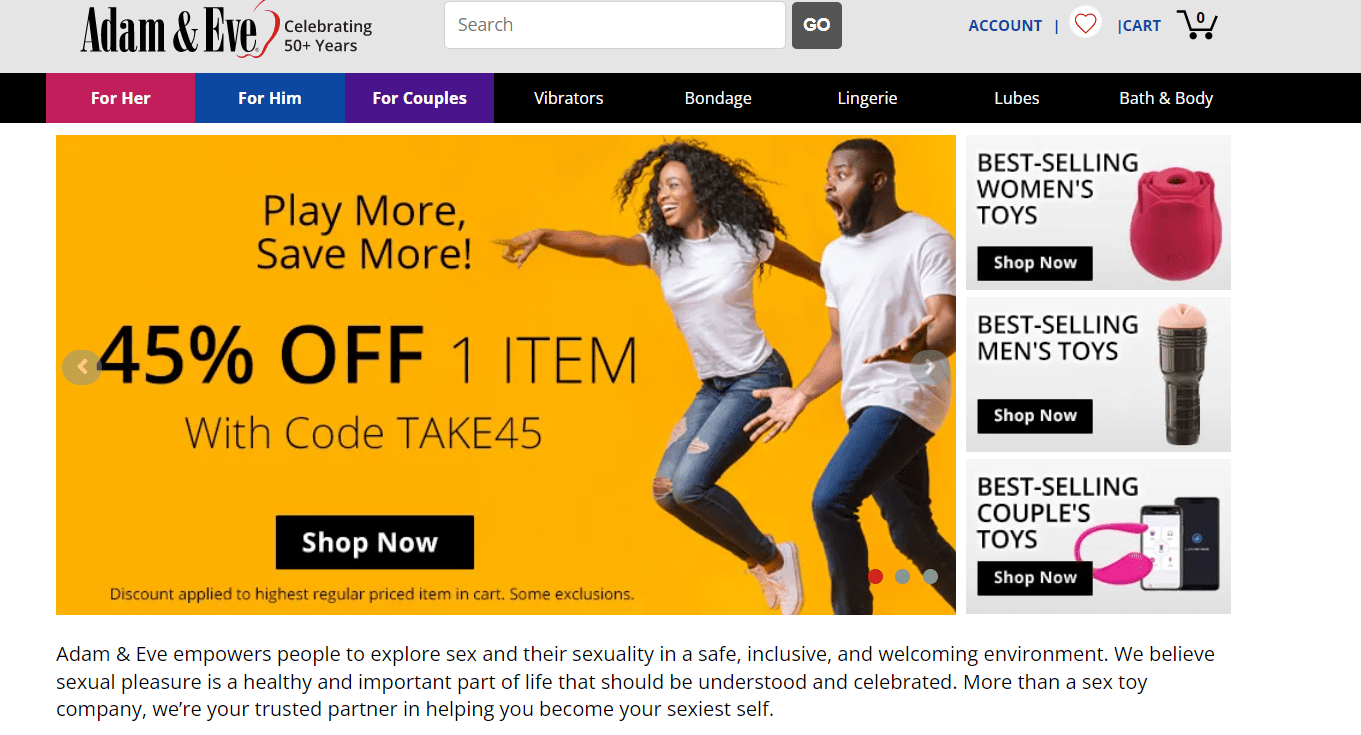 With more than 50 years of experience and 20 million satisfied customers, they've become the leading sex toy company in the USA. 
Unlike trending sex toys, Adam & Eve is lauded for its sexy gift accessories like adult board games, bachelor party games, and kinks. To cover the market of gays and lesbians, they've created two distinctive shops, Adammale and Evestoys. 
But this reputation took work. When President Regan started to crack down on the adult industry in the 1980s, they became its victims. They fought the justice department for years with many ups and downs and won their legal rights. Adam & Eve regained it and developed from ground zero under Phil's foresighted leadership. 
Decades later, with the constant effort of Phil and his colleagues, Adam & Eve rooted its position as the #1 Adult retailer in the Nation with an annual revenue of $71.8 million and 8 million site visits per month. 
2. Lovehoney
Richard Longhurst and Neal Slateford couldn't have predicted how big their enterprise would become when they started Lovehoney in 2002 with a single computer.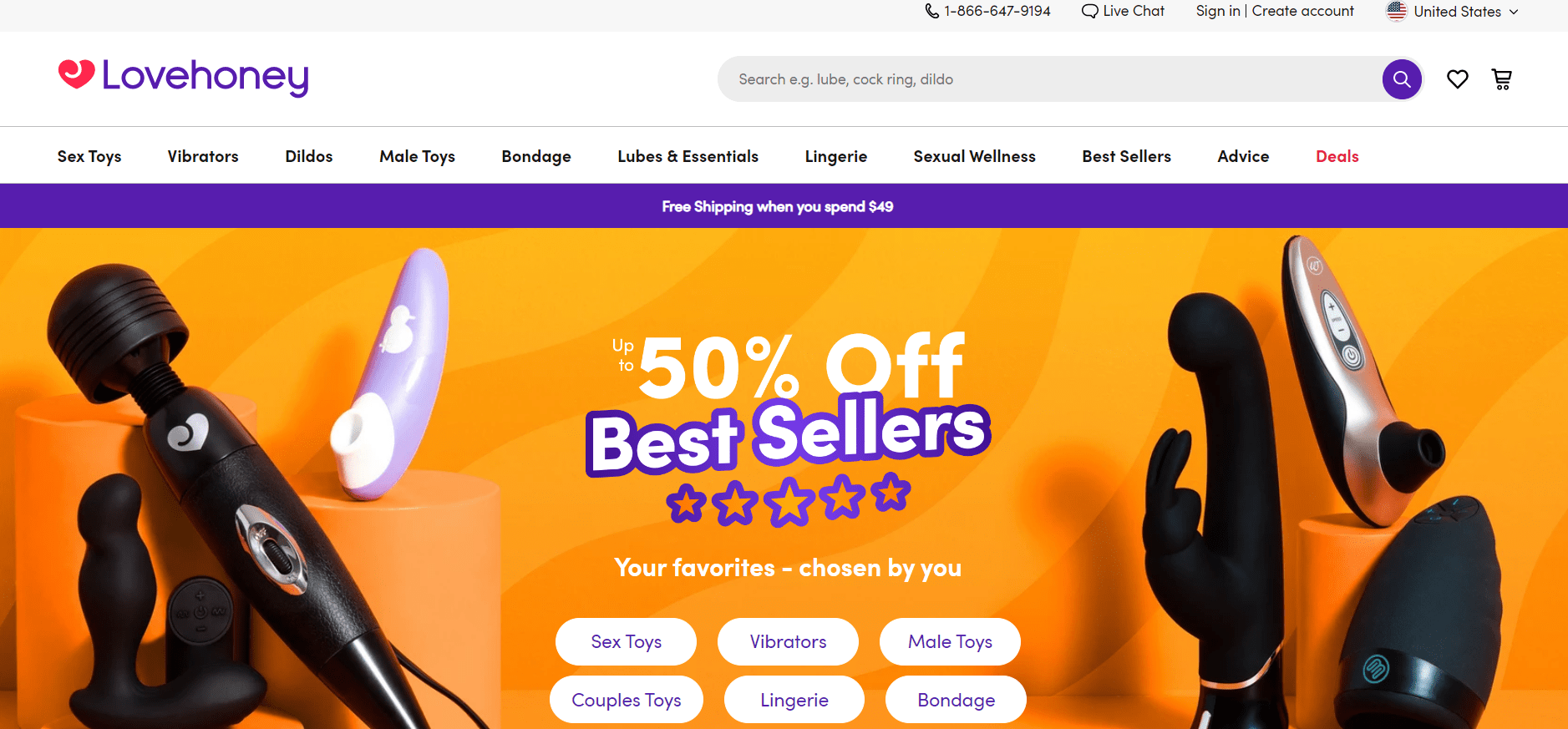 Using a brown box to deliver sex toys discreetly, they managed to attract customers nationwide. With over 400 own-brand products and 280,000 product reviews from customers globally, they are one of the top brands in the adult toy industry with an estimated annual revenue of $93.1 million. 
One of Lovehoney's eye-catching marketing tactics is offering 15% off on your first order by signing up. They also give a 60-day return policy and a 1-year guarantee for their products.
Now their online shop is seeing 2.5 million monthly visitors, 63% males, and 37% females. They also have dedicated resources to support the LGBTQ+ inclusion foster program.  
Though they started with the aim of delivering discrete shopping, now their focus is on sexual wellness and enhancing pleasure with prolonged supplements to ensure sexual happiness. 
3. Lelo
Lelo was established in 2003 by three Swedish designers who wanted to create products that integrate luxury and technology into intimate lifestyles.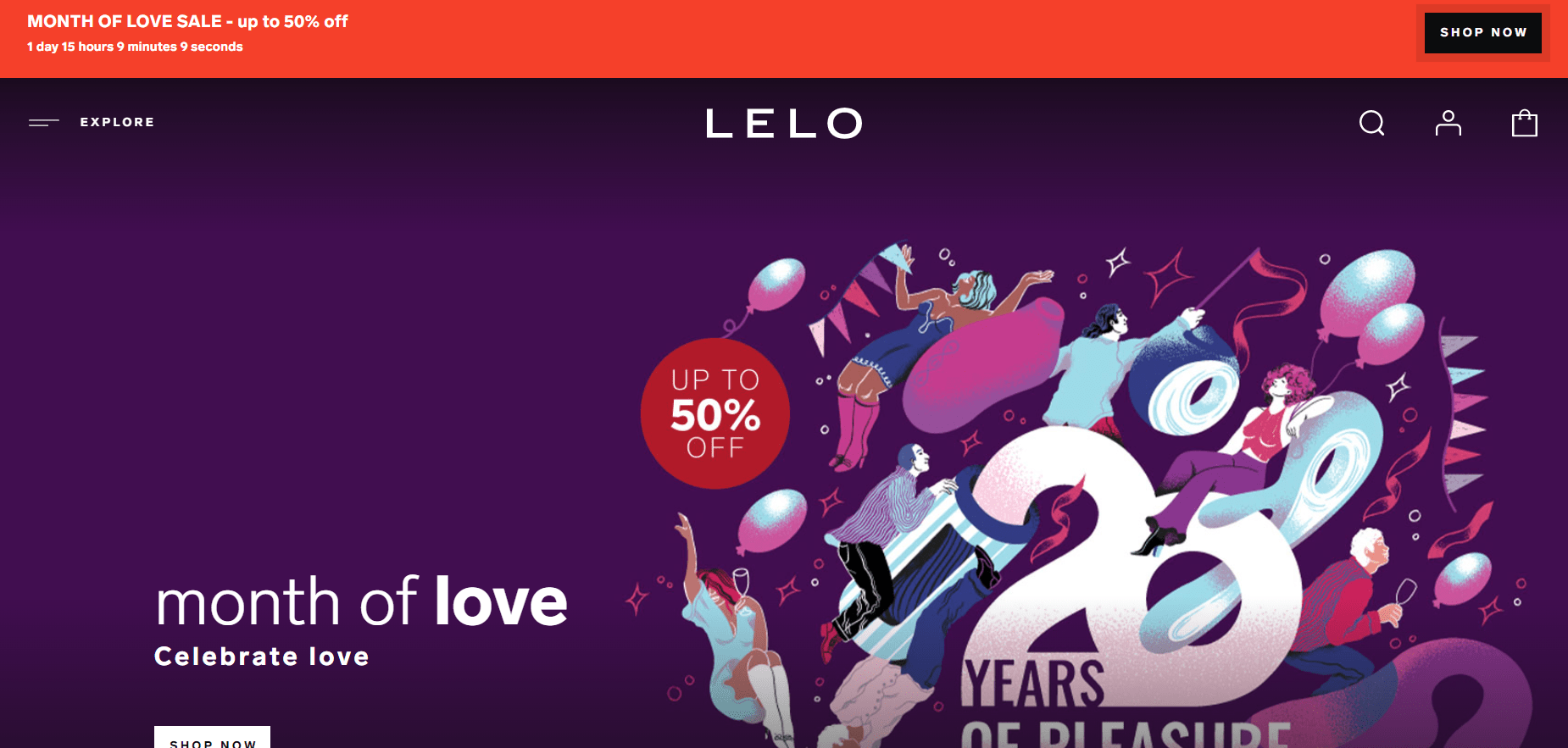 They sell their own line of innovative and branded sex toys mainly centered around FemTech, FemCare, and Condoms. With 100% waterproof products made of body-safe silicone and ABS thermoplastic, Lelo toys maximize your pleasure.
Headquartered in Stockholm, Sweden, Lelo toys and condoms have been sold in over 160 countries worldwide. The brand has an almost equal representation of male and female audiences, with 43% female and 57% male. 
Their top luxury product, a 24-karat gold-plated vibrator, which costs USD 15,000, is one of the most expensive sex toys in the world. With 2.4 million monthly site visits and an estimated annual revenue between $25M-100M, Lelo is your one-stop luxury store to explore your intimate fantasy. 
4. PinkCherry 
With over 7000 own-brand products (one of the highest in the adult industry), PinkCherry, who believes everyone deserves pleasure, is America's highest-rated sex toy retailer. 
They offer a wide range of sex toys with distinctive features, like a clitoral simulator for the clitoris, a 7-inch metal rod that gives versatile and long-lasting pleasure, an adjustable cock ring that surrounds the base of the penis and can loop around if you desire, and more.
PinkCherry point is one of their website's attractive features, with each point amounting to $.01. Whenever you purchase something, you can earn points, and when you have 500 points, you can use them in your next purchase.
PinkCherry receives 1.7 million monthly visitors to their online store, and by implementing the best marketing ideas for their sex toys, they've amassed an annual gain of $15.2 million last year. 
An interesting fact: PinkCherry will refund the difference amount, if you find a better price for the same product within 33 days of your purchase from an authorized Canadian retailer. 
5. We-vibe
We-vibe is the world's most popular rechargeable couple vibrator brand. Founded in Berlin, Germany, We-vibe is a part of the WOW Tech group.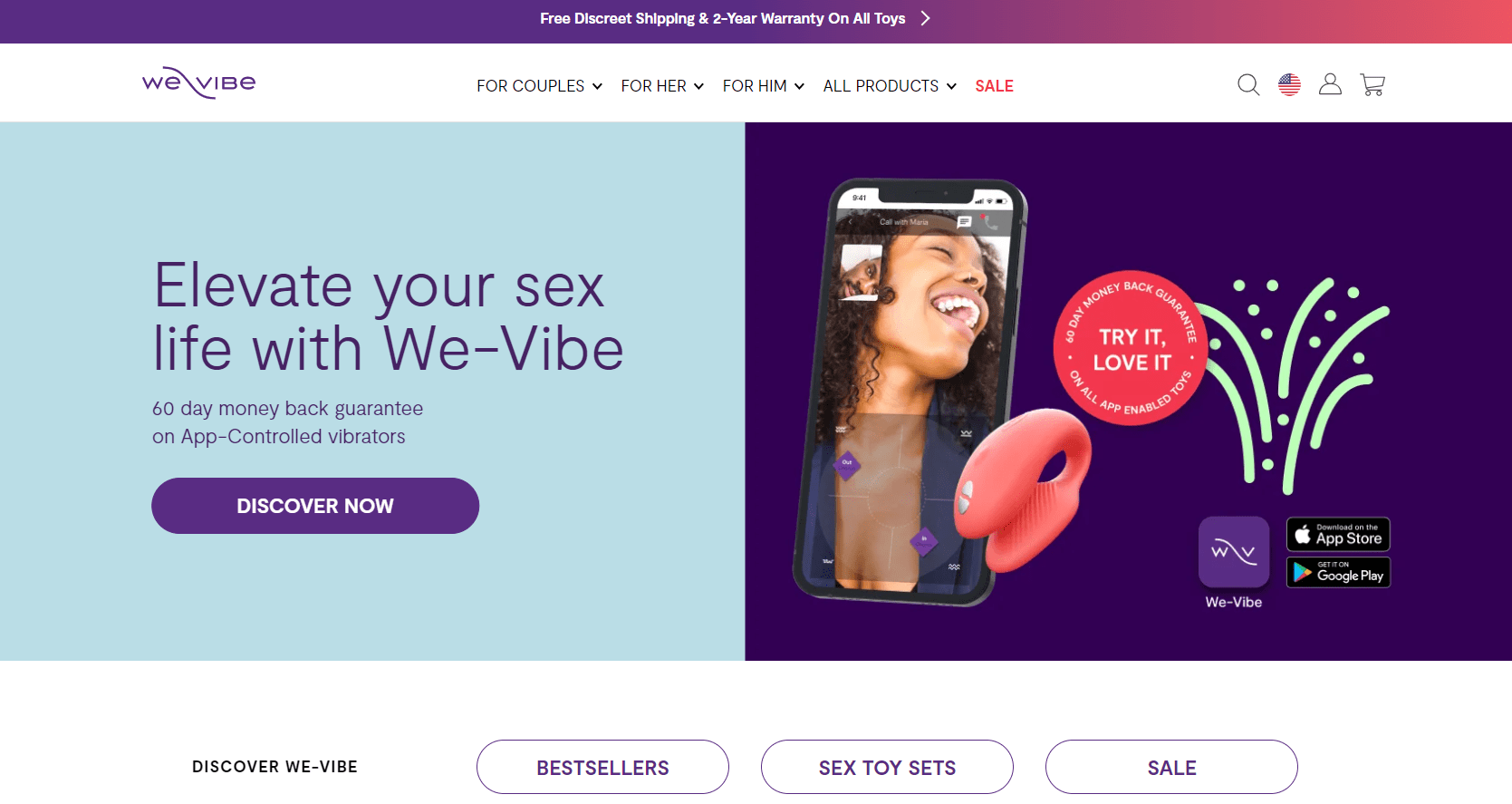 They are among the leading innovative sex toy companies selling over 6 million couple vibrators on every continent. 
Made with body-safe materials like phthalates and BPA, We-vibe's products are safe, healthy, and non-latex. 
As a customer, you can operate their sex toys through their apps anywhere and anytime. Couples can wear Chorus, a hands-free dual simulator, during sex. At the same time, Melt, another featured product, can be nestled between them during their intimate moments, giving them a unique sensation.  
Four hundred sixty-eight thousand visitors, 52% male and 48% female visit their online store monthly, with their annual revenue estimated at around $13.8 million. 
6. Lovers Stores 
Founded in 1981 by a pair of mother and daughter Phyllis Heppenstall and Kris Butt, Lovers Stores was one of the first sex toy stores founded by women when men dominated the whole industry.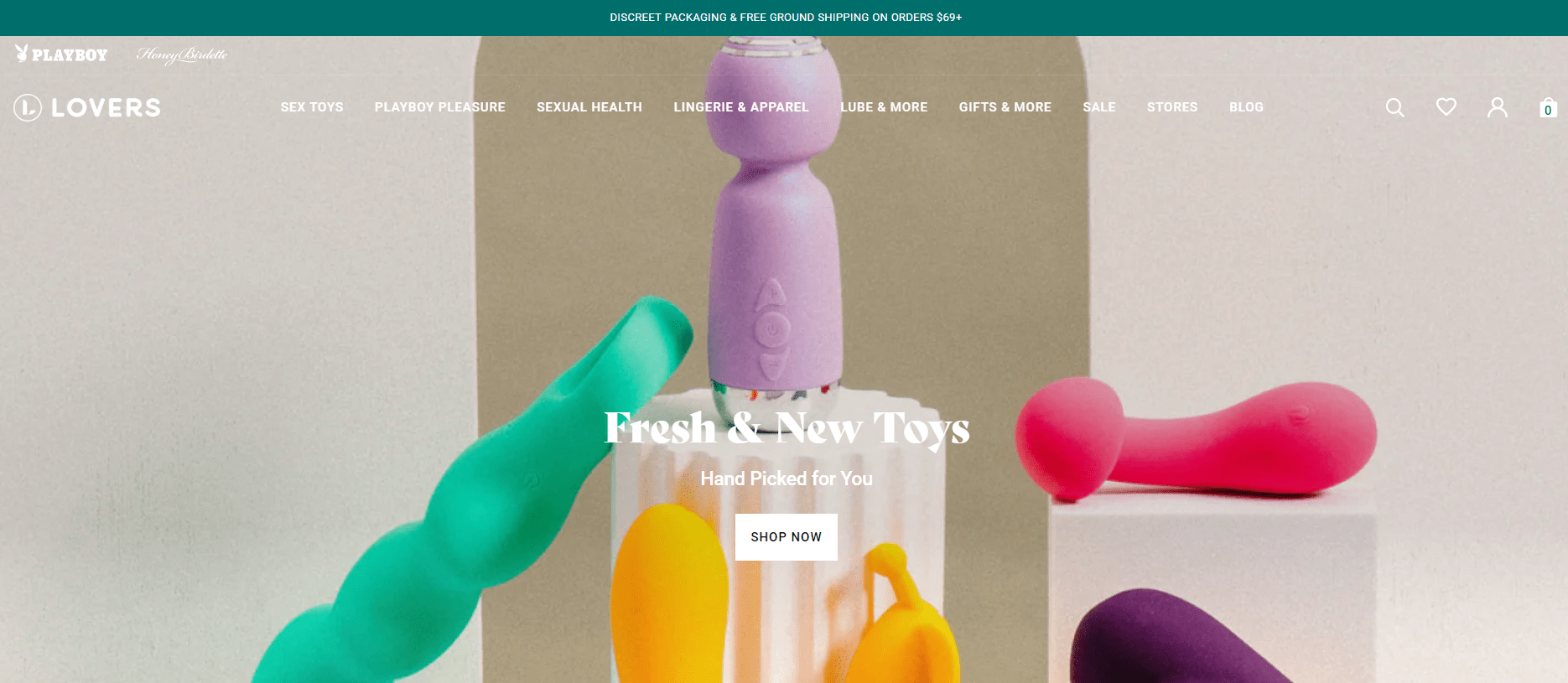 Phyllis forged her way during the initial phase of her store and believed in her work and dedication to create something unique. Now she holds 41 stores in 5 states of the U.S., with an estimated annual gain of over $5 million and 350,000 monthly site visits. 
Every registered Lovers member gets a 20% discount on every product they purchase on the 1st Tuesday of every month. The Thirsty Thursday event is held on the last Thursday of every month between 6:30-7:30 pm; Lovers brings their community together and educate them about sex positivity. 
Phyllis and Kris created this company to spread the knowledge of self-love, sex positivity, and empowering women. Four decades later, Lovers has become one of the safest and most welcoming environments in the U.S. that cater to inclusivity and celebrates people of every gender and identity. 
7. Babeland 
When two young women, Claire Cavana & Rachel Venning, perceived the lack of women-friendly sex toy shops in Seattle, they decided to take matters into their own hands.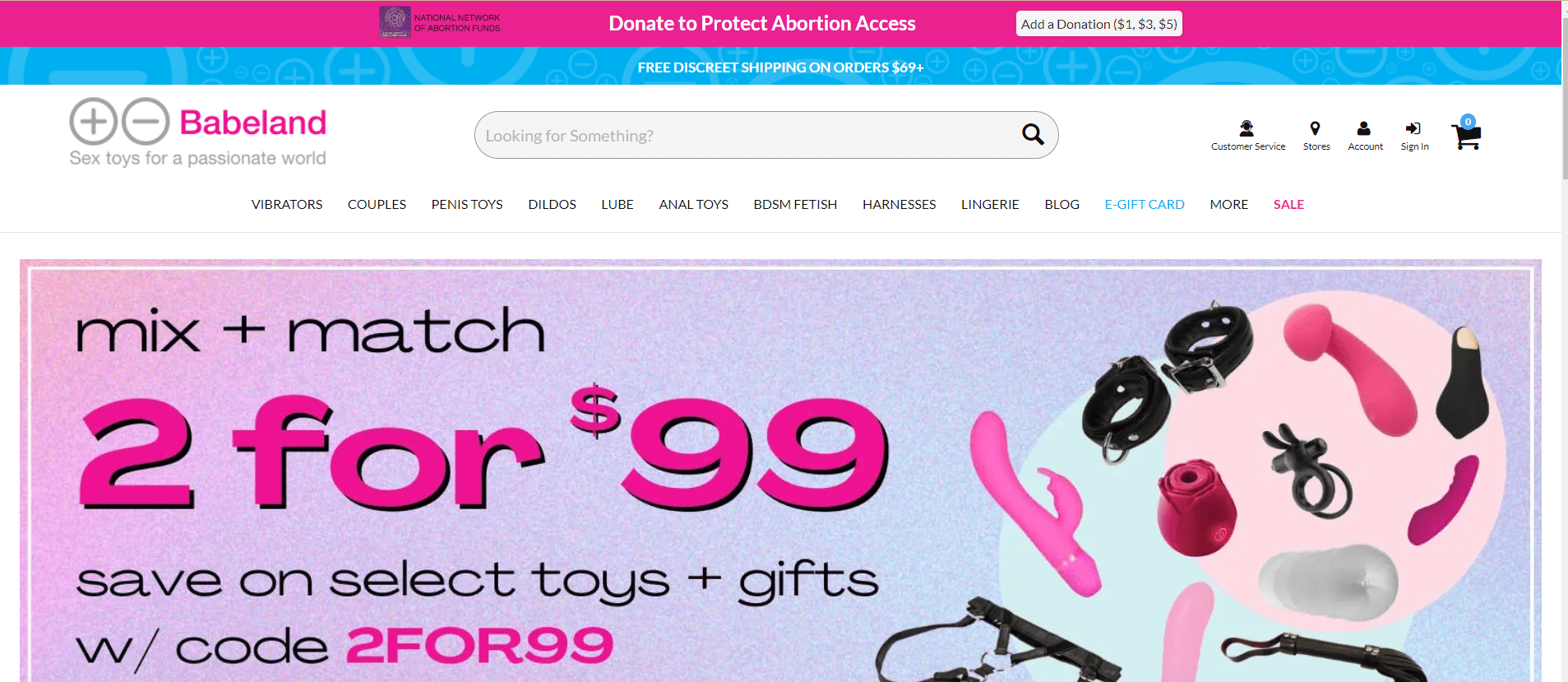 Founded in 1993, Babeland is the first U.S. sex toy store to be Unionized. From luxury vibrators to sexy garters, Babeland pleases its customers with quality and body-safe sex toys to explore their sexuality. 
Babeland is the most creative and craziest sex toy business on this list because of its unique advertisement style. They became national-wide popular through their campaign during the 2008 election, saying, 'Free sex toys – and much more – for voters.'
Because of their unique style of promotions, they got featured on national television like NBC News and reaped juicy profits along the way. 
With an estimated annual revenue of over $25 million, they receive almost 300,000 visitors every month to their online sex store. 
8. Maude 
You don't have to worry about sales if you have an investor like Dakota Johanson investing in your sex toy store, right? Even if it's a drop-shipping sex toy store, you can be sure your earning will not be less than six figures every month.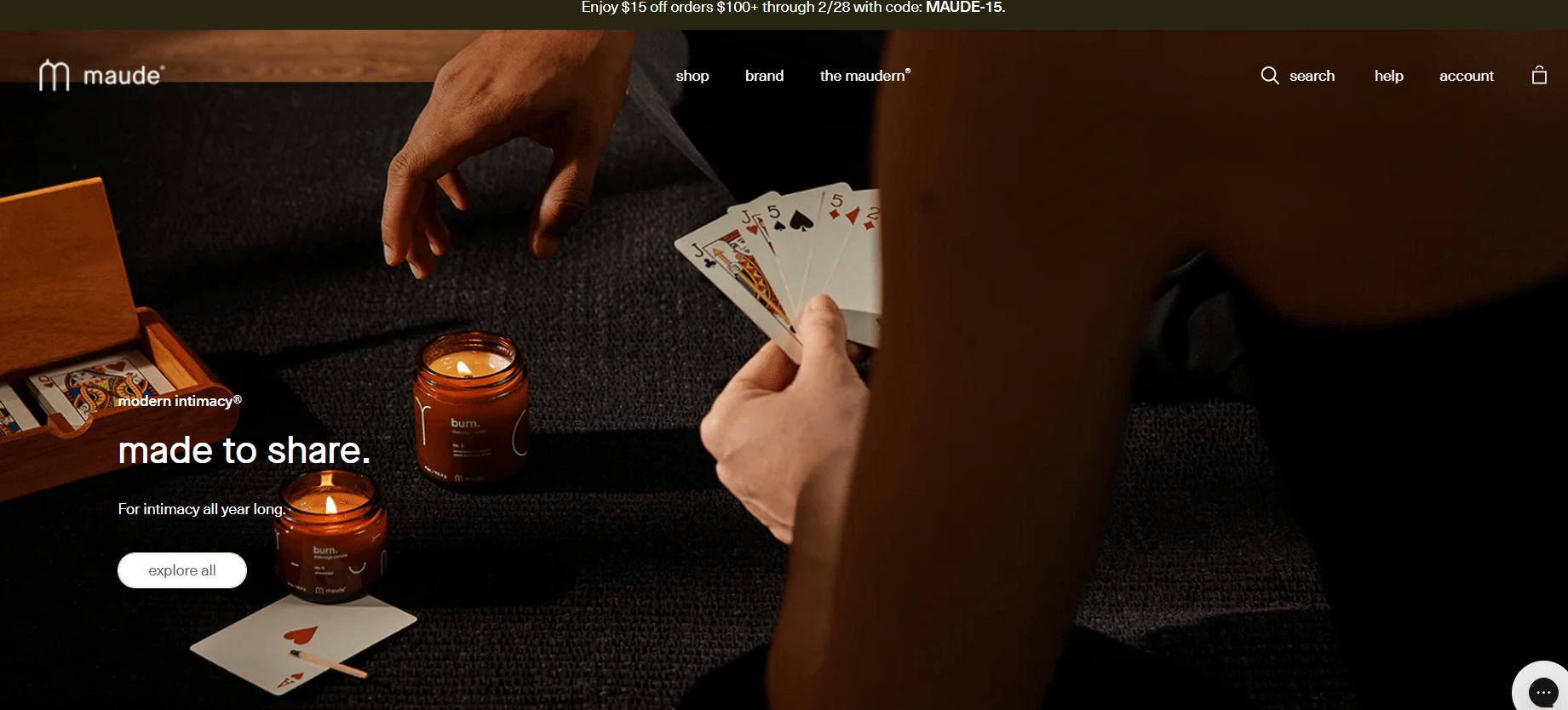 Maude offers classy and simple but with a tinge of luxury adult toys that validates modern aesthetics into an intimate lifestyle. 
To counter outdated and confusing sexual wellness, Eva Goicochea, a Mexican-born legislative healthcare professional, founded Maude, which later became a modern intimacy symbol.  
Their yearly revenue is estimated at over $3.4 million, and Maude's online store gets 284,000 monthly visits. 
Apart from dildos and vibrators, they sell fragrances, scents, massage candles, body wash, and more that constitute nature and elegance to facilitate body positivity. 
9. Goodvibes
Founded in 1977 by sex educator Joani Blank in the ever-thriving San Francisco, Goodvibes focuses on spreading sex education through campaigns and produces one of the market-best women's sex toys.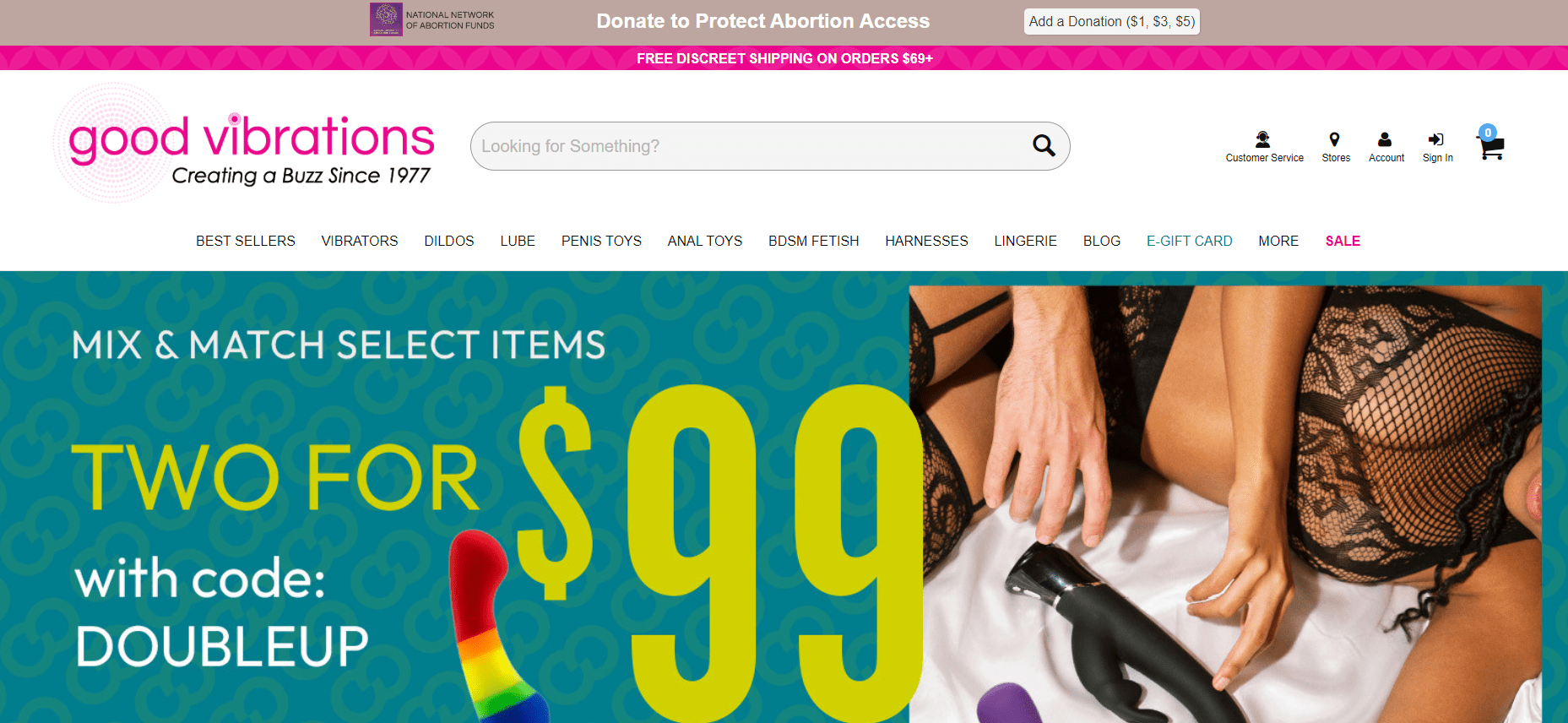 In 2001, it became the first company to refuse to use phthalates in its products. Since its inception, Goodvibes has supported several sister companies in the adult toy industry and expanded its influence across the gender spectrum.
Their gender-affirming products help their users who want to explore their genders. As a concrete supporter of LGBTQ+, Goodvibes has several gender-queer and other identity guidebooks that educate them clearly to know themselves better. 
Goodvibes receives 222,000 monthly visitors to its online store, and as an owner-owned cooperative enterprise, it gained global net sales of $8.7 million in 2021. 
10. Dame
A sexologist and an MIT engineer, Alexandra Fine and Janet Lieberman, founded Dame in 2014. 
As the first-ever sex toy brand allowed on Kickstarter, Dame has sold over 10 million products globally since its inception. 
They have their own lab called Dame Labs, with 10,000+ employees working tirelessly to produce innovative and sex-positive products to create a safe, comfy, and shame-free environment. 
Dame offers an overwhelming 3-year warranty and 60 days return policy. Their mission is to end the disparity of women who get zero satisfaction in sex compared to their male partners. And their toy soldiers are playing their role perfectly in ending this inequality. 
Their annual revenue and total site visits amount to $1 million and 196,000, respectively. 
If you're interested in testing their new products, you can join their community by simply registering on their website, and the prerequisite is being 18 and older. 
11. HelloCake
With a mission to help the world have more fun sex, HelloCake is helping people across the gender spectrum to experience different kinks and explore several pleasures in their bedrooms.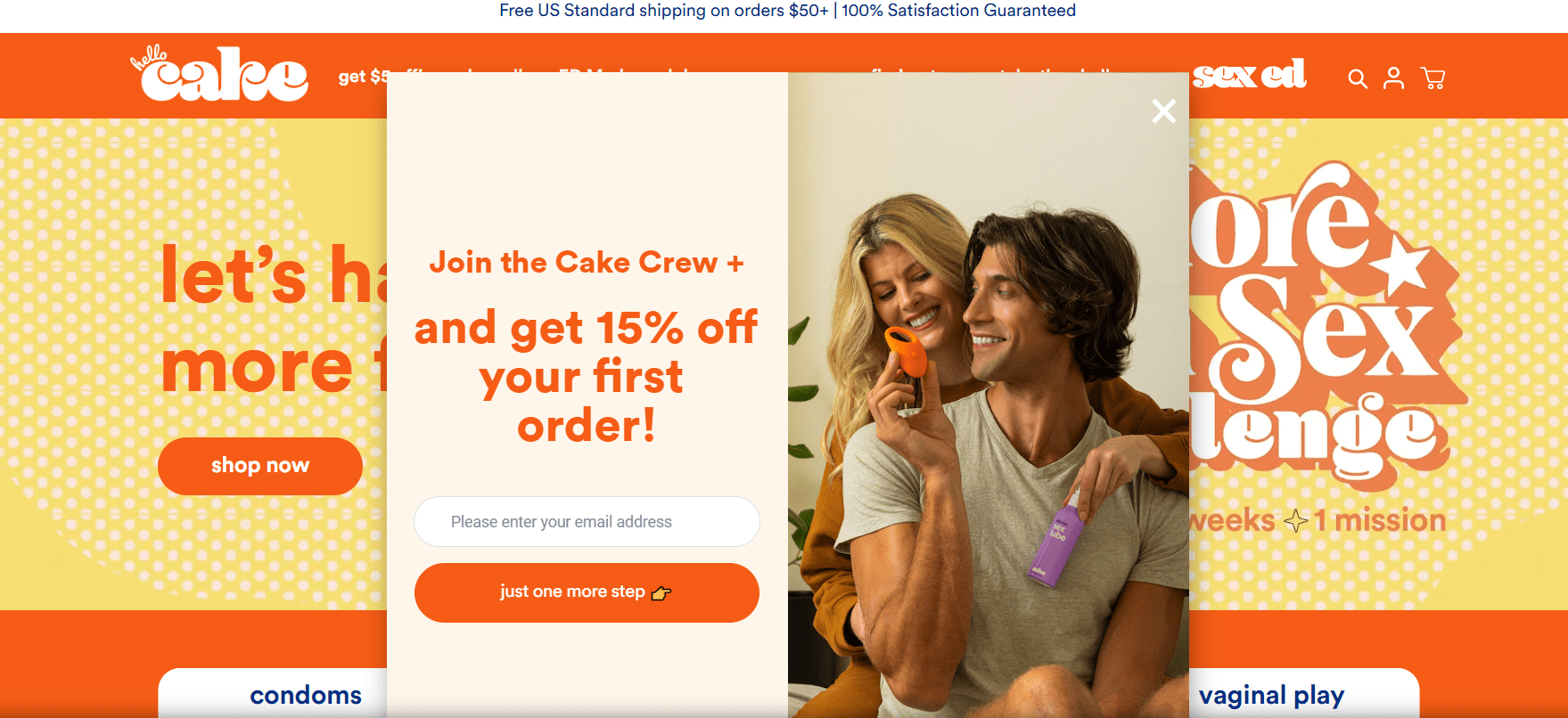 Unlike others, Cake has a separate page dedicated to E.D. medications on its website. Their best-selling product, Stroker, a penis massager, allows you to control the speed and pressure, build up the kink, and have a pleasurable release. 
HelloCake's $20 tush-cush is your perfect lube for anal, giving extra comfort and an ideal amount of slide. 
If you're bored or frustrated with your sex life, you can join their community challenge #MoreFunSex which helps you connect with your partner back in the bedroom.
Although founded in 2018, it receives 187,000 monthly visits to its website and earns $2.9 million per year.
12. Smile Makers  
Smile Makers is another sex-ed company launched by Matias Hulting and Peder Wikström in 2012 to understand and learn sex through a pleasure-based lens.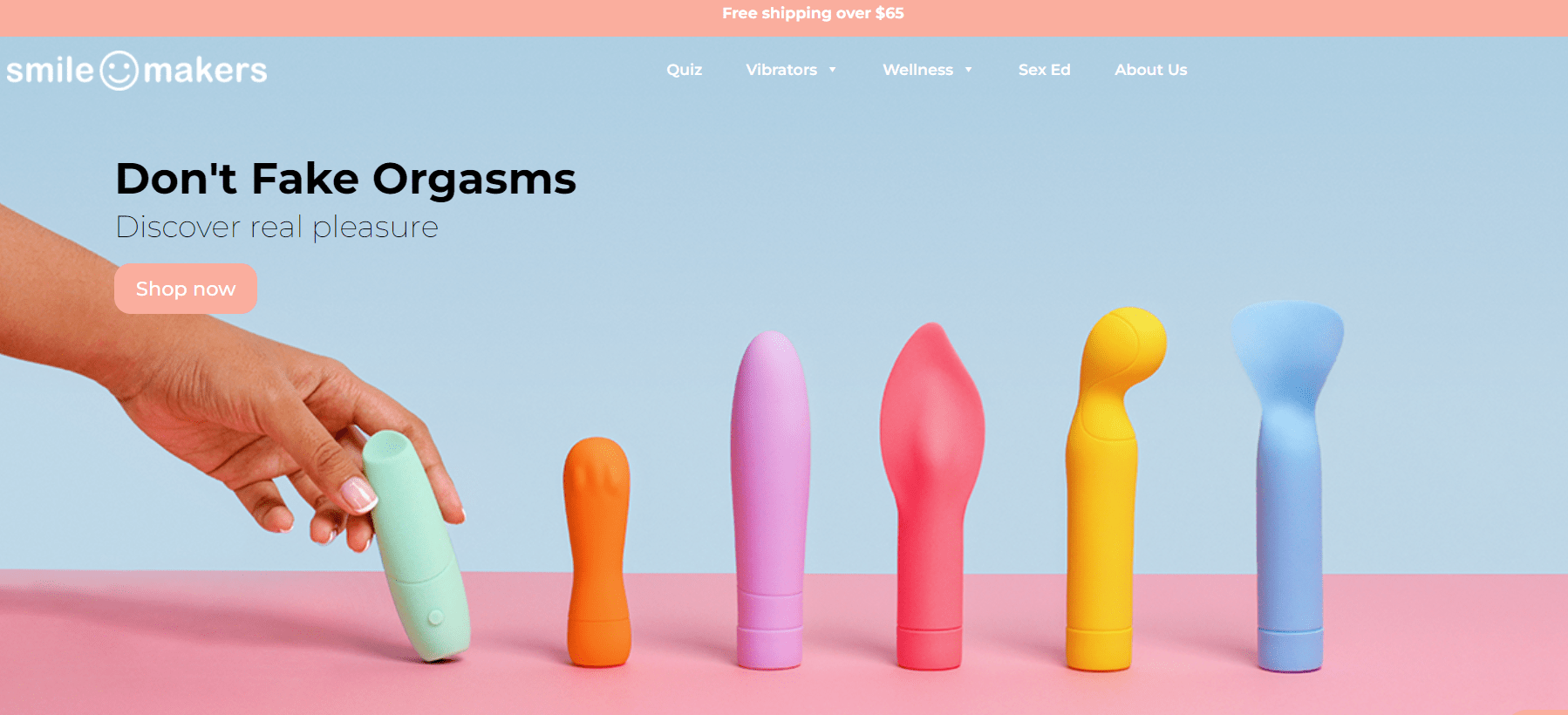 Along with discreet shopping experiences with product names like The Frenchmen, The Fireman, and The Tennis Player, their site features own-line products certified ethically by SMETA. 
With several options such as couples travel vibe, oral enhancement, and many more, their vibrator bundle is one of the best pleasurable kits you can get. It comes with an affordable price range, and you get free shipping if you purchase over $70.
The pleasure-positive sex-ed store receives a constant 180,000+ monthly site visits and earns $1.3 million annually.
13. Unbound
Unbound is one of the unique sex toy brands that focus on reproductive health by promoting body-safe vibe accessories to an unapologetic community of women.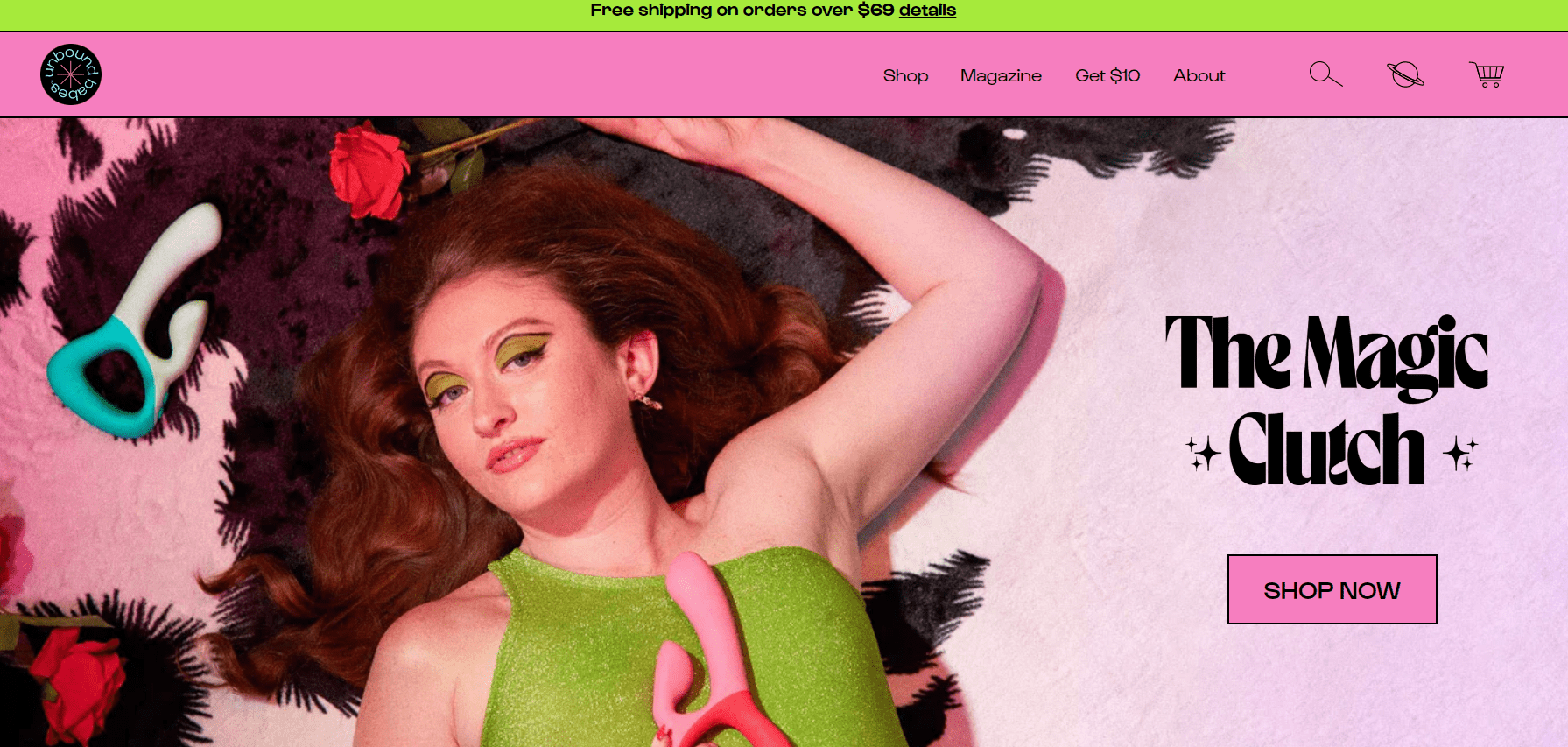 With an annual revenue estimated to be more than $2.5 million, Unbound retail its own sex toy products for women and, at the same time, sell merchandise like store bags, sweatshirts, cam covers, and many more. 
Their website has a specific panel where you can search for sex toys based on your needs. For example, if you're looking for a sex toy with a quieter feel, you can check out their 'quiet' option.
More than 121,000 visitors visit Unbound's website per month, with 60% of those being female. If you're interested in sex-ed and erotica, check out their blogs.
14. Wild Flower
Wild Flower, founded in 2017 by Amy and Nick Boyajiyan, is a sex-ed based company that teaches sexual wellness and body positivity.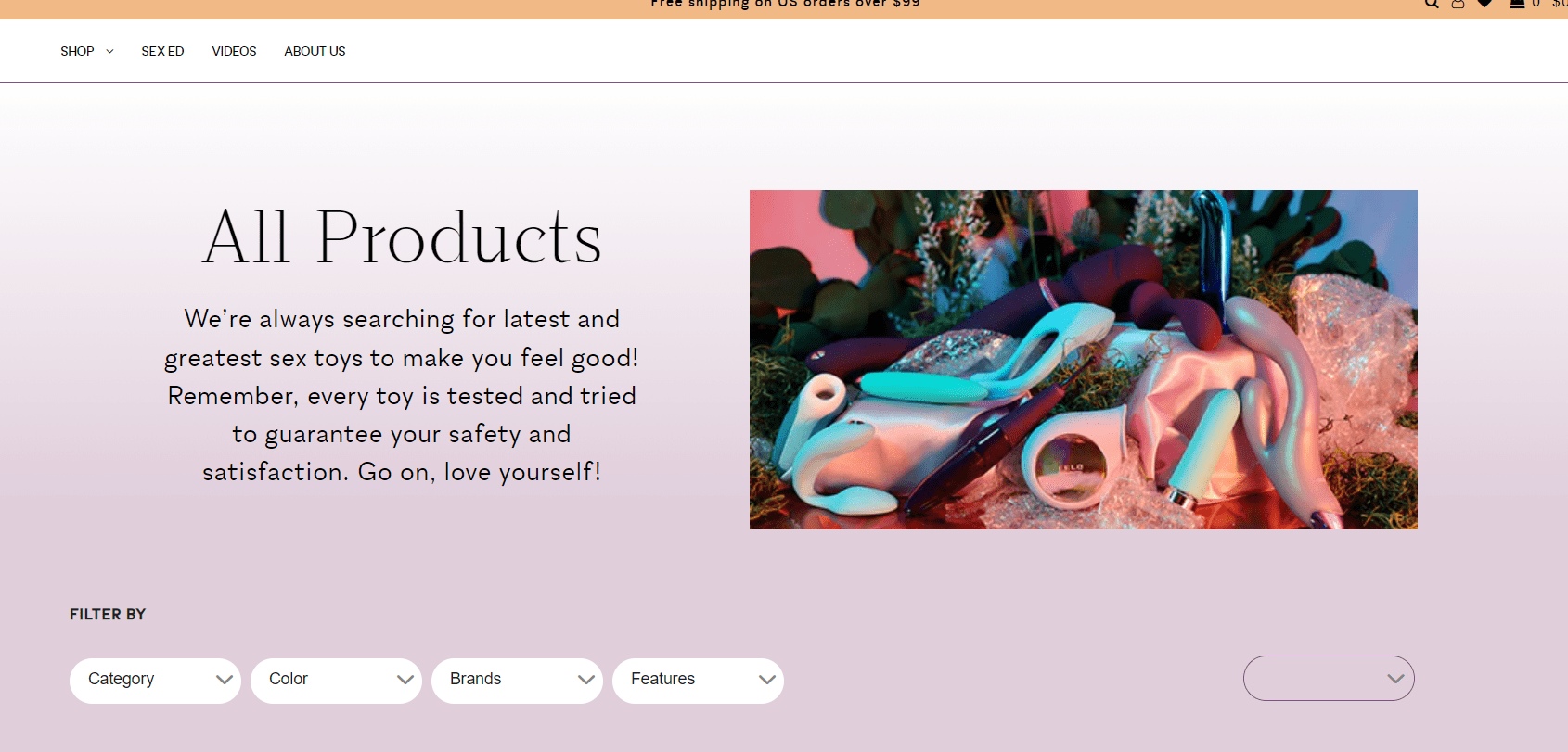 Apart from its own products, Wild Flower also sells accessories and toys from other brands, such as lubes from Good Clean, Sliquid's sex toy cleaners, and many more. 
As a genderless sexual wellness company, they publish many informative articles about exploring gender, mental health, relationships, etc. Oh, and they also have a separate video section on their site to guide you on sex, sex toys, kinks, and much more. So don't forget to check out!
Wild Flower receives 116,000 visits per month and is making around $1 million annually. 
15. Zalo 
Founded by Peter Ovsonka, Zalo is a high-end adult product brand that offers luxury sex toys with never-before-seen features and lets you experience intoxicating and exhilarating intimacy.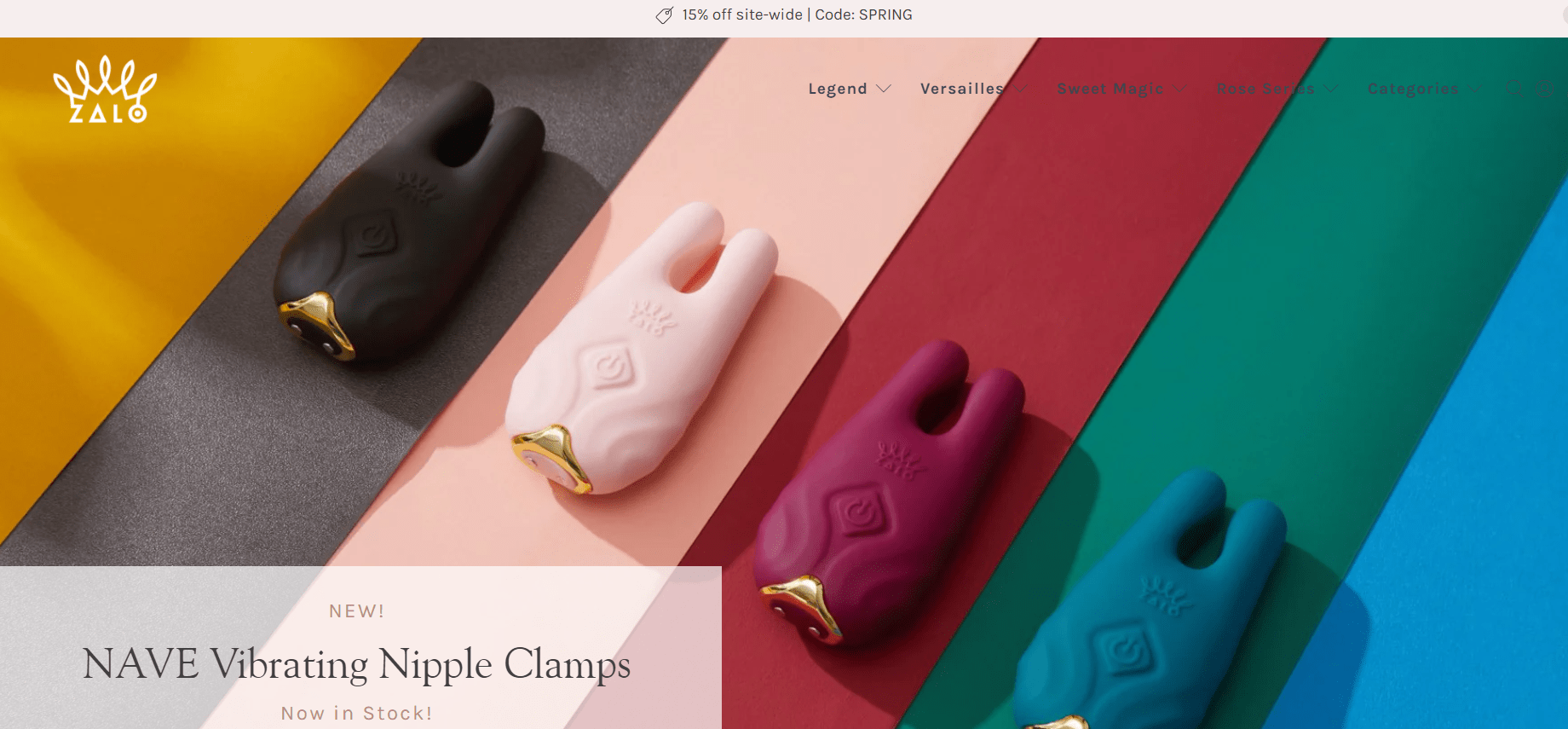 As a brand that makes and sells only its own line of luxury sex toys, Zalo's commitment is evident even in its packaging, which is designed to resemble an ornate jewelry box. 
Their products are a feast for the eyes, crafted with gold plating, real Swarovski crystal touches, and several high-end processing. 
Although Zalo is not selling male sex toys, their massagers can be used by all genders. In addition, the company offers a 14-day return policy, in which you can return unused or unopened products and receive a store credit or direct payment refund.
The annual revenue of Zalo is less than $1 million, and it gets more than 50,000 site visits per month. 
The Takeaway
The sex toy businesses are on fire, and no one can stop them anymore. Even in lockdowns back in 2020-21, sex toys were sold like hotcakes. Today whether it's adults or teens, they prefer complete satisfaction in their sex life without compromise, so it's no wonder the sexual wellness companies are growing tremendously. 
Oh, do you know you can also become the next big sex toy retailer in your region, with or without manufacturing sex toys? Yeah, you heard it right! Adent's innovative team has created a ready-made solution called xMarketplace, that lets you start your online sex toy store in a couple of days at an affordable price.
So what's stopping you? Start building your sex toy empire using xMarketplace!