-

4

mins read
Out of all the money-making adult businesses in the world, if we have to pick one business that needs the least amount of work and gives you a good passive income, then it has to be dropship adult toys. You ask why? Well, it is lucrative, easy to set up, and all you have to do is take orders for sex toys and ask your dropshipper to ship them to the customers. Easy peasy!
If you plan to dropship and sell sex toys, the only important thing to ponder over is finding reliable dropshippers for adult dropshipping. After all, it's your business, and you don't want to spoil your name by selling substandard products. 
If you search on Google, you'll find hordes of available dropshippers. Beware because not all of them will be reputed or trusted dropshipping companies. You'll have to do your research, find the one whom you can trust to dropship sex toys, and then market sex toys well to achive success. In this article, we will tell you the 7 best suppliers for adult products from around the world to make your choice easier.
1. Inventory Source
Unlike your actual sex toy supplier, Inventory Source provides an automated supplier directory for sex toys. You simply subscribe to their inventory automation service as a dropshipper, and can immediately start searching for your favorite sex toy suppliers.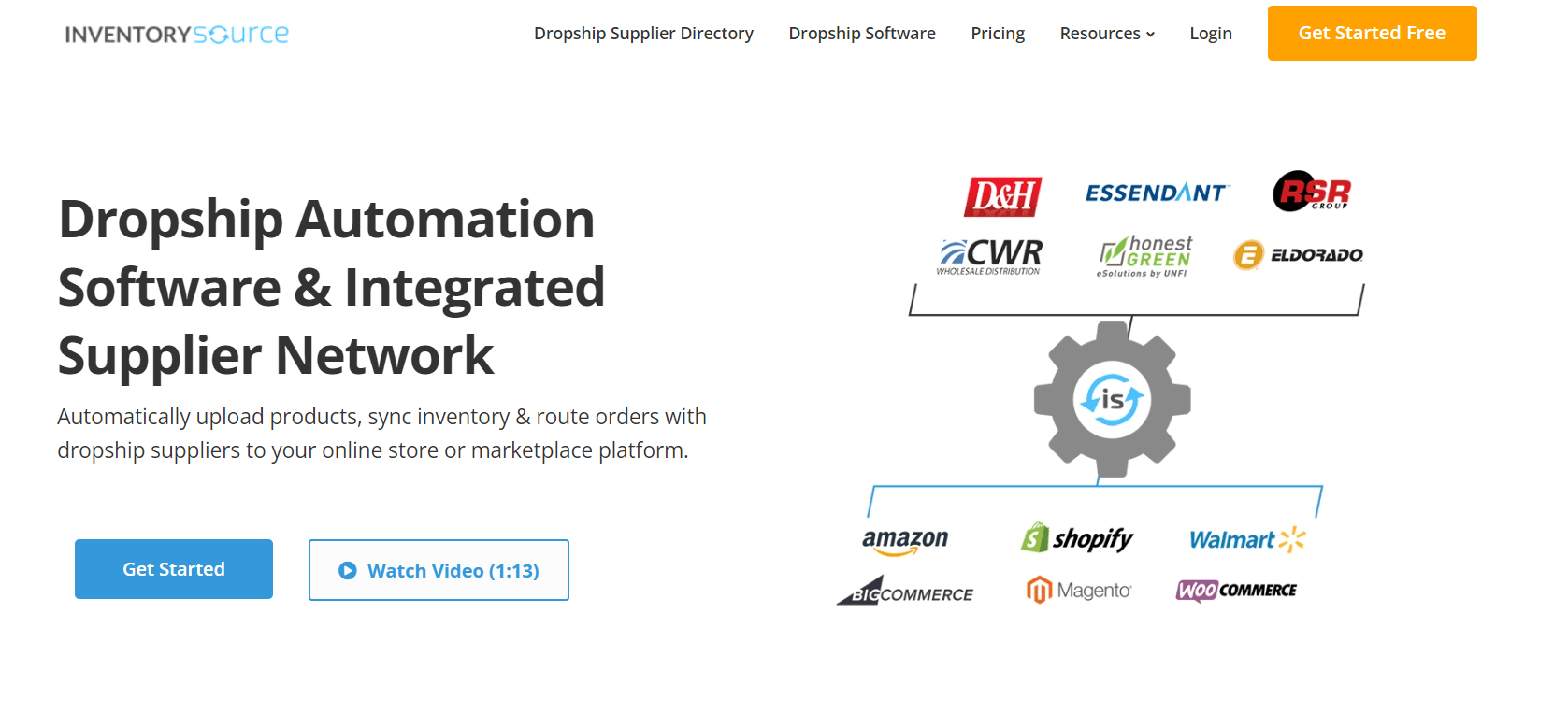 Inventory source offers a full automation plan that does all the work for you, from mapping sex toys that fit your store category to filtering the products that don't fit your dropship sex toy site. With these services, you never have to worry about the supplier approval process, hidden costs, or unpredictable shipping fees. They do all that for you.
Furthermore, you get auto order routing, automated dropship tracking, a managing interface, and more. Inventory source also provides integration for Amazon, Shopify, Stitch Labs, and more, depending on the subscription plan you select. If monthly orders exceed the limit of the subscription plan, they charge you an additional fee of $0.20 – $0.40 per order.
2. SexToyClub
Sex toy club is a wholesale adult dropshipping company that hosts more than 40000 unique dropship adult toys at wholesale prices. They ship sex toys all over the US and around the world too. Sex toy club has great user reviews, which tells you about their credibility.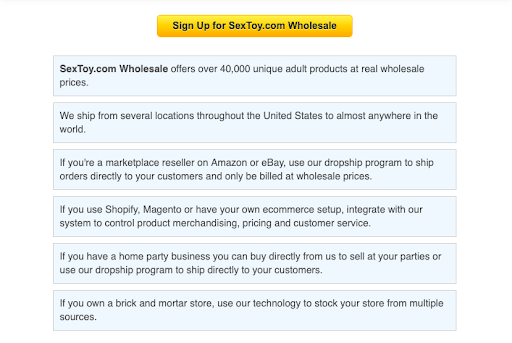 You can resell their products on marketplaces like Amazon and eBay by easily downloading their products through a CSV file. It's easy to integrate products from the Sex toy club that you want to sell on your website. Furthermore, the Sex toy club provides integration for Magento and Shopify so that you can resell sex toys.
Sex toy club doesn't charge any extra dropshipping fee and also provides an affiliate program and whitelabel products. If you want to dropship sex toys, then you can contact the Sex toy club to get more details from them.
 👉Check out the top-selling sex toys here.
3. Nalpac
Nalpac is based out of the US and is one of the most trusted dropshipper in the states. With over 40 years of experience in dropshipping sex toys and adult gifts, Nalpac stocks close to 20000 different sex toys in its warehouse and has a product-fill rate of over 90%.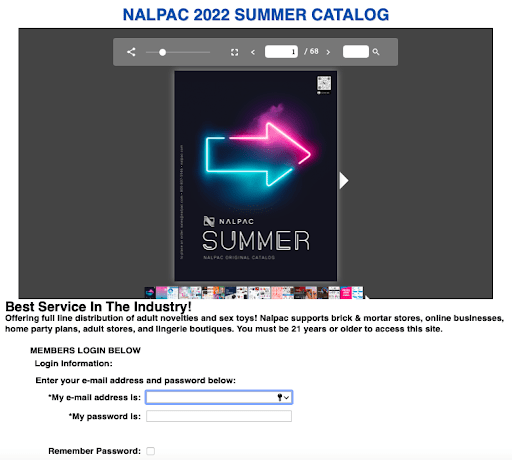 You can find products from a wide range of brands on Nalpac like Dona, LA Pump, We Vibe, Calexotics, Lovense, and many more. Located centrally in the US, the shipping time throughout the US is usually 1 to 3 days. They do provide you the option to customize your packing slip shipped with the order to customers.
4. XTrader
Established in 2000, XTrader has been the front runner in dropshipping sex toys business in the UK. They sell a wide range of 6336 adult products spread over 164 categories making it easier for you to choose which category to display on your website.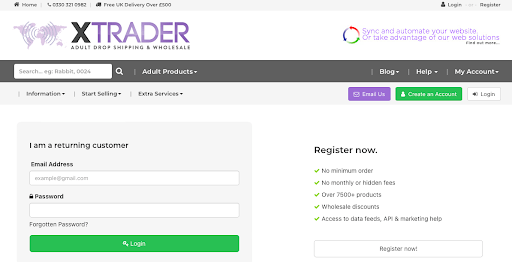 XTrader hosts a variety of popular adult toy brands on their database like Pipedream, Njoy, Doc Johnson, Jimmy Jane, Private, Nexus, Doxy, and many more. They don't charge any dropship fee, and their packaging is very discreet. You can add your company's branding on the packing slip if you want too.
5. XSales
One of Australia's biggest wholesalers, XSales delivers a wide range of products throughout Australia and other parts of the world. The best part about XSales is that they offer products that serve all kinds of fetish and communities. Right from bondage toys and uncut DVDs to novelties and sex games, XSales sells everything.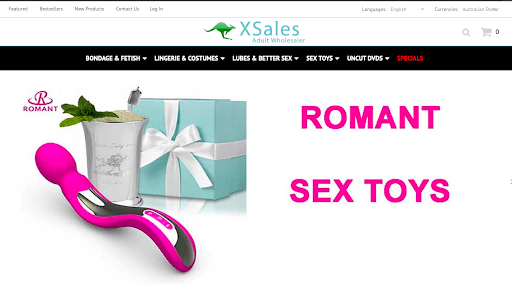 As a dropshipper, XSales takes a $12.50 charge for domestic orders, which can be a little on the higher side. Registered customers can avail a 75% discount offer on weekly special products on XSales, which is quite an advantage.
6. AliExpress
AliExpress is a world-renowned wholesaler from China that collectively sells products from wholesalers all over China. They have a huge collection of sex toys, and they sell almost every other thing too. You name it, and AliExpress has it. They ship worldwide and take no charges for dropshipping.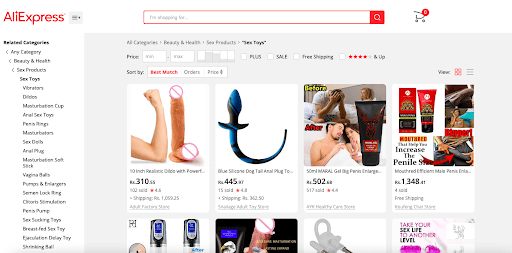 You can integrate the products you want on your website and sell them with your margin. When a customer buys sex toys from your website, you keep the margin, and AliExpress ships the product at the wholesale rate. You can find dropship sex toys of all varieties and quality on AliExpress, so it's recommended to tick the option of seeing products with above 4-star rating.
7. 1on1Wholesale
Started in 2000, 1on1Wholesale is one of the largest adult sex toy wholesalers in entire Europe. They host sex toys of 70+ brands like Bound, Doc Johnson, Fleshlight, LovingJoy, NassToys, Sliquid, Zuyosa, and many more. You can find anything from lingerie to bondage toys in their wide range of categories.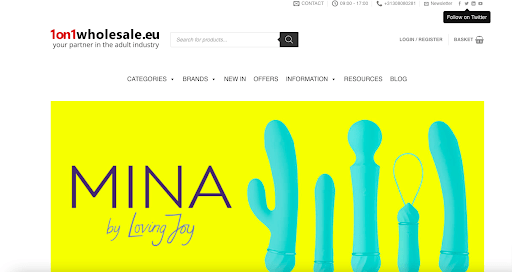 There is no extra or hidden charge for dropshipping on 1on1Wholesale, and you can easily sync your website with their data feed and dropship sex toys. The tracked delivery service can take 3 to 5 days for delivery within Europe and 7 to 10 days for deliveries around the world.
8. Muffsandcuffs 
Muffsandcuffs is owned by William Trading Co., which is an adult distributor and has been in the business since 1974. Based out of the US, Muffs and Cuffs is one of the leading dropshippers in the world.
Any sex toy that you need to dropship sex toys is available on Muffs and Cuffs. Adult products like Dildos, Vibrators, Anal toys, Bondage toys, Sex accessories, Novelties and games, and even Videos and DVDs are all available on this wholesale dropshipper.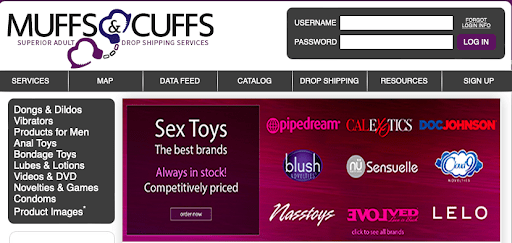 You can find top sex toy brands like Topco, Pipedreams, California Exotic, and Doc Johnson on Muffs and Cuffs. They use UPS and US mail to ship products in discreet packaging so that the user or product info isn't leaked. Muffs and Cuffs charges a $2.75 dropship fee on every order and not on every item shipped.
Conclusion
Sex toys dropshipping is one of the most convenient and easy businesses in the adult industry. All you need to do is get yourself a website and then easily dropship adult toys. You can also consider readymade scripts like xMarketplace that come preloaded with 20,000+ dropship adult toys to help you kick-start your business.
xMarketplace is the perfect choice for you if you want to run your own dropship sex toys business. You can even add your own products or products from other dropshippers and sell them from your website. You get 100% control of your website and can brand your website as you want.
If you've been looking to earn some extra passive income, then dropshipping sex toys is an excellent choice to get the ball rolling. You can choose any of the above-listed dropshippers for a profitable sex toy dropshipping business.