-

3

mins read
Streamate is one of the most popular adult cam sites that is a major hit with many cam models from around the world. Owing to its unique features and the variety of niches it offers, Streamate is considered to be the favorite among cam models. Set up in 2003, Streamate is one of the pioneers in the adult webcam business, just like Chaturbate.
Streamate hosts more than 1800 models on live cams from around the world in different genres and niches. The live cam streams on Streamate are of high quality, with an in-built chat interface for the users to interact with the models. Only registered members can chat with the models making it a cam site that is free of spammers and freeloaders.
What is the Streamate Affiliate Program?
Moving on from the awesome features and monetization methods that Streamate offers its models, the Streamate affiliate program is equally rewarding and profitable for webmasters. With multiple programs and tools, the Streamate affiliate program is a great way for interested affiliates to make good passive income.
The Streamate affiliate program is highly recommended for webmasters who want to gain from the program and make money from it. Even models on Streamate can earn affiliate commission by driving traffic to their cam models link and earn money for it. Streamate even hosts affiliate programs through its platforms like MTree and CamBuilder, which is the official Streamate Whitelabel site builder.
Did you know which are the top adult webcam affiliate programs available?
MTree – The official Streamate affiliate program
MTree is more like a legacy project of Streamate, while the majority of the affiliate programs are run on CamBuilder. This fully functional affiliate program is the only way to go if you're looking to make money through the official Streamate affiliate program.
The MTree program pays $40 for every new sign-up or a 30% revenue share which is one of the highest in the industry. MTree also provides multiple promotional tools for the affiliates like full-page ads, half-page ads, iframe embeds, free hosted galleries (FHGs), various static banners, and text ads with conversion-optimized anchor-text.
CamBuilder – The official Streamate Whitelabel
If you don't have a cam site of your own to run these tempting affiliate programs of Streamate, then you don't need to worry as Streamate provides you a Whitelabel using which you can gain the affiliate profits. CamBuilder is the official Streamate Whitelabel that helps you recreate the cam site with your own personal touch.
Streamate takes care of the technicality, hosting, and payment processing on Whitelabel, while the webmasters have to just design and rebrand the Whitelabel website to get traffic and then earn money. Any sale that happens on your rebranded Whitelabel site earns you a part of the revenue, depending on the program you choose.
The Streamate affiliate program gives various options to webmasters to choose from. Here are the various options to make money from the Streamate affiliate program.
35% revenue share for a lifetime

$75 pay-per-sale + 30% revenue share for lifetime

$30 pay-per-sale + 30% revenue share for lifetime

$100 pay-per-sale

$40 pay-per-lead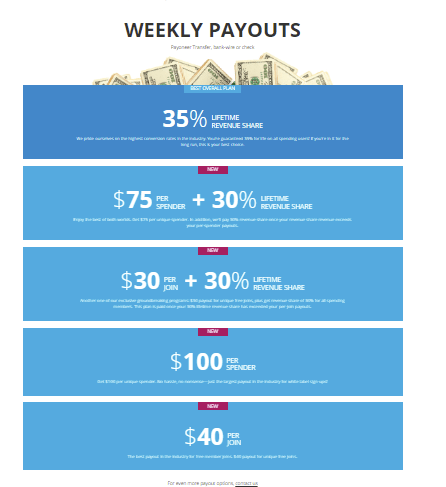 Every webmaster also gets a set of promo tools to drive traffic to their cam site and make good use of the affiliate program. Here are a few promo tools provided by the Streamate affiliate program.
Prerolls

Link

Full Page

Category Banner

IM Banner

Live Model

Banners
Streamate model referral program
The models on Streamate can also make some extra money through the model referral program. When an existing model refers a new model to the Streamate platform, then the existing model stands a chance to earn 10% of revenue share from the first five weeks' earnings of the new model. There is a minimum limit that the new model has to earn before anyone can claim any referral bonus on Streamate.
Want to know the Best Whitelabel webcam sites for cam girls?
Streamate model referral bonus
By linking to their cammodel subdomains, the models on Streamate can earn a referral bonus. There are no special linking requirements needed for this which means you can get a good bonus even if someone else links to your subdomains. So basically, other than the high earnings a model can make on a webcam site, referrals give an extra bonus to their earnings.
The bonus from this can differ depending on if the customer is spending money on you or some other model. When the customer you referred to Streamate spends money on you and your shows, then you can get a 40% referral bonus. If the new customer whom you had referred spends on other models shows, then you get a 20% of the revenue spent by the customer.
Conclusion
If you're a webmaster looking out for an awesome affiliate program that will provide you with recurring passive income, then look no further than Streamate. The Streamate affiliate program is one of the highest paying affiliate programs in the world that can be run on any adult webcam site.
You can use the Streamate Whitelabel to build your adult cam site, or you can use easy readymade solutions like xShows to build your own adult cam site and run various affiliate programs on it to make good passive income. Whatever you choose, the profit is going to be only yours.