-

8

mins read
The digital adult content market has been estimated to be valued at a staggering US$ 44.8 billion in the year 2022. Furthermore, experts predict that this number is expected to soar to a whopping US$ 201.0 billion by the year 2032. 
So it's no secret that the adult content market is a goldmine for creators looking to strike it big. But making a fortune in this industry is easier said than done. Without top-notch content and a user-friendly platform, success can seem out of reach. 
However, there's one person who's broken through those barriers and made it big as an adult content creator, thanks to the innovative solution of xModel by Adent.io – an adult fansite turnkey software. 
Who is this person? How did she build her own fansite? How much money does she make? Want to know the answer to these questions, then let's dive in and take a closer look, shall we?
Who is Jade?
Jade, a talented white American blonde model, is no exception to this trend. As a devoted BDSM aficionado who enjoys creating hardcore porn video content with her partner, Jade has encountered numerous challenges while trying to make ends meet. 
Initially, she shared most of her content on adult-tube websites, but because of fierce competition and a commission-based revenue system, she couldn't achieve her dream numbers, both in customers and profits. 
That's when Jade and her partner made the decision to create their own adult fansite – one that would showcase their skills, make them earn more money and allow them to shine like the water that surrounds them.
Model's Journey: From Idea to Implementation
Jade and her partner were enthusiastic about creating a fansite that caters to their specific interests. However, they soon realized that building a professional-looking adult fansite that includes various features such as uploading and managing videos and photos, conducting payment transactions, multiple subscription tier functions, inbuilt e-commerce, and live streaming required a significant amount of time and money. This daunting task seemed almost impossible to achieve in today's age. 
As they were grappling with this challenge, they stumbled upon a remarkable solution – the presence of a ready-made adult turnkey script called xModel by Adent.io. This script promised to help build a futuristic, high-profitable fansite that encompassed all their requirements and most importantly, came with an affordable price tag.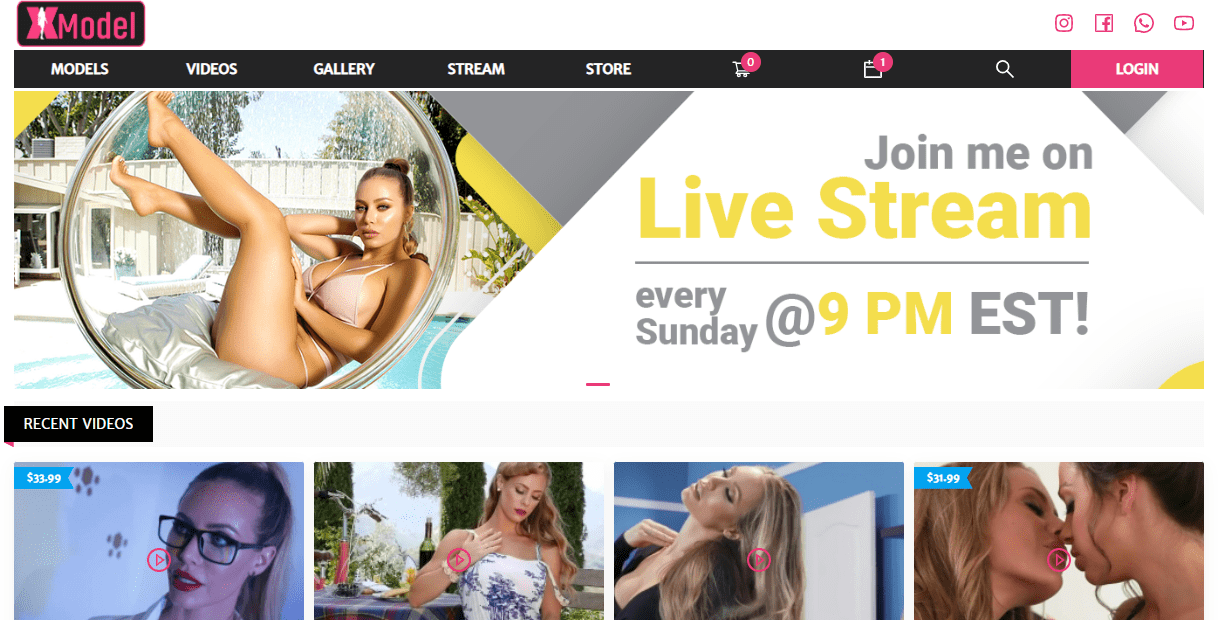 They were thrilled at the prospect of launching their own website within a few days and contacted Adent's team promptly to start their journey in building their fansite. The opportunity to leverage the power of xModel by Adent.io was truly a godsend, and they were grateful for the chance to indulge in their passion in such a hassle-free manner.
Setting Up a Personal Fan Site
While xModel offers a speedy solution for launching a fansite, it's important to customize the branding to suit the customer's needs. This includes features such as a personalized logo, theme color, and relevant menus and functions. 
In the case of Jade, she had a clear vision for how she wanted her revamped website to perform and function. Fortunately, xModel's flexibility in customization allowed for all of the desired features to be implemented seamlessly.
Domain & Hosting 
When it comes to creating a website, the first step is always securing your domain and web hosting. Adent understands the importance of this and made sure Jade got her own unique domain name and a reliable web hosting service. 
Adent has partnered with M3Server, the official web hosting partner, to give their customers exclusive offers and amazing perks. 
On top of that, M3Server supports 26 additional languages for client servicing, making it easy for people from all over the world to use their services. And the best part? Jade got a free domain name for 1 year– JadeKink.com – free setup, off-site server backups, SSL certificate, Global CDN, cloud storage, and so much more. 
Adult Payment Processor
In the next phase of their collaboration, Adent provided invaluable assistance to Jade by facilitating the integration of a reliable adult payment processor, CCBill. This credit card processing company specializes in catering to high-risk industries, such as the adult entertainment industry, and thus was an ideal choice for Jade's payment needs. 
Thanks to Adent's intervention, Jade's customers can now conveniently pay for their services using all major credit and debit cards in various currencies, including US Dollar, Euro, British Pound, Canadian Dollar, Australian Dollar, and Japanese Yen. 
Furthermore, CCBill offers mobile payment solutions for smartphones and tablets, ensuring a seamless and hassle-free experience for Jade's clients.
Model Profile
Each and every one of the valued customers is seeking an "in-depth" understanding of the models they choose to subscribe to, and both Adent and Jade recognize and acknowledge this crucial aspect.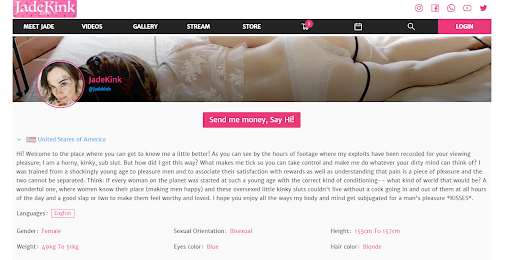 In order to provide the customers with a more comprehensive understanding of Jade, we have created an all-inclusive model profile page that offers a wealth of information about her. From Jade's passion to submissive kink to her body proportions, we've made sure that no detail is overlooked on her profile page.
In addition, this page also acts as a virtual library of content for our users, featuring easy-to-navigate galleries and videos all in one convenient location. So for those looking to access all of Jade's content in one convenient location, this page is the perfect solution.
Peek-ins
Similar to any other adult site, JadeKink.com recognized the importance of attracting and engaging users, especially those who may only be passing by. To achieve this goal, Jade decided to offer peek-ins, which provide previews of the videos featured on the web pages. 
By simply hovering the mouse over a video, users can view a short preview that includes an interactive preview of the linked content. This feature helps users quickly determine whether a video is worth their time and encourages them to explore more content on the website.
User-engagement Tab
The Internet has become an integral part of our lives, and the way we engage on these platforms can have more significance than we may realize. Every like, comment, and post shares taps into our innate human traits, such as our addictions, desires, and joys. 
With this in mind, adult content creator Jade sought to capture these elements in every piece of content she shared on her fansite. To achieve this, Adent provided a dedicated user-engagement tab under each video, enabling users to show their appreciation by liking, commenting, and even saving the video to their favorite list or 'watch later' section. 
This feature fosters a sense of community and encourages users to return to the site, enhancing their overall experience.
Event Calendar
In today's world, it has become a trend for adult content creators to organize exclusive events for their fans. These events help to establish a personal connection between the creator and their followers while also serving as an effective promotional tactic for the platform. 
Adent recognized the potential of this aspect and assisted Jade in creating a dedicated page for scheduling events. Through this page, Jade can easily inform her fans about upcoming events and provide them with the necessary information to access these events.
Timeline Preview
The JadeKink website offers a convenient timeline preview feature that allows users to catch a quick glimpse of what's to come in upcoming video scenes. 
The timeline is presented in a horizontal format and is arranged chronologically, providing users with a clear understanding of the order of events. 
The visuals in the timeline preview are strictly view-only, meaning that users cannot interact with them directly. However, users can easily navigate to the full timeline view by simply tapping anywhere within the preview. 
Building a Fan base
Jade's dedicated fanbase is the bedrock of her successful career as an adult content creator. These loyal supporters are not only the ones who purchase and consume her content but also attend her events and spread the word about her on social media through likes, comments, and shares. 
They eagerly anticipate her next release and provide valuable feedback on her latest videos. In addition to being crucial followers, Jade's fanbase is also a primary revenue source. Her strategic promotion of her fansite has paid off immensely, resulting in a staggering 32,000 monthly visitors to her site.

So how did she build her fan base? She built her fan base by consistently sharing content on various adult tube sites and directing viewers to her website.
Just type 'JadeKink' on your Google search bar, and you will find profiles of Jade on 30+ adult tube sites. Here are some profiles of Jade from popular porn sites:
1. Pornhub
Jade has achieved exceptional results across various free adult tube sites. Specifically, her video content on Pornhub has garnered an impressive total of 2.9 million views, with her most popular video receiving over 220,000 views alone. Additionally, her daily content has attracted a loyal following of over 12,000 subscribers.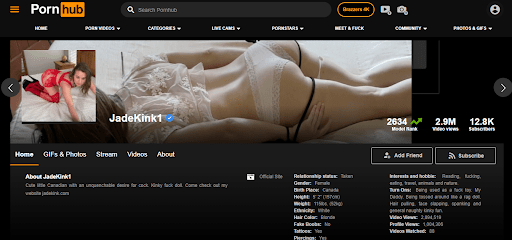 2. xVidoes
Interestingly, Jade's success is not limited to Pornhub alone. On the popular video site XVideos, she has amassed a staggering total of 21.6 million views, accompanied by more than 90,000 profile hits. This trend is consistent across her other free profiles, which she has created across the digital pornography space.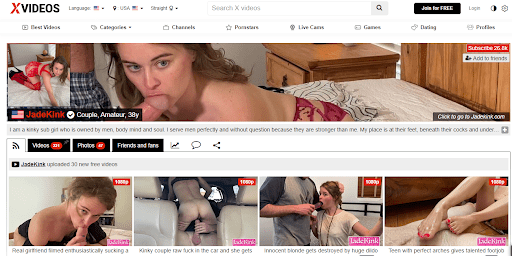 However, what truly sets Jade apart is her astute marketing strategy. Recognizing the quality of her content and her ability to captivate viewers, she has taken a unique approach to video length. 
Specifically, she limits her videos on every free profile to a duration of just 3-6 minutes. This has the effect of stimulating viewers, leaving them eager for more of her engaging content. By including her website URL on each profile, she has successfully directed her viewers to access a broader range of her work. 
This savvy marketing approach has undoubtedly contributed to Jade's impressive success as an adult content creator.
Monetization Strategies
The success of any business hinges on the smart and precise execution of its monetization strategy. In the case of JadeKink.com, Adent's guidance helped Jade implement a monetization plan that effectively converted viewers into loyal subscribers. Let us delve into the revenue-generating strategies she employed on her website.
Multi-tier Subscription
When it comes to pricing options, offering just one can limit visitors' choices and may result in a simple "yes" or "no" response. To optimize conversions, it's best to employ price bracketing and create multiple tiers that cater to different audiences with varying needs and budgets.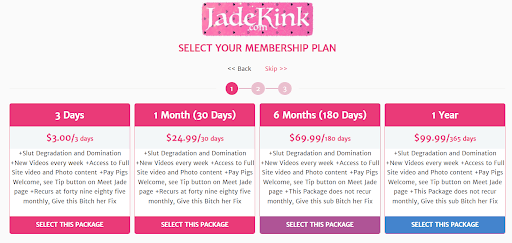 Jade has implemented a smart pricing strategy that starts with a low-cost, entry-level option – a 3-day membership for $3. This option not only attracts visitors but also sets the stage for the higher-priced tiers that offer more value and benefits. For instance, visitors can opt for a month's subscription for just $24.99, which offers content access for 30 days for a slightly lower price. 
To make the mid-level pricing plan even more attractive, Jade has included a high-priced top-tier option, a 1-year membership plan for $99.99. This strategy makes the mid-level plan, a 6-month membership plan for $69.99, seem like an even better value, which leads to more conversions and higher revenue.
Overall, Jade's pricing strategy has proven to be a winning formula that not only attracts new viewers but also converts them into paying members. 
Selling Digital Content
As you may be aware, many pornography enthusiasts have a strong desire for content that is downloadable. The ability to save content onto their personal computers grants them the flexibility to access their favorite videos anytime and anywhere. 
With this unique characteristic of porn users in mind, Jade sought to tap into this market demand. She utilized xModel's optimized e-commerce page to sell her digital products as downloadable content for a fixed price. 
This approach provides her customers with the convenience of accessing her high-quality content at their leisure.
Tips
Jade has implemented an innovative method of generating revenue through the acceptance of tips from her users on her fansite. This feature is easily accessible on her website, where users are provided with the option to tip Jade for her exceptional content. 
However, it is crucial to note that tipping can only be carried out using in-site currency, also known as 'tokens', which are unique to Jade's website. 

In order to facilitate the purchase of these tokens, Adent's smart wallet system comes into play. With this system, users can purchase tokens using real currency, such as 27 tokens for $35, which can then be used to tip Jade. 
It is significant to note that these tokens don't expire and are retained in the user's wallet indefinitely once they have been acquired by exchanging real currency for them.
Live Streaming
Many adult creator platforms offer live streaming as a popular method of monetization, and Jade's fansite is no exception. The platform provides a live-streaming feature that allows users to access live streams using the site's in-house currency, "tokens." 
Jade's live streams are typically priced on a per-minute basis, although users may also opt to pay for longer shows that last for 30 minutes or an entire hour. 
PPV
Jade's fansite, JadeKink.com, has a unique monetization method called pay-per-view content, which allows her to offer highly exclusive content to her users. This type of content is typically not available to subscribers and is only accessible to those who are willing to pay the required price. 
To unlock this content, users can use in-site currency, also known as tokens. The paywall feature ensures that only those who pay for the content can access it, making it even more exclusive and valuable.
That's all about the monetization strategy implemented by Jade on her fansite with the help of Adent's support team. Now let's dive into the important part: how much money does Jade earn from her fansite?
How Much Money Does Jade Make through xModel?
As previously discussed, Jade was able to generate a substantial income through the creation of numerous free profiles on popular porn sites. However, despite her efforts, she found it difficult to reach her desired earnings due to the high level of competition on these platforms, which were saturated with thousands of adult creators just like her. In addition, the platforms charged high commission rates, further limiting her earning potential.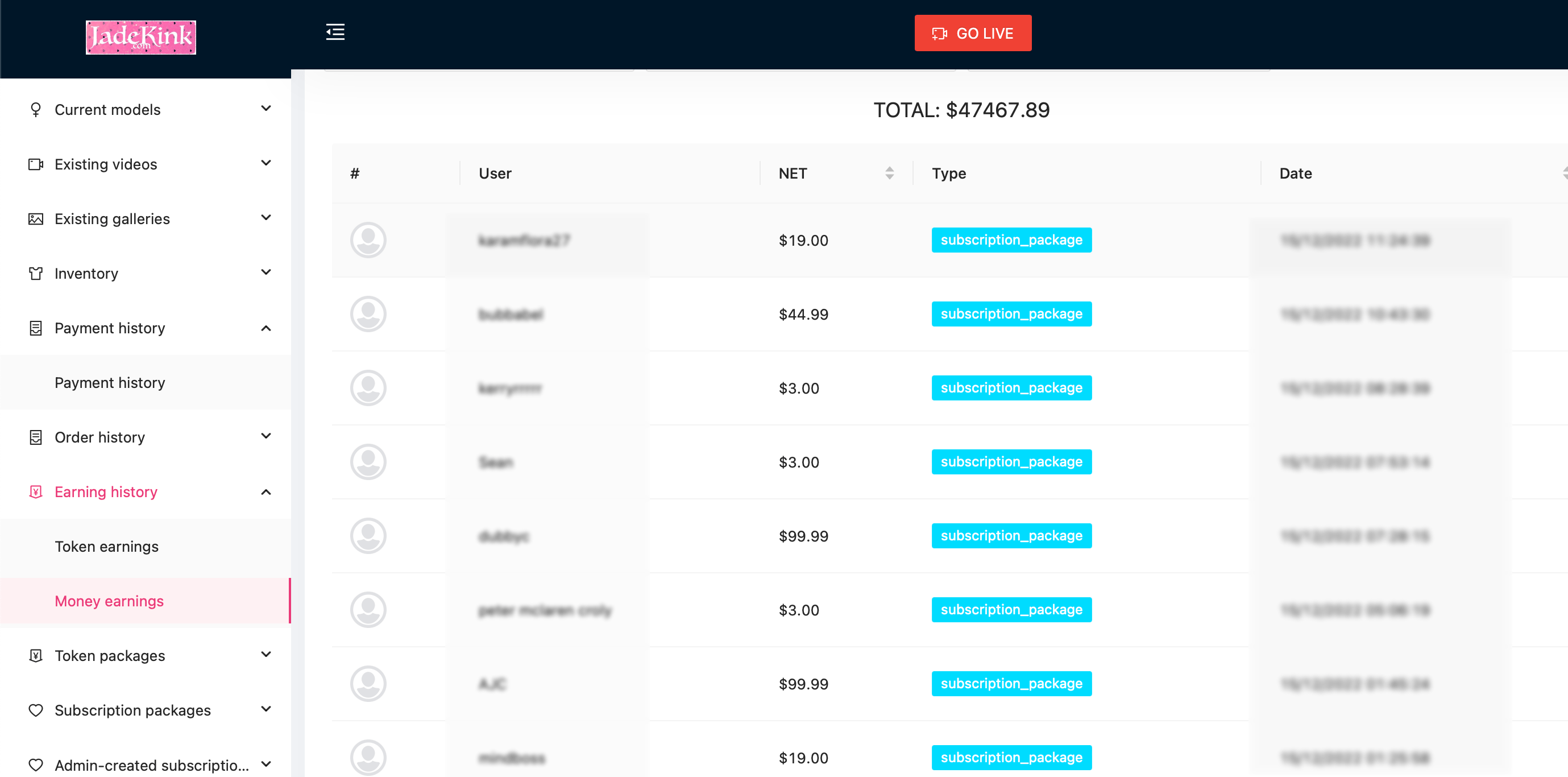 Fortunately, Jade discovered xModel, an adult turkey script that allowed her to create her very own fansite. This decision proved to be a game-changer for her as it yielded incredible results. 
At present, she is earning over $47,000 in six months, and it is highly likely that her annual income from the fansite will exceed $100,000. It is important to note that all of the revenue generated on her fansite is pure profit that belongs to her alone, with no excessive charges or commissions being imposed by xModel. 
In summary, Jade's decision to leverage the benefits of xModel has been instrumental in enabling her to achieve her financial goals. By taking control of her own content and earnings, she has been able to maximize her profits and establish a sustainable source of income.
So if you're looking to make a name for yourself in the competitive world of adult content creation, it's crucial to establish your own brand and showcase it on your own website. Luckily, there are convenient turnkey solutions like xModel that can help you do just that.