-

9

mins read
The OnlyFans has been on the rise in recent years, and several OnlyFans agencies are growing along with it. If you're a budding entrepreneur looking for a lucrative business idea in a highly-scalable market, then starting an OnlyFans agency can be the best choice, as it offers both the income and growth opportunities you need.
Despite the countless opportunities it offers, starting an OnlyFans agency also has a truckload of challenges. In this article, we offer you end-to-end information on how to start an OnlyFans agency, from knowing your niche, setting up a commission rate, registering and obtaining permits and licenses, and marketing your OnlyFans agency. We also look into what are the skills required to start an OnlyFans agency and how much you can make from it.
What Is an OnlyFans Agency, And How Does It Work?
The OnlyFans agency is similar to a talent management agency but specifically caters to OnlyFans models. These agencies sign both the aspiring and top OnlyFans models and help them manage and market their OnlyFans accounts.
Everyone working on an OnlyFans agency has the same goal: book talented OnlyFans models, optimize their profiles end-to-end from branding to pricing and help them advance in their careers.
They also help OnlyFans creators build good relationships with their fans and subscribers to increase their income. In addition, an OnlyFans agency is also responsible for growing a creator's fanbase both in OnlyFans and other social media platforms.
Who Can Operate an OnlyFans Agency?
Starting an OnlyFans agency requires meticulous planning. Many variables can occur in your OnlyFans agency, and you always have to prepare for them beforehand.
For instance, you should be prepared to deal with situations where a model runs out of content ideas or is on the verge of becoming saturated. Here, as an OnlyFans agency, you should help them by providing effective content ideas, strategy, and a personalized content calendar.
Moreover, a person who is bashful and indecisive would not be able to run an OnlyFans agency because this business requires someone who is comfortable dealing with a lot of people and can make decisions swiftly. In addition, they also should be capable of serving as an OnlyFans manager for their models when necessary.
What Do You Need To Run an OnlyFans Agency?
Can an OnlyFans agency only be run by someone who holds a management degree?
The plain answer is "No". Anyone can run an OnlyFans agency if they have the required skill and experience.
A solid understanding of social media and other subscription platforms, as well as business management and marketing expertise, is essential to start an OnlyFans agency.
However, if you have yet to gain experience, you can start by learning OnlyFans' business model and understand how it actually works. Furthermore, to gain some practical experience, we recommend you work as an agent at an OnlyFans agency.
Because being an OnlyFans agent on the ground will help you learn the roles and responsibilities of an OnlyFans agency and its current challenges, knowing these will enable you to create your own unique solution for your OnlyFans agency and help you stand out from the rest.
What Are The Types Of OnlyFans Agencies?
There are three types of OnlyFans agencies present at the moment. They are as follows:
1. OnlyFans management agency
An OnlyFans management agency helps models to manage their OnlyFans accounts, engages with their fans and subscribers, schedules their posts, develops a content strategy, and assists them in brand building across other adult subscription platforms.
2. OnlyFans marketing agency
The OnlyFans marketing agency works similarly to any other digital marketing agency that helps content creators promote their content online and pilot organic marketing campaigns on social media platforms like TikTok, Twitter, Instagram, Reddit, and YouTube.
3. OnlyFans management and marketing agency
Combining the first two types of OnlyFans agencies makes the third type. These agencies make money by providing marketing and account management services and help OnlyFans models skyrocket their subscriber counts and revenue.
Now that you understand the types of OnlyFans agencies, let's look at some of the important things you need to do before starting an OnlyFans agency.
Things To Do Before Starting an OnlyFans Agency
1. Know Your Niche
As tons of OnlyFans management or marketing agencies pop up daily, a fierce competition is inevitable. Hence, if you want to grow your OnlyFans agency quickly, you must offer an innovative solution that targets a niche market.
For example, you can start an OnlyFans agency that focuses on gay models and provide unique social media marketing services and quality chatters to manage the model's private DMs. The more novel you can make your idea for your niche market, the more likely you will stand out from the crowd.
2. Define Your Goals and Objectives
You should start your OnlyFans agency with a clear goal and subsequent objectives in mind. Your goal should be something that you intend to achieve in the long term, and the objectives are like stepping stones that help you reach your goals.
Your goals should include a possible outcome and a timeframe for when you want them to be accomplished. And your objectives should highlight the schedule of the tasks and resources that need to be allocated for each project.
3. Research Your Competitors
This is the most obvious thing you need to do before starting an OnlyFans marketing or management agency. By looking at your competitors, you get to know both their strengths and weaknesses.
As you learn their strengths, you will be able to prepare counter-strategies, and as you learn their weaknesses, you will be able to find an opportunity to outperform them. A recent study shows that 89% of customers will jump to a rival brand if they have a bad experience. So focus on creating a simple solution to your competitors' shortfalls, and market them as a key aspect of your OnlyFans agency.
4. Make A Budget For Your OnlyFans Agency
Starting an OnlyFans agency is not an easy task. You need to have a sufficient budget that will back your agency, even if you face a loss for several months in the beginning.

In addition, budgeting your OnlyFans agency at its inception helps you make more strategic decisions, such as gathering additional resources or cutting unnecessary expenses. So once you're done researching your competitors, draft a complete budget plan that gives an overall estimate of your income and expenses for a period.
5. Decide On The Services You Offer
As we mentioned above, there are currently three types of OnlyFans agencies. Depending on your funding and resources, your OnlyFans agency can be a management agency, marketing agency, or both.
Once you are set on a path, determine what sub-services you can provide your customers. For instance, say that you choose to start your OnlyFans agency as a marketing agency. You need to decide whether you can offer both organic and paid marketing services or just organic marketing.
6. Set Your Commission Rate
Once you decide on your services, you need to figure out how much commission you're going to charge your customers. Most of the OnlyFans agencies have set their commission rate at 20-50 %.
Your commission rate should be based on the number of services you can provide to your clients. For example, if you manage and market OnlyFans models, then you can consider making your commission rate 30% or higher.
7. Pick a Location For Your OnlyFans Agency
One of the most important things you need to do is to pick a location for your OnlyFans agency. The location of your agency influences the taxes, revenue and other legal requirements.
You can rent an office space for your OnlyFans agency if you want to start big, but if you're just testing the waters or don't plan on hiring any employees, you can use part of your house as your office.
How To Start An OnlyFans Agency?
So, this is it – here is where we will be taking you through how to start an OnlyFans agency. We have also explained the process with some practical examples in this step by step guide to make it easier for you to understand.
1. Register Your OnlyFans Agency
Before registering your OnlyFans agency, pick a name that reflects your brand and mirrors your spirit. Just make sure that your agency name isn't used by anyone else.
Once you select a name for your OnlyFans agency, register it legally to protect your brand. You have to register your agency under the federal government and sometimes the state government too.
If you're going to operate your agency under a name different from your legal name, then ensure to file a DBA. For example, "Andy's Modeling Agency" is a legal name, and "Andy's Models" is a DBA.
2. Apply for Permits & License
After registering your OnlyFans agency, you'll need to apply for an EIN (Employee Identification Number). If your agency is registered under sole proprietorship, then EIN is not necessary as you're the only employee of your agency. But if you register your agency as an LLC or other corporate entity, then you should get an EIN.
Other legal requirements are based on your jurisdiction, so make sure you check with your local government office.
3. Create a Website & Social Channels For Your OnlyFans Agency
A website is the face of your OnlyFans agency. Anyone in the world should access it through a smartphone or a computer. So hire a developer and create your own website that is easy to use, robust and functional.
Similarly, you need to create social media accounts on various platforms such as Twitter, Instagram, TikTok, and Instagram. You can also consider making a YouTube channel that talks about current trends and tips & tricks of OnlyFans, as it adds value to your audience and also a better marketing strategy.
Remember that you name every social media account of your OnlyFans agency with the same brand name. It helps you protect your brand from scammers who attempt to pretend to be you online.
4. Start Hiring Models
In order to expand your OnlyFans management agency beyond your local area, you must show that you can deliver on what you promise.
For starters, invest in OnlyFans models with very few followers and subscribers, and work on them until you improve their fan following and earnings. But remember, the models you choose should be aspirational and have sufficient knowledge about OnlyFans content creation.
Once you obtain good results from those models, make them into a portfolio for your OnlyFans management agency, so you can entice popular OnlyFans models to work with you.
5. Outsource The Work
Starting an OnlyFans management or marketing agency can be daunting as it involves a truckload of work, from social media marketing to replying to hundreds of private DMs.
While the work may seem daunting, we recommend you work alone in the beginning instead of hiring employees. This will save you money, help you understand the groundwork in-depth, and give you experience dealing with models.
But once your OnlyFans agency has picked up the pace and got many clients on board, you can start outsourcing your work online or directly hire staff for your agency.
6. Market Your OnlyFans Agency
The final step is to promote your OnlyFans agency so that you can recruit more OnlyFans models under your agency and make more money. For starters, you can market your OnlyFans management or marketing agency on social media platforms and relevant online forums and threads.
For example, Reddit is one of the best places to market your OnlyFans agency, as it is filled with people who sell content on OnlyFans. But you shouldn't directly pitch your services on their DMs.
Instead, you create quality content that answers the current challenges of OnlyFans models and post them on relevant subreddits. At the end of the post, you can link your OnlyFans agency and direct your readers to your website. Nevertheless, do not overdo or spam your links since this can result in being banned.
In addition, work on your website's SEO to make it better for search engines like Google. To make your OnlyFans agency appear on the first page of Google search results, you need to focus on adding relevant keywords on title, URLs, description, and headers of your website.
Also, consider creating high-quality articles that are relevant to your niche and upload them on your website regularly. Analyze the current trends, challenges and needs of OnlyFans creators and write about them. This tactic makes your website rank on the first page of Google in hundreds of keywords.
Now that we've learned how to start an OnlyFans agency let's look at how much money you can make from it.
How Much Can You Make From Your OnlyFans Agency?
You make money from your OnlyFans agency solely based on the commission rate you've set.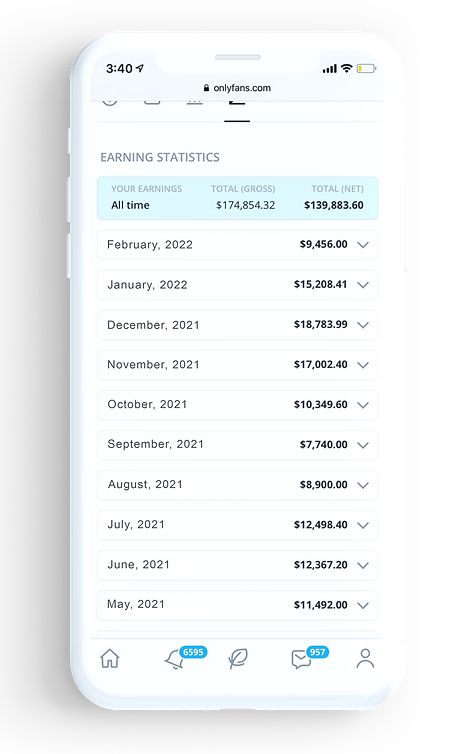 Let's say you've set a 30% commission rate for your OnlyFans agency and have 25 models. On average, an OnlyFans model with a good fan base earns from $5000 to $100,000 per month, and if we consider the models of your agency earning at least $15,000 per month, you can make $112,500 each month with a 30% commission.
Simply put, your OnlyFans agency can make over $100,000 monthly without fail, and if you plan to work solo, you can make around $50,000 or more.
Conclusion
Once you start your OnlyFans agency, you will come in contact with thousands of models who will be willing to work with you. When that happens, you can take your business to the next level by building your own OnlyFans website or application.
Building an OnlyFans clone from scratch may seem like the right option, but we can confidently say it is not. Because it is not cost-effective (may cost you more than $30K) or time-saving (may take 6-8 months) compared to purchasing a ready-made OnlyFans clone script. So we suggest you go for the latter.
Using an OnlyFans clone script like xFans by Adent.io, you can build your own OnlyFans site for all the models you manage and go live within a few days. All you need to do is get a domain and adult hosting service, and you're set to launch your own OnlyFans website.
So with that, we can end our article on how to start an OnlyFans agency. If you have any queries regarding starting an OnlyFans agency, please let us know in the comments.
FAQ on Starting an OnlyFans Agency
1. What is the best business structure for an OnlyFans agency?
Among the several business structures, starting your OnlyFans agency as an LLC (Limited Liability Corporation) is ideal. As an LLC, you are not required to pay corporate taxes; you pay only personal income taxes on any profits. Also, your personal assets can be protected from lawsuits and business debts.
2. How long does it take to start an OnlyFans agency?
You can start an OnlyFans agency within 48-72 hours – if you can outsource a website builder who can build your website within 24 hours, and you have laid out a clear business plan and services that you can provide.
3. How much does it cost to start an OnlyFans Agency?
The bare minimum you need to start an OnlyFans agency is just $15 (for website) as marketing and hiring models can be done for free using your smartphone.
However, if you want your OnlyFans agency to be as professional as possible with the best website, talented chatters and a creative team working 24×7 for you, then you will at least need to invest 500 to 1000 dollars to make $5000 a month.
You can watch this video from Cairo Chong where he reveals the initial costs of starting a OnlyFans agency and why you should invest. Check it out!