-

6

mins read
Are you looking to make money from your OnlyFans clone? We are sure you've heard of people opening up their own adult content marketplaces and making six to seven figures every year.
Even though these adult marketplaces had been doing well, their business skyrocketed after OnlyFans announced it was banning adult content in 2021. Many adult creators from OnlyFans migrated to its alternatives to continue earning money.
Fansly, for example, registered around 4000 creators every hour in the first few days after the announcement, and now it's seeing more than 28 million monthly visits. This scenario happened on most of OnlyFans' alternatives and made their business increase dramatically.  
There is a possibility that OnlyFans may ban adult content again in the future, so you may be able to capitalize on that opportunity to become one of the top OnlyFans alternatives. Therefore, knowing how to make money from OnlyFans is vital to your success. 
In this article, we'll walk you through 10 effective ways to earn money from OnlyFans clones and also provide an easy method to create a website like OnlyFans. With that said, let's get started.
1. Subscription Membership
Subscription memberships are obviously the primary revenue source for the website like OnlyFans. Content creators produce content they're passionate about, and fans pay subscription fees to access their content. 
You can take a commission cut from the creator's profits as a platform. For example, OnlyFans and Fansly take a cut of 20% from their creator's earnings from subscriptions.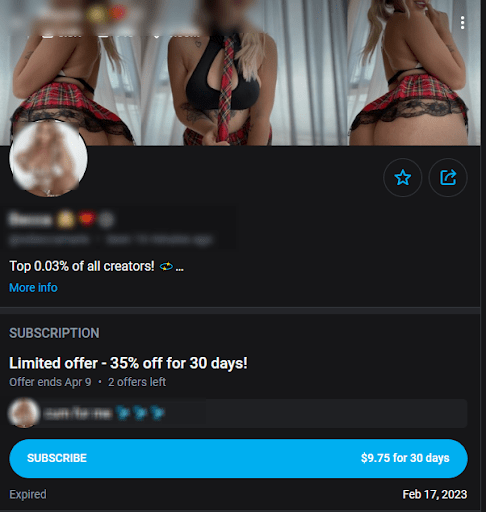 The subscription model works well for the OnlyFans clone because fans need to access their favorite model's pics, clips, private chat, and live streams regularly. This subscription-based revenue model helps the platform to generate recurring income. 
Regarding the price of subscriptions, as an admin, you can decide what price you want to set. You can also set the default commission cut from subscription earnings for the models.
There are two types of subscription models you can choose to integrate on your website like OnlyFans, they are:
Monthly Subscription
In a monthly subscription, you enable your subscribers to access a model's content for one month. This is a recurring subscription model where subscribers are charged automatically at the end of 30 days from the date of purchase.
Yearly Subscription
Your users will likely subscribe for a full year if you provide high-quality content created by talented and tantalizing models. This subscription model benefits you much, as it gives predictable revenue annually. 
Furthermore, try to give a discount on yearly subscriptions as it attracts users and makes them subscribe. 
2. PPV Content
Pay-per-view, or PPV, is a revenue model which enables users to pay to watch selected content. Usually, PPV content is regarded as exclusive and can offer more than what users leverage from monthly/yearly subscriptions. 
Your OnlyFans clone users don't need to pay for subscriptions to access PPV content. Instead, by going directly to the model's page, viewers can search for paid content and pay on the spot to watch.
You should set the right price for PPV content according to the quality and exclusivity of the content. Apart from that, the price difference between subscriptions and paid content should be minimal. 
For example, if you sell a PPV video for $200 but you charge only $20/month for a subscription, users will not purchase your paid content. So make sure to set the right price.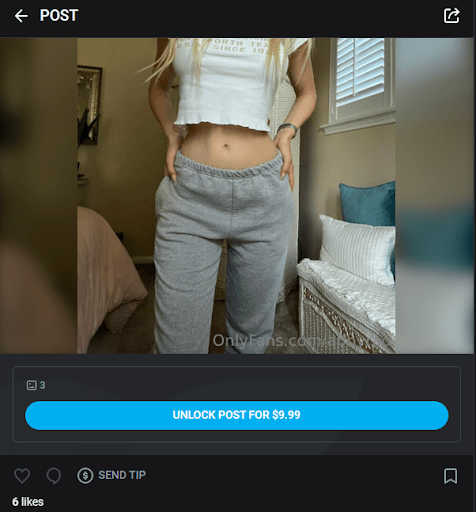 3. Private Chat
Private chat is one of the easiest ways to monetize your OnlyFans clone. Instead of public messages, users often want to connect and communicate with the model they like in private.  
You can charge users on a per-minute basis to chat privately with the model. This premium messaging revenue model can be implemented using in-site currencies like tokens, credits, or a website wallet.
Setting a time limit for a user to PM a model is essential. For example, if you set a 0-15 minute time limit for private chats, the models can manage and engage with users. 
4. Sell Brand Merchandise 
In addition to subscriptions, OnlyFans' business model also contains an e-commerce store. So, as an OnlyFans clone, you can consider generating revenue by selling your brand merchandise. 
There are two types of products you can sell; they are:
Physical products 

Digital products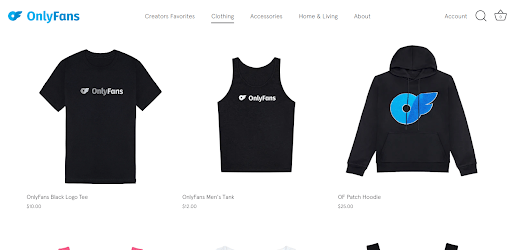 Branded clothes, bandanas, books, accessories like bags, hats, keychains, and more can be sold as physical products. For digital products, you can sell pictures and DVDs that don't go against any piracy and copyright laws. 
Find out what are the pain points of your customers and conduct keyword research on the products you wish to sell. Analyze your target audience and track down their behavioral trends before you invest in producing your own branded items. To increase sales, you can market your products on social media apps like Twitter, Reddit, and Instagram. 
5. Affiliate Marketing
Affiliate marketing can create 24×7 passive income for an OnlyFans clone. The key to earning from affiliate marketing is to work productively on your clone site. Here are some adult affiliate networks for your consideration: 
Whether you have good traffic or not, you can join an adult affiliate program. Keep in mind, however, that your overall earnings from affiliate marketing depend on the number of visitors you get. So the more visitors you have, the more you earn.
You have to place the affiliate links as strategically as possible. Make use of the top of the site to promote the affiliate links/ads and also ensure to utilize banners, floating bars, and widgets.
6. Live Streaming
If you want your OnlyFans clone to stand out as a brand and earn more money, then integrate live streaming into the website. The Live streaming revenue model is productive and lucrative as it directly connects users with their favorite creators.
As well as building a community where everyone can interact, live streaming allows fans to tip their creators directly. You can make the live stream available to all your subscribers or charge a separate fee for joining. 
This revenue stream has proven to be successful in sales conversion. You can easily integrate promotional offers through creators and convert your users into customers on the spot. 
7. Tips
Tips or donations are basically one-way exchanges between a fan and their creator. If the content entertains a fan, they can show their support by tipping.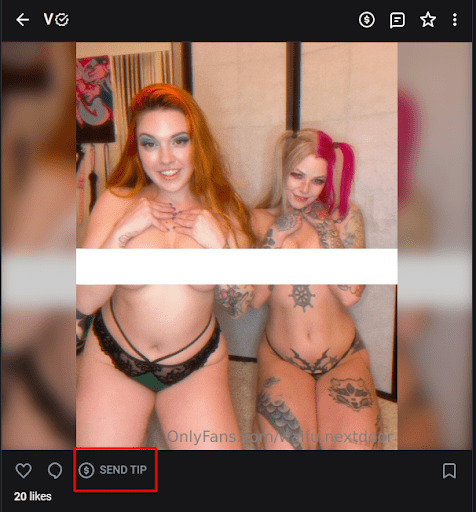 But your OnlyFans clone should have high-quality content performed by talented creators. Once this has been achieved, making money from tipping will bring more profits. You can give several options to your users for tipping, such as the model's profile, under every content, private chats, live chats, and more. 
8. Private Shows
Private shows are a great option for fans who want to communicate with models. They can get the undistracted attention of the model and can interact more intimately. If you offer such an opportunity, fans will be willing to pay whatever you ask for.
Private shows are usually priced in site currencies, such as tokens and credits, rather than in dollars. Furthermore, users will be charged on a minute basis, so if they want to enjoy the whole show of a model, which may last 30-40 minutes, they'll likely purchase tokens/credits in bulk. 
9. Ad Space
Another way of making money from the OnlyFans clone is to sell your ad space. So rather than relying on affiliate networks, we suggest directly selling your ad space to advertisers so that all the earnings are yours.
Selling ad space directly to advertisers helps you establish relationships with adult brands or businesses. You can source potential advertisers on the internet and negotiate terms and prices. Ad spaces can be priced according to your preference, and you can make your own decisions.
But if you don't have time and energy, you can always choose to work with adult ad networks. 
10. Custom Request
Do you know what the profitable way to make money on OnlyFans Clone is? It's the custom request feature. This feature allows users to request content of their preference from creators.
One of the OnlyFans-like websites, ManyVids, has incorporated a custom request feature on their platform. Here, the users can submit custom content requests on the model's service page. For every successful custom content purchase, the model gets an 80% payout, and the remaining 20% goes to the platform.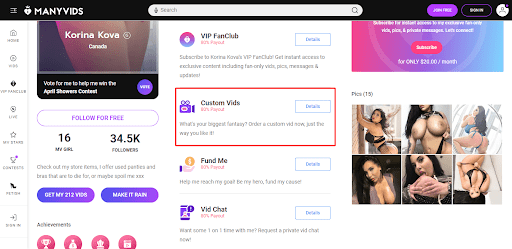 Currently, people stop watching adult content that seems staged and artificial because they do not find it appealing. In simple words, the OnlyFans clone target audience prefers to be able to request their creators to act on their fantasies and fetishes.
As such, if you can provide a space where users can request their fantasies discreetly, you can expect them to flock to your site to use custom content.
Wrapping Up
The adult content marketplace is a highly profitable business model – if things are done right. Your income depends on your clone site traffic. And the traffic can only be obtained when you provide quality content. So promote your OnlyFans clone in all the best places like Twitter, Reddit, adult forums, porn conventions, etc. 
However, if you haven't started your OnlyFans clone website and are looking for the easiest way, use a readymade OnlyFans clone script rather than building from scratch. This method is cost-effective and lets your site go online in a couple of days.
 xFans by Adent.io is a highly scalable OnlyFans clone script made up of robust tech stacks that help you build a website like OnlyFans clone site at just $1499. Once you customize xFans, you can generate income in addition to the methods listed above, like the Wheel of Fortune, Wheel of Pleasure, and more. 
So contact Adent's support team right away, build your OnlyFans clone, and start making money.
That's it! Thanks for reading our article on how to make money from OnlyFans clone. If the article is interesting, please leave a comment below!