-

8

mins read
If you've been wondering about how to become an escort professional, then you've come to the right place. Becoming an escort requires a lot of thinking and preparation from your side to be sure about it. The escort services business is booming nowadays, making it one of the sought-after adult businesses.
Escorting has become a popular adult business, and many women and men want to get into this business to make money. But the information available regarding being an escort is very less, which is why we thought of penning down everything regarding how to become a high-end escort. So let's begin.
What is an escort?
Before we get into the details, it is very important to understand what exactly being an escort means. An escort is someone who becomes a professional companion and caters to men or women who are looking for intimacy, mental stimulation, and psychological support. When we say escort, usually people think of female escorts, which is right in a sense, but there are male escorts too who provide their services to women customers.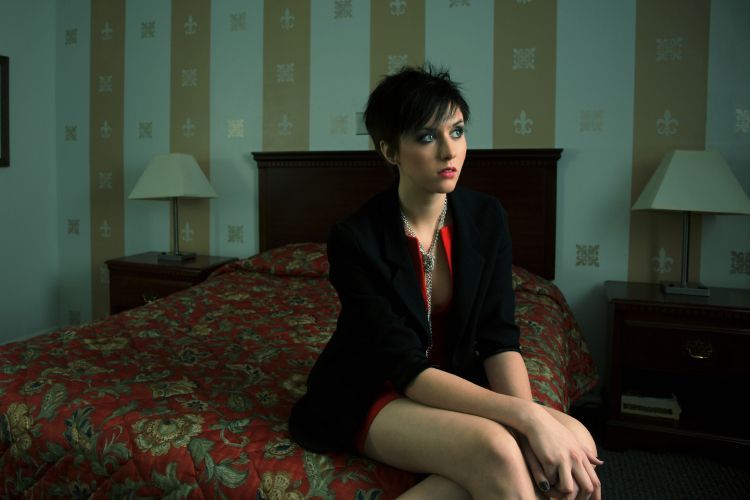 Escorts services include selling your time and attention and providing entertainment to your client. Most of the escorting jobs do lead to sexual company too, but it legally includes only providing social company, going to events, and providing the girlfriend experience. Many people think that escorting is the same as prostitution, which is wrong. We will see the difference between them later in the article.
Is escorting legal?
This is a very open question, as the definition of an escort differs in countries and states. For example, California allows escorting and terms it legal, but escorts need to have a license to pursue escorting. As per law, an escort can only be a companion to clients for events or provide entertainment in exchange for money.
But if an escort engages in sexual acts or offers sexual favors to clients, then they can be criminally charged for soliciting prostitution. So it is advised to check in your area of operation if escorting is legal before you become an escort. Some countries where escorting is legal are some parts of the US, the UK, and Australia, but please check the laws carefully before deciding.
Difference between prostitution and escorting
Although people have a general perception that prostitution and escorting are the same things, they differ in many ways. Escorts are not glorified prostitutes, as many people think. Prostitution consists of selling sexual favors in return for money, while escorting is selling your time and company to the clients, which doesn't necessarily involve sex.
Yes, there are many escorts, who under cover of escorting, do prostitution, which is why people think both are more or less the same. In fact, prostitution is banned in many countries and states, while escorting is legal in many countries. Escorting might or might not lead to sex, but that doesn't mean it's the same as prostitution.
Things you need to have to become an escort
Before you start on your journey of becoming an escort professional, there are a few things that you should know and have in you to become successful. Escorting is a very showbiz kind of business where looks play a major role in deciding your career as an escort. Here are a few things that are necessary before you become an escort.
1. Legal age
Check in your country of operation and see if you fit the legal age requirement to get into escorting services. Being underage and escorting can land you as well as your agency in big trouble.
2. Be open to sexual activity
Although not necessarily but most of the time, escort services can lead to giving sexual favors to clients. So you need to be ready and prepared for it. If you're not comfortable having sex with clients, then you need to make it very clear at the start of your deal.
3. Don't think of escorting as a side career
Escorting can be a serious business venture for you if you take it seriously. Don't treat it as a side hustle like selling nudes. There is a lot of money to be made in the escort business as escorts offer much more than sex to clients. If you're regular and join an escort agency, then you can take it up as a full-time career option and make good money.
4. Care for your body and looks
Your body and your looks are everything in the escort business. Whether you're a female escort or a male escort, good looks play a major role in deciding how much money you'll make. You don't need to necessarily be of a specific type like a blonde or size zero; you just need to maintain a good figure or physique and take good care of your looks and body.
👉Make extra money by selling boob pictures
5. Learn from other escorts
The escort business is very vast, and there is no harm in learning from other successful escorts. Building a healthy relationship with other escorts and agencies can also help you land new clients from recommendations by your friends and colleagues.
6. Escorting can be stressful sometimes
It's not always that you'll find clients who are just looking for a companion or a sex buddy. Many times you'll find clients who are looking for emotional intimacy and a shoulder to cry on. Such times can get physically and mentally draining, so it is important to take care of your mental and physical health at all times.
7. Be aware of the competition
It is always advisable to be aware of what your competitors are doing and how they're getting clients. You need to be on top of your game in order to have a successful escort career. Check other agencies and their policies and try to implement the good parts in your business to help keep you floating above your competition.
8. Keep your mind and heart separate
In this line of business, many times, you'll find clients falling in love and becoming emotional and buying expensive gifts to woo you. Remember to always keep your heart locked in a safe place and only use your mind in your interactions with clients. Be professional in your interactions with clients and always keep it within limits.
Types of escorts
Escorts can be classified based on how they operate. There are high end escorts who cater only to rich clients and demand a lot of money, while others aren't that choosy and provide their escort services to other financial groups of clients too. Let's take a look at some of the categories that escorts can be put into.
Outcall escorts vs Incall escorts
Outcall escorts are those who take bookings of clients and visit the clients at a place they ask them to. It can be a hotel meeting or the client's home; the location of the meeting is chosen by the clients. Sometimes clients can ask escorts to accompany them to another state for a holiday too.
Incall escorts are those where the escort decides the meeting place with a client. Incall escorts usually have a secret incall location where they invite clients to spend time with them. Having a secret location for incall escorts is important because many clients don't want to be seen in the open with escorts, and also, it is safer for the escort.
Agency vs Independent
As an escort you have 2 options for how to become an escort. You can either choose to go independent and build your own escort brand, or you can join one of the escort agencies where they'll get clients for you and take a cut in your earnings.
Now an escort agency is a company that maintains an escort directory from which clients can choose their favorable escort. Escort agencies have a lot of escorts listed on its website and already have a name in the market. Escorts can choose to work for any escort agency they like after getting selected and following the rules and regulations of the agency.
On the other hand, being an independent escort gives you the freedom to choose your clients and also keep 100% of the earnings that you make from any client. Although, as an independent escort professional, you don't need to follow any agency rules, you'll have to work harder to make a brand name for yourself.
How to become a escort?
Now we come to the part where we will tell you how to become a high end escort. As mentioned before, you have 2 options to choose to have a career as an escort. Let's discuss them in brief.
Join an escort agency
An escort agency is a business that lists escorts on their escort website. Models can apply with various escort agencies to get listed on their escort directory. Escort agencies come with a reputation in the market that helps escorts to find regular clients. They also provide security to the escorts by doing a background check on the clients before sending their escorts with the clients.
Such escort agencies take a commission on the earnings they make from the client in return for the services they provide. They even help escorts by marketing and promoting their profile for higher chances of getting more clients. For all the services provided by the escort agency, they take a commission from the earnings made by escorts. Here are some notable features of joining an escort agency for escorts.
Easy to get clients.

Escort agencies have a reputation and name.

They offer protection to their escorts.

Escorts pay a commission to the agency.

Agencies market and promote escort profiles.
Create your own escort agency using xScorts
Escort agencies get more clients as they get more visibility and easily make a reputation in the market. If you're an escort who knows a few other escorts and wants to start an escort business of your own, then the best solution for your needs is xScorts. Using xScorts, you can build your escort booking and management site within a few hours.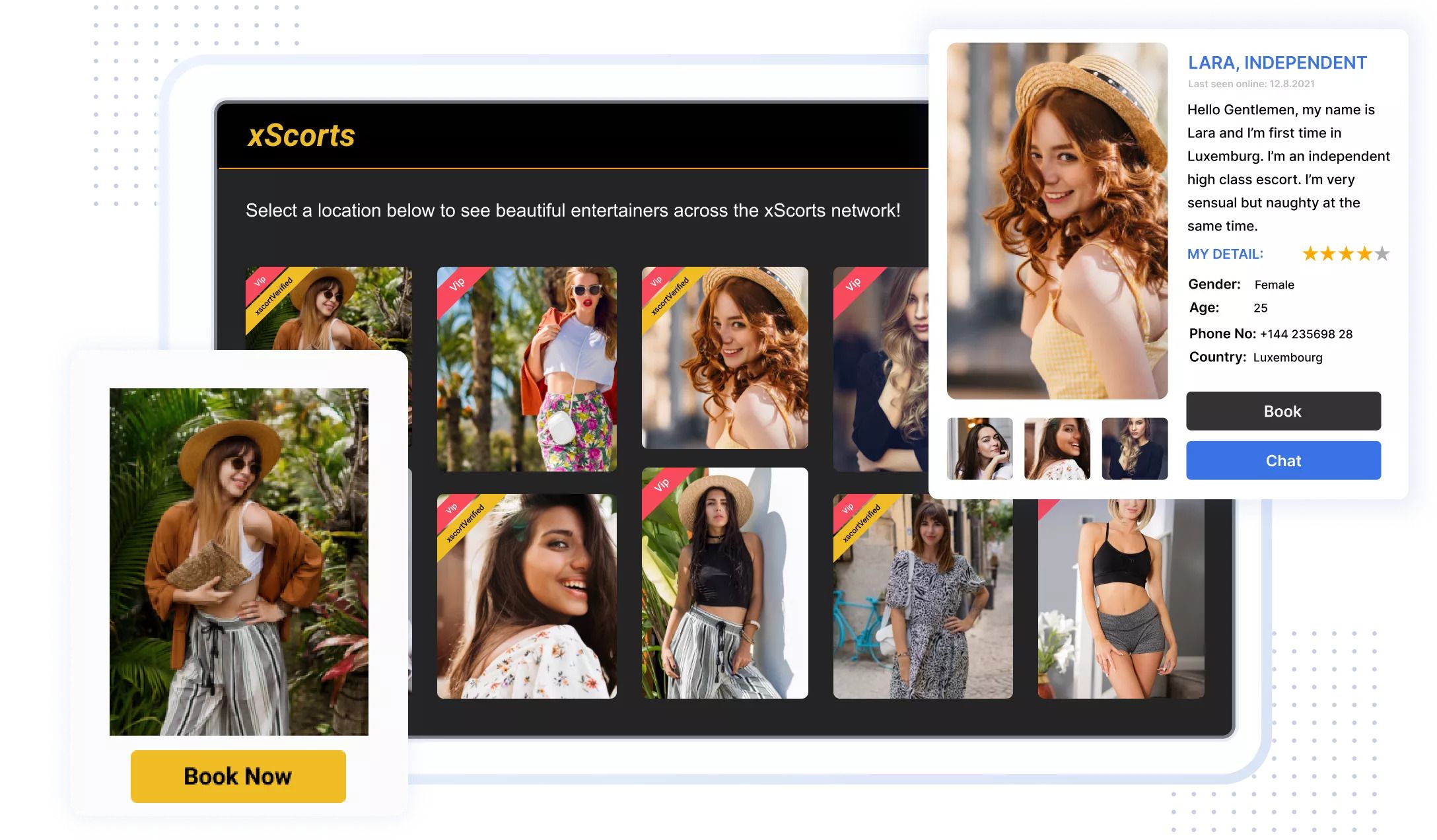 It is fast, easy to use, and comes with lucrative monetization options. You can bring your own network of  escorts or have other independent escorts join your site by paying a fee to list their ads on your website. You can make money through basic subscriptions, premium subscriptions(more visibility for escorts), and affiliate marketing on your website.
Be an independent escort
The other option for escorts is to become an independent elite escort and start solo to become an escort professional. Starting solo means you have to build your own brand, name and reputation and get clients for yourself. There will be no security provided by any agency, and you'll have to do your own background check on clients.
But there are many advantages of starting solo, too, like you have complete freedom of choosing your clients and don't have to follow any rules made by an agency. And above everything, you get to keep 100% of your earnings and don't have to pay commission to anyone. Here are some of the features of becoming a solo escort professional.
100% ownership of your earnings.

Freedom to choose your clients.

Not restricted by agency rules.

More hard work needed to build your brand.
Create your own escort brand using xModel
You can start your escort journey by building an independent site for your escort brand. Readymade scripts like xModel are great for creating your own escort website as it provides multiple monetization ways to help you earn money.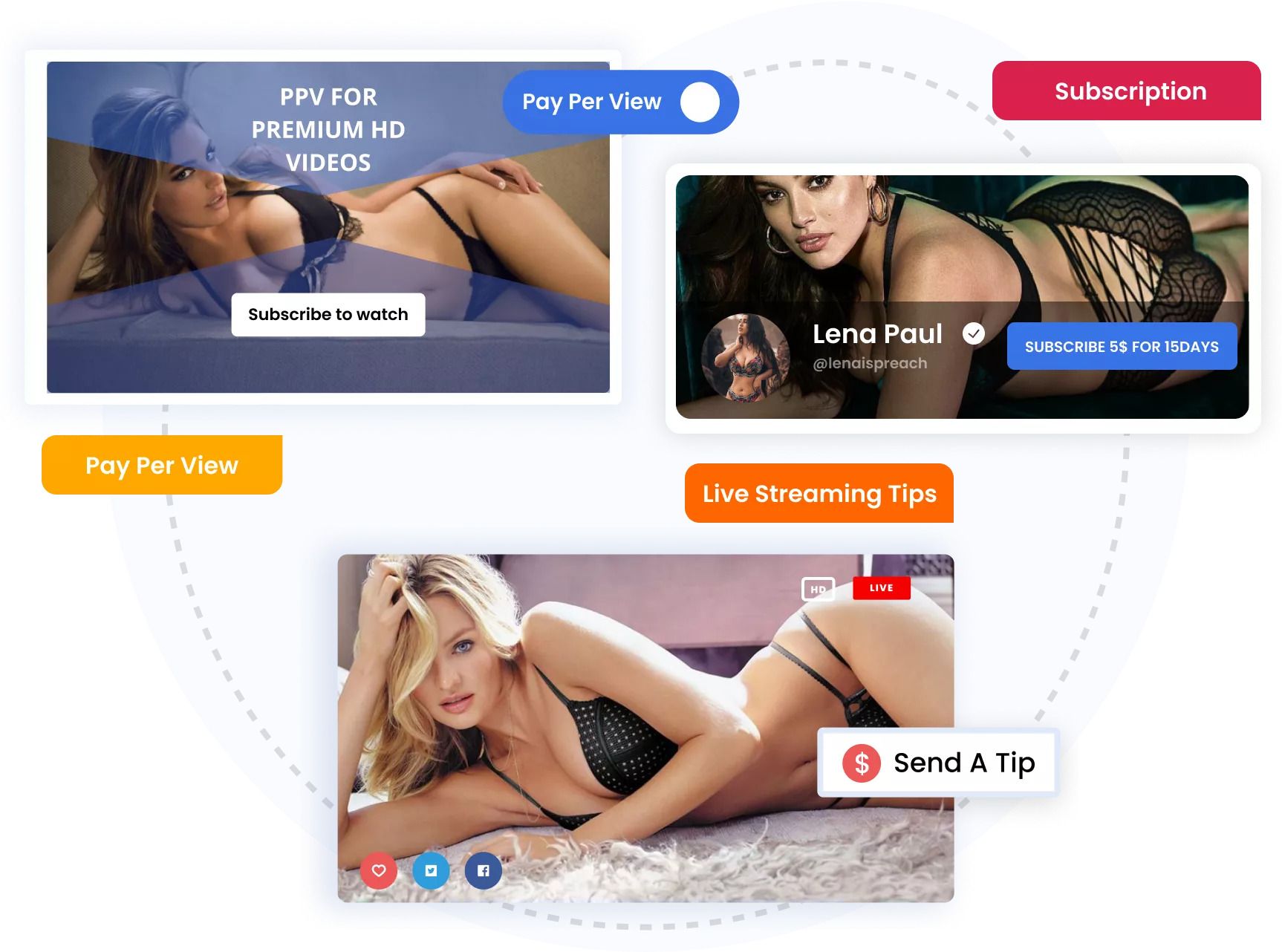 Escorts can sell their escort services along with subscriptions, paid live-streaming, selling premium content, selling products like selling used panties from the integrated eCommerce store, and much more. If you want to start your escort career as an independent elite escort, then xModel will help you build your brand and mint money from your own website.
Do's and Don'ts for Escorts
Here are a few things that every high end escort should remember to do and things that they shouldn't do.
Do's
Maintain anonymity and privacy.

Take payment in advance.

Clearly state the terms & conditions to clients.

Do background checks on clients.

Arrange own transportation for meeting locations.

Always let someone know which location you are going to.
Don'ts
Never reveal home address, personal phone number, or any other personal details.

Do not discuss sex over the phone with clients.

Don't carry too much cash for meetings.

Leave if you see more people than only the client.

Don't agree to meetings in doubtful areas.

Don't take payments through cards or online transactions.
Conclusion
So with this, we come to the end of this article on how to become an escort. Being an escort can be a stressful job as there is a stigma attached to it, but if you can maintain anonymity, then being a high end escort can be really profitable and help you make good money. The adult industry provides a lot of other opportunities, too, to make money other than escorting, like becoming a cam model, becoming a fetish model, and so on. To start a career in any of the verticals in the adult industry, you can check out adent.io, which has a product for all of your needs.