-

10

mins read
An industry that tracks its roots back to world-war 2 is fighting for its survival today. I wouldn't say it's due to COVID-19 pandemic, but more due to stubbornness towards technology, and their outdated modus operandi.
If you are wondering how to open a strip club for profits, they operate just like shopping malls. The strippers in a club are not necessarily hired under the club's contract. They pay rent (commission) for working at a club. Whatever a dancer makes, she pays a part of it to the club as rent/commission.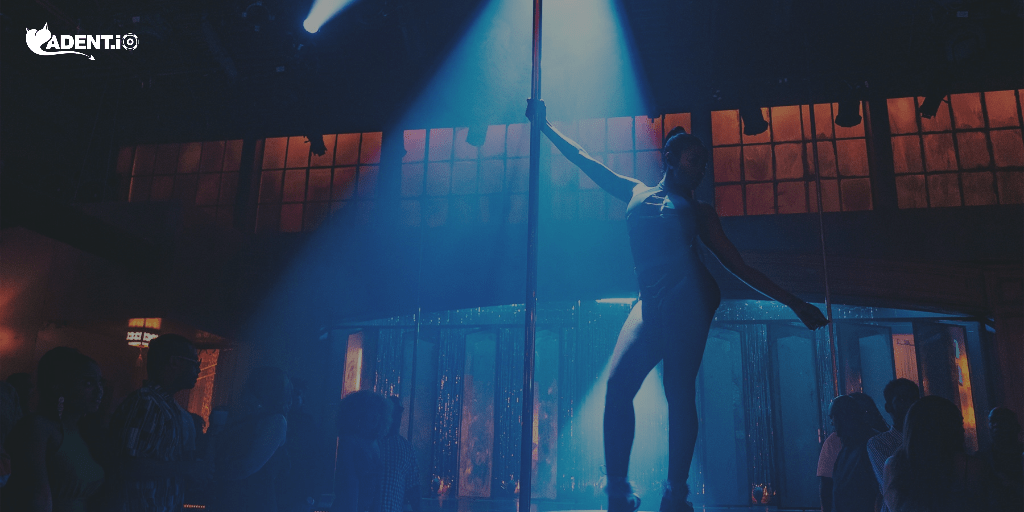 Strip clubs focus on having as many strippers in the house at a given time. The more strippers in the house, the more money they make, and the more commission they get from the strippers. Some clubs also charge an entrance fee, which may be a pay-per-visit fee or visitors may purchase a monthly or annual membership, too.
Besides, almost everyone from dancers to bouncers, managers, servers, and even cab-drivers get tips from the visitors. It's not uncommon for them to share their tips with the club.
Does it sound familiar to something on the internet? Yes, I am talking about adult webcam sites. The websites that show live strip shows via webcam.
That's a point of discussion for later in this blog. For now, let's just keep in mind that webcam live streaming is the next big thing and is probably stealing away customers from the adult strip clubs.
Seemingly, a coordinated resistance by strip clubs towards modern technologies is making them weak on so many fronts. Strip clubs really need higher technology to generate higher revenue and counter the losses due to changing time and changing customer behaviors.
Strip Clubs in USA
You can mainly find two types of strip clubs: Traditional Strip clubs with the old-style business model like any other European strip club; American Style strip clubs with overhauled optics, cocktail lounges, and food; we also call them gentlemen clubs.
There are more than 4,000 adult strip clubs of both categories in the US, out of which, chains like RCI Hospitality Holdings boasts of most of the popular names such as Rick's in New York and Scarlett's in Miami. However, even these big names have reported a dip in their stock by more than 10 percent. Experts believe that the same will not improve until the strip club's industry does not adapt.
Top Strip Clubs in USA
The top five best strip clubs in USA are:
Vivid Cabaret: New York

Scores: New York

4Play: Los Angeles

Cheetah: Los Angeles

Sapphire: Las Vegas
Strip Club Business Profit
Overall, strip clubs in the US are parts of an $8.1 Billion industry. Between 2012-2020, the strip-clubs market-size in the US grew with a CAGR of 4.9 percent, which fell to 2.1 percent (1.9 according to some other sources) in 2020 due to COVID-19. In fact, the same may fall to 1.7 percent by 2023 now.
Irrespective of what the stats say, the strip club business model is still a highly profitable undertaking. An average strip club with a decent optics makes tons of money every night. Just check out the Huston-based, Vivid Gentlemen's club's advice about the budget for a night.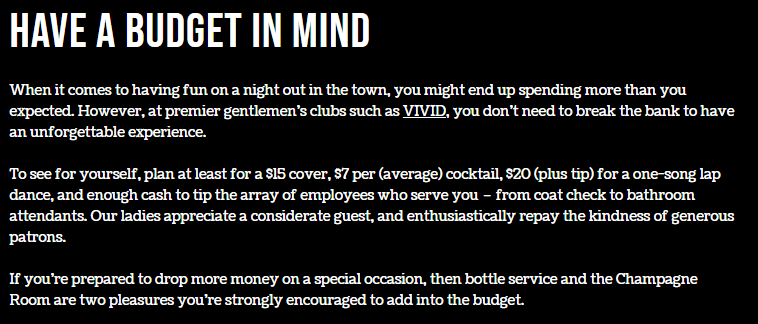 These are actual luxuries. Customers visiting these clubs spend tons of money on drinks, food, entrance fee, and tips to everyone.
The strip club business model, even if it's ancient, is still profitable. It's because no technology can replace the in-house experience and carefree night outs. Check out this comment I read on a blog that compared modern tech solutions with actual strip clubs, I couldn't have agreed more with this comment:

Strip clubs are not just naked babes dancing on the stage. It's an experience that only an actual visit can provide; even the best of the VR and AR technologies cannot replace it.
Strip Clubs Need Higher Technology to Make More Money
American style strip clubs thrived in the mid-90s. Since then there has been hardly a shift into their legacy models. The biggest variations have been on aesthetics. The strip clubs tried to overhaul their shady reputation by upscaling onto gentlemen club models, which were nothing but mere optics that introduced high-class athletics, such as cocktail lounges.
Technology-wise, be traditional clubs or American-style gentlemen clubs, all have stayed the same. It's comprehensible that strip clubs do not allow patrons to use cameras for a good reason, but can it really be a reason to shy away from tech at all?
Social media, which has proven to be an eminent marketing strategy for both adult and non-adult businesses (be online or brick and mortar), is yet to find its way into adult strip clubs. Many clubs do not use social media at all.
What if it's not about comparing strip club and technology? Instead, technology may provide an augmentation of the same experience, or it can give an alternative to earn even from those who would not visit the clubs.
The club owners may think, "if it's not broken, there is no need to fix it", but what if it requires an upgrade?
The generation that loved strip clubs are retiring, and the millennials seem to be not into the strip clubs at all. Millennials are shying away, pushing the industry on the verge of an eventual breakdown. The younger generations, due to many reasons and shifts in the cultural traits, are not into strip clubs.
Even the companies that would provide sponsored visits to their employees are now shying away from strip clubs due to workplace changes. With an average millennial with at least $34,504 of student debt, expecting them to spend on strip clubs seems unreasonable.
How Can xCams Help Strip Clubs With Live Streaming?
It's time for strip clubs to study the modern interests of the millennials and offer them the same. The use of live streaming in the strip clubs is one such idea to attract the millennials. If they are not visiting your club, take your club to them with strip club live streaming.
Strip clubs can introduce online versions of their clubs that stream live shows to people in the comfort of their homes. Many have open strip clubs with this idea after the COVID-19 situation. We built several live webcam sites for many strip clubs, using xCams, during this period.
With a few customizations, the websites allowed the strip clubs to ask their dancers to stream from home, and the members could watch these shows from their own homes. These websites are still operating in full-fledged and making money. The users are purchasing memberships of the online strip clubs and using on-site tokens to tip the strippers online, just an adult webcam site. The club owners are still making money by deducting a portion from their strippers' incomes.
Push it Further with Sneak Peeks into The Club
Even after the end of the pandemic, the clubs can continue to operate in their new model. It is just that having strip club live streaming could be a profitable addition to the existing business model.
It's an opportunity to triple the revenue by adding online members in the list of customers. People who can't visit the club can peek inside a strip club via webcam live streaming. The strippers can take custom requests from online viewers, right from their poles. The online peeks could be sold for cheaper rates, and millennials would be able to afford them without any corporate sponsorship.
In this way, the clubs can profit from modern technology, while also maintaining their regular business model in parallel. If clubs could cease eschewing from modern content delivery and marketing channels, a solution like xCams can prevent them from collapsing by offering ways to attract the millennials into their new revenue streams.
It's no more only about how to make money in a strip club business because they do make money in all cases. Instead, it's more about how to start a strip club with contemporary features. For example, you never know that a simple augmentation via these sneak peeks may encourage your online viewers to visit the club in person, eventually or whenever they are in the town. At the same time, you would be making money from live streams, too.