-

17

mins read
In this article, we are not going to tell you about the profitability of the online sex toy business. As the title suggests, I assume you already are aware of the same, and now you are thinking about the economical ways to start selling. However, before we start, there is this misconception about starting an online sex toy store that we would like to debunk instantly.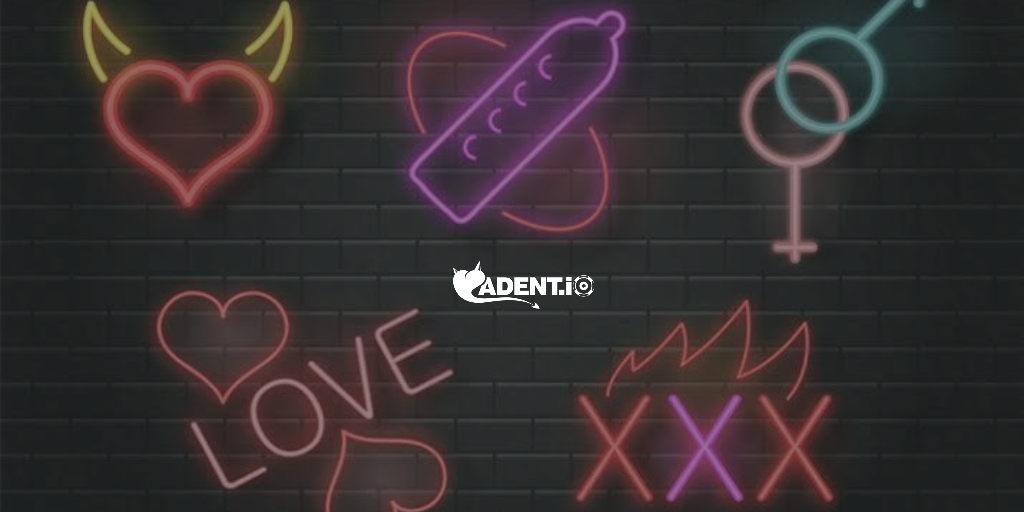 Is starting a sex toy selling business same as general eCommerce?
Many tech companies that offer mainstream business solutions state that 'starting a sex toys business is same as starting a general eCommerce store. We completely disagree with this claim.
For starters, they let you believe that you can use PayPal's solution to sell adult toys, which is only partially correct, that too for the US only businesses. However, it becomes a mesh when your business is not located in the US, or you carry transactions beyond the US boundaries. To be precise, PayPal doesn't allow transactions for sexually-oriented goods and services outside of the US. Here is a screenshot from PayPal's page to prove the same: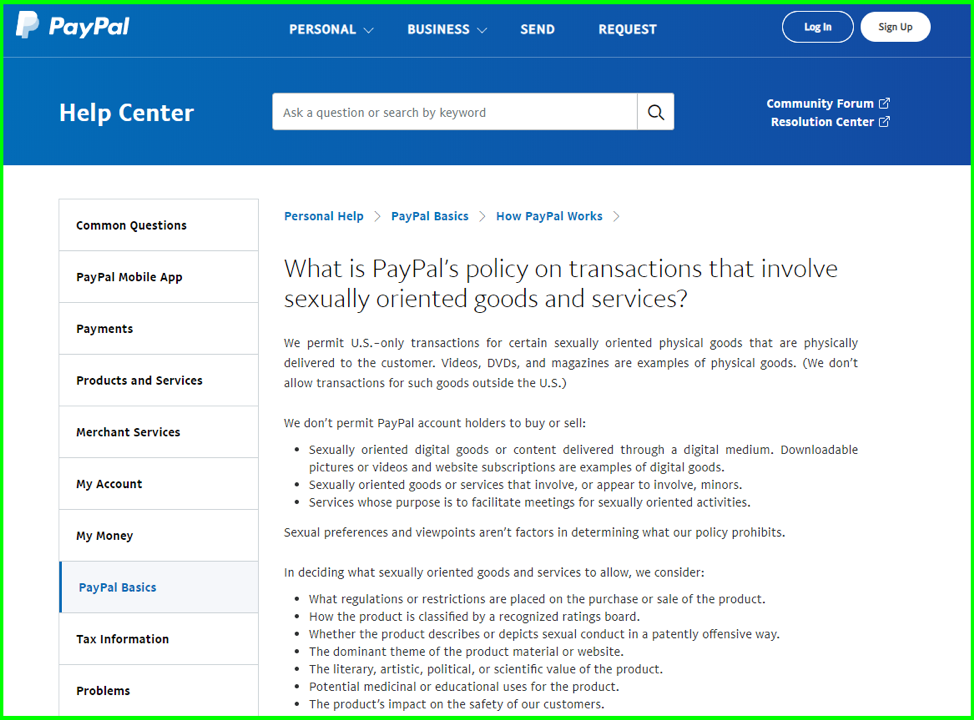 There are various myths and unclear paraphernalia about starting an adult business and starting a general business, which many writers don't even bother clarifying before making a statement. Forget about stuff like adult web hosting, adult SEO, and Adult Ad networks.
Bottom line: The technological aspects of building adult toy websites and building a general eCommerce platform are the same up to a large extent, but when we talk about the business aspects, they are very different. The mainstream solution providers can build you a nice website, but they won't support when PayPal suspends your account, or Digital Ocean takes your website down for violating their Terms and conditions unintentionally.
It's better to rely on the services that assist you in setting up your business, and not just building your site. For instance, with many of our adult-only solutions, we also provide useful APIs integrated that help in business development. For example, sex toys online drop shipping API with our xMarketplace script, adult webcam model supplier API with our webcam modelling website builder script, and many more.
How can you start an online sex toy store a safer way?
Like any general eCommerce business, you have a plethora of options to start with your very own online sex toy business. We will cover everything step-by-step.
O

ur ten-step guide:
1. Analyze the Current Market and Future Prospects
The analysis of the current market includes everything from current sex toys online market, expected growth rate, most selling products, unique products in demand, scope for new kinds of products, scope for innovative business models, best market, suitable tech solutions, available B2B services, market infrastructure, legal compliances, possible profit margins, potential overhead costs, and marketing prospects, to conversion rate optimization.
All these aspects of sex toy business vary with different product ideas and business models. You should be looking for ways to gain the most out of every aspect you can think of. Don't start a business for the current market, think of the market at least 5 years from now. Prepare a business development strategy for the future.
For starters, you might think the inventory-based model might be a perfect way to start an online sex toy store in 2019, but what about the prospects 5 years from now. Are you certain you can stand the cost of managing an inventory? Are you certain your supplier is capable enough to source enough products on time for a longer period?
The same kind of thinking aligns with starting a marketplace-based or dropshipping-based sex toys store as well. Do you think your sellers can commit a stable partnership? Are there enough dropshipping suppliers in the market for your target products? Do you have a plan to deal with the chicken-and-egg problem of marketplace model of eCommerce?
Select a business model with overall prospects for at least 5 years. Calculate the prospects based on all the aspects mentioned above. You will have an idea of where to start.
2. Select a Niche Based on your Market Analysis
Based on the comprehensive analysis, select your profitable niche and commit to it for the rest of the part in business development. Once you know your niche for your online sex toy store, study the business prospects associated with it. Who are your competitors, who are the best B2B service providers, how you can minimize the overhead costs, how you can promote your products, what are the legal compliances, etc? You would finish-off with this part in the first step itself. We have talked about it in a separate point just to stress on the importance of analytics.
3. Select a Supplier (S) Strategically
Whether you are operating in the marketplace model, managing your inventory, or just drop shipping sex toys, you need a supplier (s). Unless you manufacture your sex toys in-house, you need to make sure you select the right kind of supplier for your targeted products. Here is some stuff you should keep in your mind while selecting a supplier for your sex toy business:
Product packaging guidelines: There are certain guidelines and rules that every sex toys online business must follow. For example, discrete packaging. It is a necessary element, which is also a law in some states. Even if there are no laws for discrete packaging in many states and countries, you must follow the same globally to save customers from hesitation. People prefer online sex toy store to physical stores because they want to keep things private. Revealing the same through apparent packaging would only cost you customers. So always, choose a supplier (s) who is ready to obey your product packaging advises.
Dropshipping suppliers: If you are thinking about operating in the dropshipping model of the online sex toy store, you need to focus more on building your brand identity and regulating the product quality. Since suppliers send products directly to the customers, you would not have absolute control over the product quality. Besides, you need suppliers to send products with your company's brand identity on the courier packaging. Hence, choose a supplier willing to send samples to you for inspection, and they should be willing to inflict your branding on the courier packaging as well.
4. Select an Online Store Solution
Since choosing a platform is a long-term commitment, you might find this step quite tricky. You don't switch your platform every day to sell sex toys. Experimenting with different choices would only result in large overhead costs and breakdown. Let's consider each option in detail here:
Option 1: Sell on existing marketplaces
Selling on existing mainstream marketplaces like eBay, Wish, Amazon, or Alibaba seems the most accessible way to sell sex toys. You can simply sign up, create a merchant profile, upload your products, and sell adult toys on the go. It's a good way to start with your online business when you have a limited stock that you manufacture in-house. Of course, you would have to share your revenue with the platforms, but it's doable considering you won't have to deal with shipping and stocking.
However, if you have a unique business with good scope to sell a large number of products, you might not want to share your revenue with anyone. Moreover, you can't sell sex toys online everywhere through mainstream platforms. For instance, Amazon's sex toys categories are active only in a few countries including the US.
In this scenario, starting your adult toy website would be a good idea, where you can have control over your business and design more focused shopping experiences with unique brand identity. If you don't want to depend on third-party businesses to grow your own, go for option 2.
Option 2: Build your own online sex toy store
There are ready-made scripts in the market that can build adult eCommerce websites in a few hours. Based on your requirements and budget you can go with any of them. We would suggest going for open-source and self-hosted scripts as they offer better control over the business.

Our xMarketplace script is one such solution you can consider to build your online sex toy store. It comes with open-source code and you can self-host on a web server of your choice. It's ready-made with integrated adult payment solutions and quick setup.
With just a one-time payment, you can own the source code for good. The best part of being open-source is you can customize the script by your own or hire a skilled developer to perform customizations such as adding a new feature, removing a feature, modifying the UI, integrating an API, etc. Here are some of the unique features of our xMarketplace script to build adult toy websites:
Inventory-based: Upload and sell from your inventory.
Dropshipping-based: You can also sell products from other sellers.
Dropshipping API: get ready to sell with integrated drop shipping API of our wholesaler.
Commission model: Setup and earn from commissions paid by sellers on your website.
E-CMS: Full-fledged eCMS to manage products, categories, listings, users, sellers, orders etc.
Add-ons: Ready-made plugins to extend the features instantly
Multiple revenue channels: Select your revenue channels from available choices:

Dropshipping

Ad-based revenue

Amazon affiliate integration

Subscription-based revenue

Sex toys affiliate programs
5. Select Adult-Friendly Web Host and Payment Solutions
There are N numbers of eCommerce B2B solution providers in the market. However, most of the popular ones are not adult business-friendly. Take stripe or PayPal payment solutions, or GoDaddy, HostGator, and BlueHost web hosting solutions for instance. Though many of these services state that they allow adult businesses to use their service, you can't know their complexities unless you read their terms and condition in detail. We saw, PayPal's at the very beginning of the article itself. That's why relying on adult-friendly B2B partners to sell sex toys would be a safer idea.
Go for high-risk payment processors like CCBill, paymentcloudinc, paynetsecure, paymotile, and eMerchantBroker, etc. they are safe for adult businesses.
Go for

dedicated adult hosting solutions

. They offer convenient ways to host adult website and guaranty safety against all kinds of hurdles associated with adult businesses.
6. Select a Courier and Packaging Partner
Discrete packaging is the soul of any online sex toy store. It helps people to avoid judging eyes and get products delivered from the comfort of home. Whether you are selling on Amazon, own website, or just drop shipping to the customers, you must maintain the discrete packaging standards. Follow the below standards to discretion while selling sex toys:
Don't use adult images on outer courier packaging.

Keep the courier content anonymous from the delivery person.

Don't give any identifiable sex toys indication information on the courier packaging.

If you manufacture sex toys in-house, use discrete packaging while branding as well.

In short, select a courier and packaging partner who is willing to follow these guidelines.
7. Start with Building Your Brand
The best place to build brand identity is social media. Create your presence on popular social media platforms. However, beware and follow the platform guidelines regarding explicit content. Don't just start posting directly without any discretion. You can also use your social profiles to share your blogs, run social media Ads, and educate users about sexual health. In short, use your social media presence as a CSR activity rather than just promoting the products. You can check out the Facebook pages of popular online sex toy store like Lovehoney to get a cue.
8. Optimize for Search Engines
On-page SEO for adult eCommerce stores is as important as any mainstream business. You need to rank up in the search results, and it starts from the website development phase itself. You must ensure that whatever website builder you are using provides ways to optimize for search engines. Options like SEO friendly URL, integrated CMS, Meta content, access to robot.txt file, etc. are some of the most important requirements you should look for in any eCommerce script to build adult toy websites.
Check and fix all broken links, start approaching for high-quality links, optimize the product pages, update category descriptions, get user reviews, etc. to ensure you stay in the good terms with search engines. Avoid all kinds of black-hat SEO tactics; they would just ruin your business.
9. Off-Site SEO and Digital Marketing
Once, everything is set on the pages, proceed with off-site optimization to further improve on the SEO front and bring traffic to the site. You can start blogging, exchange links with other relevant sites, share your blog posts on social media, write Quora answers, Engage on Reddit, participate on forums, write press releases, send emailers, and use web push notifications etc.
Apart from these, you should leverage paid Advertising and promotions to boost traffic, especially in the beginning when SEO doesn't help much. However, be advised that mainstream premium promotion is of no use here. You would need the services from adult Ad networks like Trafficjunky and adult social media like OnlyFans, which run your ads on adult websites only. Traditional marketing is not much of an option for adult toy websites. You may connect with Adult SEO and digital marketing companies as well.
10. Endless Conversion Rate Optimization
Finally, when you are live and everything is inline, you might think that traffic would flow-in and bring sales. However, this is not the case. It's a highly competitive market out there; you can't just rest yet. SEO, digital marketing, or conversion optimization are never-ending requirements. There is a continuous necessity for SEO, promotion, and sales-funnel optimization to sell sex toys online.
Keep looking for ways to enhance the user experiences on your website. Make your site mobile-friendly, Optimize products pages, de-clutter checkout process, launch affiliate programs, send sales notifications, offer discount coupons, run customer loyalty programs; in short, keep looking for the ways to stand out from the competition and gain customers' trusts. That is all you need for starting a sex toys online business in 2019.