-

7

mins read
As a lingerie manufacturer, launching a lingerie line can be an exciting and daunting task. However, as much as creating your line is an important task, promoting it is equally important to ensure its success. 
Almost all of our lives have shifted online since the pandemic, and lingerie marketing has followed suit. Online shopping has become more prevalent than ever, and competition is fierce for those clicks and morning purchases. 
So how do you navigate this digital landscape and effectively promote your lingerie line? It can be overwhelming, but with the right strategies, you can successfully reach your target audience. 
From building an online presence to collaborating with influencers and building your brand, this blog post will provide you with valuable tips and tricks on promoting your lingerie business. So keep reading!
How To Promote Your Lingerie Business: 12 Proven Strategies
Statista projects the lingerie market to reach USD 78.66 billion by 2027. This indicates that starting a lingerie line can be a profitable business but also competitive. 
The only way to make the most of the lingerie market's growth is to promote your brand effectively, which is why we have compiled a list of 12 proven marketing strategies that will help you get there.
1. Start With Setting Goals and Priorities
Knowing where you want your lingerie business to be in the future is crucial to your success. 
While the easy part may be setting your goals to make more sales, expand your business, or create happy customers, it's essential to consider where you want to see your lingerie business in the long term. 
This requires setting goals, and your goals need to have scalable outcomes, that is, objectives. You must define what your success looks like; it can be:
Growth in your sales revenue

Generate more traffic to your online store

Increase brand awareness and engagement
To achieve your goals, you need to reverse-engineer them and set up marketing steps to follow. Key Performance Indicators (KPIs) can be used to quantify measurements that allow you to track your performance over a period effectively. 
When marketing lingeries, for instance, determine the period and set KPI as the number of new sales or return purchases. You should calculate your marketing budget to offer a return on income. 
Focusing on quality traffic and page visits, target an average monthly visitor count. Consider creating a content marketing strategy to deliver value to your customers beyond your branded products.
2. Conduct Research on Your Target Audience
Your marketing plan should never be about your business but about your target audience. 
Market research is a crucial step that should not be overlooked. It helps to identify the market trends and customer needs, giving your lingerie business an understanding of what products and services may attract more customers. 
This information also enables you to match your customers' expectations in your products as well as in your overall lingerie marketing campaign. 
Conducting extensive market research is key to developing a solid foundation for your lingerie promotion ideas. A smart marketing plan should not only focus on one strategy but should encompass all areas. 
Apple Founder, Steve Jobs, emphasized, "Get closer than ever to your customers. So close that you tell them what they need well before they realize it themselves."
Therefore, it is essential to conduct adequate research to develop a marketing plan that addresses customers' needs, preferences, and expectations.
3. Invest in Building a Brand
What name will come into your mind when you think about luxury bras? 🤔
Let me guess…Victoria Secret! 
Your answer can be attributed to the effective marketing Victoria's Secret uses to establish itself as a luxury lingerie brand. And according to Statista, they spent $334 million on marketing in 2021. So it goes without saying that branding should be part of your marketing campaign.
A successful, well-defined lingerie brand identity not only helps to establish a unique presence in the market but also plays a crucial role in boosting sales revenue. 
By building a strong brand, your lingerie business can create a strong emotional connection with customers, making it easier for them to identify and relate to the brand. 
This connection can be strengthened by:
Choosing a memorable name

Creating a distinct logo or icon

Clearly defining brand personality

Making your brand easily recognizable and understandable
The importance of brand recognition cannot be overstated, as it helps to increase brand loyalty, which translates into repeat purchases and referrals. 
You can create a lasting impression on your customers, ensuring that your brand is top-of-mind when they are in the market for your products. 
4. Create a Website for Your Lingerie Business
A professional-looking e-commerce website is crucial for the success of your lingerie business.
Your website is essentially the face of your business online and serves as a platform to showcase your brand, products, and services. With the right website design, you can create a compelling message that resonates with your target audience, helping you to build customer trust and loyalty.
One of the great advantages of having a website is the ability to generate organic traffic, meaning people come to your site naturally without the need for paid advertising.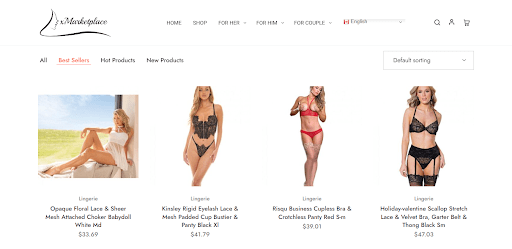 However, if you want to build an e-commerce website for your lingerie business in today's day and age, you may find it tedious and expensive. But that's where xMarketplace by Adent.io can help you out. 
xMarketplace is an adult e-commerce script that helps you run an effective online lingerie business. The platform comes with power-packed features like; 
International Dropshipping APIs for those who don't have inventories

SEO-optimized product pages

Product order management

Payment gateway

Social media integration

Mobile responsive
You will also get lifetime access and 100% source code of the software – all at a price of just $199. 
5. Make Use of Social Media
Social media has become an essential marketing tool for lingerie businesses. The reach that social media provides is unparalleled, allowing a message to spread like wildfire in just a matter of minutes. 
However, it's important to remember that finding the right audience in the vast sea of social media users can be daunting. It's crucial to focus on identifying the right target audience and engaging with them through regular interaction. 
This way, you will be able to learn about their preferences and offer products that meet their needs. Social media also provides a powerful platform for gathering feedback from customers. Through interaction with followers, you can learn about their opinions, suggestions, and grievances. 
Twitter, one of the most potent social media platforms, provides an excellent opportunity for your lingerie business to find new customers. Users often tweet seeking advice on how to use lingerie or ask about what's the best product at the moment. 
Tapping into such conversations can turn followers into potential customers and help grow your brand. 
6. Set Up A Google My Business Account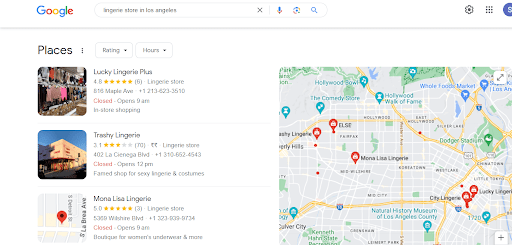 Google is more than just a search engine; it is also a powerful small business directory that can be highly beneficial to companies looking to increase their local visibility and attract more customers through targeted searches. 
By setting up a Google My Business Account, your lingerie business can enjoy a range of benefits, such as having your local business listed on Google Maps and Search, which can lead to better online visibility and improved search engine optimization. 
Additionally, customer reviews left on your GMB listing can help display your business in Google's 3-pack, which can provide free advertising and help attract more local customers. 
Furthermore, your GMB listing serves as the baseline for all your online citations and listings, so it's essential to ensure that everything matches your GMB listing, particularly when it comes to your three primary pieces of information: Name, Address, and Phone Number, also known as NAP.
7. Pay for Advertising
Organic traffic takes time and effort to build. While it may seem counterintuitive, investing in targeted paid advertising can yield significant short-term gains that can help jumpstart other objectives.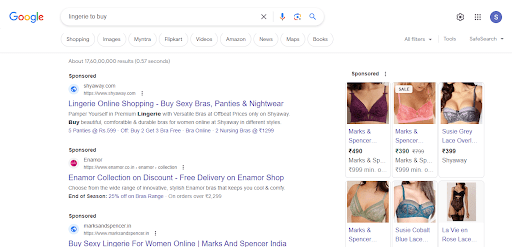 Google Ads are an effective way to promote your lingerie line if your target audience is actively searching for what you offer. In fact, 80% of brands utilize paid advertising. So to market your lingerie line , it is ideal to opt for paid advertising. 
If your lingerie business doesn't have a strong presence on search engines, social media ads can be a smart alternative, even if social media users may not have as much buying intent. 
With highly targeted ads and enough impressions, you can grab the attention of your audience and drive interest in what they have to offer. By using these tactics, your lingerie business can generate quick wins while also building a solid foundation for lasting success.
8. Collaborate with Brand Influencers
Building followers and gaining recognition on social media platforms can be a major challenge if you start your lingerie business recently. This is where influencer marketing comes into play. 
Influencer marketing is currently the top marketing trend, and collaborating with well-established influencers in your niche can significantly benefit your lingerie business. 
By collaborating with them, you can not only build brand awareness but also create authentic connections with your followers. Influencer marketing can be an effective approach for your business, as it provides an opportunity to reach a larger audience and establish credibility. 
Therefore, if you have not yet established your presence on social media platforms, consider reaching out to influencers right away.
9. Be Consistent in Email Marketing
Converting website traffic into leads is a crucial step in the marketing funnel, but it's important to remember that just because someone has provided their information does not mean they're ready to buy. 
It takes patience and consistent efforts to move leads closer to a purchasing decision. 
Email marketing is an essential tool for accomplishing this, as it offers an easy, free, and scalable way to communicate with potential and existing customers. 
In fact, studies show that 73% of millennials prefer to receive business communications via email. By sending out newsletters and promotions, you can stay on top of mind with your audience and keep them engaged with your brand. 
Fortunately, email marketing tools are affordable or even free, like HubSpot and MailChimp, and marketing automation can make the process even easier for those who lack time.
10. Don't Forget Your Local Community
Instead of thinking globally, you should think locally first when coming up with lingerie promotion ideas. By focusing on what's happening in your community, you can attract customers who are more likely to buy your products. 
One of the most effective ways to reach local customers is by getting social. Having a strong social media presence is crucial, especially since most customers go online when looking for something. 
Consider creating social media accounts, such as Facebook, and include as much information as you can about your lingerie company. 
This way, your customers will be able to decide whether they want to give your lingerie business a try. Also, keep monitoring the customer reviews and respond to them regularly. 
11. Offer a Free Or Discounted Product
Everyone loves a good deal, and providing discounts and promotional offers is an ideal way to attract customers and advertise your lingerie business. 
By offering price cuts and deals, you can reward loyal customers and increase sales. There are various avenues to promote discounts, such as social media, blog posts, and articles. 
Discounts also help build your lingerie business's reputation as customers view it as more approachable and customer friendly. Additionally, offering discounts can assist with clearing out old stock, which can pave the way for new collections and inventory. 
If you have an extensive stock that needs to be moved, providing discounts is an impactful pathway to doing so. 
12. Ask for Reviews
In today's digital age, customer reviews have become an essential component of any business's online presence. With 54% of people visiting a website after reading positive reviews, it's clear that reviews play a crucial role in building trust and increasing credibility for your lingerie business. 
Furthermore, 84% of individuals trust reviews as much as they trust a personal recommendation, making them incredibly valuable in promoting your lingerie business and its offerings. 
Not only do reviews generate trust and credibility, but they can also boost your search engine ranking, which can lead to an increase in website traffic.  
With tools like Google My Business and TrustMary, you can easily collect written and video reviews from their customers. 
Including these reviews on your website's home and about pages, as well as other online citations, can go a long way in promoting your lingerie business and encouraging potential customers to choose your products or services.
Conclusion
You should now have a better understanding of how to promote your lingerie business, and these relatively low-cost methods will help you get started.
You'll find that there are a few guaranteed winning strategies for promoting a lingerie business but building an e-commerce website is definitely one of them. So make sure to check out xMarketplace, to build your website at an affordable price.