-

8

mins read
We have to admit that sex is a necessity and a very normal part of life. There is nothing wrong in adopting healthy ways to enhance the experience. A large number of adults around the globe are looking for ways to make their sex life exciting.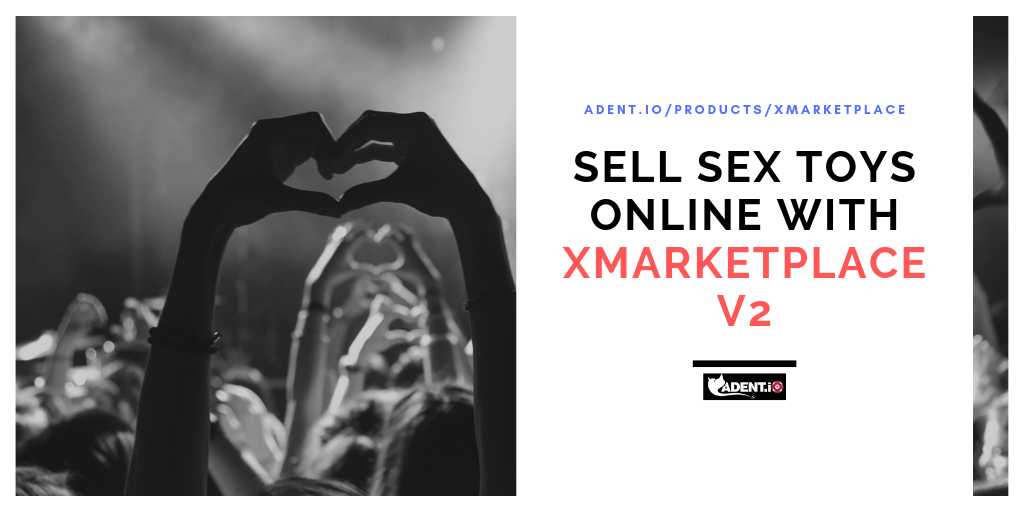 Starting a sex toy business online would be a great way to give those adults an easy way to spice up their bedroom activities. A digital shop to sell sex toys online will enable them to dodge those judging eyes that tear them from inside out as soon as they enter a sex-toys shop on the street.
Starting a sex toys business is a responsible job and it requires an entrepreneur to prepare a groundwork to comply with customers' expectations, legal complications, customer privacy, secretive product packaging, and reliable shipping services.
We have written a very detailed article on "How to Start a Sex Toy Business Online and Make $10,000 per Month?"
If your intentions are knowing the correct answer for how to sell adult toys online, I recommend you should first check out that article. We have discussed everything in detailed. From how to sell sex toys online, how to start a sex toy business while complying with the legal regulations, to how to promote your business the right way, you can find everything about starting a sex toy business in the article.
In the same article, we have also given a detailed explanation of how to start an online sex toy store using our adult eCommerce script –xMarketplace. This article mainly gives out a detailed explanation of the newest upgrade that we have brought in the script and how selling sex toys is a ball with xMarketplace V2 script.
You can check the demo here.
New upgrades in the xMarketplace V2 script
The xMarketplace is our adult eCommerce script that gives a readymade platform on WordPress CMS for a highly profitable adult eCommerce business. This script is competent to let you start any kind of adult eCommerce business where you are not just limited to sex-toys but can also sell N number of other novelties.
Version 2 is a more refined script with bug fixes and an array of new features to enhance the business experience. Here is a list of all the enhancements we have made to our adult eCommerce script:

Dropshipper Integration
The xMarketplace script already offered built-in API for an adult dropshipper with thousands of sex toys ready to be sold from the first day. Now we have added one more dropshipper "Muffsandcuffs", which offers other thousands of sex toys waiting for you to sell.
It is a well-known adult dropshipper that sells its products globally. With an inbuilt integration with our adult eCommerce script, we have now made it accessible to your business from the very first day of your launch.
This is how Muffsandcuffs dropshipping will work for your adult toys business:
Customers will place orders on your site.

You will receive the payments from customers.

The integrated API will automatically place an order with Muffsandcuffs mentioning the customer's delivery address.

They will dispatch the product to the customer under your branding on the packaging.

You will keep the commission and send the rest amount to the Muffsandcuffs.
Integrated stripe payment gateway
We have added the stripe payment gateway as inbuilt. Now your customers can pay using stripe payment gateway apart from already present PayPal payments. Unlike PayPal now your customers need not have a Stripe account to pay. They can directly pay via their credit cards and debit cards using the Stripe payment gateway.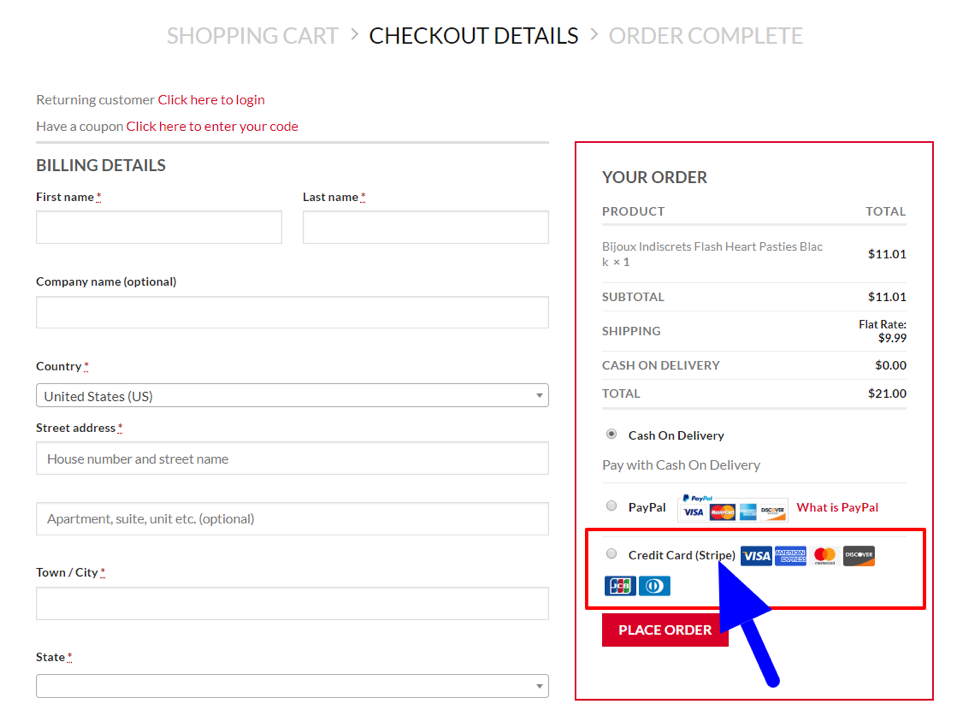 The script now supports social sharing through all popular channels. Your users can share your product pages and other web-pages directly on mainstream social media channels like Facebook, Twitter, Pinterest, email and others.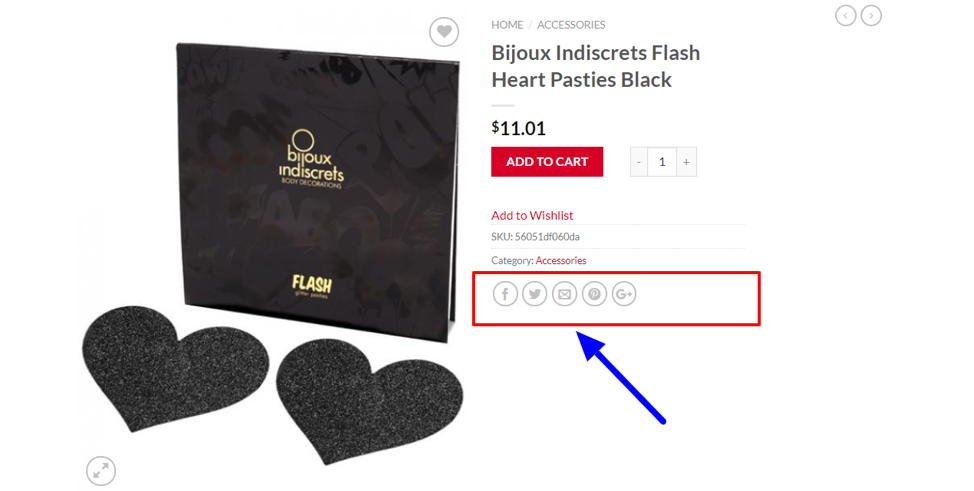 Integrated notifications for WooCommerce
Now you can turn on real-time activity notifications. Users on your site will see a notification popping out on the bottom of the page if a product is trending on the site and anyone makes a purchase. Something like this:
"500 people are seeing this product right now"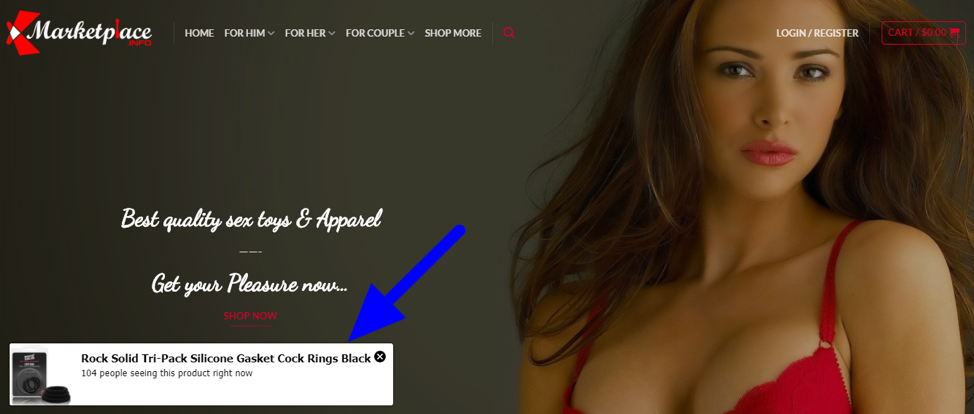 You can set up the notifications and rules right from the Admin panel.
Zoom product images on mouse hover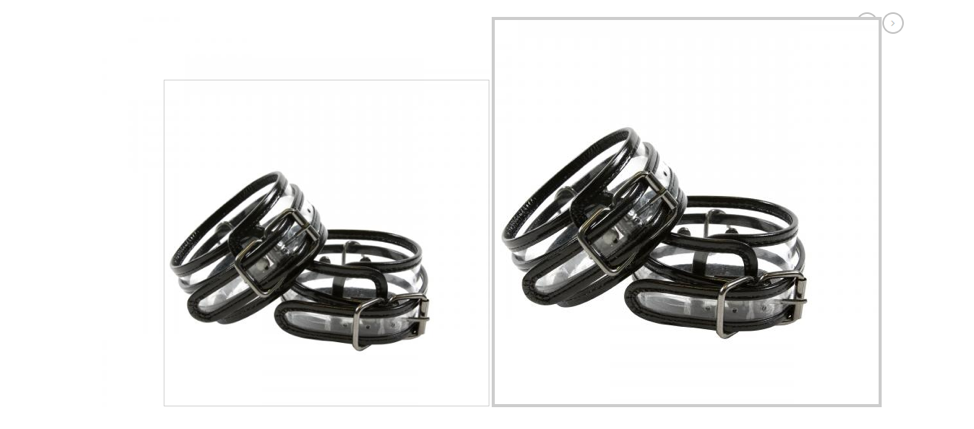 User can see a magnified version of the product image upon hovering the mouse cursor over it. This feature will give an easy look into the details of the product without reloading the product page.
The registration option is added
The earlier version of our adult eCommerce script allowed only guest checkouts. Considering the suggestions and requirements from most of our clients and QA team, we have added the user account registration feature. Now-
Users can sign up on the site using multiple methods like –
Sign up form

Social login (Facebook and Google)
Users can sign up on the site from multiple touchpoints like-
Dedicated sign up page

While checking out as a guest
Bug fixes in the xMarketplace V2 script
In addition to the feature enhancements, our QA team worked day and night to report every bug in the system. We have fixed every reported UI and system issues. Besides that, we have fixed the following major issues in our latest release:
· Fixed the product thumbnail images resolution after import
The image resolution would break while importing product images in bulk. We have fixed it. Now images keep their set resolution after import.
· Fixed frequent display of the message "Content is Protected"

When trying to customize the theme and functions, the system would randomly show an error message on the front "Content is protected". We fixed the issue, now you won't see any such message.
· Plugins can be upgraded without the site being affected
It was a mesh. The front end would break upon updating the plugins from the WordPress back-end panel. It took some time, but we fixed the issue. Now admin can update the plugins from back-end without creating any muddle with the UI.
We give our best to make our scripts innovative and free from all kinds of bugs. xMarketplace is one of its kind. It works on WordPress WooCommerce plugin. While using our adult eCommerce script will give you instant access to a readymade adult marketplace, you still have access to all kinds of legacy WordPress plugins to empower your web store. Moreover, with two well-known adult dropshippers at your disposal, you will never run out of products to sell on your site.
Join our FREE VIP Facebook Group to know more money making ways from adult sites.