-

15

mins read
There are millions of adult tube sites available on the Internet and many of the famous ones make more than 100 million US dollars a year. Users visit these websites in millions of number and the websites are a pretty much brand in themselves. The popularity of adult tube sites is growing rapidly, and it's no secret why there's big money in the business of adult websites. But the question is, how difficult is starting an adult site?
The key to starting a turnkey porn site lies behind the script software you use. The pornography business can be very profitable and lucrative if it is done in the right way, with the best software. There have been many companies and individuals who have tried and failed because they weren't well informed about the script software. But that doesn't have to be the case with you.
Creating a website isn't much difficult, but creating an adult website is a little different from the regular one. The creation method of an adult website is a little bit trickier, and this is exactly why this article is very important to help you through the process. The reason why it is a little trickier to choose the best video tube site script is that there are a number of script software available, and to go through each of them and subsequently find the one which suits you best, is a little lengthy process. But don't worry, in this article, we will thoroughly analyse the top two adult video script, and we will mention their features, benefits, user interface, and integrations. At the end, we will provide you with the final result and conclusion, so that you can select the best adult video tube site script. So, let us start now.
Top Adult Video Script Software in Market
The race to be the best in video streaming server script software for adult tube sites is basically between two contenders: xStreamer and AdultVideoScript. Let us have a look at both of them, and find out which one is better than the other.
xStreamer:

Adent's

xStreamer adult tube site software

is all that you need to start your own adult tube site. You can get the scripts that will allow you to easily create your very own adult tube site, along with the tools of monetization. The host feature of xStreamer simplifies the setup process and provides you with additional and powerful features. It is one of the best adult business software services provider on the Internet.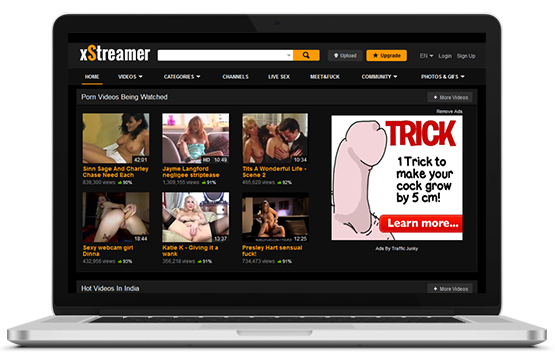 Features and Benefits
Responsive Design:

The responsive design feature of xStreamer gives the ability to serve every type of user with its responsive back and front end. This feature makes the design of adult tube site which can be accessed from any device, with all the bundled features.

Multiple Video Format Support:

With this feature of xStreamer, you can upload the same video in multiple formats without any need of additional tweaking required. The visitor along with you, can have the freedom to publish the content in any format you want, without worrying about the technicalities. The formats which are supported include: mp4, DivX, FLV, MPEG, 3gp and much more.

User Profile and Personalization:

With this feature of xStreamer, you can have the ability to create a personalized login setup for users, and users will be able to like, comment and share the content with their friends. This feature covers the social aspect of your adult tube site too.

High Definition Content:

To make your adult tube site compatible for all types of users (with high/low-end devices and fast/slow connections), this feature from xStreamer lets you have the option to make the content available from 2K, 4K to even 480p, and the users with low speed connection will also be able to stream the videos from your adult tube site.

Technically Sound:

The xStreamer is built on the most popular PHP Laravel framework, and uses Nginx RTSP video streaming, which means doesn't matter which you choose, you will always have the best tube scripts available.

Multilanguage System:

With this feature from xStreamer, your adult tube site will be able to support multiple languages. You can add new supported languages right from the admin panel easily with xStreamer.

Multiple Streaming Backends:

With the xStreamer supporting a plenty of streaming servers, there are much more options which means much more flexibility for you. Some of the supported servers the work well with xStreamer are Adobe FMS, Wowza Streaming Server, Nginx rtmp, and much more.

Bulk Video Upload:

The problem which most of the video streaming sites face is not having the option to upload videos in bulk. With this feature from xStreamer, you will be able to upload the videos in bulk, right from the admin panel. This feature will allow you instant inflow of content on your adult tube site.

Rotating Thumbnails:

This feature creates a number of thumbnails for every video and rotates them in a neat UX trick when the cursor hovers over the video file. This way the user can have a short look at the video content, without having to really play it.

Payment Gateways:

Just like many adult tube sites, some content is free but most of the content is paid. And to make any content payable to watch, you first need to have payment gateways. xStreamer provides you with the built in payment gateways like Paywall, CCBill, and Epay. There are over 20 additional payment gateways available within the software, which you can use as add-ons.

Search Engine Optimized:

The xStreamer uses new search engine friendly URLs, which keeps your website ahead of other adult tube sites in search engine rankings. This feature will always bring more and more visitors towards your adult tube site, which will make it a bigger success.

Subscription Based Membership:

Subscription based membership system makes it very easy for you to manage multiple price points and plans. This way you can easily let the users download and stream videos, only which must be available to them according to their plan selection.

HTML5 Video Fallback:

Many tablets and smartphones do not have Adobe Flash player and with this feature, xStreamer falls back to HTML5, which streams the videos in the mobile version, with a proper resolution. This also uses less bandwidth and the data on the user end is saved.

Admin Everything:

With xStreamer, you get the power to configure and administrate all the aspects of your platform. You have the complete power over your adult tube site with xStreamer, which is not possible in every other tube site script.
Also, there are several modules available, which are all available for free with the package. Some of them are Video Grabber Module, Video Embedder Module, Warning Page Module, Payment Gateway Integrations, DMCA Compliant Handler Module, and much more. The best thing about these modules is that they all are available for free.
Price Packages
The xStreamer gives you a lifetime license to one domain / website, along with 100% non-encrypted source code. The package also gets you lifetime free support and free lifetime upgrades from xStreamer for your tube site. One of the best features about xStreamer is Modules, and you get all the modules for free, along with free script installation. And all this is available for only $199.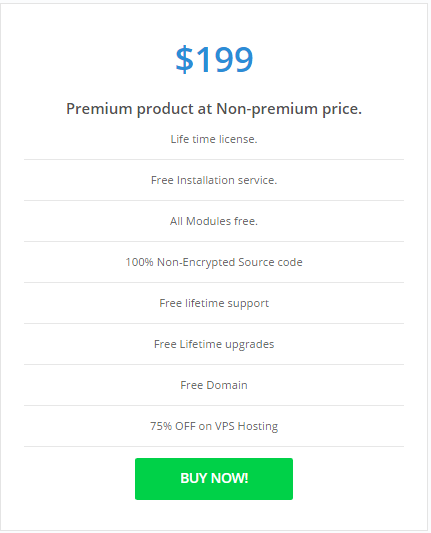 Adult Video Script (AVS):

The Adult Video Script is flexible, powerful and a reliable video, photo, gallery, game sharing and hosting platform. Not even you can create a highly profitable adult tube website with their

video streaming server script

,

but you can also create a game sharing website, all at one place.
Features and Benefits
Videos + Photos + Games:

The AVS allows you to create a website which can have adult videos, photo gallery game hosting. You don't need to have a separate website for each of them. You can have all of them on a single website.

Search Engine Optimized:

AVS has new search engine friendly URLs, which serve you with better indexing, as well as better rankings in search engines.

Responsive Template:

The websites created using AVS have a responsive (Bootstrap based) interface, which can adapt for any screen. This gives you visitors a perfect experience across all platforms from laptops to tablets and smartphones.

Premium Membership System:

With this feature, you can convert your free or guest visitors into free members, and then, convert those free members into premium members. By enabling and configuring several permissions and limits for each user level, your free members will automatically convert into paying customers. Quite unsurprisingly, this shall increase your revenue.

HD and Mobile Videos:

AVS has a new video conversion engine, which converts uploaded videos into web ready formats in different resolutions and qualities. Upload any video in any format, and you will have it in normal (FLV), High Definition (H.264) and mobile (H.264).

Multilanguage System:

This feature of AVS allows the users to use the website in their favourite language.

Redesigned Video Player:

AVS has a new responsive video player, which is full of several important features like skinable user interface, auto hide navigation bar, SD/HD quality switch, scaling and aspect ratio selection, pre/post roll media ads, text ads during playback, logo watermark, related video playlist, lighttpd streaming support, social sharing options and much more.

HTML5 Video Player Fallback:

Your visitors will be able to enjoy video playback on devices without Adobe Flash support, by using the native HTML5 video player as Fallback. The mobile version of the video is used, to ensure proper resolution, fast loading time and low bandwidth usage for mobile visitors.

Highly Customizable:

AVS uses Smarty Template engine and Bootstrap CSS, which lets you customize the layout by modifying the template file or integrate with your existing design.

Video Formats:

AVS allows your members to upload a wide range of video formats, which include AVI, WMV, QuickTime, DIVX, MPEG, 3GP and FLV.

Monetization Options:

Here are several advertising areas throughout the site, where you can place banners. You can also have text, flash, image and video ads in the Player.

Real Time Video Conversion:

Uploaded videos are converted on-the-fly to Flash Video (FLV), allowing your AdultVideoScript website members to stream videos using the built-in flash player with buffer support.

Rotating Thumbnails:

Videos thumbnails are displayed as short animations with 20 different frames.
Other than these features, you can add plugins as well. Here are the plugins available: Mobile Frontend, Video Grabber, Mass Video Embedder, Multi Server System, Lighttpd Streaming and Webcam Plugins Bundle. These plugins range from $29 to $149.
Price Packages:
The AduleVideoScript is available in four different packages ranging from $178 to $356. The $178 base package includes: AVS Lifetime Owned License, Includes both AVS Adult & Non-Adult, For One Domain / Website, 100% Non-Encrypted Source Code, Free Lifetime Support & Bug fixes, 3 Months Free Updates, Responsive Templates and Script Installation Service. On the other hand, the $356 Ultimate Package includes: AVS Lifetime Owned License, Includes both AVS Adult & Non-Adult, For One Domain / Website, 100% Non-Encrypted Source Code, Free Lifetime Support & Bug fixes, Free Lifetime Updates, Responsive Templates, Script Installation Service, Branding Free Option, Video Grabber Plugin, Mass Embedder Plugin and Multi-Server Plugin.
Bottom Line:
Well, it is quite clear that both of these video tube site script software have a lot of wonderful features, and differentiating between the both is a difficult job. But, that is only in case of features. Chances are, you are most probably looking to start your first porn website, and as is the case with almost every newcomer, the budget at the beginning of this new career is pretty tight, and you must be looking for ways to get the best script software, by spending less money. What I'm trying to say is, it is pretty clear why xStreamer is better than AdultVideoScript. Firstly, they both have almost similar features, but the plugins of AVS range from $29 to $149, whereas, the modules of xStreamer are completely free. Secondly, the packages of AVS start from $178, which have limited features, whereas, xStreamer is available at a price of $199, which has everything from every module to every single feature. xStreamer is the best choice as it is available for very less amount, and it is full of features, along with modules.