-

8

mins read
One of the greatest ironies of this busy and industrialized world is the ever growing loneliness of man. Adult industry is exploiting this irony and today, adult industry is one of the fastest growing industries.  According to industry experts and pundits, this industry could amount to an estimated $150bn valuation by the end of 2018.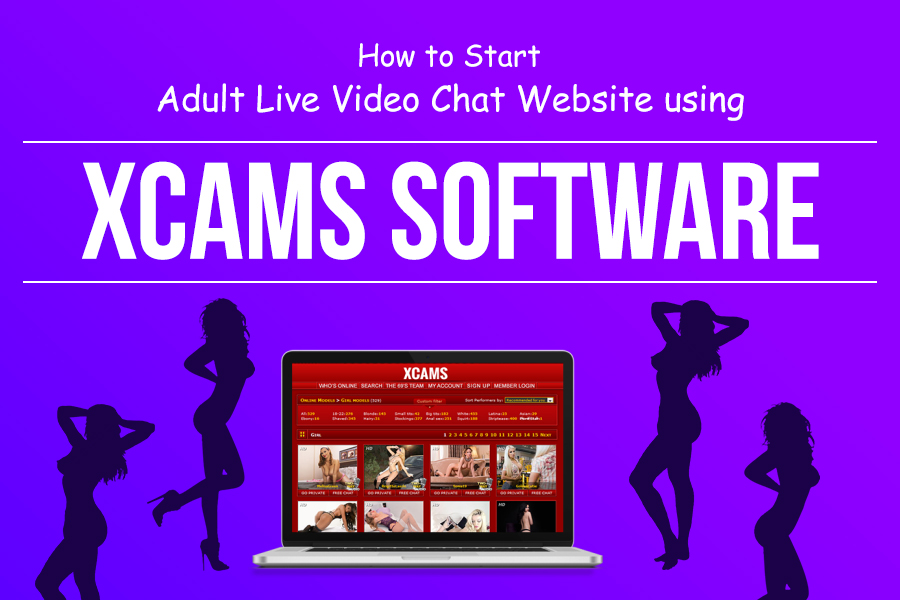 Every single niche in the adult industry has a great potential to help webmasters make BIG money. Unfortunately, and shamefully, for us, particularly in live webcam industry, the way amateurs and the ignorant are looted, provides a classic textbook case study on how to genuinely start an adult live video chat website
Let's start with the types of webcam sites.
Types of Webcam Sites
White Label:
You are required to partner with a major company that provides not only content and webcam site software but also servers. Of course, in exchange for all those resources, the company takes a hefty commission. In other words, a big pie of your net sales is savored by the company. More often than not, the company imposes more than a dozen restrictions and regulations. And to make matters worse, you aren't the owner of the database.
This is a low cost solution. However, it isn't sustainable.
Can you live on a pittance? Can you fill your wallet with a low commission?
You jumped on the bandwagon to make BIG money. Think twice before you opt-in for a white label site.
Turnkey Software:
There are many companies like adent.io which provide turnkey software to help you build adult tube sites, membership sites and adult live video chat websites. xCams software is available for a one-time payment. Xcams is affordable. It has a bundle of features such as pre-installed dashboards, responsive templates, live chat support etc.
Some turnkey software providers offer server services such as managed adult hosting, dedicated servers, etc. You can safely bet your chances on M3 Server in this regard. Very often, the company runs exciting offers and discounts. Keep an eye!
Traditional Method:
When online porn was still in its infancy, web masters used to hire programmers, coders and testers. Technology was obsolete then. Today, you can hire a web developer for $150 per hour. And yes, you can hire an API developer for $150 per hour. Done right through traditional method, an adult live video chat website can be designed, developed and configured in 100 hours.
The calculation displays an exorbitant figure of $30000 for web development.
Wait a minute, it is important to hire testers as well. Isn't it?
What about server maintenance costs?
This method isn't affordable and should be your last resort. Common sense says that you should go with xCams software which is available for just $699.
Payments and Money Collection
You don't have to be a scholar to know that adult live video chat websites are high-risk businesses. In other words, right from corporate banking to payment systems, finding the perfect payment solution for your cam site may seem difficult. World over, PayPal and Stripe do not gel well with adult live video chat websites
Fret not, you can use CCBill. CCBill is safe, secure and trustworthy. xCams comes with CCBill adult payment gateway. And yes, xCams has an in-built credit card processor which allows payments initiated through American Express, Diners Club, VISA, and MasterCard.
Is CCBill the only solution? No!
There are many other adult payment solutions such as Epoch, Zombaio and MobiusPay.
Adult Content
This is a big challenge. Content and website design can dictate your monetization potential. Now, this shouldn't be an expressing concern if you opt for a white label solution because your business partner shall ideally provide content for you. Definitely, it's an expressing concern if you purchase a turnkey software.
Think big and think long term! To begin with, visit a production studio and purchase niche-relevant content. This is a long-term solution.
But hey, are there any alternatives? Of course, there are many long-term alternatives!
A lot of webcam performers are active on the following forums:
You can advertise your requirement and voila! I ascertain with great certitude that the responses are going to be phenomenal.
But complications arise if your turnkey software fails to manage all the afore-said stakeholders.
Fortunately, xCams has the following 4 pre-installed dashboards:
User Dashboard

Model Dashboard

Studio Dashboard

Super admin Dashboard
xCams has enough provisions to manage all the stakeholders and help you run your adult live video chat website profitably.
Let me tell you that niche specific content is costly. If you do not have enough corpus, then purchasing niche specific task requires yeoman efforts. But there is an easy solution which provides your adult live video chat website with content.
Your adult live video chat website should be integrated with the following APIs:
Monetization Potential
This is my favorite section. How much can you earn?
Let me run some numbers for you.
Let's say you have 5 models and according to industry standards, an amateur model charges at-least $1 per minute.  There are models who charge $10 per minute. However, let's keep our statistics fundamental and practical.
As the business owner of adult live video chat website, you can take 50% of the net earnings of your webcam models. Again, this is in accordance with the industry standards.
Let's say – a model is online for 8hours and does business for 3 hours (not necessarily continuously).
That amounts to 180 minutes. In other words, she earns $90 and you earn $90 per day. Now that you have 5 models, you earn $450 per day.
Not so long ago, adult cam models used to work 5 days a week. Nowadays, they are working 6 days a week.
So, you make $2700 per week or more than $10000 per month. You can earn $10000 as a beginner. Over a period of time, you acquire expertise and experience. For all intents and purposes, your earning potential is limitless!
Advanced Features
Heard of OhMiBod and Lovense vibrators? Many thanks to xCams, you can integrate your adult live video chat website with popular toys.
You can also provide iOS and Android apps to users based on their preference.
Conclusion
Are you keen on making your first bucks? Then delay no further! Follow the aforementioned steps. If you have any concerns or doubts, feel free to hit me up in the comments section below. I shall reply in a day or two.
My best wishes are with you and your adult live video chat website. Cheers!