-

6

mins read
Can I make money from a cam site? If you've ever asked this question yourself, here's your answer – Yes, you definitely can make money from a cam site. All you need is, xCams Pro!
What is xCams Pro?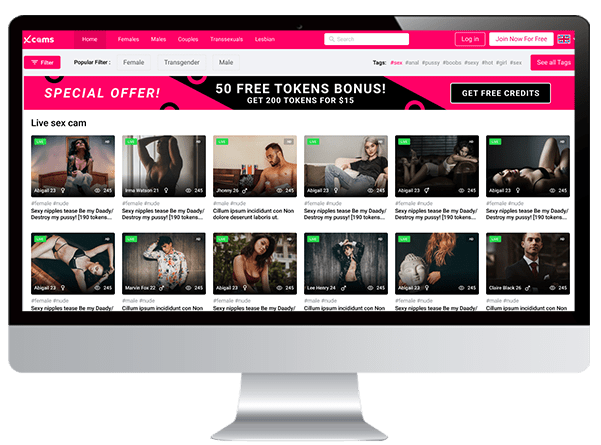 xCams Pro is your ultimate white label webcam solution that allows you to create your own live streaming website in less than a day. xCams Pro is 100% open source and you can customize your live streaming website the way you want to.
P.S. There's an exciting surprise during the later section of the read
What Makes xCams Pro Special?
xCams Pro allows you to run a top-notch webcam affiliate website where your users can chat with more than 20,000+ models on the go. Models can easily be listed from top adult cam streaming websites like Chaturbate, BongaCams, xLovecams and more. You simply don't have to worry about recruiting models and managing them. Set up an affiliate account and watch revenue flow as your users engage with models.
That doesn't mean you cannot hire/recruit models. xCams pro allows you to hire models of your own and set up commission percentages for them as well. This hybrid model is why xCams Pro is an ideal solution to make money from a cam site. 
Also, since xCams Pro is a highly customizable open-source solution, you can create your live streaming cam affiliate website the way you want – no design or development skills needed. 
xCams Pro Revenue Model
The revenue model xCams Pro comes with has been proven effective and is existing for a long period of time. Also, with existing monetization methods, xCams Pro gets a new one as well. Below mentioned are the ways you can make money from a cam site using xCams Pro, 
Private 1-1 Chat Sessions
Users can chat with the model on your cam site via live video sessions. The per-minute billing model allows models to set custom rates from which you'll be able to earn commissions.
Group Chat Sessions
Almost similar to a private 1-1 session but happens in a group model. You can implement per-minute billing here as well and earn commissions based on how much the model makes. 
Affiliate Revenue
This is one of the newest revenue models xCams Pro has. You can display models from top live cam streaming websites like BongaCams, Chaturbate, Stripechat, etc. When the audience on your cam affiliate site engages with one of the models from other sites, you automatically get an affiliate commission. This model can be extensively beneficial when you have huge web traffic. 
xCams Pro also has an additional revenue system where models can sell exclusives like videos and photos – you get a commission out of what they make. 
Note: Custom revenue models like membership subscriptions and more can be created based upon client request. 
xCams Pro Special Features
Show Model Status
Let your audience know the status of your models. Users can see whether a model is offline or online or streaming videos from the homepage. Users do not have to click and view each model individually to know this. 
In-Depth Analytics Admin Dashboard
Get all details you need from one place. xCams Pro's dashboard lets you see details like studio owners, users, categories, commission & transaction history, CMS settings and more. Also, you can manage models from the dashboard with a click. 
Top Affiliate Sites Integration
Seamlessly integrate with best cam affiliate websites like BongaCams, xLovecam, Stripechat and more. All you have to do is, copy and paste the affiliate link from the website to your dashboard.
Pre-Installed Dashboards
xCams Pro comes with separate dashboards for the user, the model, the studio and the admin. You can seamlessly manage and know what's happening on your website. Also, users get extensive data like payment history, purchased items, messages and more.
Age Verification Popup
Verify your users' age before they use your cam affiliate website. You can make use of pre-existing age verification popups to get this done. 
Clean, User-Friendly Code
Yes, we do mean that! xCams Pro is built in a way that almost any individual (with programming knowledge) can customize the code according to their needs – the database is structured well and the queries are optimized to build a super-fast website!
xCams Pro is power-packed and has a whole lot of other features you should use.
Why You Should Use xCams Pro
For someone looking to make money from a cam affiliate site, xCams is an ideal white-label API solution. With abundant features and 100% customization, xCams Pro is quite hard to miss. 
Get started with xCams Pro by opting for a Live Demo session by getting in touch with our experts.
Join our FREE VIP Facebook Group FREE VIP Facebook Group to know more money making ways from adult sites.