-

15

mins read
Have you heard of YouTube banning Erika Lust's channel? Maybe you haven't as her channel was not as big as other giants out there, or maybe because her niche was quite different. She had around 11,000 subscribers when her channel was banned by YouTube.
If it is so then what's so significant about Erika Lust that made me write about her?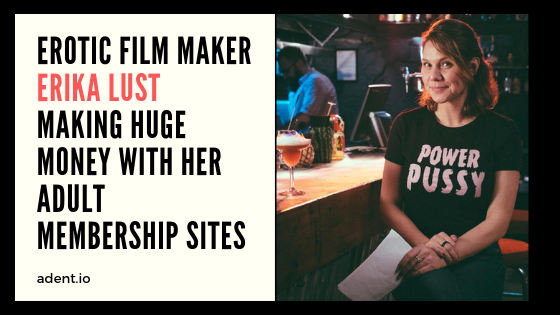 Well, it's not just about Erika, but about the entire community of video creators who rely on popular third party platforms to share their video creations. Or we can say, they are obligated, because the platforms like YouTube and Vimeo get all the attractions for video content.
My article is an analysis focusing mainly on five questions that need answers:
Why Erika lust YouTube channel was banned by YouTube?

Why the reasons that YouTube gave are bad and sad too?

How Erika Lust reacted and explained the scene to the fans?

How she curated a much better success even after the ban?

Can anyone who has faced a similar ban get such a success?
YouTube Banned Erika Lust's Channel
Her erotic film YouTube channel was banned after she posted a series of interviews featuring sex workers. Yes, Erika is an erotic filmmaker from Barcelona and also ran a YouTube channel. The channel was up and running for about a week until an interviewee in the same series posted a Tweet promoting her presence in one of the videos. What was special about that interviewee? We will see that too.
This was not the first incident of YouTube running over her content. In 2016 also, one of her videos was removed on the grounds of porn sex YouTube guidelines that prohibit explicit content.
What explanation did YouTube give?
According to Erika Lust, YouTube did not give any clear explanation of the action. Only words she got from the platform was they cited "violation of community guidelines" as the reason.
YouTube's community guidelines state that "sexually explicit content like pornography is not allowed. Videos containing fetish content will be removed or age-restricted depending on the severity of the act in question. In most cases, violent, graphics, or humiliating fetishes are not allowed to be shown on YouTube".
However, when asked, YouTube said that the community guidelines strike for violation from Erika Lust YouTube channel was not related to the pornography or any sexually explicit content. It was actually because of the links she put in the description of the videos.
The links were pointing to her own site. For her, it was hard to digest if YouTube banned her for directing to a third-party site, as every other YouTube channel does this openly. Maybe they considered her site porn.
According to an associate who has once asked a spokesperson of YouTube "YouTube's community guidelines strictly prohibit the channels or content whose sole motive is to drive traffic away from the platform and to any third party site".
What Erika had to say about the ban?
As per an interview with Vice and what I have learned from her blog post after the ban, YouTube never gave her a clear explanation of the causes. She says that her channel or videos were not taking away any traffic to the porn sites. All the links that she had given were pointing to her own site, which is not at all a porn site.
Most of the links were directed to the blog posts where she writes about the trailers and her new films. Even she claimed that her YouTube channel did not have any porn content by then. It was clean and non-pornographic.
She wonders if the ban was a direct result of the FOSTA bill that puts regulations on online sexual speech and other censorships. If this is so, she fears it would only fuel up the sexual dysfunction of our society. The current state of the society is all crippled about sex culture, sex-education, and eroticism. In this way, we would only head to a future where sex and affection would always remain a taboo.
Erika also says in her blog post that-
None of her YouTube videos had nudity or explicit content.

She had also age-restricted her videos.

Her videos were not even close to what other content on YouTube are.
For one of her past video that was removed by YouTube, Erika says it was specially edited and focused on art, narration, characters, and cinematography. There was nothing porn in it.
Why this hypocrisy according to Erika?
In Erika's words" her videos had no porn, No nudity, No breast shows that break any guidelines for content with erotic sex YouTube generally claims while banning adult content and channels. It was just an interview that featured sex workers talking about their jobs and involvements.
Not just that, YouTube has also hardened its monetization rules, making the platform way tough for making money or choosing YouTube as a paying career. Many YouTubers have already started defying the policies and are deliberately leaching traffic away from YouTube to Facebook as a symbol of protest.
Now YouTube has to think if it's fine with the degrading retention numbers because the younger generation of creators know how to go into the mainstream if YouTube is not fitting right. It's time you tell people freely that sex is not a taboo and not all content related to sex is porn. Listening to the sex workers is not a violation and doing so should not cost anyone his/her established medium to connect with the fans.
This is what Erika did and you should also do if you think YouTube is not the medium you are looking for.
How she stood up against the hypocrisy of a platform?
Her company was already banned from Vimeo. YouTube was her last recourse to post content and influence a broader audience. Losing her YouTube channel was a big blow and it's bad for all those creators who may now be curious to find other alternatives.
It's not just about YouTube or Vimeo. Is porn allowed on YouTube? Of course not, but a third-party platform will always have its guidelines. What YouTube and Vimeo did was their effort to keep their platforms clean and usable by anyone. Not everyone like explicit content or anything related to the adult industry. YouTube had to take care of the interests of their audience (the major audience).
In short, "Erotic film YouTube or Vimeo" is not the correct keywords to search content on the search engines. They do not support erotic films or explicit content. It's a truth that these public platforms are not correct for your content. If you know eCommerce a little bit, you would know that many web servers and also the payment gateways like PayPal do not allow adult websites.
Lustcinema.com
Erika understood it. Before she was banned, she had her site lustcinema.com up and running in 2010 itself. The website features all her erotic films and cinema from other filmmakers too. The films she focuses on are carefully made with the highest possible standards. Her cinema does not only give pleasure but also educate about sexuality and feeling sex more naturally. She aims at influencing the perception about porn by addressing more gender and sexuality then mere pleasure.
In addition to the Lust Cinema she also runs two other sites which are her major source of income and promotion using her Erika lust trailer cut scenes:
Xconfessions.com
Xconfessions is a crowdfunding platform for the adult cinema industry. She crowd-sources her movies' stories based on anonymous confessions on the site. She picks up two stories each month and makes short films on them. Her films based on XConfessions have been screened at the Raindance Film Festival in London and at the Chicago International Film Festival. Her film "An Appointment with My Master" won "Best Narrative Short" at the Cinekink Awards in New York in the BDSM category.
Erikalust.com
It's her official blog where she writes about her films, posts trailers of her new porn films. In addition to being famous as Erika lust nude site, it also runs an adult online store in the sub-domain where you can find her books, films, sex toys, and other erotic stuff.
All these sites add to the revenue Erika generates through her filmmaking and other business. Honestly, she never needed YouTube or Vimeo for making money. She already had her sites and some she added after the ban.
But what about other YouTube creators who are dealing with the nightmare of being banned at any time? I mean, it's not just Erika who creates content from for the erotica genre. YouTube and other platforms are full of many such channels, which upload an array of useful videos from the niche. You never know if your channel comes next.
Not everyone is as big as Erika or have an in-house website back their livelihood. If you own a YouTube channel or rely on a third-party platform for earnings, it's best you stay prepared. It's best you build your own platform and audience base before it's too late. These platforms have a monopoly and they do not care if you are as big as Erika or have just started. You never know you might wake with a piece of unpleasant news in your inbox.
How to build your own adult membership site like Erika's?
If it was a few years ago, building your own Adult membership site was no less impossible than building the "great wall once again after Viserion destroyed it". However, neither this is "a few years ago", nor you need the "Bran the builder" to make adult membership site today.
You can simply use our xMember Script to set up your site in a few hours and get live on the go. This script offers a readymade membership site, you can monetize using various models like:
Create subscription packages with membership levels, pricing, and access control.

Sell physical products via our integrated Adult eCommerce store.

Sell digital products like Snapchat accounts, Instagram accounts, videos, e-books, etc.
With this script, you can actually build a combination of both Erika's websites (Erikalust.com and lustcinema.com). We boast of our xMember script, which is a perfect solution for adult content creators, models, or entrepreneurs to start an adult membership site and become strain-free from the horrors of third party platforms.

Erika had her sites to support her, what have you got? xMember script is not just a life-saver of creators, but also a much better way to monetize their creations in a much better way than YouTube or Vimeo can do. If YouTube is not letting you upload erotica, build your own YouTube for erotica that is also an eCommerce site to sell stuff.
Here are the other pros of using the xMember script-
It's self-hosted. You can host on any web server of your choice.

It's open-source. You can always customize the source code.

It's a ready-made. All the required features are built-in by us.

It's modular. We also sell modules to enlarge the features on the go.

It's responsive. You don't have to worry about browsing on mobile.

It's a multi-faceted. Membership Plus Video Streaming Plus eCommerce.

It's scalable. It can handle as many users at a time on the site.

It's built for business. You can monetize using multiple models.

You can sell products, memberships, videos, and embed Ads as well.
Erika Lust is a motivation for adult erotic filmmakers
Indeed she is a motivation for other adult content creators. But, this is also a fact that she had already realized that YouTube is not the correct place for her content. She was just using the platform to promote her own sites, and it was wise. Though she was shocked by the way she was banned, she was prepared for the worse. She was already famous, and she had some good base of followers on YouTube and Social media.
This might not be the case with you. If you have not started thinking about your own platform, then it's a perfect time. Start building your own audience base so that you can cash them on your membership site. You don't have to wait for YouTube to ban you on it porn sex YouTube guidelines or any other rule from the thin air. You should start your site right now if you think your content is different like Erika Lust, and you can influence people to join and pay for the content you produce.
Join our FREE VIP Facebook Group to know more money making ways from adult sites.