-

14

mins read
Are you struggling to drive a good amount of adult website traffic? Do you wonder if all adult sites combinatorically drive more traffic than Amazon, Twitter, and Netflix, why isn't your traffic even a slight portion of that?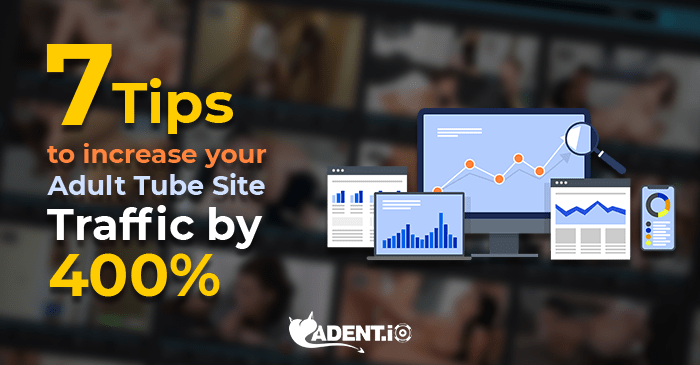 If you are finding adult SEO difficult, worry not, as this guide will assist you in the simplest ways possible. We have curated seven most effective ways to drive adult site traffic that you can use right from the first day of launching your site. Especially if you have an adult tube site, which is one of the most profitable adult business ideas in 2020, you shouldn't be disheartened as there are impeccable ways to increase adult traffic for such websites.
In fact, with proper strategies, such as backlinks for adult sites and adult tube submitter, you can drive most of your adult tube traffic organically without spending much on Ads. Adult tube sites have been and they still are one of the most fantastic ways to generate passive income via traffic. The more traffic you generate, the more you make from the Ads.
I know sites that drive over 500,000 visitors a day. Interestingly, they not as big as Xvideos and Pornhub, yet they are killing it with their traffic generation. So how do these sites drive traffic, and what's there in their strategies that you might be missing in yours? The simple answer is adult SEO.
Adult SEO is the Key
If you want to drive some steady traffic to your tube site, you need adult SEO. As adult tubes are one of the most economical startup ideas in the adult industry, any entrepreneurs would aim at making without spending a fortune. There are ways to drive adult site traffic in-organically via Ads, but that shouldn't be your ultimate goal. Ads are fine for the first few weeks, but you would need to focus on your adult SEO to drive more organic website traffic in the end. Here is what you need to do-
SEO Tips to Increase Adult Tube Traffic Organically
If you follow these seven tips, you would drive a significant amount of traffic to establish a steady flow of passive income from your tube site business.
1. Focus on Your Tags Pages
In general-SEO, the use of tags is a highly controversial strategy. With changing search algorithms over time, most of the tag-related strategies have gone obsolete these days. However, not all tags are useless. In fact, one tag-based optimization still works like a charm for tube sites, adult or mainstream.
If you check giant tube sites like Xvideos, Pornhub, and Youporn, you would see that these sites have dedicated tag-pages, and these pages are the ones driving most of adult tube traffic from Google. The primary reason for this is the usage of high-volume keywords in tag pages.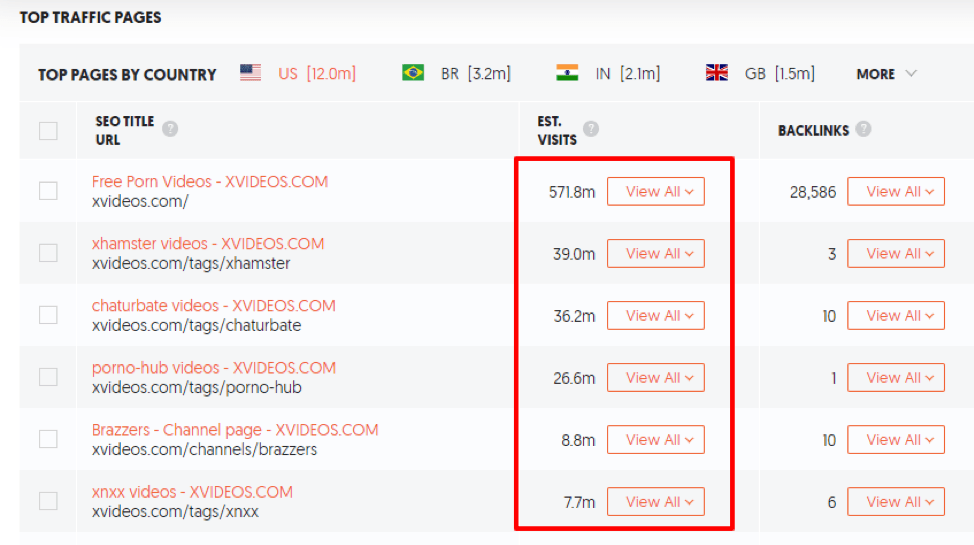 Instead of finding backlinks for adult sites for individual content pages, these sites also focus on their tag pages with high-volume keywords. That's why their tag pages are ones driving most of adult tube traffic on their sites. Ignore the number of backlinks you see in the image for the home page. They have not curated these backlinks but earned due to the massive popularity of the brand. The term 'Xvideos' itself is a high-volume keyword, which you can focus on one of your tag pages.

So, focus on building links on your tube site for your tag-pages with high-volume keywords. The content tagged with these keywords will get high exposure automatically, if your tag-pages start ranking.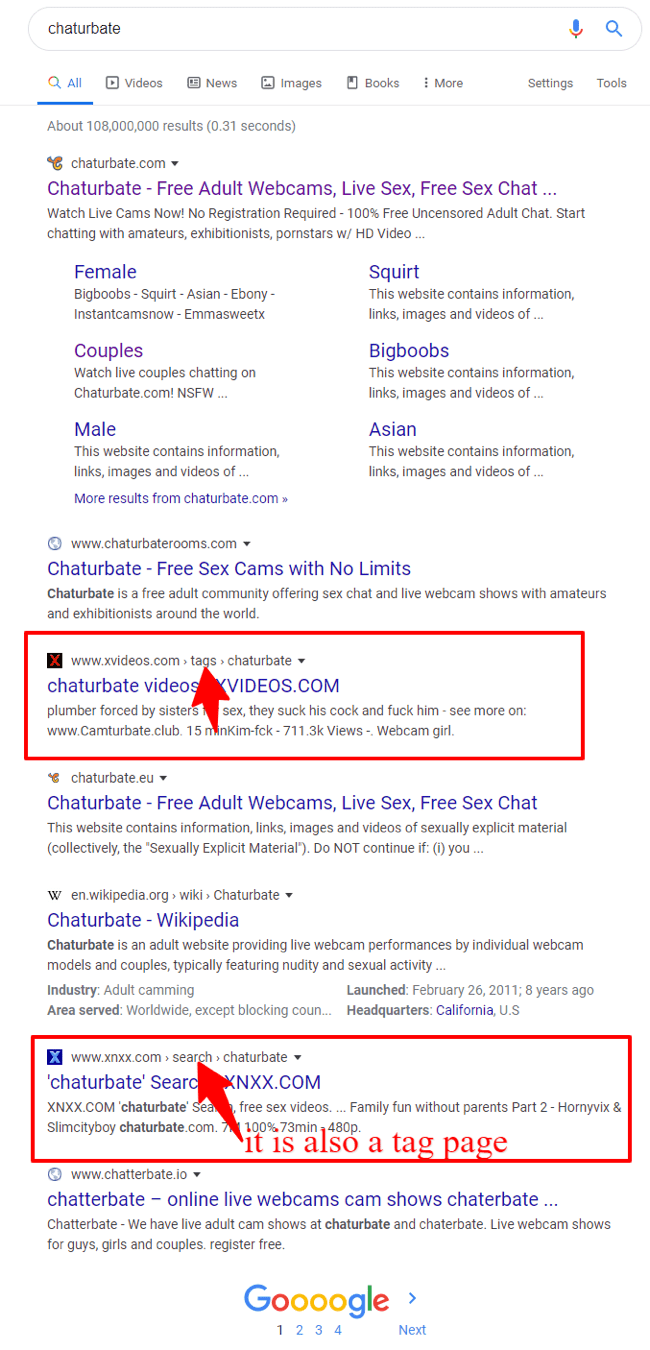 You can literally guide traffic on your web pages via your ranking tag pages. You can see how Xvideos and XNXX are ranking on the first page for the high-volume keyword 'Chaturbate'. In fact, Xvideos is ranking right after the official Chaturbate site and above Wikipedia.
2. Optimize Everything On-Page
Off-page SEO with link building is a tricky job, as mainstream sites do not accept links from adult tube sites. That's why you can't ignore even minute details of your on-page SEO. Luckily, the situation is no different for your competitors as well. Even they can't depend on link-building and off-page SEO to drive adult tube traffic. So all of you are dealing with a common problem, leaving on-page SEO as the ultimate help for standing out. With some easy on-page optimizations, you can start ranking well without back-links too. Follow these on-page SEO tips:
• Primary Keyword: Always add your primary keyword in the title of the videos you post.
• Video Tags: Add all the relevant tags to each video you post.
• Video Description: Add 100-300 words description content in each video while posting.
• Image SEO: For every image you use, add your keywords in their Meta tags, ALT text, and Image name. Include keyword-rich Captions and Descriptions for each image. Also, make sure the images are not too heavy to load. Use lossless compression tactics to reduce the file size without losing quality.
• Bounce-Rate: Reduce the overall bounce rate of the site using all possible strategies. Offer quality content, an easy website search, engaging web-design, good thumbnails, video previews, faster page loading, and everything that will improve the on-site user experience and encourage them to stay longer on the site. Google takes bounce rates seriously. Reducing them would help a lot to drive adult site traffic.
3. Build Quality Backlinks
As we discussed earlier, backlinks for adult sites are not easy. The best part is, this limitation itself could be your biggest weapon to rank higher. Since nobody in the adult tube industry would have a huge number of backlinks like the mainstream sites, it's easier to rank higher as a tube site with even a few backlinks. Follow these tips for link building for your adult tube site:
• Don't rush: Don't rush into acquiring backlinks from any random source. Link building is a gradual process that takes some time.
• Quality Vs Quantity: Since there are only a few sites that will give backlinks to adult tube sites, you better focus on getting quality links instead of too many links from irrelevant and low DA sites (domain authority). Focus on high DA sites that can give you backlinks.
• Avoid Blackhat SEO: Adult webmaster always slips around into Blackhat tactics to use shortcuts. They also start buying backlinks from fiverr.com and similar platforms, which eventually end-up destroying their SEO. Be advised that there is no shortcut. Patience and whitehat SEO is the only Key in the end.
Remember that relevance is always the most critical element of a backlink. If you analyze the backlink profile of giants like Xvideos, xHamster, Pornhub, and others, you would see they don't have too many backlinks but a few from relevant sites.


It is better to get a few links from a relevant domain to high DA than too many links from irrelevant or low DA sites. Moreover, it is also useful to focus on backlinks from different sites, rather than too many backlinks from the same site.
4. Focus on Long-tail Keywords
Besides regular high search volume keywords, Long-tail keywords are universal truth in both mainstream and adult SEO. Focusing on long-tail keywords that don't have a massive search volume allows you to deal with a minimally competitive environment. Target a few long-tail keywords with decent search volume, and your site would become a hotspot for some quality adult website traffic.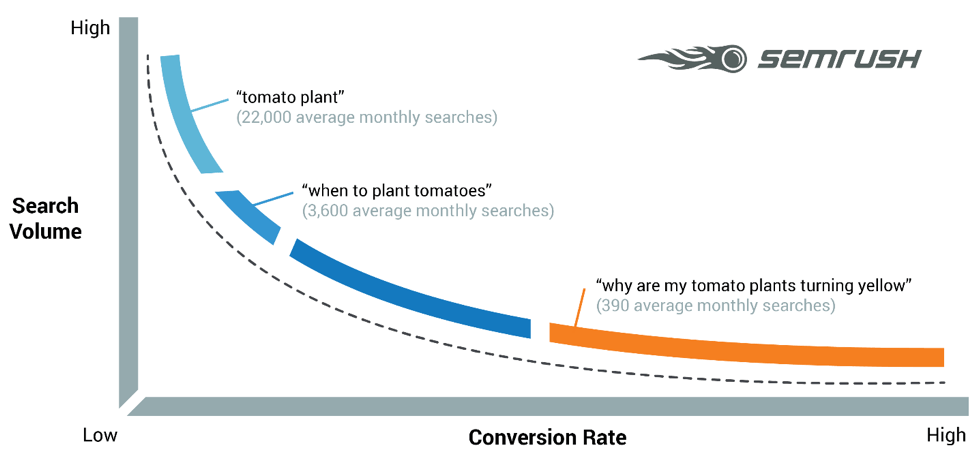 How do you get good long-tail keywords to focus on? By thinking like a user. Analyze how they think when they are looking for porn on a tube site, what are their preferences, what are the trending fetishes, what are the trending high-volume keywords, how you can make a relevant long-tail keyword of trending short-tail keywords.
If "Latina" is a trending keyword that you can't compete on, use a combination to make relevant long-tails, such as Latina foot fetish, Latina lesbian, Latina stepsister. You can make some good long-tail keywords by even combining some trending short-tail keywords. Tools like Google Webmaster, Ahrefs, and UberSuggest, come handy for keyword research and competition research. You can also see your competitors and their focused keywords to get some decent ideas to increase adult traffic on your site.
5. Use Social Media to Drive Traffic
After Tumblr changed its policies, Social media does not have much to give to the tube sites, as most of them do not allow NSFW content. However, the only NSFW supported platform, Reddit, can come extremely handy, as some of its boards do allow users to submit links to videos. Reddit could be your best social media source to drive free traffic. Besides, Twitter also allows NSFW up to a limited extent. With careful use, you can drive some good amount of traffic from twitter as well.
Nevertheless, you can always use all the mainstream social media sites to build your brand identity. Just keep your profile like a mainstream business, without adult content, and you can get a good brand exposure on social media with regular activities.
6. Avoid Mobile Design Mistakes
There are two main reasons to focus on mobile. One, the number of users who would visit your tube site on mobile is more than those who use desktops. Two, Google loves mobile; it has always been encouraging all kinds of websites to go mobile with responsive web designing. In short, mobile is important for your site on both the SEO and user-engagement fronts to drive adult website traffic.
If you offer a user-friendly mobile browsing experience, you can-
• Rank well on Google search engine
• Reduce bounce rates by enhancing user-experience
There is no limit to mobile optimization tactics. Here are a few things you should definitely do:
Avoid using too much JavaScript of Flash. Instead, use HTML5 based video players. Keep the layout minimalistic with proper spaces allocated for Ads without intruding in the regular browsing experience on the site. Having said that, avoiding intrusive pop-ups and banners is also necessary. Keep the fonts optimal enough to let them browse without needing to zoom a page.
7. Go for a Faster Web Hosting
Faster web page loading without any debate is the most important requirement from a website. Especially when you are running a tube site in a highly competitive environment, there always a chance that users won't like to wait. They would simply bounce from your site to any other faster site. You need users on your site, and it's your obligation to offer them a faster loading site.
Avoid shared servers, and go for VPS or a dedicated adult tube hosting plan with decent scalability to handle the heavy traffic load. Couple this with a CDN, which will use caching technology to not only make your web pages faster but also share the excess load from your web-server. A CDN will help you to deliver videos to your users without buffering and lag.
To Conclude
Please note that popular sites like Pornhub and Xvideos might not be following these SEO practices, as they get most of their traffic directly due to massive brand-awareness. However, it very crucial for new sites with lesser popularity to focus on SEO and healthy link-building best practices to rank and increase adult traffic. Following good SEO practices might give your site a much better ranking than popular sites as well. Ultimately, it will help you to drive the intended adult tube traffic.