-

15

mins read
Who would not want to skip their daily life grindings and follow a passion that would also feed them? After all, you don't want to regret looking back the opportunities you wasted on the way to your retirement after 60.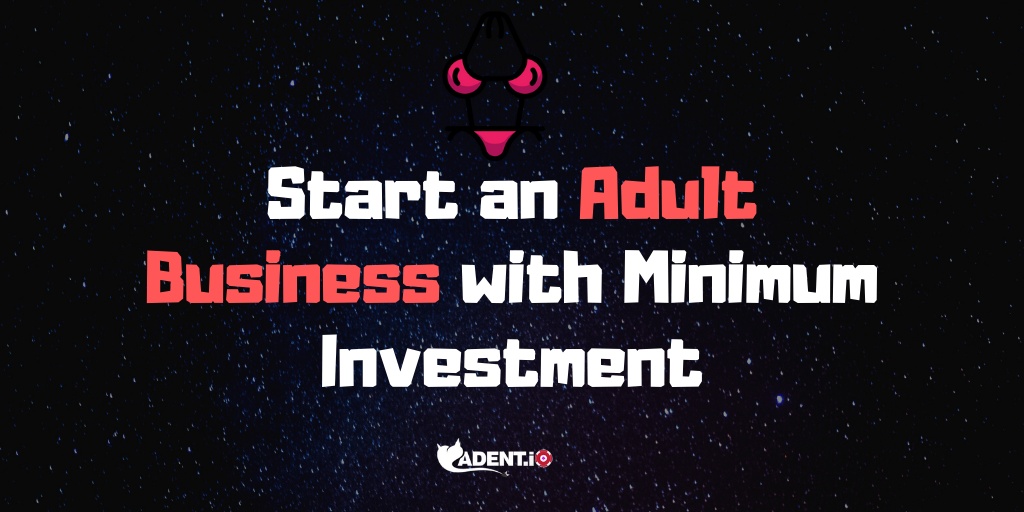 Every day, many young minds are quitting their 9 to 5 jobs and starting their own businesses. Just look back; you would see how college students, dropouts, and regular 9 to 5 employees executed most of the successful start-ups.
However, not everyone can do that. People run out of business ideas and even if they get one, it's not easy to acquire a hefty capital to realize the same. Especially when you are venturing in 2019 where most of the successful undertakings are online, the biggest hassle you face today is acquiring a hefty investment for application/software/website development. Development is a tricky process, both in terms of coding and in terms of the cost.
Are you an entrepreneurial mind?
Do you fancy a venture in the adult industry? From adult business, I mean both adult entertainment and adult eCommerce. I am talking about the likes of porn business, adult webcam business, escort business, phone sex business, and sextoy selling business.
In this article, we are going to discuss in detail about the most affordable way to venture into the adult business industry without a hefty investment. If you have a business idea but are not able to take your step forward because you can't spend fortunes in software development, this article is for you.
We are going to talk about clone scripting and ready-made solutions. These solutions are so affordable that you can actually acquire them with investments as low as a few hundred. We will include some highly affordable clone scripts suitable for venturing into the adult business.
However, before that, we must know everything about them. That's why we will start with the anatomy of these ready-made solutions and understand if they are actually effective or are just a bunch of crap on the internet for scamming the aspiring entrepreneurs.
What are clone scripts?
Entrepreneurs go for clone scripts to reduce the software development cost and launch a business at least 10-12 months quicker than how quickly they could have started had they gone for the same development from scratch. Also called as ready-made solutions or turnkey script, clone scripts are ready-made solutions based successful business models.
For instance, you want to start a porn tube site. Who are the popular examples of successful porn business ventures in this domain? Pornhub, Xvideos, and Youporn; right?
In this case, would you not want your new Porn Tube site to be like them? Of course, you would seek some uniqueness as your USP, but you can't deny that these ventures inspired you for doing something like them. You would want your tube site to have competitive features and the features these sites have that could act as a standard in the industry.
That's where you can go for a Pornhub clone script, an Xvideos clone script, or a Youporn clone script to get these standard features ready-made in your own website, too.
Are ready-made scripts just a rip-off of famous websites?
That depends on the vendor to vendor and script to script. There are N numbers of clone scripts available in the market representing similar kinds of business. Not all are competent or affordable. You have to do some research to find a perfect adult turnkey business script based on your requirements and the budget.
For example, Adent offers the most competent, affordable, and flexible clone scripts. In fact, we call them turnkey solutions rather than just clone scripts, because all of them are open-source, fully customizable, self-hosted, and get regular upgrades. They are tailor-made scripts, not just a copy of some famous business model.
As per the swindles and legality are concerned, clone scripting is fully legal. The whole question of the effectiveness and reliability of scripts relies upon three major factors. If your chosen script excels on these three fronts, you have a green light to proceed for purchase:
1. Competent features
We can divide the features of any clone script into two main categories:
The features similar to the original website or application

The unique features to give an upper hand over others
You need your turnkey solution to have most of the competent features of the original website or application. However, features are not just the functionalities but also the business and revenue generation models are important. For example, if it's a Brazzers clone, the script must not only have the fundamental functionalities of the Brazzers' website or app but also the revenue model, which is indeed the "premium membership subscription model".
As per the uniqueness is concerned, the script must also have some additional yet competent features to differentiate your business from the original inspiration. Now this uniqueness or extra touch could be in terms of functionalities, revenue models, or even the user interface design. Take the same Brazzers clone script for instance. You would not want even your inspired website to look just like Brazzers from the front-end. Therefore, you would expect it to have a different front-end theme.
2. Customizability
Customizability is one such essential requirement that you cannot achieve without the source code access. Therefore, the script must offer you the full source code access to let you customize your platform the way you want. This is where you can differentiate a good turnkey solution from a cheap rip-off. Whether it's the UI you want to revamp, or a feature that you want to add/remove, you need your script to be open-source code and self-hosted.
This also brings to the conclusion that you should not use a clone script as it is. Access the source code, customize it with your unique design, add new competitive features, and remove the features you don't want. In short, even the best clone scripts and turnkey solutions are effective only when you perform some customizations on top. You don't want your website or application to look and behave the same as hundreds of others to whom the vendors sell their scripts besides you.
3. Scalability
Scalability is important, not just for clone scripts but also for the custom solutions. It doesn't matter if you have purchased a clone or have spent a fortune in development from scratch, if your solution cannot scale as the growing needs and trends, ditch it immediately.
Scalability depends on many things. The technology stack, choice of web server, incorporated media servers, integrated CDN services, supported payment solutions, and many more. However, since you have the source code, you can easily control most of these behaviors, except the technology stack, which you need to consider in the very beginning itself.
Understand the tech stack of the script before purchasing it. Make sure it's up-to-date and competent to handle customizations, scalability, and website load as per potential requirements in the future. Of course, the cost will increase as per the chosen stack, but it's a worthy investment, considering you don't switch your technology stack frequently.
Ready-made Script VS Building from Scratch
Now that we know significantly about clone scripts and how to choose a good ready-made adult business script, let's compare ready-made scripts and custom development from scratch on most critical bounds:
Ready-made script

Development from scratch

Cost of development and deployment

Since ready-made scripts come at a fixed price and vendors can re-sell them to multiple clients, they keep the prices very low. You can purchase a ready-made script by paying just a one-time cost and own the source code immediately.

For example, if you want to build an online escort business, you can purchase our xScorts script for a one-time payment of as low as $399.

Other expenses that might incur include, Customizations, Themes, Templates, Web hosting, and cost of all those premium services you might want to integrate such as CDNs and other APIs.

These costs would not be much considering you would be paying extra only for the customizations you want. Deployments are mostly free of cost.

The cost of development from scratch varies from project to project and tech company to tech company. The bigger is the project, the more resources you require. Hence, there is no fixed cost.

For example, if you want to build the same escort business platform from scratch, a tech company would have to deploy at least 25-30 resources for 3 months.

With development charges as low as $50/hour, a three months project will cost at least $450,000, considering a 30 members team working 6 hours daily for 60 days.

This estimation does not include the cost of deployment, APIs, and other required services such as payment gateways and CDN.

Implementation: Speed and other hassles

We can implement and deploy a turnkey script immediately after purchasing. The total turnaround time is lesser as the vendors readily take care of the development and testing phases.

It takes a longer period to research, develop, test, and deploy a solution. The testing itself has to go through multiple phases such as functional testing, load testing, beta testing, and stable release.

Free trials and Demo

You can find a live demo or free trial version of the scripts on the official websites of the vendors. We too offer both live demo and lite versions of the script so that you can test fully before committing to a script.

There is no such concept as a demo or trial in development from scratch. You get to see and try your solution only once it is beta version at least. However, you may expect the developers to keep you in the loop with every progress they make.

User Friendliness

Clone scripts are build bearing in mind the popular business models and multiple clients. As a result, most of them are user-friendly and admins are generally aware of the features and functionalities. From installation to website management, everything is easier here.

Custom developments bear the expectations of a client, which are converted into codes and UI uniquely. They are not always user-friendly for non-technical users. However, it also depends on development style and interface for the general users.

Customization

Highly customizable, and it's easier to customize as vendors build script on popular development frameworks. They also well document the scripts to let every client understand the codes easily.

If you have the source code access, customization may be feasible, but it might become complicated if developers don't use standard coding practices and documentation rules.

Updates

You can expect the vendors to offer regular security updates and feature upgrades of the solutions. Depending on the terms and conditions, the updates could be free or paid.

It depends on the agreement with the tech company. Most of the time, the warranties expire after one year. You need to develop the upgrades and patches each time you need them.
Why ready-made scripts are ideal for adult business start-ups?
We have discussed most of these aspects in the above comparison itself. However, when it comes to adult business start-ups, there are not many ready-made solutions in the market. Even if there are some good names, not every provider is well versed in the complexities of the adult industry.
Take payment solutions for example. You cannot use mainstream payment solutions like PayPal or Stripe on your porn business website or applications. You need special high-risk payment gateways for them. Only an experienced script provider can give you such suggestions; not any random tech company.
There are many other aspects and risks of running an adult business. Collaborating with a brand run by veterans, you would be working with the best adult business gurus in the industry. Whether you want a fully personalized adult business script, an affordable adult website hosting recommendation, inbuilt APIs for major sextoy dropshipping suppliers, integrated API for major webcam model suppliers, or just the adult website SEO, we have got everything covered. We don't just take your development and deployment hassles away but also help you in running your business successfully.
Finally
The battle between readymade turnkey scripts and custom development is forever going. However, only a few businesses like Adent can promise you highly personalized solutions, business ideas, and business development assistance for the adult industry. Be it video streaming (porn business), live webcam streaming (adult webcam business), adult social media (OnlyFans clone), or adult eCommerce (sextoy selling business), we have turnkey solutions for everything adult.