-

10

mins read
"If a domestic service humanoid is ever developed, it will be as a result of the market for sex robots."
I read this line 2 years ago in one of the articles in a "The Guardian" article, and I couldn't agree more. Right now, in a universe of innovation, humans have made heavenly things for their own diversions, and sextech has been the epicenter of several innovations that created trails for N numbers of mainstream marvels.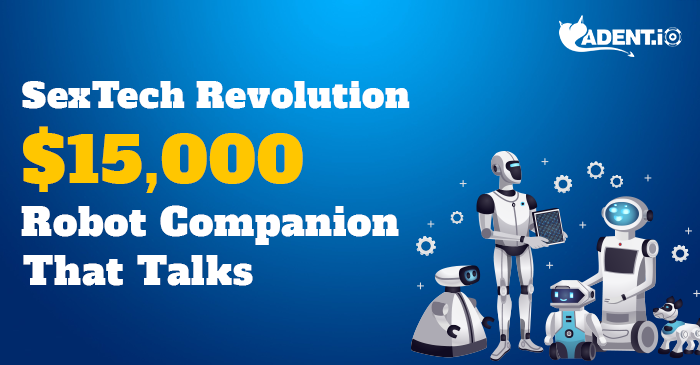 Take pornography for instance. Online pornography pushed the growth of video streaming technology and easier ways to make payments through online credit card transactions. The same also motivated us to speed up video-on-demand streaming, and we innovated with larger bandwidths for buffer-free experiences. Sex tech, an almost a one and half decade old industry is already worth over $30Bn. From Bluetooth sex toys to IoT-enabled vibrators, virtual kissing devices, and VR porn, the sex tech industry has always been on top when it comes to innovations.
We have been hearing about them for a long time, but finally, looks like the world will soon see sex dolls as real as humans are. With an overall similarity, right from appearances to touch and interaction, sex robot technology is the next big thing for not just sex tech industries but in the overall robotic and AI industry, too.
Sex dolls so far…
Sex dolls are not new to humanity. From Greek mythologies, depicting obsessions with sex dolls created of ivory, bronze, and stone to the western cultures associating them with lonely seedy old men, sex dolls, and sex toys have been around us for a time unknown in one or the other forms. Thanks to the normalization of pornography, sex toys, and various orgies, we have brought the sex dolls back from the ancient era with a little makeover. Welcome to the era of Silicone, robotics, and Artificial Intelligence; welcome to the world of AI-based new technology sex dolls.
While manufacturers from Japan have been producing and selling sex dolls since the early 80s, the sex robot technology was not the same back then as compared to what we see these days. The plastic-made, life-less, and motion-less dolls were not even close to today's creations. Companies like Abyss Creations did come out with more realistic, silicone-made dolls, which are far better than plastic toys, but the touch of robotics and AI was still missing.
Sooner, we saw the same manufactures like Abyss Creations embracing the power of AI, when they came up with the real deals: The AI-based, life-like, interacting sex dolls like Harmony (we will talk about her later in the article).
Roxxxy
Creator Douglas Hines introduced Roxxxy in 2010 at a Las Vegas convention. Since then, there has been no sign of her. Although she hasn't been in the market and her first version was just for demonstration in the convention, reports say that the doll has been through 15 more iterations after 2010. Last time we heard, the creator was working on the 16th version of Roxxxy.
The convention did not go well, as Roxxxy became a matter laugh because of her appearance. She would talk from a voice box and had no animation of the mouth while doing so. She looked clunky and manly with her wide square jaw. However, she was a masterpiece in terms of AI considering it was 2010. The sex robot nude might not have been impressive, as people ridiculed her for appearance and some other reasons, but it brought her creators into the limelight.
According to Douglas Hines, Roxxxy gathered about 4,000 pre-orders shortly after its reveal in 2010. She was supposed to be sold for $7,000 to $9,000 with an extra subscription fee. However, there has been no news since then, and reports have suggested that no one owns a Roxxxy as of now.
Eva
Eva came in the limelight in the same Las Vegas convention. She made into the news for her creator's claim that she is the most human-like sex doll ever. Her skin was made from silicone that was molded on a real woman's body. Rojberto Cardenas, the creator, claimed that Eva could be put in 20 different sex positions and was fully AI-enabled to be ready for sex 24×7. He priced his robots between $8,000 and $10,000.
However, the things did not go well, as he brought an incomplete prototype to the convention. The prototype was headless and her silicone skin has poor finishing with holes exposing the metal parts. Moreover, she failed to speak and hardly moved the limbs.
Samantha
Samantha is one of the advanced sex robots if we talk about AI. Apart from a life-like silicone body, she has numerous sensors that help her to respond to human touch. She even has a G spot sensor, using which you can help her reach orgasm, too. However, you can't just win her by directly massaging her G spot. She seeks appropriate romance, just like a human.
The best part is the Sergi Santos created robot can switch her modes between 'family' and 'sexy'. She is a real deal when it comes to treating a woman appropriately. When there is a debate going on if sex dolls are portraying women as a commodity, Samantha is a breakthrough as she can detect inappropriate touching and disrespectful treatment. If she feels harassed, she shuts down, and you would be having a not so good time with a life-less unresponsive, mannequin.
Harmony- The hottest deal in sex dolls so far for $15000
Harmony is the closest to humans. The Abyss Creations product is more of a sex companion AI than a sex robot. The company has come up with the retail version of Harmony after a research of over 10 years. They use Harmony AI now in most of their sex dolls, who have different names. She is capable of conversations and comes with a customizable personality. With her Scottish accent, she can carry 18 different personalities and traits like shy and sexual. Her deep learning models make is capable of remembering things and she can build up a relationship with the owners.
She also tops in terms of appearance with a flexible skeleton and silicone body finish. You can opt from over 42 nipples and there is an optional transgender penis extension, too. The creators of the AI and the doll are doing continuous research and they have come up with numerous versions with different names. The standard model, which accompanies the decision of 18 female body types, or two male figures, start at $6,500 while increasingly explicit manifestations start at $12,000. You can buy a fully packed model with other decent customizations for about $15000.
There is still a long way to go
The advancement in AI, robotics, and Silicone manufacturing might have helped us build some life-like new technology sex dolls, but there is still a lot to achieve. From intelligent AI robot-like Sophia by Hanson Robotics to Emma from the AI-AItech who breathes like human, and Harmony who is reportedly your love companion, no one has yet managed to cross the limitations and fool us to think they are human. All of them might have some programmed human traits, but most of the time, it's just a program.
Honestly, I don't have any problem with AI sex robots. Although I personally feel more connected to a woman than a robot, it's just my personal preference. To me, sex robots are some marvelous piece of Technology. They are encouraging inventors to innovate and grab a billion-dollar market. There is nothing wrong with this.
Nevertheless, we have come a long way from Japanese balloon-like, plastic sex dolls to the lovemaking companions who aren't corpsed. We now have robots that interact, remember, get an orgasm, and help lonely men. As the AI advances and robotics become more affordable, we can hope that soon we will touch some bigger milestones. Until then, dolls like Harmony and Samantha are the closest human-like companions, which you can purchase under $15000. They are a hundred times better than life-less balloons and can respond aptly on being miss treated.
Join our FREE VIP Facebook Group to know more money making ways from adult sites.