-

16

mins read
Opinions are undivided on the future of porn industry. Experts say that porn industry is here to stay and rule. The internet is dominated by porn. Don't believe me?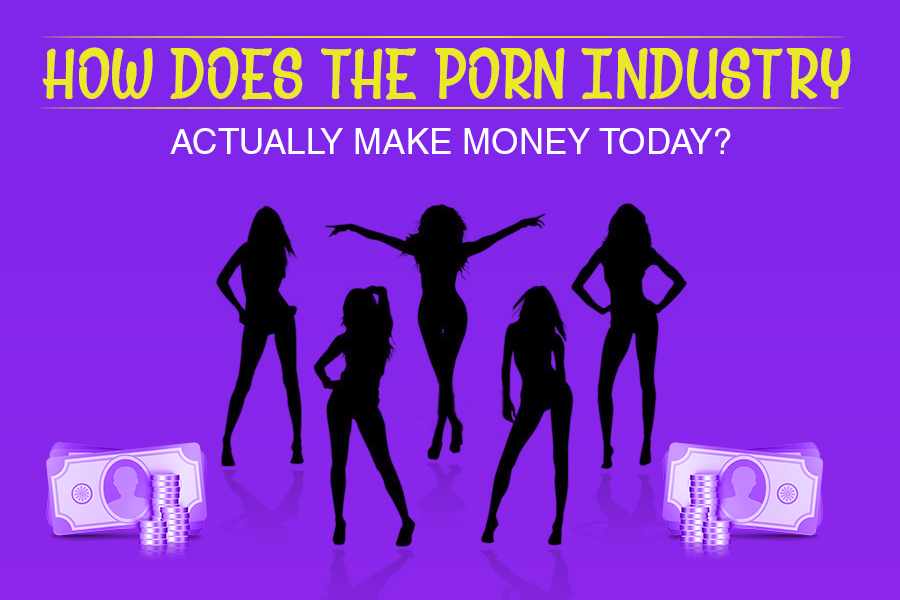 Let me borrow a static from Forbes. In 2010, out of 1 million most popular websites, more than 40,000 websites were associated with porn. In other words, more than 4% of the top 1 million websites were sex-related sites. Here is another factually correct statistic- 12% of all content on the internet is porn.
And according to various reports, the size of porn industry is at least $100 billion.
Hollywood releases an estimated 600 movies a year. It makes around $10 billion in profit. And guess what, the porn industry makes close to 13000 movies a year. There are no fancy graphics, no twisted plots and no complicated philosophies. There are cum shots, blow jobs, boob jobs etc. It's just sex and erotic stuff. Guess what, the porn industry makes an estimated $15 billion in profit every year.
So, how does the porn industry actually make money today? How can adult webmasters and adult actors make money in porn industry?
The express purpose of this informative blog post is to provide answers to the aforesaid questions. Let's delve into details.
Method #1: Selling Ad Space to Emerging Porn Websites
This may sound weird; nevertheless, it's worth mentioning – YouTube's video sharing and uploading operational model was swiftly mimicked by popular tube sites. Be informed that tube sites attract the highest internet traffic in the porn industry. Popular examples of tube sites are PornHub, RedTube, YouPorn, Tube 8, XTube, ExtremeTube etc. Interestingly, all these three popular tube sites are owned by a giant called MindGeek.
Beyond any doubt, the monopoly of MindGeek is the chief characteristic of porn industry. These tube sites contain massive amounts of free porn. Owing to the huge financial muscle, these tube sites purchase content from content production studios at cheap rates.
Why are the rates cheap and not expensive? Because content production studios are shrinking in number and porn performers are under great pressure.
Why are they under immense pressure?
Across the porn industry, tube sites have started accepting user-generated content. Amateur porn is all the rage in 2018. Amateurs require nothing more than a professional webcam, lighting and clothes. Location is immaterial.  So, professional porn performers are performing extreme, hardcore and abusive porn to survive and stay in this highly obsessive and competitive industry.
There are many subscription sites that are emerging in this industry. They are struggling to make a mark. This is a great opportunity for established tube sites like PornHub, RedTube etc. These reputed tube sites sell ad space to emerging players and make BIG money.
Just consider this scenario – In 2016, PornHub received an estimated 23 billion visitors. If an emerging porn tube site is able to capture at-least 0.1% of PornHub's traffic, it can make good money!
But don't you think this strategy of driving customers' attention to competitor sites can backfire in the long run? No!
Here is what PornHub does – Besides hosting the ads of its competitors (emerging players), it hosts ads of Reality Kings, Brazzers, Digital Playground, Mofos, etc. For your information, Reality Kings, Brazzers, Digital Playground, Mofos, etc., are subscription based porn sites owned by MindGeek. In short, the parent of Reality Kings, Brazzers and popular tube sites such as PornHub, RedTube, YouPorn is the same giant – MindGeek.
As a matter of fact, traffic will be diverted not just to PornHub's competitor sites but also to its premium siblings. Subscription rates of Brazzers, Reality Kings are often below those of the emerging players. Un-astonishingly, users go ahead with cheaper subscriptions.
MindGeek's strategy of selling ad space to emerging players is absolutely brilliant!
Method #2: Selling Ethical Porn to End-users
At the very outset, I would like to state the obvious – Porn sites make money through subscriptions. And yes, they make significant money by selling DVDs.  Do people pay for DVDs? Yes!
Tube sites such as PornHub, Tube 8, RedTube, YouPorn etc., contain too many short videos whose running time is not more than 15 mins. More often than not, DVDs contain videos whose running time is more than 50 minutes. Let me share MindGeek's strategy here – Popular tube sites show only the first 10 – 15 minutes of the complete 50 minutes porn. They create anxiety, instill interest and fuel curiosity. Audiences are encouraged and motivated to purchase DVD(s) to watch the complete content.
Exclusive fetish videos are in great demand. Fetish specific DVDs sell like hot cakes!
Subscription sites are taking customer service to the best possible level. Paid subscribers can watch ad-free content in ultra-HD. There are no nagging pop-ups. And yes, paid subscribers are entitled to unlimited downloads. Also, porn is delivered every day to paid subscribers in email. Such bundle of benefits often motivates users to pay for porn.
Free porn content is not renewed. It remains the same for at-least 7-10 days. Sometimes, it may take months. This is where paid subscribers win hands down. They get access to new videos almost every day. This is one of the reasons PornHub and other tube sites target and ruthlessly exploit porn addicts.
But what's ethical porn? Why are people paying to watch ethical porn when there is a lot of free porn?
As mentioned in one of the earlier paragraphs, content production studios and porn professionals are under extreme pressure to feature in degrading stuff which entails too much pain, abuse, humiliation, etc. Just look at the niches-brutal gang bang, extreme anal, painal, teen punishment etc. There is a big chunk of audiences that take pleasure in watching extreme porn.
So what's the big deal here? The big deal is that the porn industry doesn't have any regulation. If there is anything which can fix extreme porn, it's non-extreme porn. In other words, only non-abusive porn can fix the shortcomings of abusive porn.
Reputed porn stars like Siri, Jessica etc., are appealing audiences to pay for non-abusive porn. This is a great strategy to rejuvenate content production studios and encourage them to produce non-violent pornography. And believe me, there is a big pile of audience paying substantial amount to stand against abusive porn.
Here-in lies the brilliance of MindGeek- Adult porn stars such as Siri, Jessica etc., are active on PornHub, YouPorn etc. Audiences shell out money to watch non-abusive porn on MindGeek's tube sites and subscription sites. Interestingly, the same sites also host abusive porn! Audiences are tricked and hoodwinked!
Exploitation is omnipresent in this industry!
Method #3: Selling Adult Content to Content Aggregators
It's super easy and productive to sell adult content to content aggregators such as Cable TV, hospitality providers, etc.
But, cable TV and other content aggregators are regulated. Doesn't the regulation affect this industry? Of course, Yes!
Herein lies the beauty of the industry's modus operandi – There is something called soft porn. In soft porn, the performers engage in sexually arousing pursuits and nothing explicitly sexual. This subtle line of distinction can actually yield huge dividends for emerging players. There is a big audience for soft porn. For all intents and purposes, new entrants can focus on soft porn, sell it to content aggregators and make BIG money. It's important to respect and play by the rules and regulations.
Method #4: Cookies and Privacy
To be upfront, privacy is a big joke in this industry. Let me explain the nuances associated with cookies and privacy in detail.
Whenever you visit a tube site, the tube site injects a small file called cookie. More often than not, established tube sites such as Tube 8, PornHub etc., inject multiple cookies. Some of the cookies are temporary. They perish as soon as you leave the tube site. Some of the cookies aren't temporary. Unless and until you delete them, they remain on your computer. The scarier part is that they may persist forever!
Herein lies another important element – third-party cookies. When you visit a tube site, even third party cookies are injected and subsequently installed on your computer without your knowledge.
Don't believe me? Here is an excerpt from one of the privacy pages of a reputed porn site:
We have to emphasize that our Website includes Third-Party's Content or some other type of external services. These providers, partners and contents use Cookies as well though we have no control or insights over their Cookies and its usage. For these reasons, we advise you to read carefully any Cookie Policy issued by our Partners in order to avoid any misuse of your personal information collected and processed by these Administrators
Porn sites make BIG money by injecting cookies of third-party sites into viewers' computers. These cookies are used to push targeted ads. In other words, established porn sites are making money through free porn!
Let's delve further into details. Let's say you bought something after watching a video ad. Almost every video on Tube 8 and PornHub is associated with a referral code. Whenever you make a purchase, a small slice of the sale is apportioned to the referrer (PornHub or Tube 8). Let's say there are 10000 prospects and every prospect makes a purchase of $30. Let's say PornHub takes 10% of every sale. The tube site makes $10000 × 3 = $30,000. But PornHub gets more than 23 billion visits every year. Just image its revenue. It's massively colossal!
Will AdBlock impact the revenue of tube sites? Yes, to some extent. However, the porn industry has wielded the baton of magic through non-intrusive ads. Non-intrusive ads cannot be blocked by AdBlock. Also, the tube sites are resorting to artificially crafted strategies such as the following notification:
You have Adblock enabled. Adblock has been known to cause issues with site functionality. If you are experiencing issues with website functionality, please try disabling Adblock
So, are you really watching porn for free? No! You are indeed selling your privacy for an incredible cost and watching porn.
Method #5: Live Webcams
Popular webcam sites such as LiveJasmin, Chaturbate, BongaCams, etc., make BIG money. These webcam sites have models from all the seven continents. They have plenty of fake advertisements and a good chunk of audiences fall prey to fake advertisements.
Audiences have to purchase tokens from webcam sites to interact with their favorite model(s). Private one-to-one shows are expensive. Group shows are also costly. There is nothing free on such sites. Webcam sites take a big slice from the earnings of their models.
Method #6: Online Dating
Are you a forever alone guy? You must have tried quite a few online dating apps on one or more occasions. Let me guess the outcome – Free dating apps didn't yield any significant results. This is expected. And yes, free apps have bundle of pop-ups. Think more than twice before clicking on such ads. They are of little use.
Online dating apps target sex addicts, amateurs and forever desperate guys. They promise you to get you laid with near-by models. Vast majority of times, the promise doesn't work.
Dating apps hoodwink users to purchase premium subscriptions. And then, your chances of getting laid improve, not necessarily drastically!
Method #7: Online Porn Games
Teenagers love playing games. By all means, this industry wants to catch them young and convert them into loyal paying audiences. Online porn games are available for free to some extent. Let's say- you are done with the first 2 levels. To unlock the subsequent levels, you are required to pay some money. There are hidden charges involved.
This is worth mentioning – In 2012, Pink Visual, an American based pornographic company announced the launch of 3D virtual sex games. Users can create their own porn performers and sex scenes. This game was a massive hit. If you are keen on developing an online porn game, do a thorough industry analysis. Weigh the pros and cons. Use your discretion.
Method #8: Merchandise and Sex Toys
Sex toys are an emerging industry. Its estimated size is more than $10 billion. Almost every solo webcam girl sports a dildo. Sex toys are hot favorites of couples and solo performers. Reputed porn models sell their personalized sex toys, used lingerie and wet panties. They make good money.
And if you are an amateur, you can promote the merchandise of tube sites such as PornHub. You can wear PornHub T-shirt and feature in porn shoots.
Final Thoughts
To cut the long story short, porn industry is getting bigger and bigger every year. The industry is leveraging trends such as AR, VR, 3D etc. Many popular sites have VR porn and 3D porn videos. To make money in porn industry, you have to try all the aforesaid methods. Be patient. Target not more than 2 niches. Produce niche – specific content.
Found this article useful and informative? Want to make money by selling porn? Keep watching this space for amazing insights on how to make money by selling porn. If you have any doubts, drop a line or two in the comments section. I shall reply in a day or two. Subscribe to our newsletter for amazing adult stuff. Cheers!