-

12

mins read
Porn industry is a hotbed for transformation. Progressive evolution in the adult entertainment industry is almost a given. Not so long, stymied by excessive dependence and over-reliance on production studios, adult performers ran after legit agents to book porn gigs. Today, it is a different scenario. Apart from professional stuff, amateur porn sells big time. All that really means is that the business model canvas on which amateur porn in general and homemade porn in particular operate are devoid of interviewing and hiring process. As long as the models are at-least eighteen years old, adult entertainment industry has a recipe for a chest-thumping success.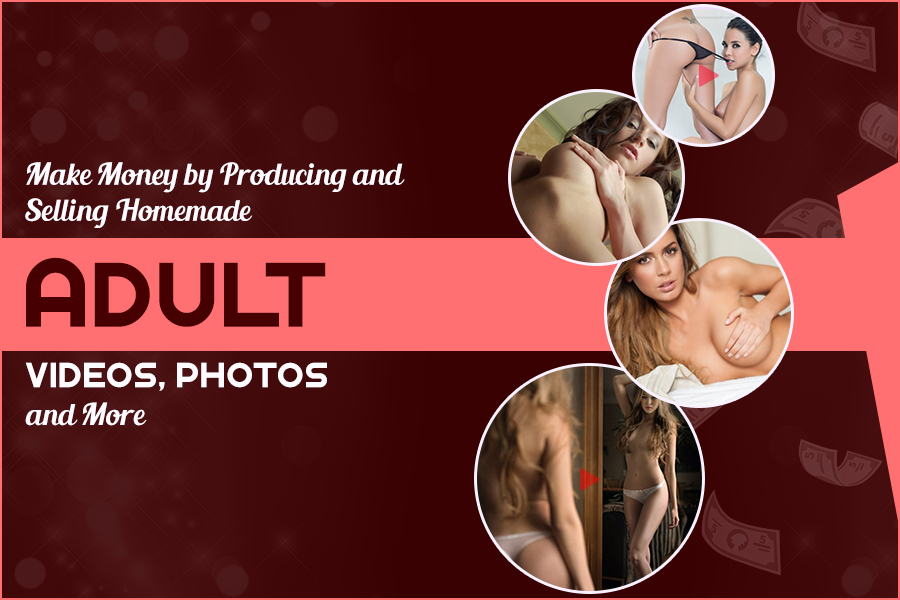 Make Money from Homemade Porn
Make no mistake, homemade porn can help you build a steady residual income stream. As long as the adult content is available for sale, every video and gallery has immense earning potential. The earning formula is simple – Earning potential is directly proportional to the volume of adult content. In other words, the more you produce homemade porn, the better are your earnings.
Over a period of time, you are assured of a generous fan-base. It then makes sense to own a subscription-based porn site. Now that porn industry is in throes of transformation, adult turkey software such as xStreamer are available. You can capitalize on its features, thereby not subscribing to the routine of hiring web developers, testers and programmers. And yes, no technical experience with hosting and coding is expected of you.
How to Sell Homemade Porn
Ponder on the perspective of producing homemade porn, and the implications are promising. More often than not, amateurs do not know how to begin with the process. Here is a brief note on the same:
Fetish / Niche: In this age and time, random and un-targeted videos are a curse. The first step is to identify the niche or fetish that you are comfortable with. Do not choose a fetish which is dead. Remember, your objective is not to revive any fetish. You should be concentrating on trending fetishes.
Research: Digging deeper shall open up a Pandora's Box of opportunities. Hop on to websites such as Pornhub.com, xvideos.com, YouPorn.com etc. Look at the videos pertaining to the fetishes you are comfortable with. Have an eye for details such as the number of comments registered, the number of views recorded, the behavioral persona of the models, the type of toys being used etc. It is important to understand everything to clock amazing sales.
Replicate: Replicate the behavioral persona of the models. Come-up with your own erotic story plots. Carve a place for yourself by registering a style. Upload the videos on all the networks listed in this blog post (you shall find the list of networks at the end).
Optimize: It is important to optimize your videos by adding relevant keywords, appropriate title and apt tags. Description of the videos is mandatory. Make it keyword-rich. Ensure that your videos have enticing thumbnails. Thumbnails create the best impression.
Fetish Communities: The final step in the process is to bring to the fore the process of promotion on fetish forums and communities. You may identify relevant forums and communities by using Twitter. Use hashtags in this regard. It all boils down to influencing the audiences in buying your content.
Tips on How to Sell Homemade Porn
Here are a few interesting tips to help you double or triple your earnings by selling homemade porn:
Platforms: Do not confine yourself to just one platform. Leverage all the possible adult platforms to maximize your earning potential. I cannot stress enough on this.
Profile: Complete your profile. Keep updating it now and then. Your bio introduction should be seductive. It should give your audiences a clear perspective of the different types of niches you are keen on pandering to. Add as many photo sets as possible. Your profile picture should be erotic and nothing short of high-resolution quality. Incorporate your adult turnkey website links. Use tangible items such as panties, Amazon wish lists, etc., in your profile.
Survey: Get some teeth into your research and surveys. Identify if it is possible to cater simultaneously to multiple relevant niches. For instance, taboo porn is gaining a lot of traction these days. You can make homemade porn relevant to step-sister lesbian fetish and step-sister & step-brother fetish. The key is to identify all the relevant niches/fetishes and shoot porn accordingly.
A Brief Note on Privacy Protection
The threat of privacy breaches looks as damning as it is in reality. That said, you need not do any extra-ordinarily incredible things to protect your adult videos and adult turnkey website from privacy breaches. Here are a few tools you can use to your advantage:
Proxy Server: Proxy servers play a crucial role in masking your location. As a result, your IP address will be hidden. This goes without saying that people will be not capable of finding out the city where you live in.
Regional Blocking: More often than not, adult tube sites are endowed with regional blocking capabilities. Hence, it is easy for adult webcam models and performers to block users by specific states and regions. Be informed that this works only if the users aren't accessing your adult tube site through a proxy. Users tend to travel from one region to another and hence, regional blocking may not provide foolproof solution to privacy breaches.
DMCA Services: DMCA stands for Digital Millennium Copyright Act. I shudder to think what would have happened if DMCA procedures were absent. In adult tube sites, content is downloaded and often added to pirate sites. More often than not, pirate sites are devoid of regional blocking capabilities. A DMCA service does just the right service to you by monitoring your content on the web. I believe, webcam models and adult performers should be pro-active. They should search the internet for their content and subsequently file DMCA complaints to get their content removed.
Watermark: Scrupulously watermark your videos. Watermarks are tough to remove. Thanks to watermarks, audiences will get to know about your adult tube site.
Pre-requisites
Amateur porn performers are often in a bind when it comes to purchasing the right equipment. There is absolutely no necessity to burn your pockets to get top of the line equipment. Equipment can always be upgraded. Here is what you require to produce homemade porn:
Camera: Will a basic smartphone camera work? Yes, of course. That said, quality cameras yield quality results. There are many models who do shoots with a basic HD cam or a webcam. To have an edge over your peers, it is suggested to invest in a good HD camera. Should your budget permit, purchase a tripod and a boom mic along with other accessories.
Toys and Outfits: This depends on the niche/fetish you are catering to. If food fetish is your niche, you obviously require a chef's uniform. If dildo porn is your fetish, it is mandatory to have dildos of various sizes and colors.
Place to Perform: Always do your porn shoots in rooms which are noise-proof. It just doesn't matter if you do your shoots in a hall or a bedroom or a kitchen. For different types of scenes, use different types of rooms or arrange proper sets.
Lighting: If your room is short on natural lighting, invest in a good 3-point lighting system. It isn't expensive.
Laptop with a working internet connection: It goes without saying that internet bandwidth should be high. A laptop with basic configurations will do.
Video Editing Software: Invest in a good video editing software. Basic video editing software will suffice but its capabilities may be limited. If you are keen on doing some elaborations, you should consider investing in a professional video editing software.
You are now perfectly poised to sell your porn on the following networks:
| | | | | |
| --- | --- | --- | --- | --- |
| Network | Pics | Videos | Shows | Other Media |
| AdultMemberSites | Yes | Yes | Yes | Yes |
| AmateurCommunity | Yes | Yes | Yes | Yes |
| BentBox | Yes | Yes | No | Yes |
| Customs4U | No | Yes | Yes | Yes |
| ExtraLunchMoney | Yes | Yes | No | Yes |
| IndieBell | Yes | Yes | Yes | Yes |
| ManyVids | Yes | Yes | No | Yes |
| ModelCentro | Yes | Yes | Yes | Yes |
| MyDirtyHobby | Yes | Yes | Yes | No |
| OnlyFans | Yes | Yes | Yes | Yes |
| Vuier | No | Yes | Yes | No |
| YouKandy | Yes | Yes | Yes | No |
Perform Solo or Team up with Partners
A few audiences have penchant for watching orgies. To please such audiences, you can film full on orgies. However, ensure that you and your partners have verified profiles on various sites. Otherwise, you will land in a soup. Certain sites have restrictions on the maximum number of performers that can be cast in a scene. Do read the terms and conditions before showing any buoyancy.
Custom Content Requests
You can make money from homemade porn by generously accepting custom content requests. Custom content is always pegged at higher prices than regular content. More often than not, models markup the custom content by at-least 30% and make it exclusive. Here is the list of sites which accept custom content requests:
| | | | | |
| --- | --- | --- | --- | --- |
| Network | Pics | Videos | Shows | Other Media |
| Customs4U | No | Yes | Yes | Yes |
| ExtraLunchMoney | Yes | Yes | No | Yes |
| ManyVids | Yes | Yes | Yes | Yes |
| MyPornoMovie | Yes | Yes | No | No |
| YouKandy | Yes | Yes | Yes | No |
Webcam Sites
If you are a webcam model, you can sell your adult content to the following webcam sites:
| | | | | |
| --- | --- | --- | --- | --- |
| Network | Pics | Videos | Shows | Other Media |
| BongaCams | Yes | Yes | Yes | Yes |
| CamSoda | Yes | Yes | Yes | Yes |
| Chaturbate | Yes | Yes | Yes | Yes |
| iFriends | Yes | Yes | Yes | Yes |
| XLoveCam | No | Yes | Yes | Yes |
I hope you have gained a lot of insights through this article. If you have any doubts or concerns, feel free to drop a line or two in the comments section. I shall reply in a day or two. If you want further insights on how to sell homemade porn, subscribe to our newsletter. Keep watching this space to learn more about how to make money from homemade porn. Our best wishes are with you and your adult venture. Cheers!