-

13

mins read
Are you aware of the multi-role adult sites like onlyfans.com, 4my.fans, and manyvids.com?
At first, these sites can confuse you for webcam modeling platforms, where you can perform and make money through tips, paid chats, and private shows. However, taking a close look reveals that they are also some great adult marketplaces to find recorded videos and fetish products.
On the whole, if you are looking for making some additional money out of your cam modeling career, these three sites will give you the bests of the opportunities. They are quite popular among the webcam models for offering lucrative incentives and fan pages.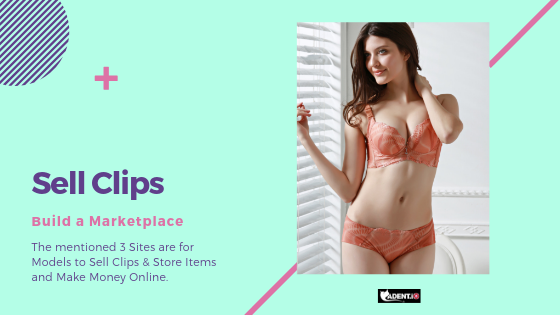 What connects these sites to each other?
It's their business model. They follow a combined model of cam modeling sites and Adult marketplace for fans, where different models can sign up and get their dedicated fan-pages, cam model profile, and eCommerce store.
It's a great way to capitalize on the opportunities where models cannot just depend on live cam shows for making money, but use the eCommerce extension to capitalize best on their fan base. Each cam model profile is equipped with integrated eCommerce stores, where they can-
Upload-

Recorded videos-on-demand

Physical products & merchandises

Other digital products like photos

Put a desirable price tag and sell the products
In short, these sites and apps are the perfect destinations for cam models, where they can not only make active money through live cam shows, but can also make uncapped passive income selling photos, recorded videos, merchandises, and other fetish products.
How Adult marketplace hybrids like Manyvids make money?
 Be it Manyvids, Onlyfans, or 4My.fans, all these sites follow a hybrid revenue channel. In addition to being a full-fledged cam modeling site, they are also the optimized adult marketplace for fans. Hence, by owning a site like Manyvids or others, you can capitalize on all the channels that concern a cam-site and an eCommerce marketplace.  
Breaking the business model, we can find four main stakeholders on such a site:
Site Admin: The owner of the business and responsible for managing the site.
Models: Cam models who would bring revenue to the business from users.
Users: Customers of the site/app who paying for products and services of the site.
Affiliates: Webcam affiliates bring models and eCommerce affiliates to bring customers.
Admin revenue channels
As a business owner, you get the following opportunities to make money:
Selling tokens in exchange for the actual currency.

Commissions on the earnings made by models in the cam shows.

Commissions on the earnings made by models selling different products.

Commissions on sales made by models for premium videos and photo-galleries.

Ad-based revenue by embedding different types of video and banner Ads on the site.

Commissions on subscription revenue when users purchase different membership plans.
Cam girl revenue channels
As a cam girl on such sites, you get the below prospects to make money:
Revenue through tips during the cam shows

Revenue through paid Direct Messages

Revenue through model subscriptions

Revenue through selling digital products

Revenue through selling physical products
Affiliate Revenue channels
You can make passive incomes by simply referring people to these sites:
Commissions on the earnings made by cam-girls referred by you.

Commissions on the sales on the adult marketplace for your referred products.
Would it be a worthy idea to start an Adult Marketplace?
The adult is a huge niche. From adult movies, Cam modeling, Adult eCommerce, adult Magazines, to phone sex, there is a huge array to cover. Talking merely about the Adult marketplace, we get the eCommerce sites that sell erotic products like sex toys, Porn DVDs, Adult Mags, and other items.
The adult marketplace is indeed a billion dollar market, but you can't rule the sphere by merely serving the sex toys and other erotic products. Even mainstream sites like Amazon and eBay are full of sex toys.
To stand out, you need to do something like these three sites have done with their business models. Make a hybrid and capitalize on the best aspects of every niche in the adult business industry. By starting a hybrid like onlyfans.com, 4my.fans, and manyvids.com, you would be covering the following spheres in a single swipe:
Adult cam modeling

Adult VOD streaming

Adult eCommerce marketplace

Adult Social Media and Fan sites

And probably the adult phone sex too with some customization.
How to create a hybrid adult marketplace for Fans?
By creating an adult marketplace for fans, one does not necessarily mean developing the website. In fact, you don't even need to develop your website from scratch. You can simply purchase a turnkey script and customize it to fit your needs. These turnkey solutions are also called as clone scripts, which offer ready-to-use solutions to set up an adult marketplace site on the go.
There are not many competent turnkey scripts available in the market. So you have to be very careful while choosing a suitable solution. For example, if you intend on starting a hybrid marketplace that offers the blend of business models explained in the above section, you can go for an Onlyfans Clone Script or a Manyvids clone script. As Onlyfans and Manyvids follow a similar business model, either of the clone scripts will do the job.
Why should you pick a clone script?
I agree that developing a website or mobile app from scratch is the best approach for getting a fully personalized solution as per your unique business requirements. However, this is also a fact that developing an application from scratch takes and a lot of time, money, and resources.
It will take months after spending hundreds of thousand dollars on paying the developers and managing the team. Even outsourcing the entire project will cost more than the in-house management.
That's where clone scripts fit in. They are already built from scratch by their respective developers and have already been through a series of research, development, and testing. If you are inclined on doing that again, you would be just re-inventing the wheel.
That's why a clone script would offer a base which you can use to either launch a business with its default features or customize the script to add some exclusive topographies.
xFans: Create an Adult Marketplace with several monetization options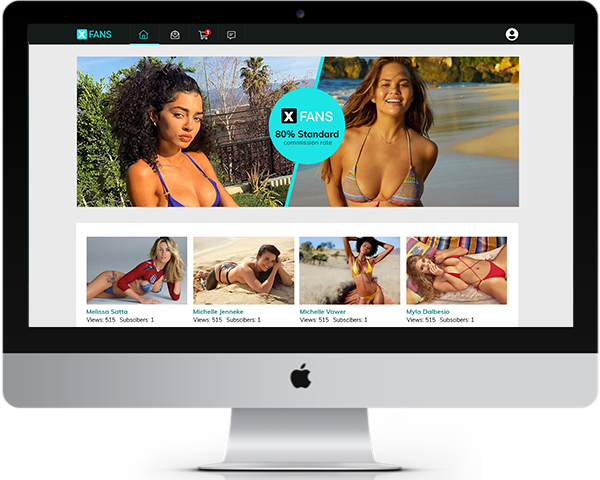 xFans is Adent's latest turnkey solution for starting a hybrid adult marketplace for fans. This adult marketplace script is a collection of features that make a hybrid of VOD streaming, and adult eCommerce business.
Note: The live webcam feature is under development and will be introduced very shortly. 
Using this script, you can set up a highly appealing multi-model adult marketplace site for capitalizing on the fan base of adult models. The script offers dedicated profile and dashboard to each model where they can host cam shows, sell their recorded videos individually, and also sell an array of fetish merchandise.
Similar to the Onlyfans and ManyVids, xFans adult marketplace script was built on a cutting-edge tech which combining the profitable features for live streaming, video-on-demand streaming, Token-based payments, tipping system, eCommerce store, transaction-based premium content selling, integrated adult payment gateways, and calendar management system.
What's unique about the xFans script?
The script comes with open-source code access. It's easy to install and manage, even if you don't know to program. With combined abilities of eCommerce marketplace and video streaming, you can launch a fan site, add models, invite users and affiliates, and make money from the first day itself. You don't need tech expertise to manage your site, just deploy the script and go live upfront.
Built on MEAN Stack, xFans is broadly scalable. It can serve millions of live users, hundreds of live cam shows, and thousands of on-demand videos and eCommerce products. With dedicated dashboards, each model can stream live cam shows, sell video clips, set monthly/yearly subscription plans.
Unique features of the script:
Clean and standardized code base

Fully optimized database Schema

Developed on modern MEAN stack

All documentations are available

SEO optimized design practice

Highly secure architecture

Automatic video conversion

Mobile responsive web design

White-labeled architecture
Features for the users-
Search individual models

Search individual videos

Search merchandise to purchase

Watch live webcam shows (upcoming feature)

Watch video-on-demand

Live chat with models (upcoming feature)

Request Private cam shows (upcoming feature)

Purchase premium photos and videos

Purchase models' merchandise

Like the videos

Purchase tokens

Tip models with tokens
Features for the admin-
Manage models and their accounts

Manage users and there accounts

Manage commission rates to be taken

Moderate on-site images and videos

Add static pages

Manage adult payment gateways

Manage the marketplace stores

Manage the content gallery
Features for the models-
Create a model account

Host Live cam shows

Upload recorded video

Upload Photos and mages

Collect tips from users

Sell Premium video and photos

Upload and sell physical products

Manage orders and order status
How to monetize your adult marketplace using xFans?
As a business owner, you can monetize the site with not just commissions on live & on-demand videos, but also through sales made on the integrated adult marketplace. Using the script, you can make money putting commission rates on the following inbuilt revenue channels:
Tips during live cam shows

Premium Videos & images

Private 1 to 1 live cam shows

Premium 1 to 1 Direct Messaging

Model subscription plans

Integrated eCommerce marketplace
Hosting your adult marketplace site
Hosting for adult websites has always been a confusion for the business owners. Do regular web hosts allow Adult sites?
Mostly no. Don't take a risk of ruining your business once it's running. The best approach is finding a dedicated adult web hosting provider. Especially, when a hybrid site with adult video streaming as well as adult eCommerce would stay safe and sound with adult hosts only.
I can name a few, which are dedicated to adult websites only and offer all sort of optimizations required to host an adult script. The M3Server and ViceTemple web hosting provider are our official web hosting partners. They provide optimized server configurations for all Adent scripts and also offer great discounts with free domain name to our customers. Though you can choose any adult web hosting partner of your choice, you should check them out once.
To Conclude
Both Adult marketplace and adult video streaming are two highly profitable niches for business. You get an array of ways to make money. However, a combined venture would be a much better way to multiply the prospects for monetization. Having said that, I would always suggest a turnkey adult marketplace script to create your business. It's not wise to invest a great deal of time, money, and efforts doing what's already been done. Choose xFans or any script from the market you find fitting best with your requirements, and start your hybrid adult marketplace today.
Join our FREE VIP Facebook Group to know more money making ways from adult.