-

7

mins read
Doesn't the prospect of hooking up with somebody outside your social circle electrify you? When it comes to dating, even an introvert dons the mantle of an extrovert. Apps like Tinder and Ok Cupid are all the rage in 2018. The internet is rife with gloomy and sad tales of unsuccessful Tinder stories. This is because people lack a healthy and fulfilling approach to dating.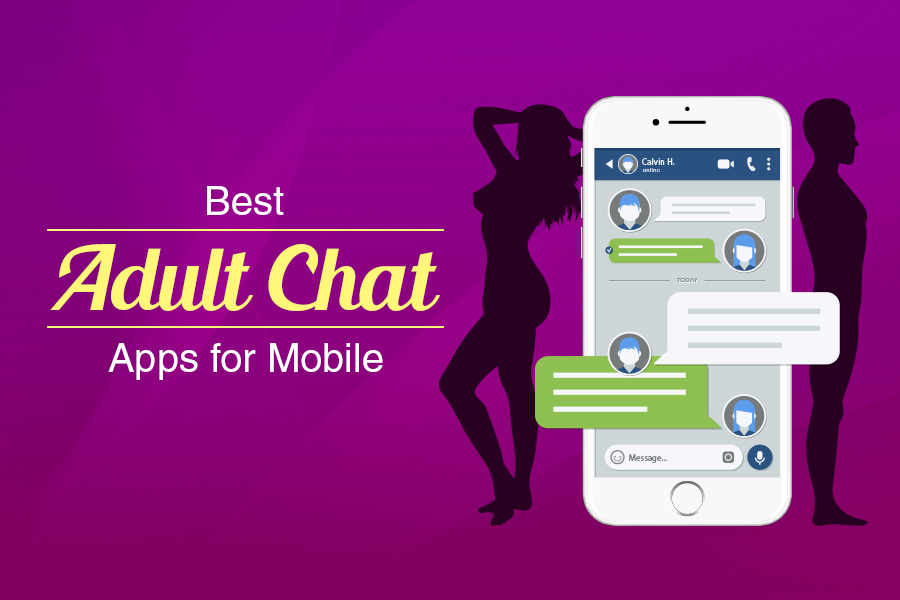 It's important to establish boundaries between you and your Tinder match. For all intents and purposes, communication lines should be kept open for steamiest and hottest conversations.  People are already familiar with sites like Chaturbate, BongaCams, etc. And if you are looking to spice up your night, you should try other adult chat apps as well.
Here is a quick run-down on the best adult chat apps
Adult Chat App #1: SaucyTime
Are you looking to connect with models from UK? Do you have a thing for models with typical British accent? Wait no further! SaucyTime lets you connect with male and female models and enables FaceTime with them.
You can connect with models in different time zones- European, North American and Asian. This necessarily means that you shouldn't expect all models to be available at all times!
One of the best things about this adult chat app is that there are no recurring and membership charges.  However, a minimum purchase is mandatory to initiate FaceTime.
Is this adult chat app platform agnostic? No! It's just compatible with iPad and iPhone. You are at a disadvantage if you own an Android or a Windows phone. But hey, if you are a Mac or an iOS lover, you are going to love the deal! Private adult sex chat with your favorite British model can definitely be a great experience on a whole new level!
Adult Chat App #2: Camfrog
Are you looking to connect, privately chat and browse through thousands of chat rooms world over? You may set your sights on Camfrog. This adult chat app has more than a million users. This app is compatible with iOS and Android operating systems. And here's the good news – It's free. Of course, there is a premium version with advanced features available in the app store.
Are you a first-time user? Don't worry. Camfrog has a dedicated tutorial to help beginners. By all means, this app is extensively used by cam girls. And yes, if you are on Facebook, you need not create a profile. You can directly login with Facebook. User interface is intuitive.
But hey, the free version contains too many ads. Ads can be a nagging pain! The premium version doesn't contain any ads. User experience on the premium app is top notch and seamless. And yes, the app is known to freeze sometimes. However, the benefits outweigh the frailties. Use this app to your advantage and the premium version is absolutely fun to use!
Adult Chat App #3: LOVOO
Are you keen on engaging in dirty and steamiest sex conversations with cam girls? Do you want to connect with attractive and real women? Bet your chances on LOVOO. This adult chat app will suit your needs and shows real times matches effectively.
 All thanks to its efficiency and multitude of features, LOVOO is super popular in countries such as Germany. As a matter of fact, it's the go-to adult chat app for people in Europe. If you have a thing for European beauties, LOVOO is definitely worth trying!
Just like other popular adult chat apps, it has a few shortcomings. Not all user profiles are complete. They lack information and sometimes, profiles aren't receptive to messages. Too many unread message can actually dampen the spirits of prospective adults who are looking to connect with models.
And yes, there are quite a few bugs as well. However, the latest version of LOVOO is updated and most of the errors are fixed. Lengthy loading time is another matter of concern. But here's the interesting thing- Registration is absolutely free. You can login directly with Facebook, Twitter or e-mail.
Don't worry about privacy. LOVOO respects your privacy and takes it seriously.
Adult Chat App #4: Hot or Not
At the very outset, let me tell you that there is no age verification process. In other words, this adult chat app is strictly for adults. That said, even 13-year-olds can register on this location-based app. Users between 13 years and 17 years age are not entitled to chat and share their photos with users older than 17 years. If you are a parent and if your child is using this app, you should be worried!
Now coming to the crux, this app shows you the hottest and most attractive women near you as per its in-built rating system. By the way, this app was started as a website 10 years ago. Since then, it went through a series of iterations and today, it's being used my many prospects!
Adult Chat App #5: Badoo
By all means, this is an adults-only app. In other words, its policy asserts that users should be at-least 18 years to avail its services. This adult chat app has more than 200 million users worldwide. And yes, this app can be used on desktops.
There's a problem with this app though – Content is not moderated. So, it's pretty common to see sexually explicit images every now and then. This can be a big turnoff to those people who are looking for something beyond sex. After all, conversations can break or make relationships!
The user is required to share his location. The app identifies the location of the user and fetches thousands of potential matches. User interface is intuitive. Looking for a fulfilling experience? There is little harm in toying with Badoo!
Final Thoughts
It's great to connect with strangers. However, if you fail to take care of personal hygiene, privacy, safety and protection during sex, you may risk your life! Exercise great caution.
Found this post on the best adult chat apps useful? Keep watching this space for insights and informative content on adult dating. Looking to start webcam sites like Chaturbate? xCams is your perfect turnkey solution. Take a look at its bundle of features. Cheers!