-

12

mins read
Adult webcam businesses should adhere to the quintessential quality of doing business legally.  What's strange about the American adult webcam business is that most of them, write their own legal policies. It seems like it is more the norm than the exception among amateur adult webmasters. This is a strategic mistake. This is an area where a lot of expertise and experience is required. It's a wise strategy to hire an attorney.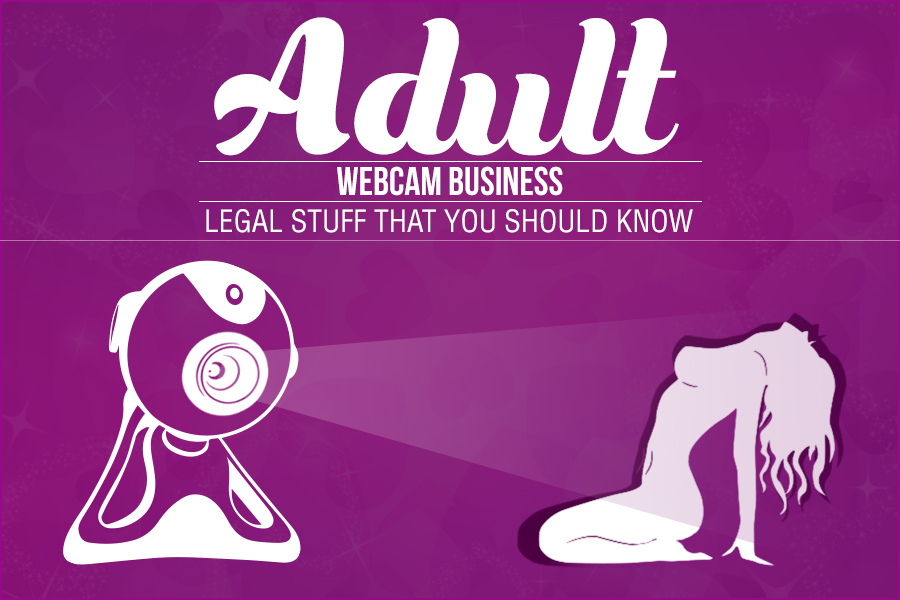 There are state laws and federal laws which dictate the course of adult webcam business. What's legal in Singapore may not necessarily be legal in the US. Salacious content is illegal in the Middle East. Do you want to unnecessarily complicate things? Sit with your business attorney and delve into the foundational tenets of privacy laws, business laws and cyber laws.
However, it's important to keep yourself abreast of legal stuff. And any adult webcam business administrator would know how true that is. Here is an informative run-down on the same:
Business Entity
Every business entity is associated with a business model. The following questions should be answered:
Are you keen on running a web-based business?

Is it viable?

Do you have a business model written out?

Do you prefer a C corp, a sub-S or an LLC?

Are you comfortable with sole proprietorship?
Is it important to have answers to the aforesaid questions? Of course, Yes!
Liability and tax aren't same across each of the business entities. So, it's important to select the correct entity after due diligence
Terms of Service
Terms of Service also called Terms of Use and Terms & Conditions, are nothing but rules that one must abide by and adhere to while using a service. For all intents and purposes, the rules serve as a contract with visitors and absence of a written "Terms of Service" can make your business liable to criminal and civil offence.
Let me mention a few Terms of Service (Neither comprehensive nor absolute). You can use the following for your adult webcam business. However, discretion of a qualified attorney is mandatory.
User Agreement
You agree that we own all our trademarks

Anytime you visit our adult cam site and engage in activities such as browsing, messaging, chatting with webcam models etc., you are a user and shall agree to this agreement

To access and view the content of this webcam site, you must be at least 18 years old

You can view the webcam site without creating any account/profile. To post pictures, chat/message and tip webcam models, it's mandatory to create an account

Your account will be suspended if your details are proven wrong or factually incorrect.

Amount once paid/deducted for any service will not be refunded under any circumstances. We are not obliged to do refunds.

This adult webcam site assumes that you are aware of the laws in your area and should not do anything illegal.

This webcam site doesn't entertain any fraud. If you commit fraud, you will be banned from the site.

All the content you see on our webcam site is not owned by us. It is either created by 3rd party members or broadcasters. There's a lot of user-generated content on this adult webcam site

You can submit and broadcast your content on our webcam site. Be informed that it can be viewed by anyone who visits our site

You do not own any part of this adult webcam site. Post your content submission, you no longer own the same. You cannot sell the access, share or distribute the content or any part of it or this webcam site without our written permission and consent
Broadcaster Agreement
You cannot be a minor. You should be an adult (at least 18 years old)

Violence in any form is not entertained

You do not have any permission or entitlement to arrange escort services or meetups.

Prostitution is a big NO and is illegal

Do not commit any fraud. Your LIVE activity will be monitored constantly on the webcam site. In case you upload pre-recorded versions and try to hoodwink viewers, your profile will be suspended
Account Termination Policy
In case of non-compliance with the stipulated guidelines, this adult webcam site can terminate your account.
Extent of Access
Users, broadcasters and 3rd parties do not have access to the site's backend.
Miscellaneous
This is an agreement between you and this adult webcam site only

In case a rule or a condition changes or is rendered void, other rules and conditions still hold true

If you have issues or concerns, file a grievance. Its validity is 1 year from the time the instance occurred
Privacy Policy
Your adult webcam business site should have a privacy policy. You should address age-related issues. For instance, minors are prohibited from entering adult webcam sites. A few types of content cannot be watched without proper parental supervision.
Also, during the sign-up process, you are required to provide information on how the personal data of users will be handled. By all means, you can use positive reinforcements to your advantage. In other words, use phrases such "to improve the user experience", "to provide customized and the best recommendation" etc.
Adult webcam sites are sophisticated and hence, they may contain cookies to track the user behavior and preferences. Web surfers may like to learn about how the cookies function and what type of data is being extracted from their visits.
Are you partnering with any 3rd party companies? If yes, are you keen on sharing the user data? Be transparent and state the truth. Notify your customers about all the changes to your privacy policy. Keep them informed on the effective dates of implementation.
FTC Guidelines
Internet is a big advertising medium. Can you rely on the internet? No!
The incidence of fraud is very high in the online porn industry. Needless to say, the incidence of SPAM is also very high. Adherence to FTC (Federal Trade Commission) guidelines to establish the credibility of the internet as an advertising medium is mandatory.
Very often, new adult webcam sites are sanctioned with fines. This can be attributed to little adherence or non-adherence to FTC guidelines. Do you want to pay heavy fines?
Domain Name and Trademark
Domain name and trademark are two different things. Many amateur adult webmasters are oblivious to the underlying distinctiveness between the two. For all intents and purposes, a domain name is nothing but an internet address which is legible to web surfers. By the way, domain names are regulated by domain name registrars.
A trademark can be anything which differentiates your business from that of your competitors. It can be a logo, a design, a slogan, a motto etc. Let's say you have a catchy slogan which represents your business. In other words, your audiences are highly receptive to the slogan. Here is what you are required to do – Register it as a domain name if it is available.
Keep in mind that domain names and trademarks are super valuable assets. If you don't protect your assets, you will be deprived of their value. Keep your brand name free from conflict.
Copyright
Adult webcam sites have images. If the images are on the web, it means that somebody owns them. Can you use them without giving proper credits? No!
It's good to buy a license for all the images that you are using on your webcam site. More often than not, it's considered a criminal offense to use copyrighted material without purchasing a license.
Performer Release Form 2257
This is a legal document. To cash your tokens, you are required to upload your ID and sign on your Performer Release Form 2257.
The moment you sign in to your account/profile, you agree to the following:
You are at least 18 years old

You shall not produce any illegal content

You are the sole owner and producer of all your content

All the models featuring in your cam are at-least 18 years old. Never allow children in your adult broadcast. Children cannot be exploited in any form in any circumstance

The adult webcam site is entitled to show and display your likeness on the site during your show

You have consented to store a copy of Performer Release Form 2257 and shall reproduce it if required
DMCA Policy
DMCA stands for Digital Millennium Copyright Act. This standard is well established and highly accepted amongst internet service providers, and website owners.
Adult webcam sites have a lot of user-generated content. Just in case a user uploads copyrighted content, DMCA policy shall give you a safe harbor from liability.
Taxes
Webcam models are not full-time employees. By all means, they are responsible for filing their own taxes. No matter where they are, they are either sole proprietors or self-employed or independent contractors. The categorization may be different in different countries.
It's better to visit an accountant and file taxes. Of course, there are many online tax compatible software. But self-help software may not be convenient to everybody.
What should you have? You should maintain a record of all your earnings. You can claim certain amount on a few things. For instance, to run anadult webcam business, you require internet, toys, clothes, make-up, a room/space etc. Keep a record of all your receipts (expenses).
Please be informed that the afore-mentioned information is not comprehensive. The express purpose of this write-up is to keep you abreast of the basic legal stuff.
Found this article useful and informative? Subscribe to our newsletter to learn more.  Keep watching this space for insights on how to make a cam site? My best wishes are with you and your adult webcam business. Cheers!