-

13

mins read
When Facebook was launched in 2004, there was plenty of hullabaloo. That other social media platforms such as Twitter and Instagram followed was just the cherry on top of the cake. The number of active users on Facebook is 2.2 billion while that on Twitter is 330 million. Also, it is worth pointing out that audiences prefer snazzier channels of communication such as WhatsApp and Facebook messenger. Do these stats and trends mean something to adult entertainment industry? Yes, of course. For all intents and purposes, social media sites can be used as effective marketing tools by adult performers. There is little denying that adult webmasters are on vigil and can soon roll out adult chat apps resembling WhatsApp and Facebook messenger.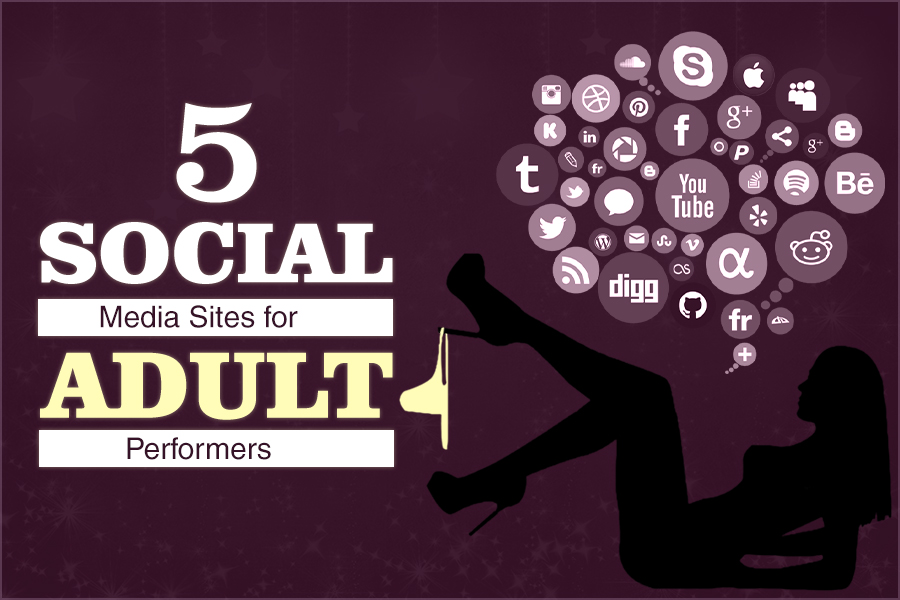 Shadow Banning
Let me not brush things under the carpet. Shadow banning is setting alarm bells in the adult entertainment industry camp. Shadow banning, also called Ghost banning, is the act of blocking the users and subsequently restricting their content from reaching out to online audiences. What's worst is that the users do not know/realize that they are banned. Not so long ago, Twitter and Tumblr were deemed the best adult social media sites. Today, Twitter and Tumblr are not so adult friendly. The pertinent question, therefore, is – Is there any merit in promoting adult content over these sites?
In that sense, the presence of social media sites dedicated to adult performers is a necessary counterbalance in a social world where quality and targeted traffic seem to be valued by adult turnkey websites. Here is a brief note on 5 social media sites for adult performers:
Diverxity
Diverxity is an adult social marketplace which allows adult content producers to connect with fans and other members of the adult fraternity. Not only does it promote the content of professional studios but also the content of independent and amateur models. Registration is mandatory to earn money as a Diverxity member. Members can produce, upload and subsequently sell adult video content to make their wallets fat. And yes, the payout system is complex but highly efficient. This adult marketplace operates on a subscription – based revenue model. The payout algorithm is inherently complex, advanced and progressive. It takes into consideration the number of views your videos and content muster, the number of subscribers you have etc. Your earning potential relies on how active you are on the adult marketplace.
Recently, they incorporated a feature where-in models can sell individual pieces of content to all those audiences who are not interested in subscribing to the complete content. Models have admin privileges to unlock the content and accordingly set the rates. Let us now look at the content mix of this social marketplace:
Videos: As stated earlier, both professional and amateur videos are housed. Individuals and production studios should register, produce and upload the video content.
Erotic Stories: You get paid for erotic stories which reek of libido and lust. The payout rate is essentially a function of the number of membership views.
Blogs: You can share interesting content such as upcoming trends, most attractive models etc., pertaining to adult content. You can make the blog posts either public or available to subscribers. It is left to your discretion.
Art: The fact that Diverxity lets you earn money through erotic art, sexually stimulating paintings and nude drawings is undoubtedly a case in point.
Photo Sets: Adult models can aspire to monetize their perfect erotic physique by showcasing it through photo sets. More often than not, a photo set contains any number of phots between 4 and 100. You can make a fortune by sharing them on Diverxity.
This adult social network is a great platform for promoting your other services.  For instance, you can link this adult social marketplace to your other sites and networks. As a part of their daily newsfeed and daily digest email, users shall receive newly uploaded content. Hence, it is important to be active on this marketplace as it has enough provisions to upsell right dose of adult content right audiences. What differentiates Diverxity from other adult social networking sites is that it lays emphasis on the social networking experience. In other words, there are many adult turnkey websites which consider themselves as social networking sites but they lack in rendering the networking experience to audiences. Members of Diverxity get their own profile pages. Users can make connections, comment, and blog and send messages with each other.  By the way, promotion of your adult content through trailer videos and commercials is not encouraged. Be informed.
Final Verdict
Diverxity is a great place to sell and promotes your adult content. Do register yourself and become a Diverxity member today.
OnlyFans
I learnt about OnlyFans from one of the many canny webcam models. Even as webcam models lay bare their biases, it is clear that OnlyFans is pegged as a platform for Twitter porn. Before getting further into the details, I would like to first enlist the pros and cons.
Pros
Revenue generation model is based on subscriptions and commissions. In other words, if people were to access the content of webcam models, they must subscribe. More often than not, subscriptions aren't free. They are pegged at certain prices.

Integrates perfectly with Twitter

Majority of webcam models vouch for its ease of use

Income stream is consistent and decent

Webcam models have been bandying the 5% lifetime referral program as a key advantage. In other words, webcam models earn 5% commissions for the life of the audiences they refer.

Daily payment
  Cons
There are no provisions to link individual posts through hyperlinks

Doesn't seamlessly integrate with other social networking platforms such as Facebook
OnlyFans is for everyone. It is not an elitist platform for only celebrities. Right from celebrities and gamers to amateur models, OnlyFans can be accessed and leveraged by anyone and almost everyone. I signed up with this adult social media site and it's a fairly simple process. The platform is structured the same way as Twitter is and of course, everything is user – intuitive. It is easy to activate and de-activate your account. You are required to tweak the following parameters:
Username

Profile Name

About

Email

Subscription

Location

Website URL

Change Profile Photo & header
It is worth mentioning that OnlyFans accepts only those adult performers whose profile and cover images are marked as SFW (Safe for Work).  Also, by default, the subscription price is set to $0.00. If you do not have any subscribers and followers, free subscription stands as the most ideal option. However, you will not be able to make any money with a subscription plan whose price tag is zero. Once your profile gains enough traction, you can set the price for your subscription plan. As of now, the minimum subscription price stands at $4.99 a month. You cannot set the price below $4.99. Slowly and steadily, you may increase the rate. Lower your monthly fee as soon as you witness a downfall in the number of subscribers.
I read various adult blogs and magazines and cringe at times. Many webcam models do not have their own webcam site. If you are a webcam model, it's good to invest in an adult turnkey software and get an adult turnkey website for yourself. Provide this URL in the Website URL parameter. If you have an account in Chaturbate and BongaCams, you can provide those URLs as well.
Suggested Read: 15 Great Ways to Get Targeted Traffic for your Adult Tube Site
To add pictures apart from the adult video content, you should click the Compose icon. This feature lets you add not only YouTube videos but also MP3 videos. You can organize polls and keep adding pictures.  You can also make use of the Calendar feature to schedule your content. Another feature worth mentioning is the built-in Messenger. If you are a webcam model, you can strike conversations with all your subscribers and people who purchase monthly subscription plans. If you think somebody is trying to troll you or abuse you, you can ban him / her from subscribing to your adult content. You can block users by IP as well.
You can get help from OnlyFans easily. The support team is friendly and you can contact them on their contact page. However, it is recommended to go – through the FAQs (Frequently Asked Questions) before escalating any concerns or issues to the support staff. You can contact them on their twitter handle @OnlyFansSupport as well.
Webcam models get paid as much as 80% of their earnings. Payment is done every day. This is a marked departure from the payment frequency of other sites such as Streamate and ImLive wherein the payments are done only twice a month. Almost all the major credit cards are accepted. PayPal is not accepted though (at-least now).
Final Verdict
There are proponents of free porn who vouch for free nudity. For webcam models, free porn and free nudity is all guff. I am in congruence with webcam models. I recommend OnlyFans and not to forget, 80% commission rates are great. I am sure several of my thoughts echo those of yours.
Pornhub
Surprised to see the most popular tube-site getting featured in this article? Well, tube sites are essentially a big turnoff to adult performers as they encourage and entertain uploading of stolen content. For audiences and viewers, the celebrations are wilder and brasher whenever new videos are uploaded on the site. For adult performers, pirated and stolen content is a big nightmare. Can tube sites be ignored? The fact that tube sites are the foundational pillars of porn speaks volumes about their ever-lasting existence. They cannot and should not be ignored by all means. Even through the free and premium porn, what shines out is how adult performers chose to give themselves some adult-friendly social media perspective.
Final Verdict
Do not ignore tube sites. They are here to stay. If you are looking to start an adult tube site, you may consider purchasing this feature-rich and pocket-friendly turnkey software from Adent – xStreamer.
Twitter and Tumblr
Twitter and Tumblr continue to be adult-friendly despite getting stricter with adult content policies. The issues of shadow banning have already been discussed. This trend is likely to continue. It may take a decade or so for Twitter and Tumblr to completely become SFW platforms like Facebook. If you are a webcam model, do check this amazing and ultimate Twitter marketing guide.
Suggested Read: How to build an adult social network like MyDirtyHobby?
If you have any doubts or concerns, feel free to drop a line or two in the comments section. We shall reply in a day or two. Subscribe to our newsletter to get insights on adult chat apps. We have got some amazing adult turnkey software to help you build adult chat apps and adult turnkey websites. Keep watching this space to learn more about adult chat apps and social media sites for adult performers. My best wishes are with you and your adult turnkey website. Cheers!